Buying a new Airstream is a life-changing event – one that's often accompanied by months (sometimes even years) of research, comparisons, dealer visits, and soul searching. Buying an Airstream is more than simply a purchase: It's an investment in your future and freedom to explore where you please, and a direct route to the joy of the traveling life. As you narrow down your search, you're likely to have questions like those who've gone down this path before you.
With that in mind, we dug into customer service data, web searches, and feedback from our dealer network to tease out the most common questions we get about purchasing a new motorized Airstream touring coach. Read on to see what questions made the top ten – and the accompanying answers that will get you further down the road to your own Airstream adventure.
What is an Airstream touring coach?
Let's start with the easy one: Airstream currently builds six motorized RV models that let you hit the road with everything you need for the trip of a lifetime. These vans are classified as Type B (or sometimes "Class B") vans, in between the larger Class A motorhomes (think: musician touring bus) and Class C vans (which have an "eyebrow" area above the cockpit).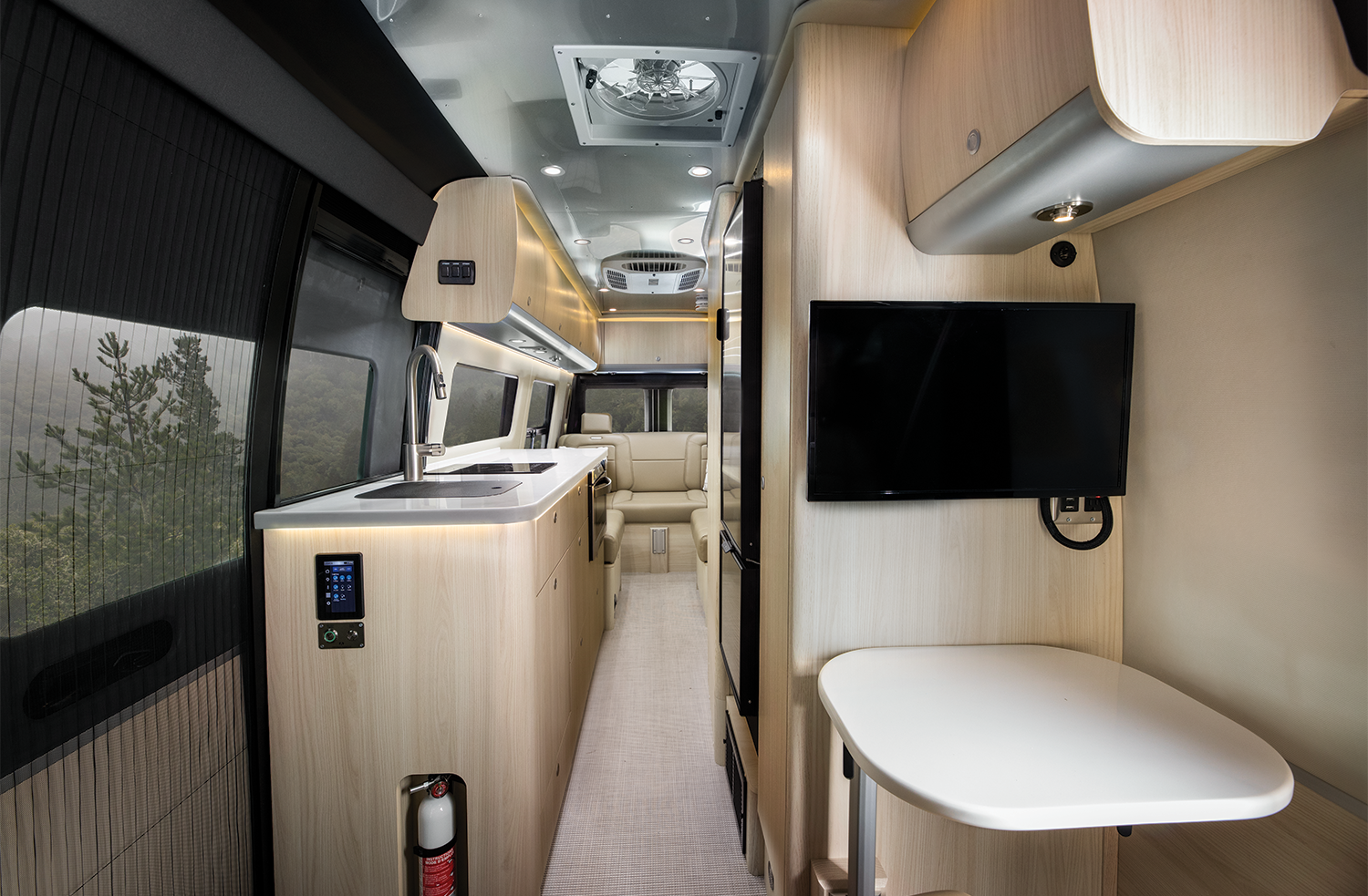 Our luxurious Class B vans all feature onboard bathrooms, full kitchens, plus sleeping and living space built inside a capable van body. While they share many similar features with our iconic travel trailers, these motorhomes come complete with a cockpit up front where you'll find a steering wheel and comfortable, swiveling driver and passenger seats. Under the hood, these RVs have powerful engines and numerous safety features for an exceptional driving experience.
Beyond the general similarities, the six Airstream touring coach models available today vary significantly. The biggest difference comes in the chassis we choose. Five of the six models are built on the Mercedes-Benz® Sprinter van chassis: The four Interstate models (Interstate 24X, Interstate 24GT, Interstate 24GL, and Interstate 19) plus the top-of-the-line Atlas. In 2022, Airstream introduced Rangeline, an all-new touring coach built on the dependable RAM ProMaster® 3500 chassis.
No matter the chassis, all of our motorized models are built with the same dedication to quality and hand-built craftsmanship in Jackson Center, Ohio.
What are the different models of Airstream touring coaches?
As mentioned above, Airstream offers six different models of motorized Class B vans: four Interstate models, the Atlas, and Rangeline.
Three of our Interstate models are offered at 24 feet (designated by the "24" in their name): Interstate 24X, Interstate 24GL, and Interstate 24GT. The nimble and maneuverable Interstate 19 packs a lot into its 19-foot floor plan, while Atlas sits at the top end of our lineup, with a 24-foot body that features a Murphy suite slide out. Unique to the Atlas in Airstream's lineup, the slide out provides more interior living space and extra room around the king-sized bed. Rangeline comes in at a family-friendly 21 feet while including all the comforts of home.

Our Merecedes-Benz models – Interstate and Atlas – are designed for travelers who want to explore the country in luxurious comfort and unparalleled style. They feature a range of amenities, including a kitchen, bathroom, sleeping quarters, and entertainment systems – all styled with premium surfaces, laminates, and fabrics. The Interstate model lines each offer their own distinct flavor. Interstate 24X is made for getting you closer to the adventurous action you crave. Interstate 24GL offers room for nine belted passengers so large groups can travel together. Interstate 24GT is made for couples who want to hit the road for the long haul. And the nimble Interstate 19 is easy to maneuver, park, and take into city environments. At the top end, Atlas features a residential-style bathroom and a slide-out that expands the living space.
All these Mercedes-Benz models feature a bevy of standard features like roof-mounted solar panels, a generator, lithium batteries, powered shades, multiplex controls, and more.
How much does an Airstream touring coach cost?
The cost of an Airstream touring coach reflects the quality, craftsmanship, and attention to detail that goes into each recreational vehicle. Prices can vary depending on the model and features (always check our website for current MSRP and available optional features as they can change).
Check Current Touring Coach MSRPs:
Optional features in our Mercedes-Benz vans like 4-wheel drive, the powerful E1 Package, a versatile front bed system for the cockpit, hydraulic leveling jacks, and the Tommy Bahama Special Edition décor package (for Interstate and Atlas) can add additional cost, while Rangeline offers an optional pop-top for extra sleeping and living space.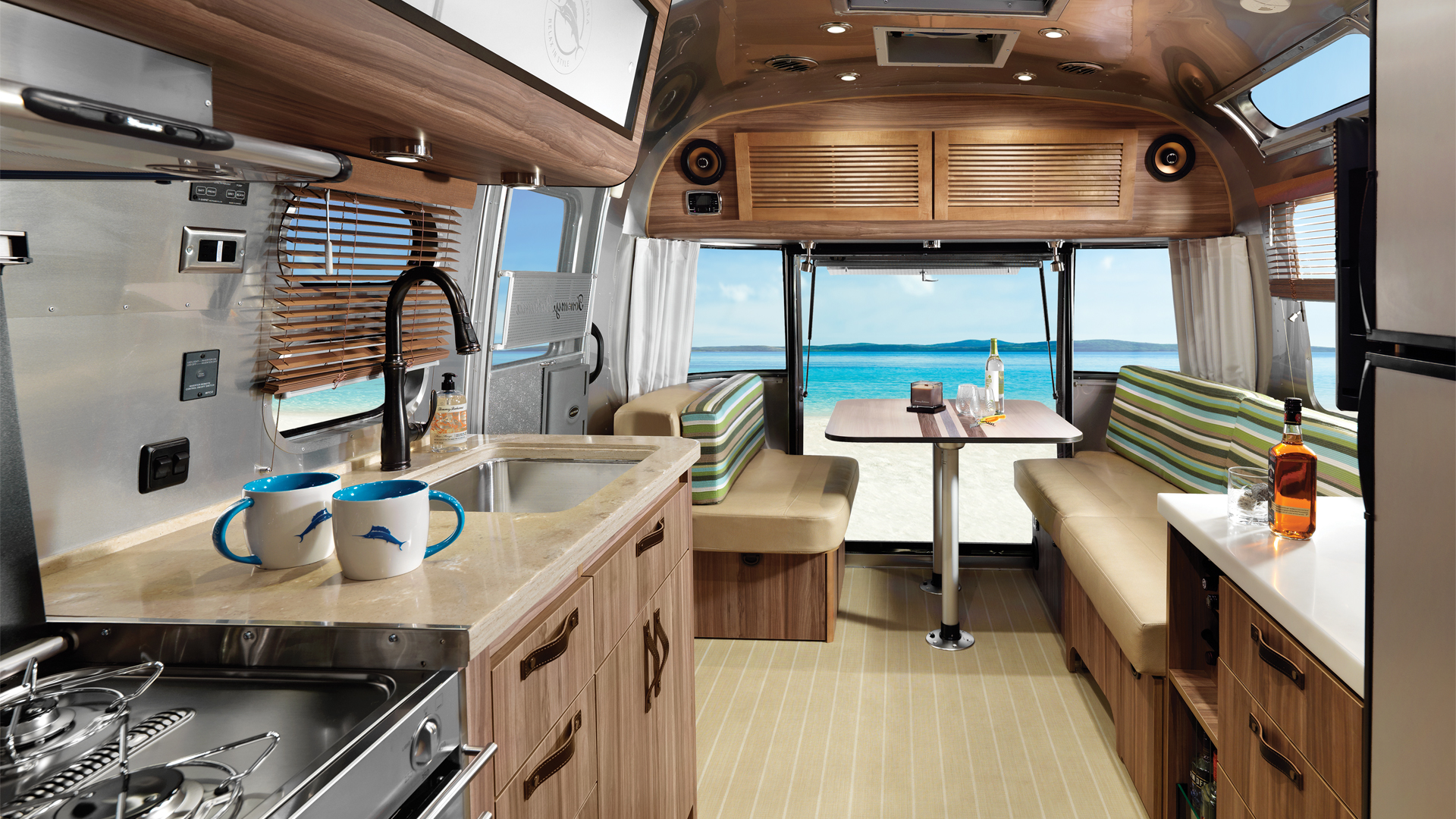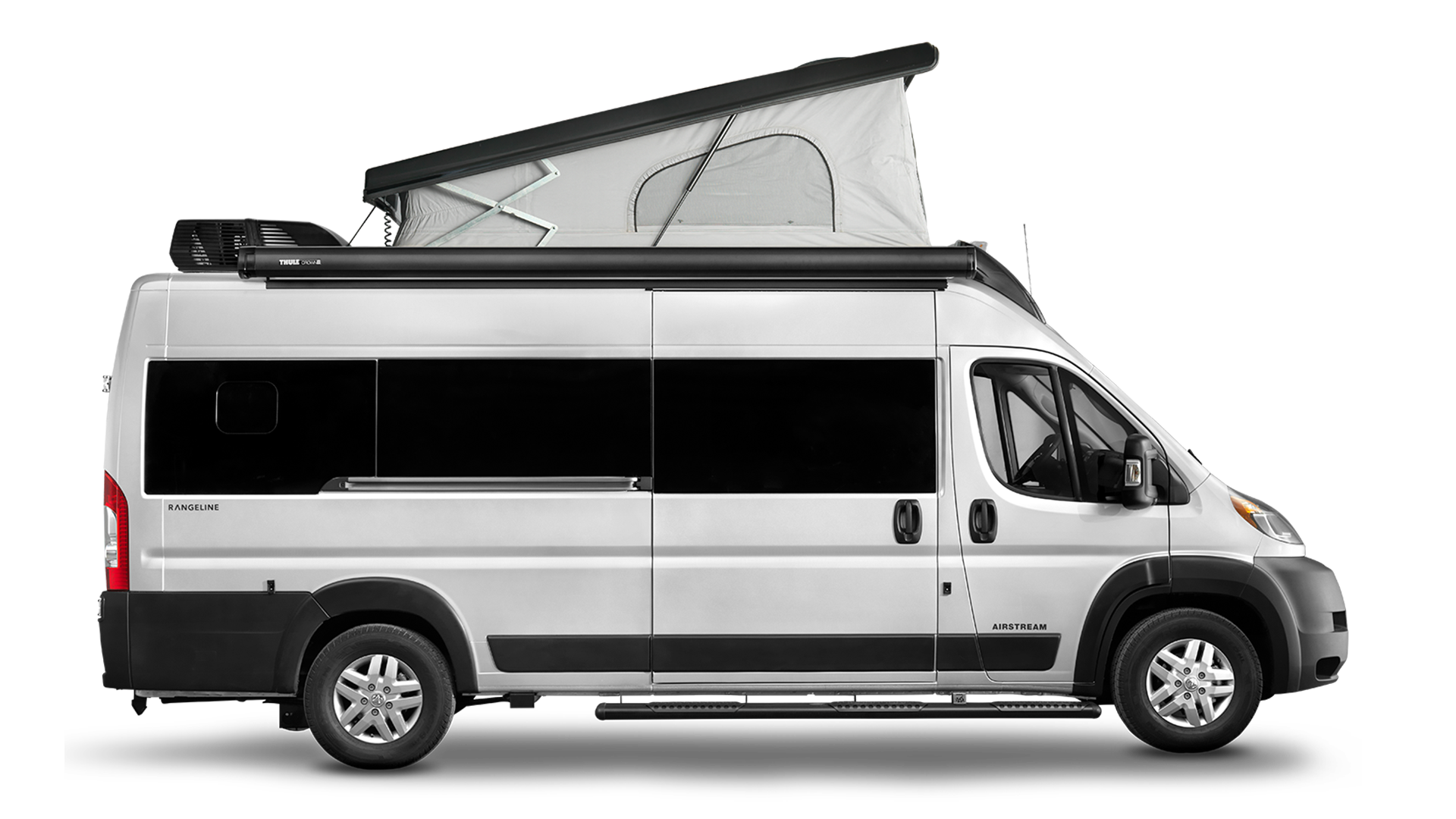 Though an Airstream touring coach represents a significant investment, it's important to consider the life experiences that come with owning an Airstream touring coach. You're not just buying a vehicle, you're investing in a lifestyle of adventure, freedom, and exploration. With an Airstream touring coach, you have the ability to travel to new places, meet new people in the vibrant Airstreaming community, and create memories that will last a lifetime.
What are the features of an Airstream touring coach?
Airstream touring coaches come with a range of features – no matter which Class B Airstream you choose, you'll find premium seating, an onboard kitchen, a bathroom and shower, a spacious sleeping area, air conditioning, furnace, and hot water heater, touchscreen control panels, and ample storage. On the Mercedes-Benz side, you'll find a full slate of advanced technology features like drive assist, side and rearview cameras, and premium infotainment systems.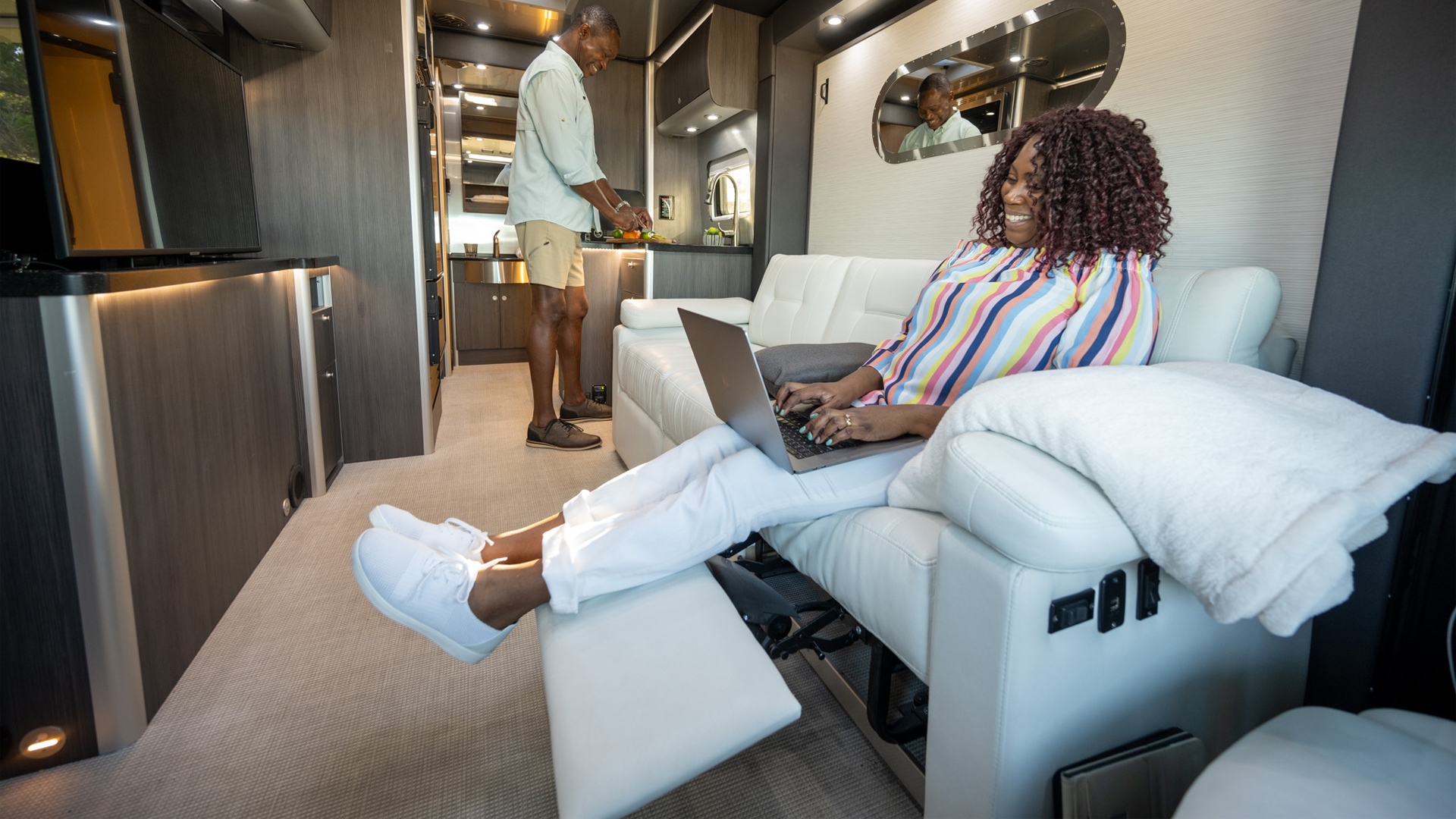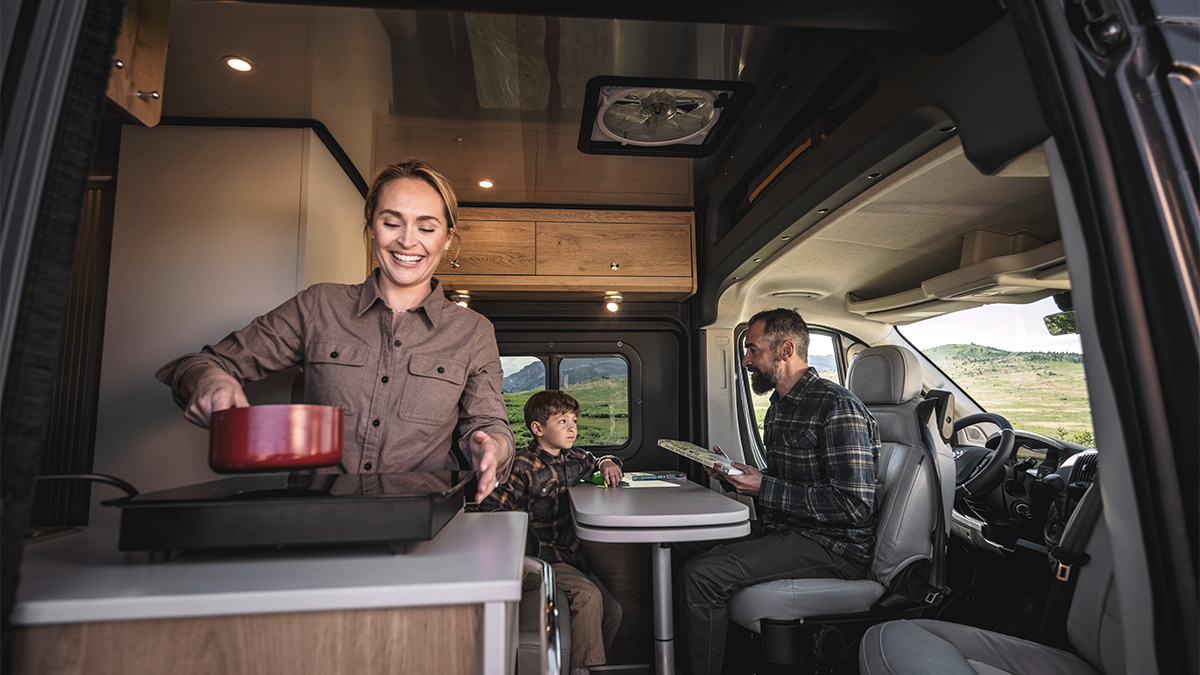 Rangeline is made for adventurous couples, families, and solo adventurers – and their furry friends. Owners love the pet-friendly features, like a tether point for leashes on the powder-coated running boards and a clever pet bowl set concealed inside a pull-out drawer. And MOLLE panels on Rangeline's rear doors give you a versatile system for stowing and securing gear at arm's length.
Learn More About our Touring Coach Features:
How long is an Airstream touring coach?
The exact length of an Airstream touring coach varies depending on the model. The Interstate 19 has the smallest footprint at 19' 5". Atlas measures 24' 9", while Interstate models measure 24' 6" in length. Rangeline comes in at 20' 11".
What's the Tow Capacity of an Airstream Touring Coach?
Yes, Airstream touring coaches are capable of towing. The maximum towing capacity of our Mercedes-Benz camper vans is 5,000 pounds while Rangeline's towing capacity is 3,500 pounds. With power and performance under the hood, Airstream touring coaches are well-equipped to tow small boats, utility trailers, or even some of Airstream's single-axle travel trailers. With proper planning and attention to safety, towing an Airstream travel trailer with an Airstream touring coach can be a great way to expand your living space and create even more memories on the road.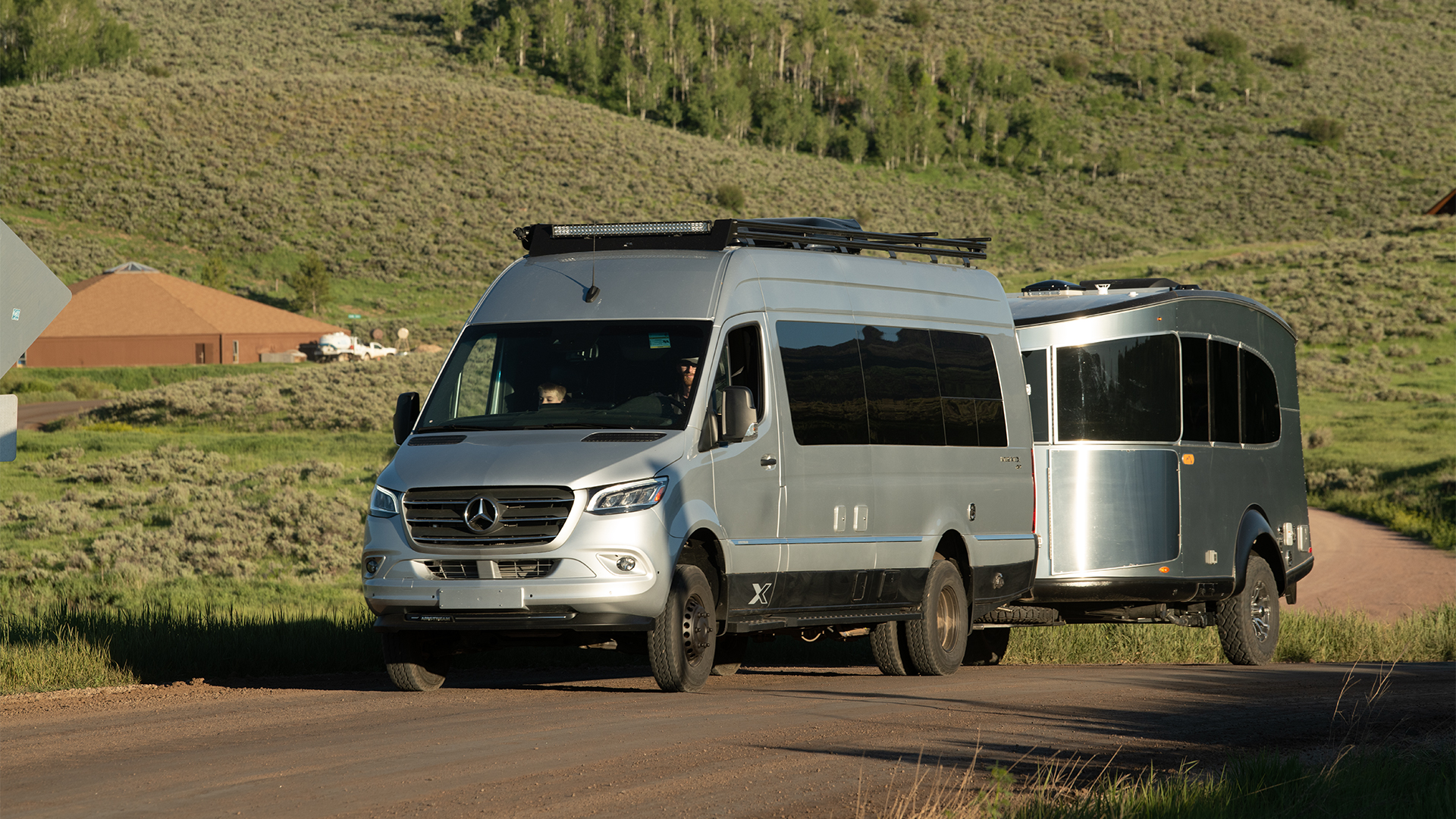 It is essential to check the specific towing capacity and safety guidelines for your Airstream touring coach before towing any equipment or vehicle. Additionally, it's important to make sure that the hitch and towing equipment are compatible with both the touring coach and what you're towing. Airstream Support has a detailed article about towing with an Airstream touring coach, or see your nearest Airstream dealer, where you'll find experts who can help you achieve the perfect towing setup.
What is the fuel efficiency of an Airstream touring coach?
Fuel efficiency varies depending on the model, driving conditions, and personal driving habits. But on average, Airstream touring coaches get between 16-22 miles per gallon.
How many people can an Airstream touring coach sleep?
Airstream touring coaches can sleep between two to four people depending on the model. Interstate and Atlas models can sleep up to two people in the expansive sleeping area. Rangeline can sleep two in the standard configuration, but the optional pop-top adds sleeping space for two more.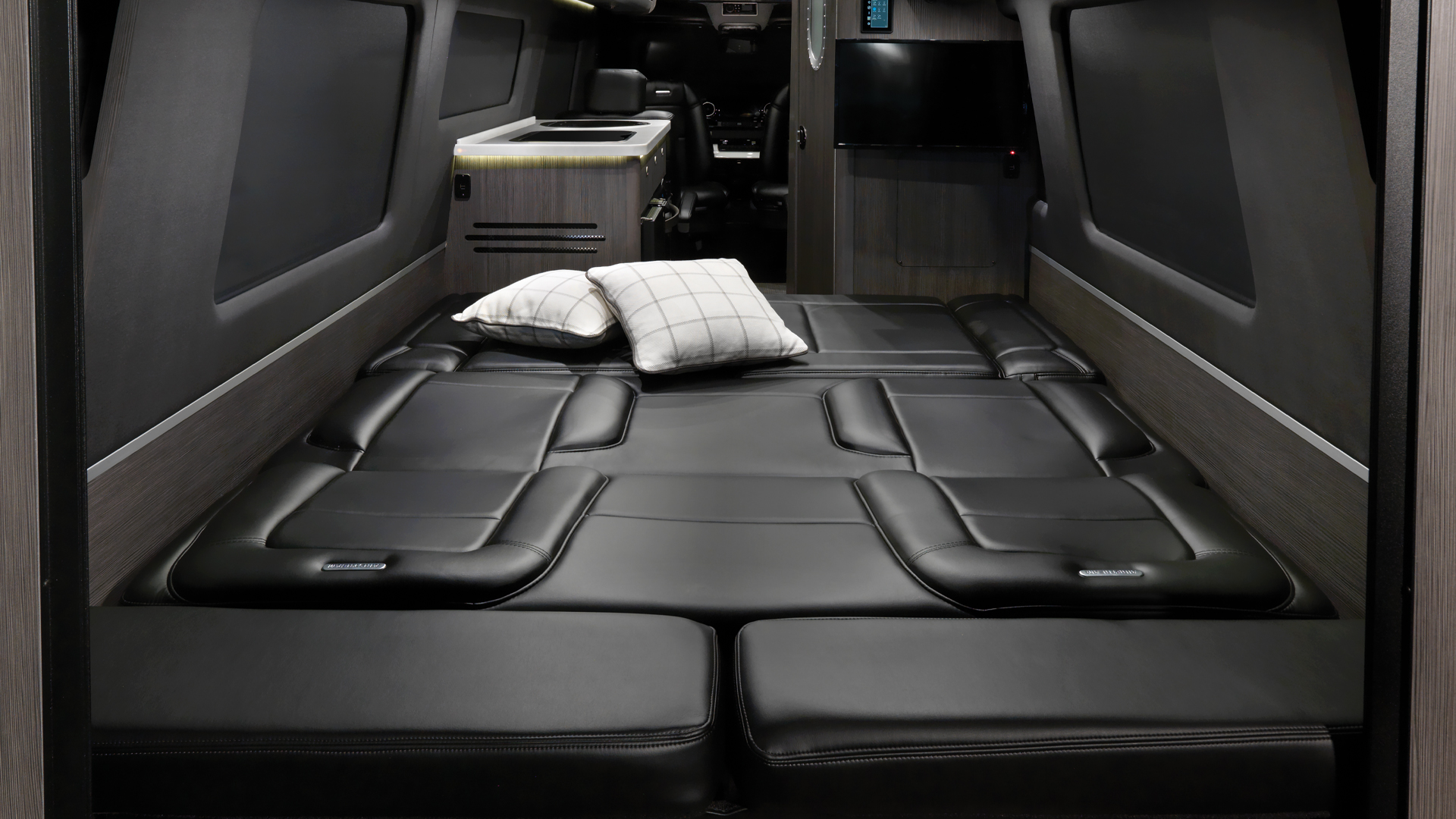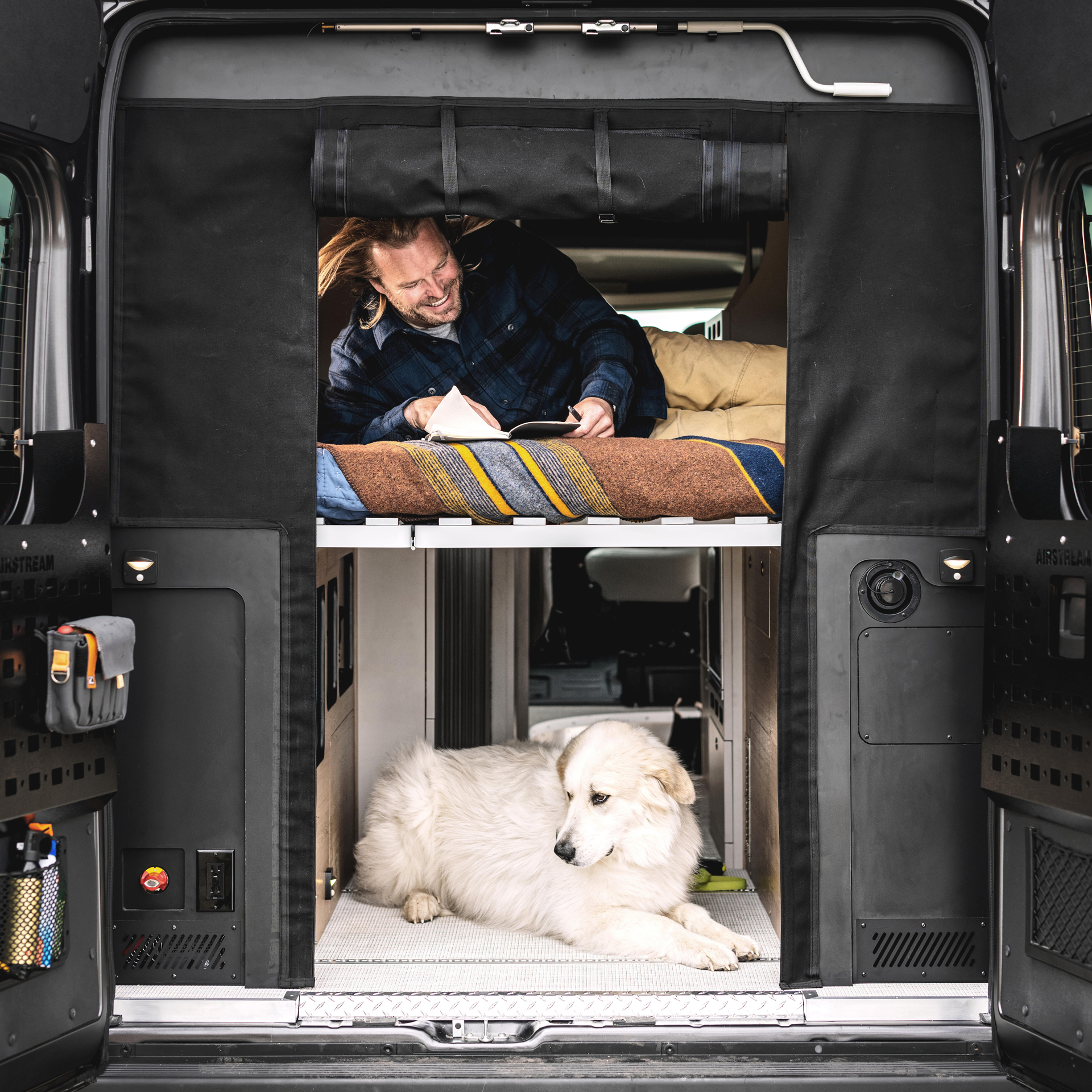 Seating-wise, our touring coaches vary from model to model. Atlas and Interstate 19 have belted positions for four passengers, Interstate 24X has belted positions for six, Interstate 24GL has belted positions for up to nine passengers, and Interstate 24GT has belted positions for up to seven. Rangeline has belted positions for up to four passengers.
Can you customize an Airstream touring coach?
Yes – to an extent. There are many optional features available across our motorized lineup. For vans built on the Mercedes-Benz chassis we offer 4-wheel drive, a front bed system for an extra sleeping area, hydraulic leveling jacks, and the Tommy Bahama Special Edition décor package. Rangeline is available with an optional pop-top for extra sleeping and living space.
Customers can also tailor the exterior color of their touring coach to suit their preferences. Interstate 24GL, Interstate 24GT, and Interstate 19 vans are available in three colors: Arctic White is standard, while Iridium Silver Metallic and Jet Black are available for additional cost. Atlas and Interstate 24X are available in Iridium Silver Metallic. Rangeline is offered in two colors: Granite Crystal Metallic and Bright Silver Metallic.
But perhaps the ultimate optional feature you can add to your Mercedes van is the E1 Package. A powerful system that eliminates the need for liquid propane, the E1 Package draws fuel from the vehicle's tank to power the heating and hot water system as well as the generator. Plus, a Volta 12,000 Watt-hour lithium battery pack, electric appliances, a 3,200-Watt pure sine wave inverter, two 30 AMP DC-DC converters, and more give you the power you need to head further off-grid and experience the best of boondocking.
Where can I buy an Airstream touring coach?
Airstream touring coaches are available for purchase at authorized Airstream dealerships across the United States and Canada. Use our dealer locator to find your closest dealer, and in the meantime visit airstream.com to build and price a touring coach with our Touring Coach Configurator tool.
Find your nearest dealer.
Configure the motorized Airstream of your dreams with our Touring Coach configurator.