The phrase "size matters" often assumes that bigger is better. But when it comes to what matters most, sometimes the opposite is true. That's certainly true of Airstream's three single-axle model lines, where big adventures come in small(er) packages. With their lightweight, aerodynamic designs, these camping trailers are some of the most versatile, easy-to-tow RVs that Airstream manufactures – perfect for first-timers and those looking to upgrade their camping experience from traditional tents or car camping.
On one hand you have Bambi and Caravel: Two small-footprint designs in Airstream's iconic rounded, riveted aluminum lineup. Featuring the aerodynamic, semi-monocoque profile that Airstream has perfected over the course of ninety-plus years, Bambi and Caravel share many similarities, including four identical floorplans offering a variety of options for every travel style.
Want to explore even more of the features and options available in these incredible small-footprint travel trailers? Download our Single-Axle Floor Plan Comparison Guide.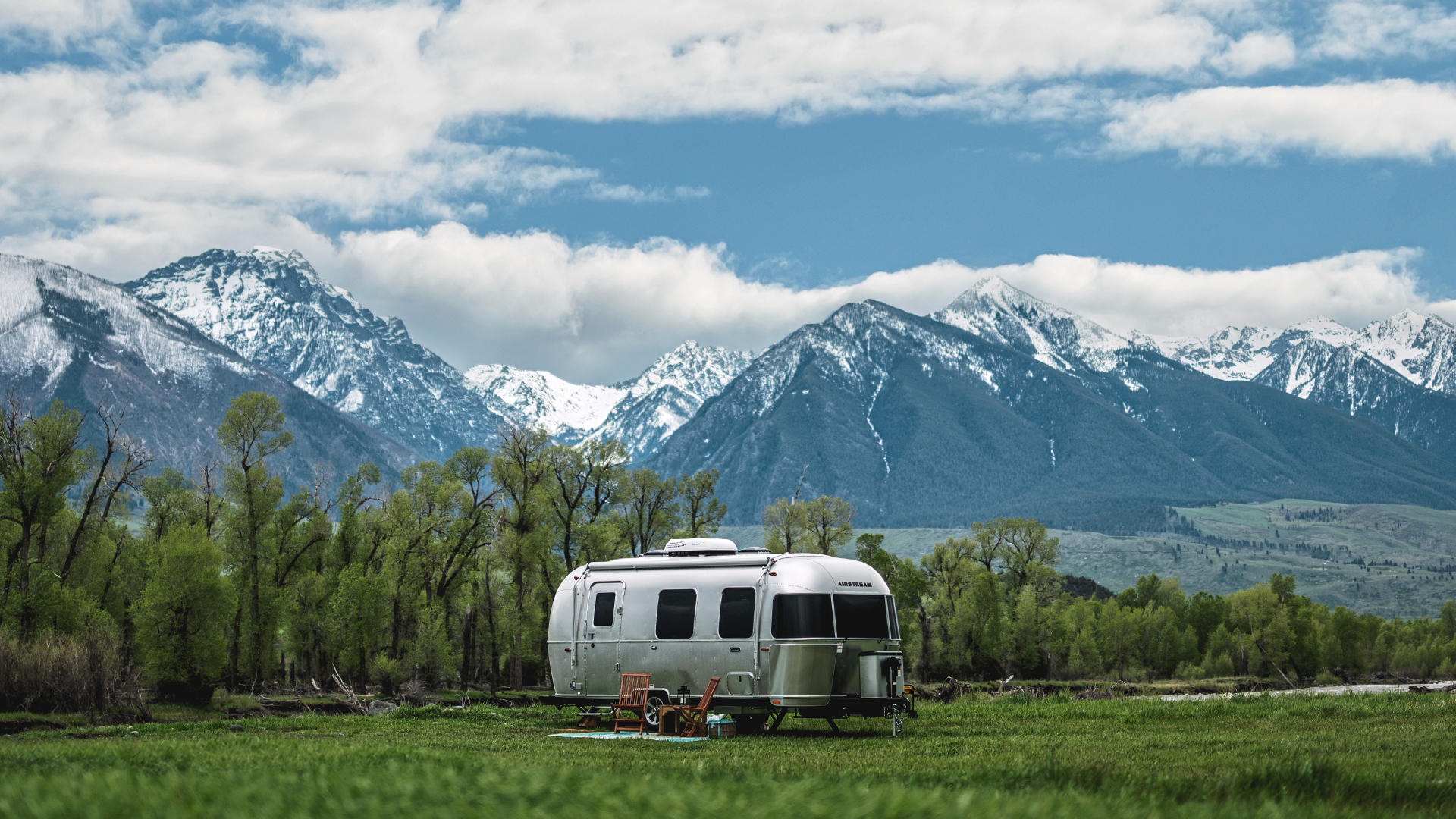 On the other hand is Basecamp – our adventure-ready, teardrop-esque camping trailer that's made for getting as close to your ideal adventure as you possibly can. Rugged and ready for just about anything you can throw at it, Basecamp features two floor plans across two lengths (16 and 20 feet), plus the REI Co-op Special Edition Basecamp 16 that includes sustainable materials and designs, as well as its own unique décor package.
Read on for more information about the similarities and differences between these three nimble model lines, and click here to download our handy Single-Axle Travel Trailer Comparison Guide.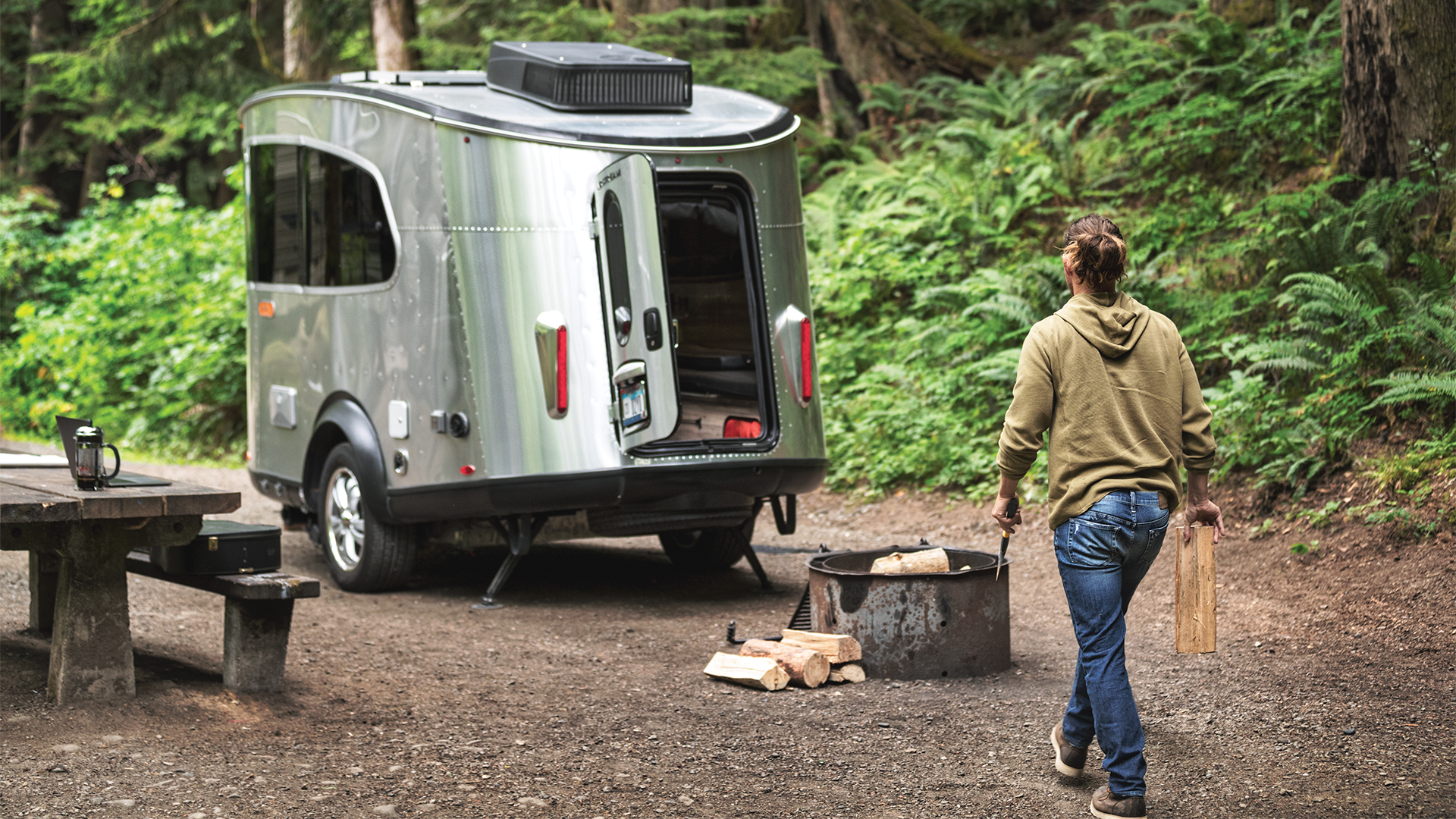 Similarities in Our Smallest Travel Trailers
Step inside each of these small footprint designs and you'll find numerous differences that make each floor plan unique. But as with every travel trailer that leaves our production facilities in Jackson Center, Ohio, they shared a common design DNA that makes them some of the most dependable, iconic, and long-lasting campers you'll find.
The Mobile Magic of a Tow Vehicle
All three of these single-axle trailers rely on a tow vehicle to get from Point A to Point B, but with their small stature and lightweight design they can be towed by many mid-sized trucks and SUVs – perhaps even by the vehicle already in your driveway. Their aerodynamic profiles let them slip through the wind for a better towing experience and efficient gas mileage. They are easy to maneuver through campgrounds and into tighter campsite spots, and their low center of gravity provides better handling while cruising down the highway.
Hand Made Craftsmanship
Informed by more than 90 years of expert design and handmade craftsmanship, these single-axle models are built by hand in Jackson Center, Ohio. While our process utilizes some automation to help with efficiency, repeatability, and improved quality, the majority of the work that goes into constructing these incredible recreational vehicles is still done by hand. From building out each chassis with premium components and composite flooring, to riveting aluminum to create that aerodynamic shape, our process isn't always the easiest – but it does result in quality workmanship that can end up lasting a lifetime or more. You're not just buying an Airstream travel trailer for yourself – you're potentially buying it for the generations who will inherit it down the road.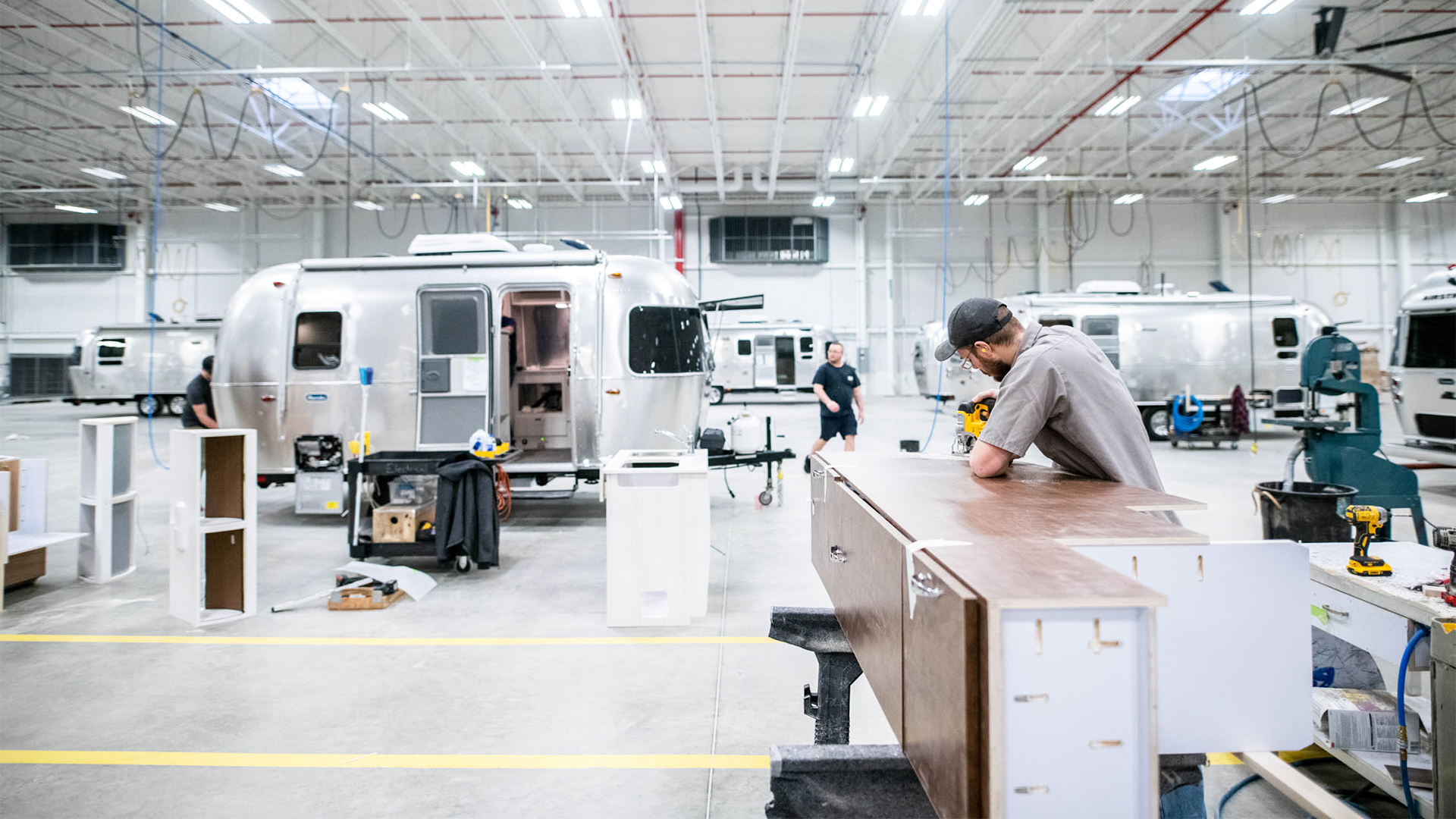 The Airstream Owner Community
There are plenty of options when it comes to purchasing a new RV. But there's only one Airstream community, and when you take delivery of your new travel trailer you're instantly granted membership into this vibrant, exciting, and tight-knit community of travelers, explorers, dreamers, and adventurers. From the numerous social media groups where Airstreamers share their travel plans, best tips, and questions about getting the most out of your Airstream experience, to the official Airstream Club International (the world's longest-running single branded RV club) and the fellow Airstreamers you'll meet around the campfire and in the next spot over, the Airstream community is filled with folks happy to lend a hand, excited to share their experience, and dedicated to the very best travel experiences you can find.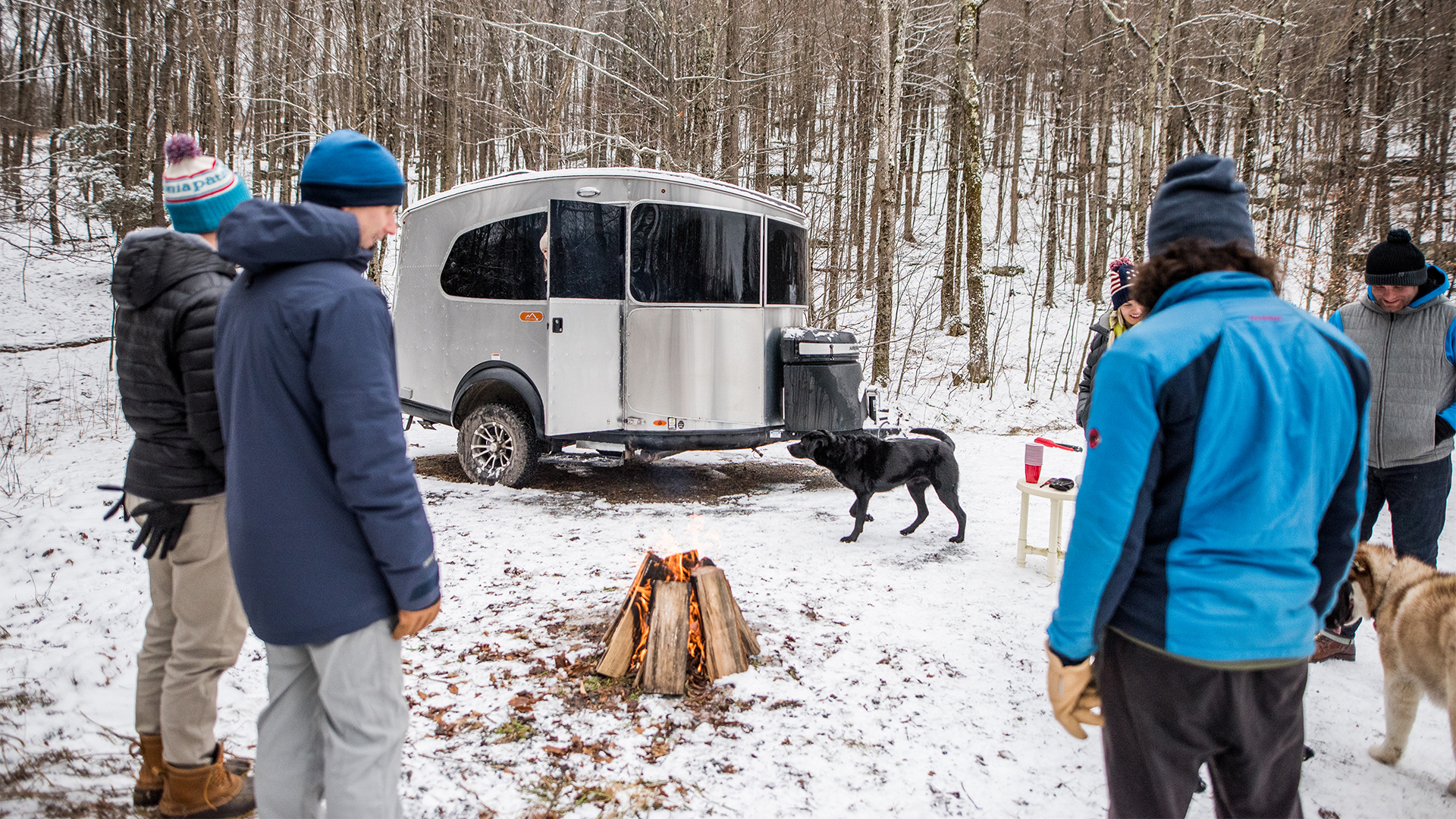 What are the Differences Between Bambi, Caravel, and Basecamp?
While they are certainly similar, each of these single-axle models feature their own spin on the iconic Airstream experience. Bambi and Caravel are cut from a similar cloth, with four identical floor plans that arrange the interior space so you can make use of every square inch. But look closer and you'll find a variety of differences that set Bambi and Caravel apart – like different upholstery materials, windows, taillights, and window blinds on the interior, and different exterior components like hitch jacks, battery storage compartments, front rock guards, and awning options. Caravel was designed with longer trips in mind, and features larger overhead cabinets, a rear bumper with storage, and "Nev-r-Lube" bearings.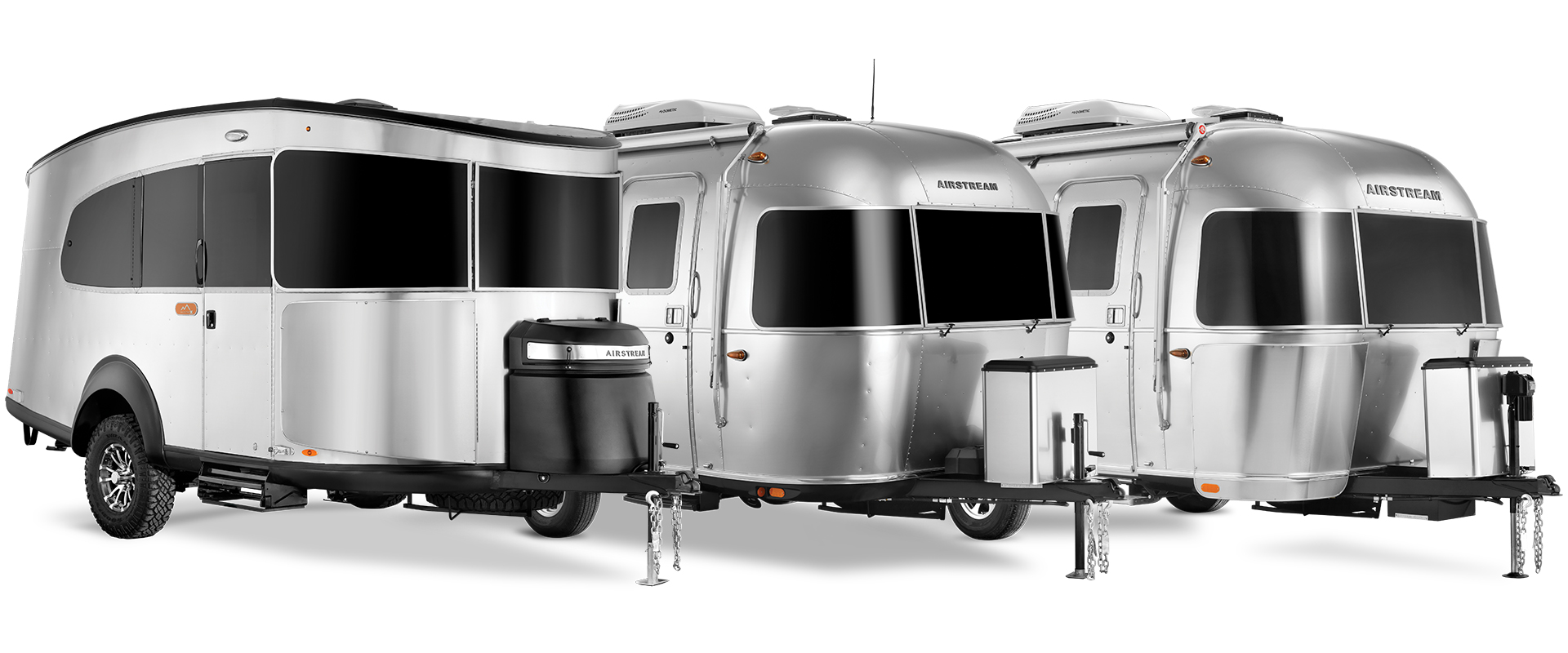 Basecamp is even more different than its traditional travel trailer siblings. Starting with its exterior profile, Basecamp features a starkly different interior floor plan, a rear hatch for easy gear loading and unloading, different comfort options (like an optional air conditioner), and more rugged components that make it easier to head off grid and find solace beyond the end of the road. Digging into these differences will help you understand what each model line offers – and help you determine which single-axle travel trailer is right for you and your travel style.
Difference #1: Air Conditioners
One of the best things about traveling in an Airstream is how you can bring along those important comforts of home. Especially if you're upgrading from traditional tent or car camping, an Airstream offers a variety of features that enhance your experience. If you've ever camped in a tent in sweltering July heat, then bringing along an air conditioner might seem like the ultimate luxury. But once you've come back from a day of adventuring to a cool cabin where you can relax and unwind, you'll never look back.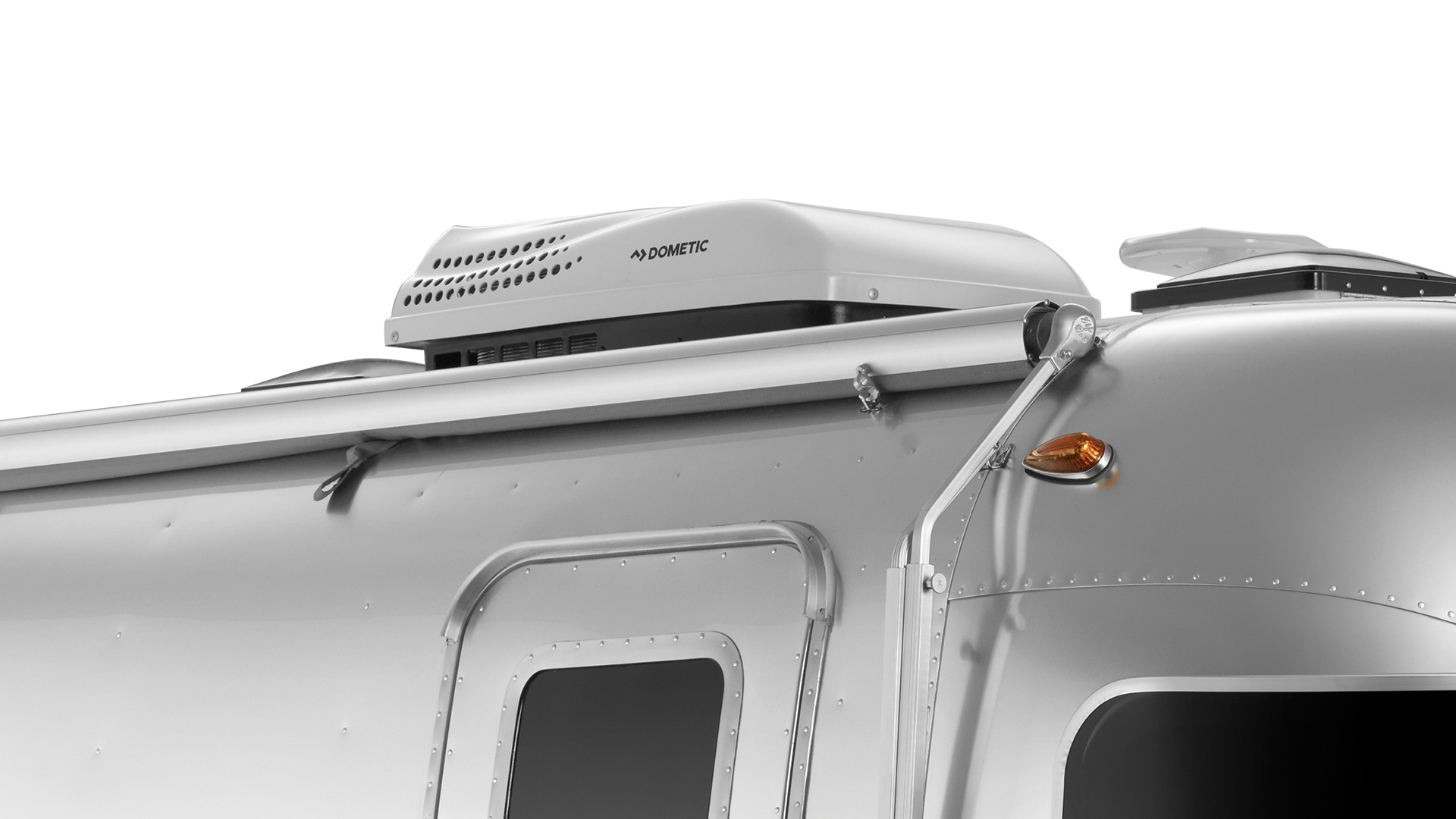 Both Bambi and Caravel feature roof-mounted air conditioners as standard. Bambi's air conditioner includes a heat strip to help cut the chill on cool mornings, while Caravel's air conditioner is upgraded to include a heat pump that achieves similar results on chilly mornings but in a slightly different, more efficient way.
Because air conditioners usually require being hooked up to a dependable electrical source like you find in traditional campsites – and because Basecamp is made to go beyond the confines of a traditional campsite – we've included air conditioner upgrades as an optional feature in that line.
Difference #2: Windows
One of the things Streamers love most is the natural light that fills the interior of an Airstream travel trailer. There are subtle differences (more on that in a moment), but it's important to note that all three of these single-axle models share the feature of panoramic windows up front for epic views. In Basecamp 16, the panoramic windows wrap around the front galley, so you can brew an incredible cup of coffee while taking in incredible sights right outside. Basecamp 20 also features panoramic windows, but they wrap around a front dinette that converts into additional sleeping space.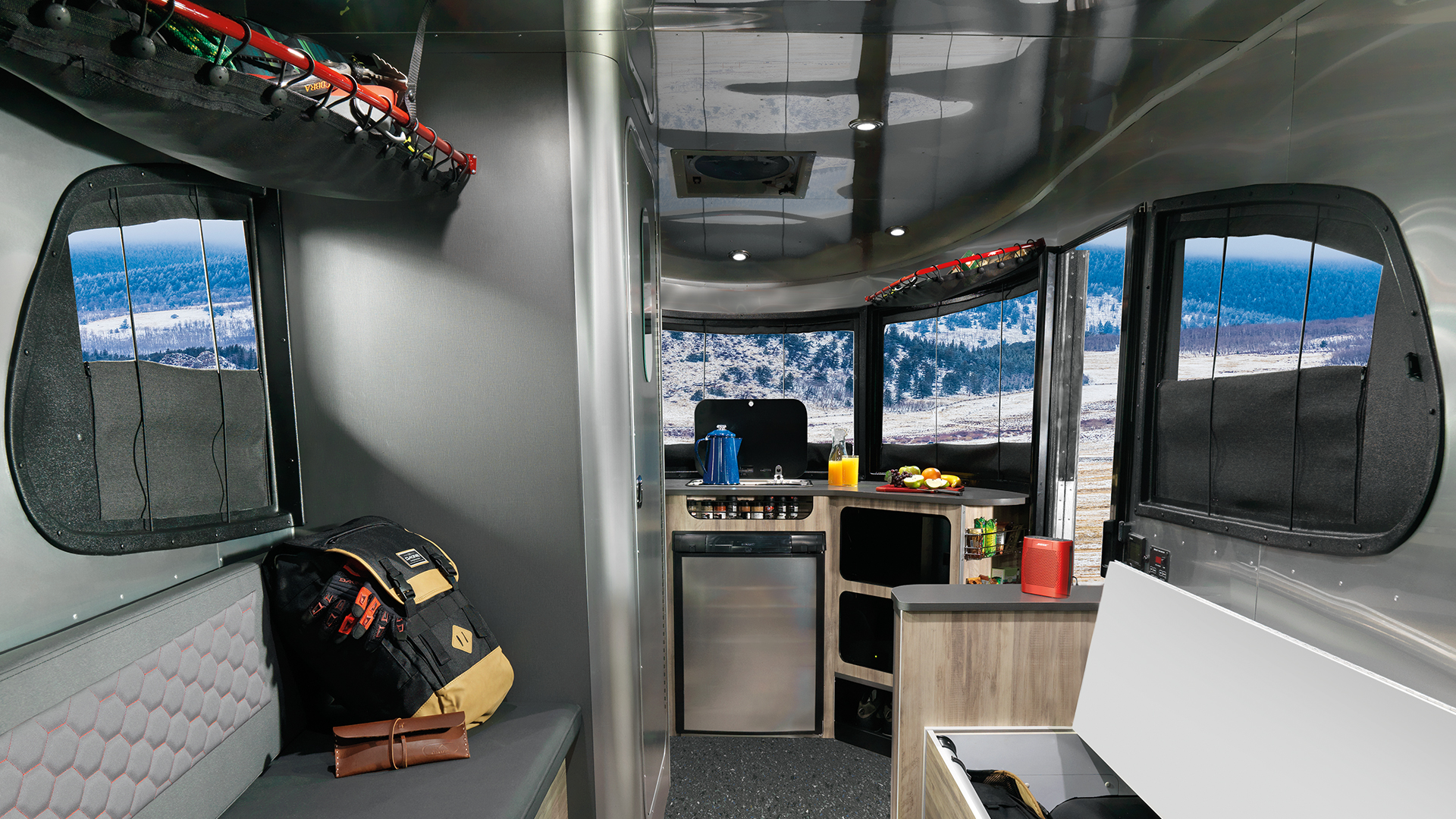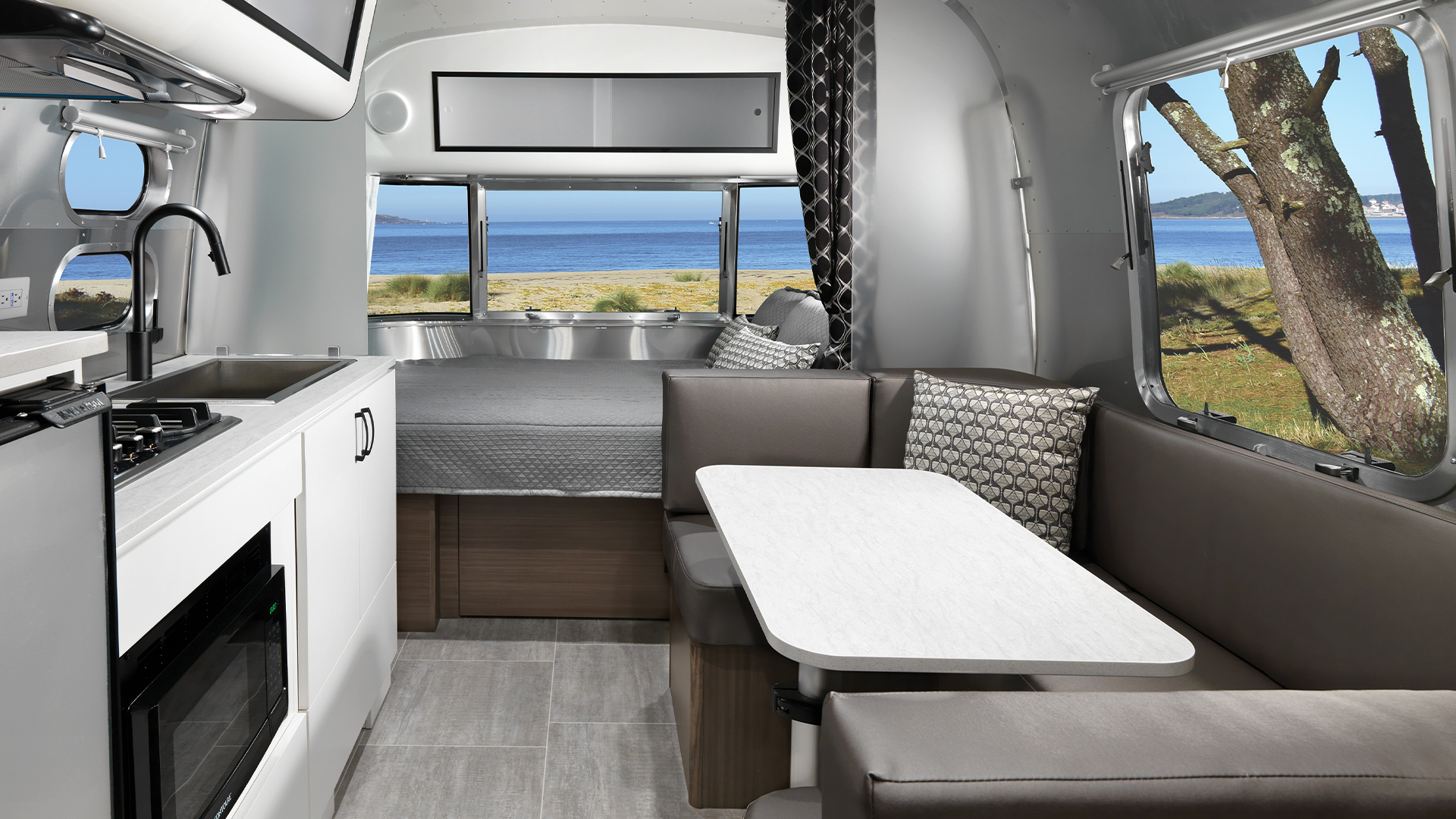 As for the differences, in Bambi and Caravel, the front panoramic windows offer varied experiences depending on the floor plan you choose. In Bambi's and Caravel's two front bed (FB) floor plans, you'll wake up to look out on the surrounding landscape, while the rear bed (RB) and corner bed (CB) options let you take in those views from the dinette. (For more information on our naming conventions and what FB, RB, CB, and other floor plan designations mean, check out our explainer blog).
The main window differences between Bambi and Caravel lie in the rear windows we use. All four Bambi floor plans feature square rear windows, while Caravel's 16RB floor plan comes with a rear panoramic window that echoes what you find up front.
Difference #3: Rock Guards
There's no getting around the fact that towing down the highway exposes your travel trailer to road debris, bugs, inclement weather, and a variety of hard-to-identify "road gunk." To protect your investment, Airstream includes several different solutions to protect the front of your travel trailer.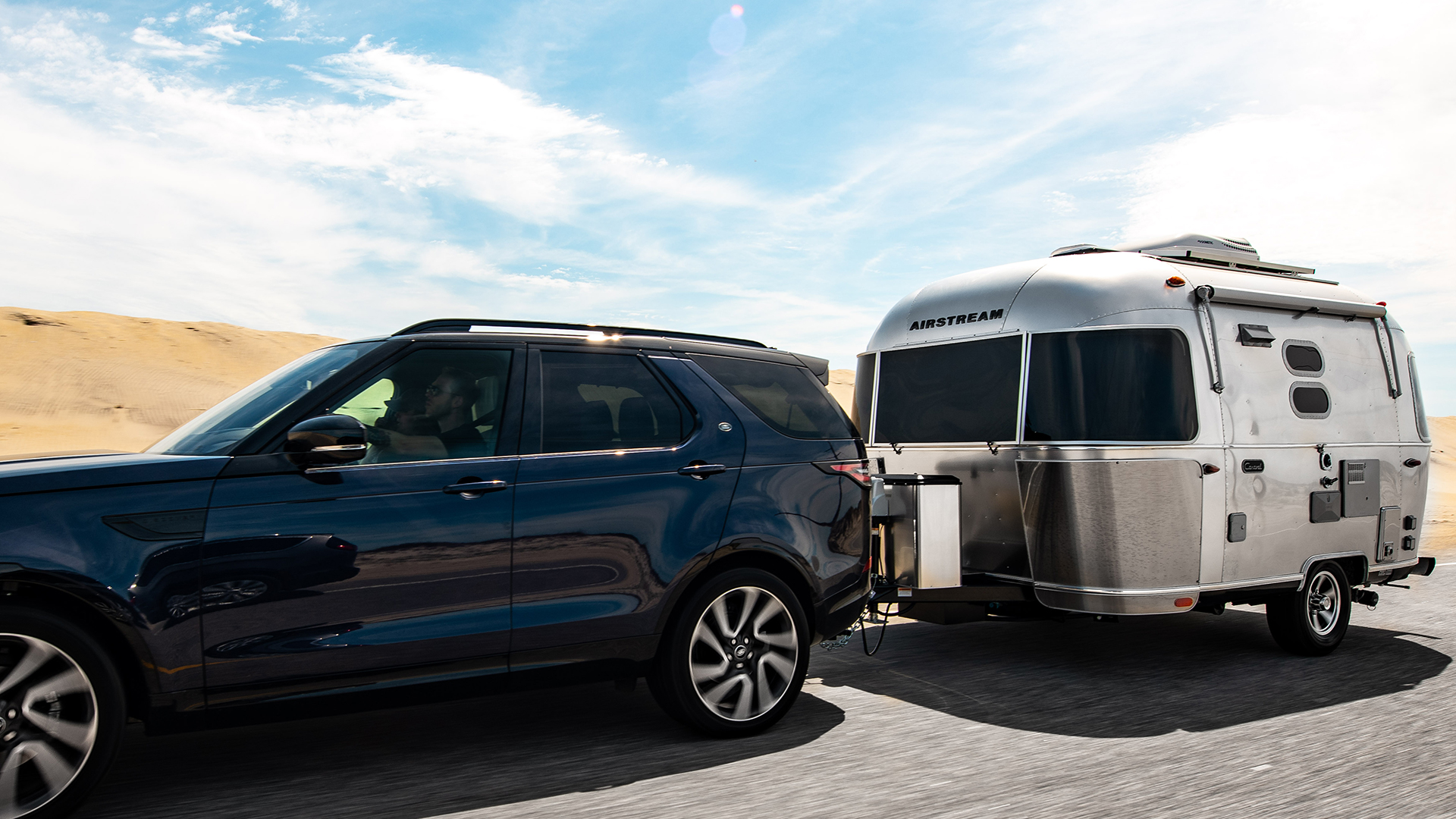 Bambi features a durable 3M brand protective film strip that protects the aluminum from scrapes and scratches while cleaning up easily with warm water and soap. Caravel upgrades the front protection with two stainless steel front rock guards that protect the bottom half of the trailer's front end, and tinted window guards for added protection up top.
Both Basecamp 16 and Basecamp 20 give you the option of upgrading to the X-Package, which adds a variety of rugged components – including front rock guards for added protection and solar window guards over top of those beautiful panoramic windows. The X-Package comes standard in the REI Co-op Special Edition Basecamp.
Difference #4: Culinary Options in Our Galleys
If your idea of campsite cooking involves heating up water over the fire and re-hydrating bland camp food, get ready to be wowed by the onboard kitchens in all three of these model lines. With sinks, plenty of storage for pantry items, and liquid propane (LP) cooktops, your meal options are only limited by your imagination. Basecamp features an optional microwave that slots into one of the standard storage spaces, while Bambi includes a microwave as standard. Caravel features an upgraded convection microwave option that replaces the standard microwave. And in the REI Co-op Basecamp Special Edition, the sink features a built-in UV-LED water purification system for added protection.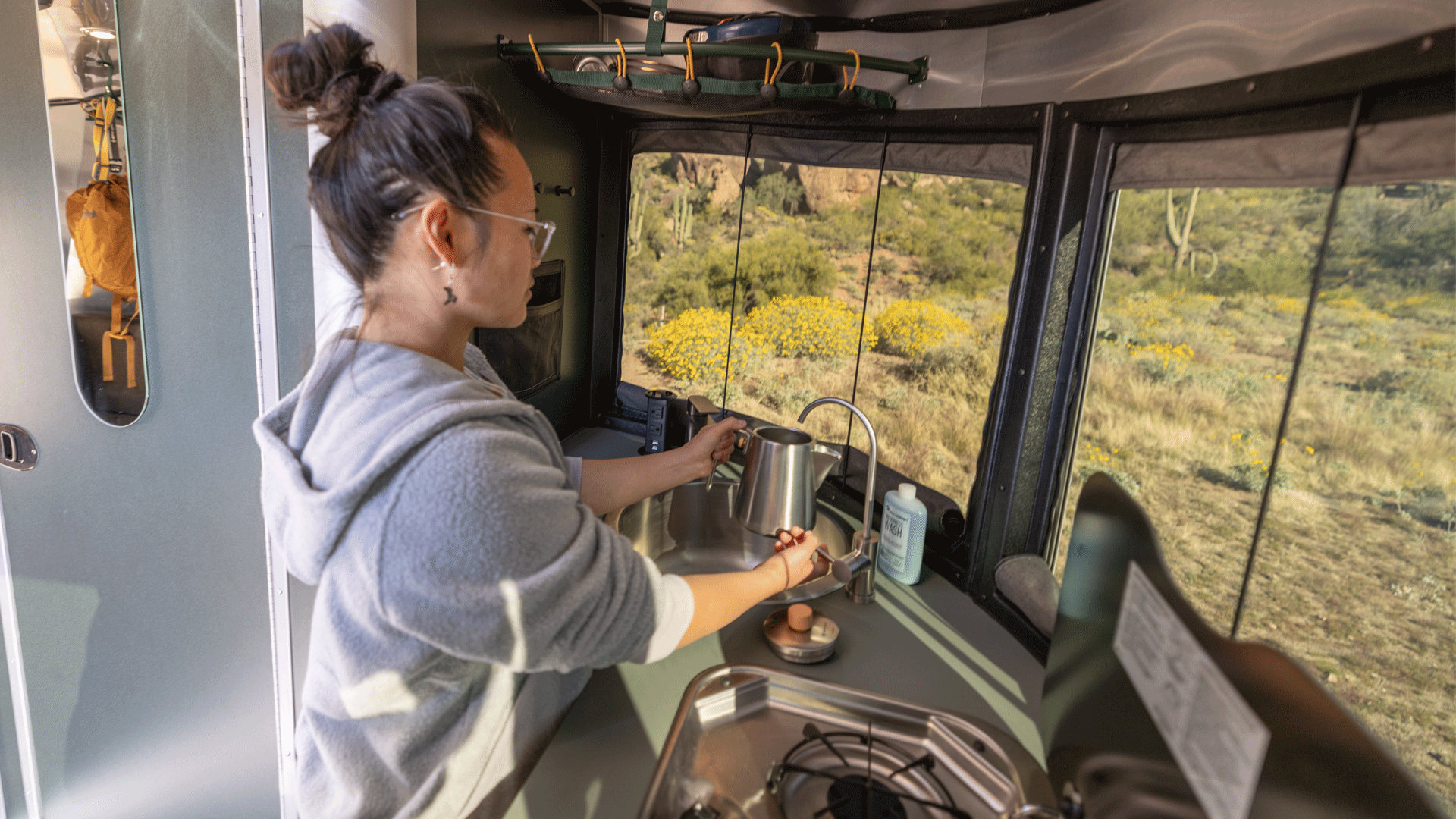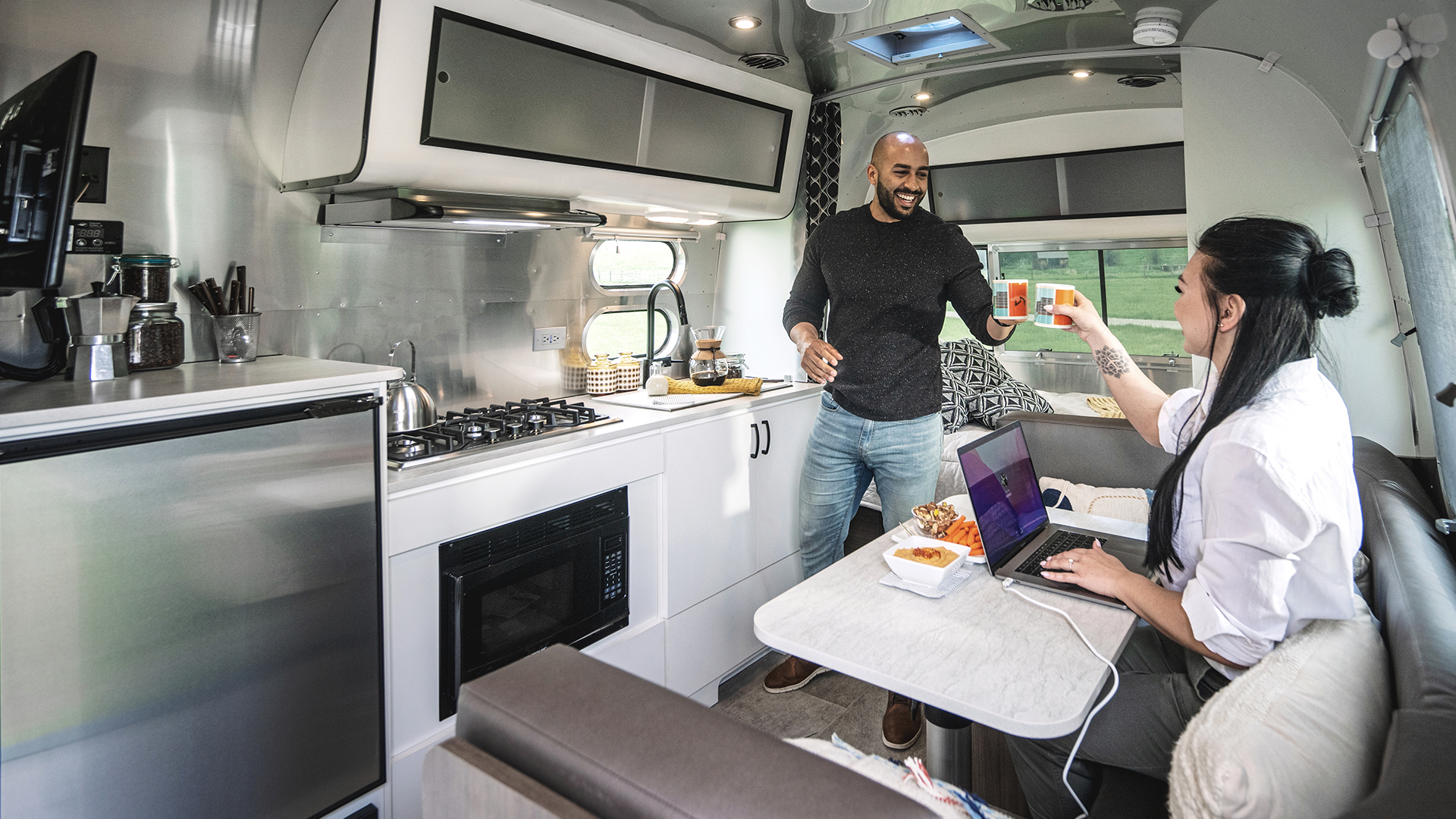 Difference #5: Onboard Bathrooms
Keeping in mind that Bambi and Caravel share identical floor plans at 16, 19, 20, and 22 feet, their bathrooms are also identical in their layout. The 16-foot models feature a small wet bath that combines shower, sink, and toilet into an efficient combo. The 19- and 20-foot models feature two-piece bathrooms in the rear streetside (passenger side) of the trailer, with a dedicated shower space and a clever door system that allows for space inside the bathroom for getting dressed or getting ready for bed, and then folds away for more living area when not in use. The 22-foot model features a wide, spacious bathroom that spans the entire rear of the travel trailer, with a dedicated shower, sink, and toilet area.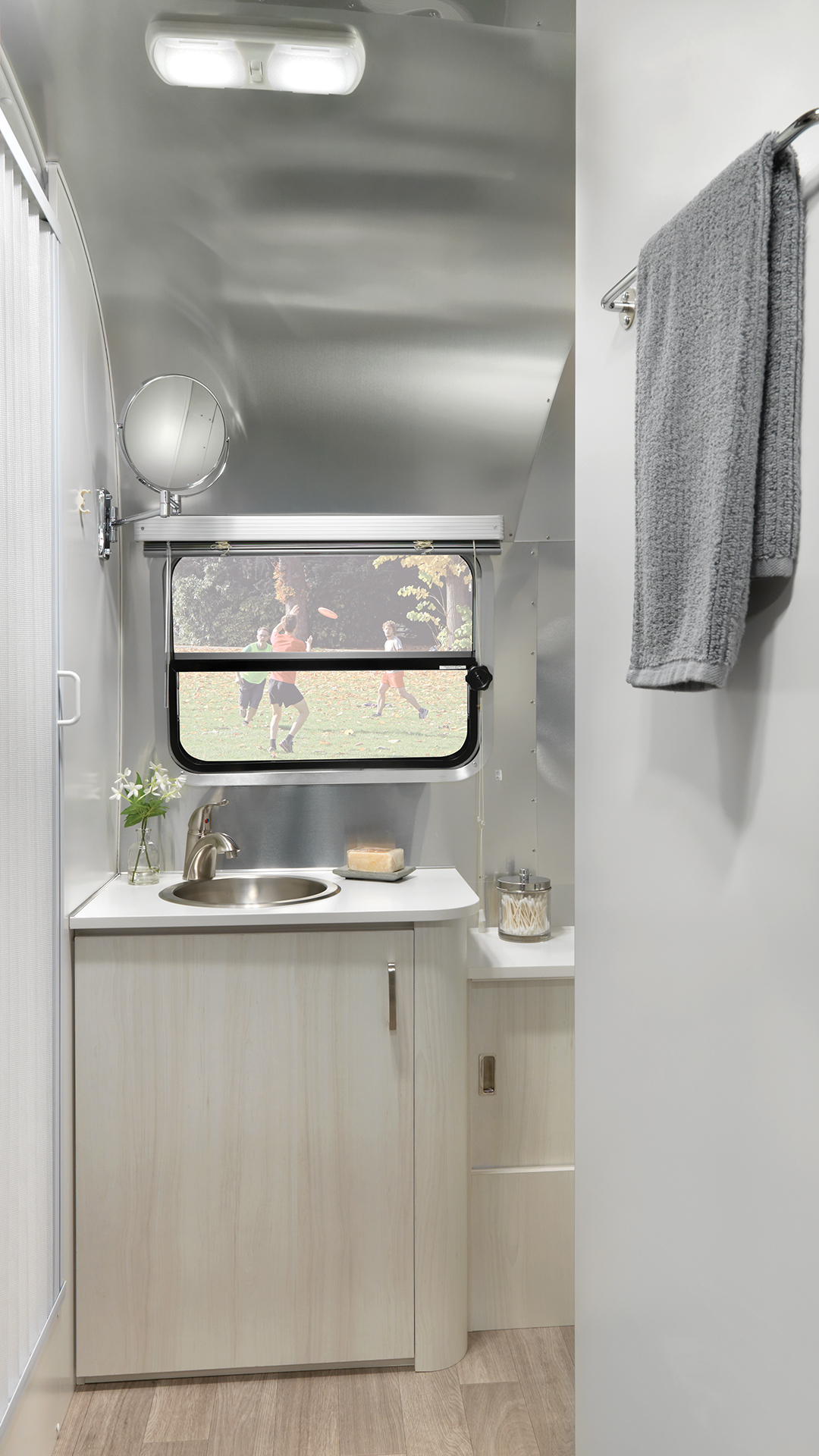 All three Basecamp models feature a similar wet bath setup, where the shower head doubles as a faucet, and the toilet and toilet paper holders both have waterproof components that keep things dry.
Difference #6: Beds
Bambi and Caravel both have excellent bed options, with comfortable mattresses for resting and recharging ahead of whatever tomorrow brings. Bed layout is an important consideration when deciding on one of these trailers. The two smaller models (the 16RB and 19CB) have similar-sized beds in the back, while the 20FB and 22FB models have beds up front. Both the 16RB and 19CB beds are similar in size (48" x 78" and 48" x 76" respectively), while the 20FB and the 22FB beds differ by six inches of width (48" x 78" and 54" x 80" respectively).
Bambi and Caravel also feature convertible dinettes that offer additional sleeping space. Both the 16RB and 19CB models have identical-sized secondary sleeping areas (40" x 91") while the 20FB and 22FB models are similar in size but slightly smaller (40" x 76" in the 20FB and "38" x 75" in the 22FB).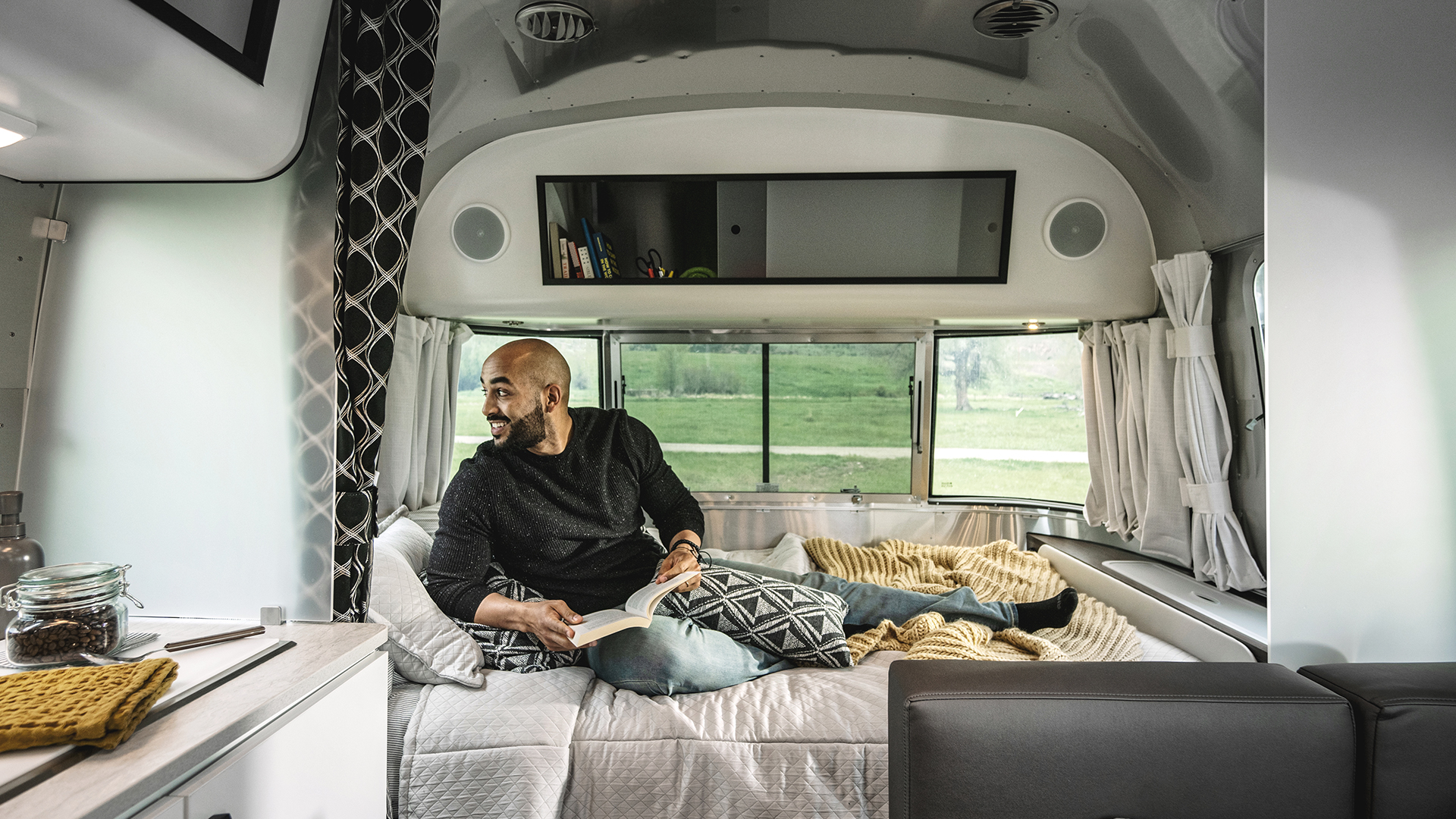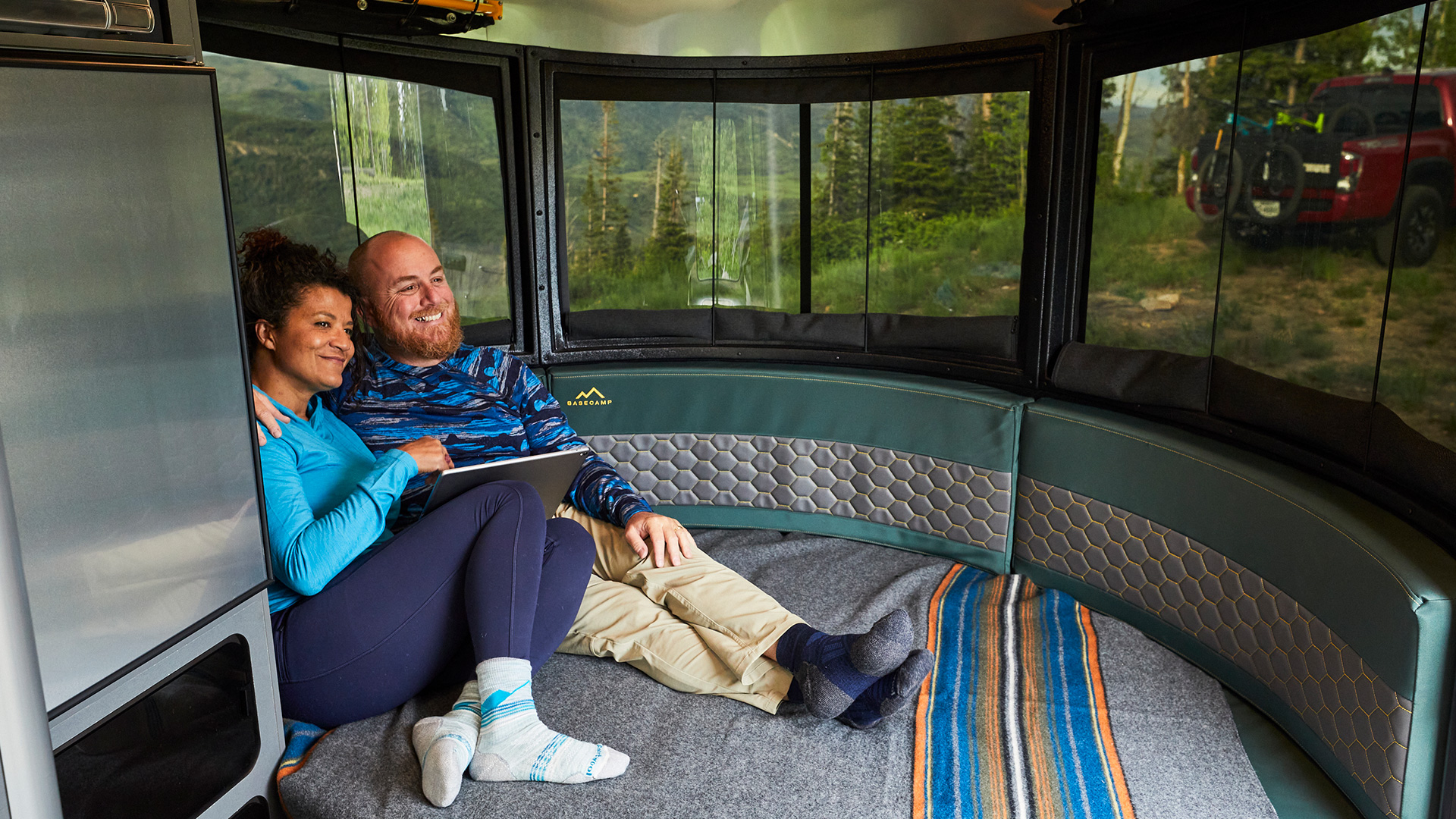 All three Basecamp models feature an innovative, flexible sleeping area in the rear of the trailer. Bench seating during the day converts into a wide sleeping area at night – or convert one side to a single-person sleeping area while leaving the other side set up as a bench. In fact, there are 7 different bench configurations available to fit your needs, including half-bed, full bed, or seating for up to five. In Basecamp 20, there is an additional sleeping area up front in the convertible dinette that's perfect for families with kids.
Difference #7: Seating Upholstery
When our design team selects materials and fabrics, they look for the best of all worlds: Comfortable, durable, and easy to clean up. Bambi and Caravel both feature upholstery materials that fit that bill, with slightly different results. In Bambi you have fade- and stain-resistant Performatex material that's available in two color options depending on the décor you choose. Caravel upgrades the upholstery to the same Ultraleather® found in many of our larger trailers. With Ultraleather, you get some of the most comfortable, easy-to-clean fabric available today.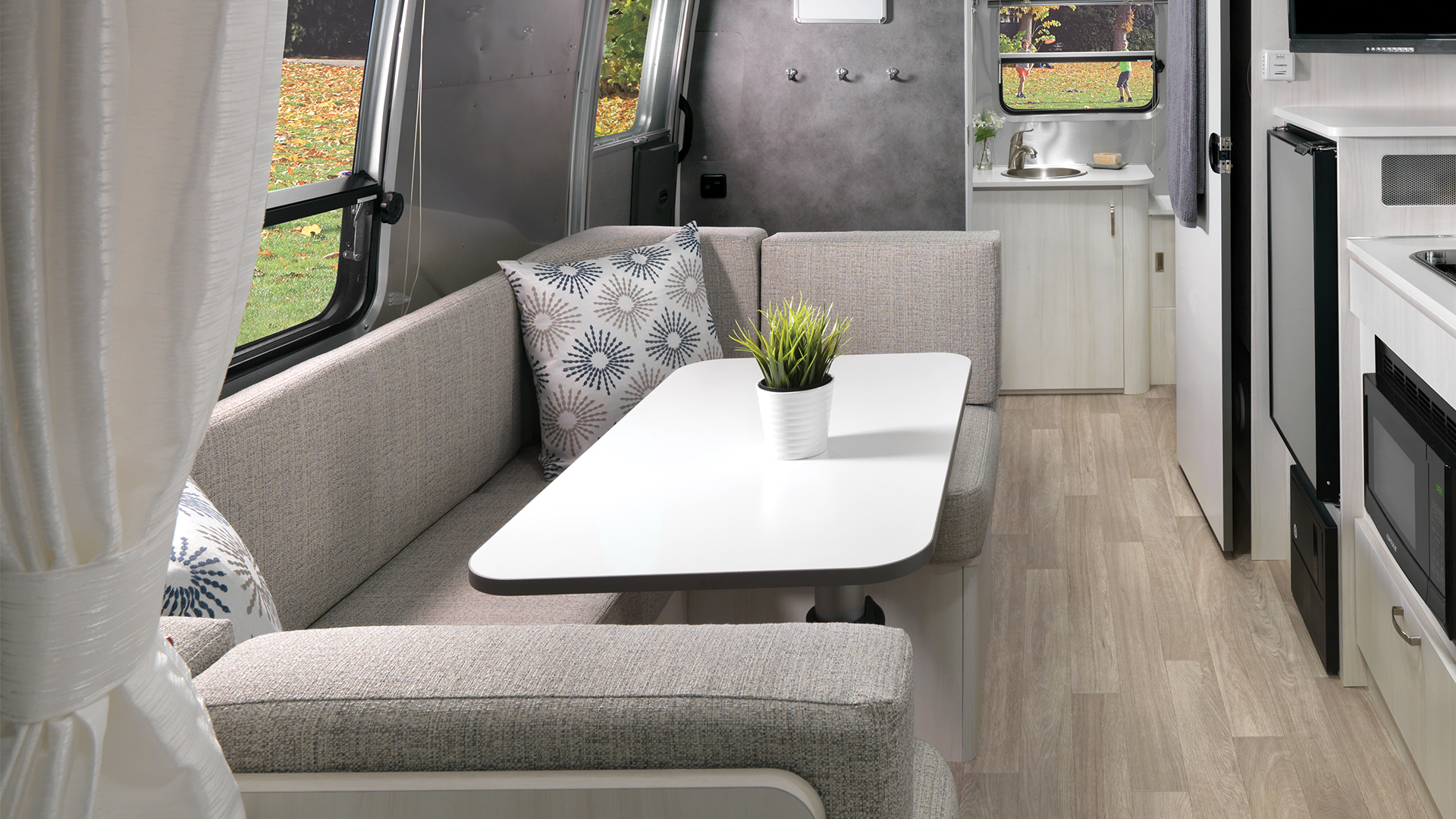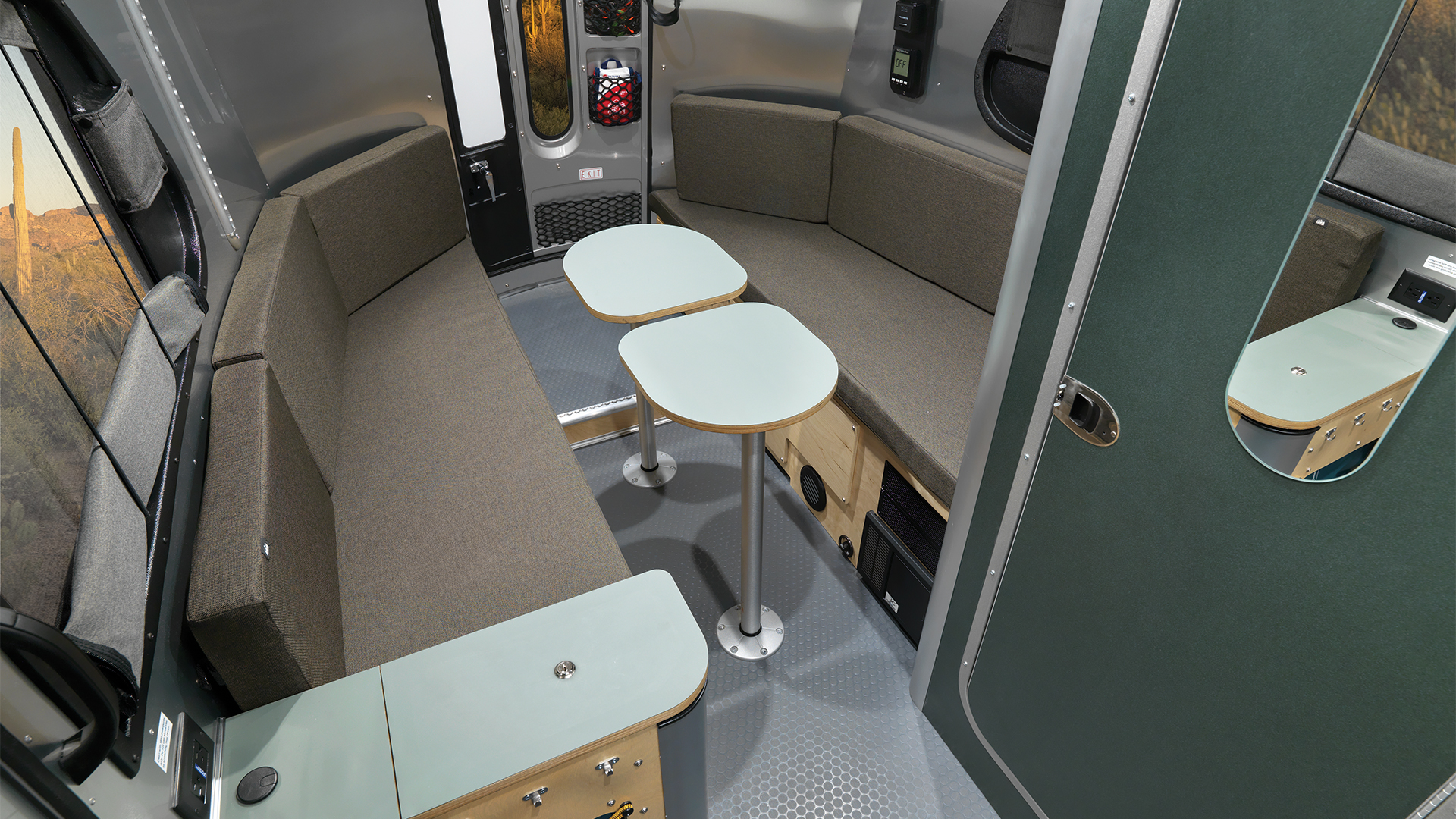 Basecamp 16 and Basecamp 20 both feature Spradling Marine Fabric. This antibacterial, mildew-resistant, stain-resistant, and flame-retardant fabric provides great comfort and lasting durability no matter what you throw at it. The REI Co-op Special Edition Basecamp was designed with sustainability in mind, and to that end it features Knoll Fabric upholstery that's 50 percent post-consumer recycled polyester, Greenguard certified, and includes a stain-repellent finish for lasting durability.
Many Options for Many Travel Styles
Between Basecamp, Bambi, and Caravel, customers have a variety of options to find the perfect travel trailer for their perfect travel style. Whether you want the small footprint and iconic design of a Bambi or Caravel, or the nimble durability of the adventure-ready Basecamp lineup, there's something for everyone in our single-axle offerings.
Want to explore even more of the features and options available in these incredible small-footprint travel trailers? Download our Single-Axle Floor Plan Comparison Guide.
Ready to see the differences and explore the similarities for yourself? Find your local Airstream dealer and come in today to see these exceptional small travel trailers up close.