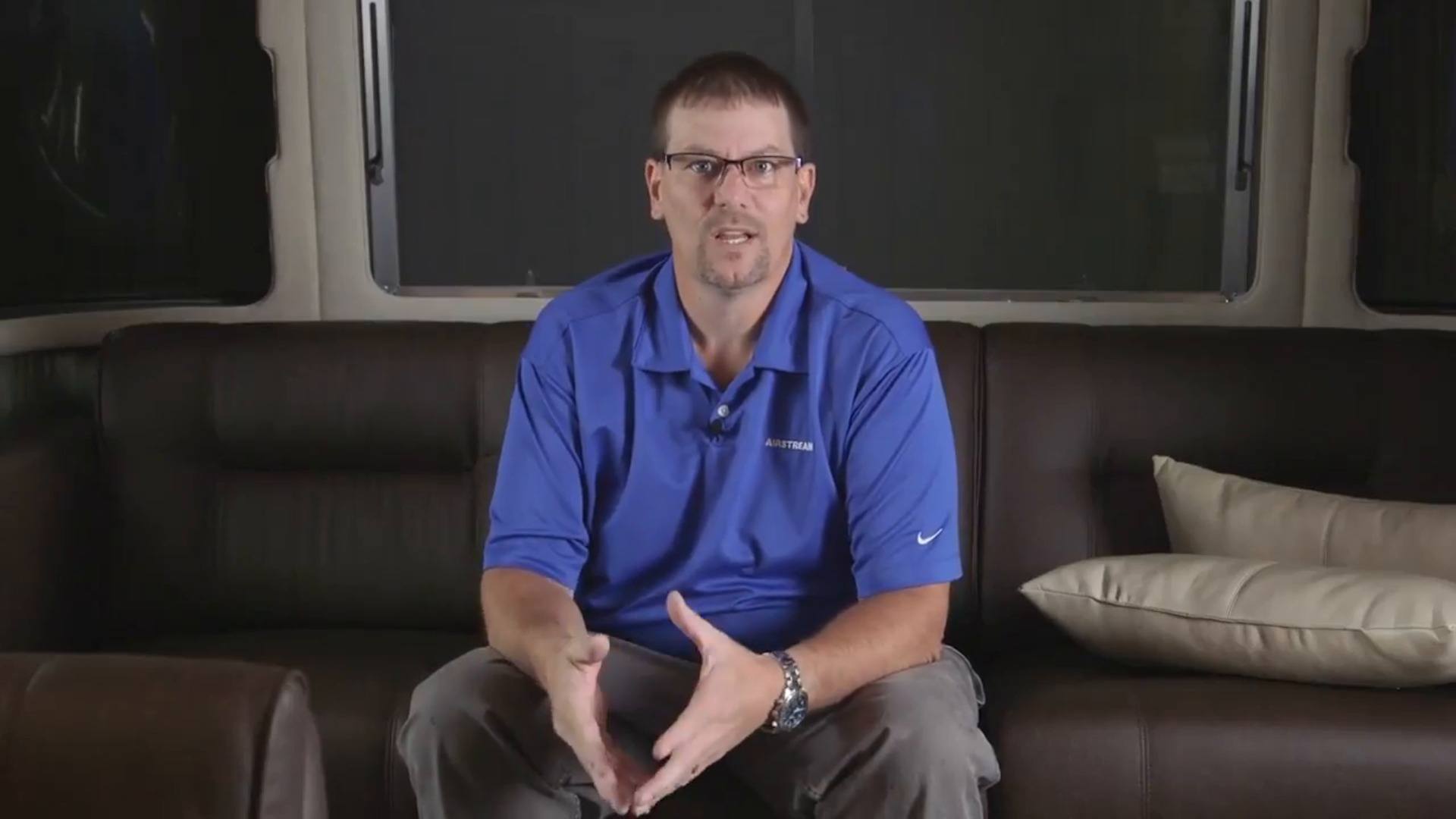 Interior Airstream Surfaces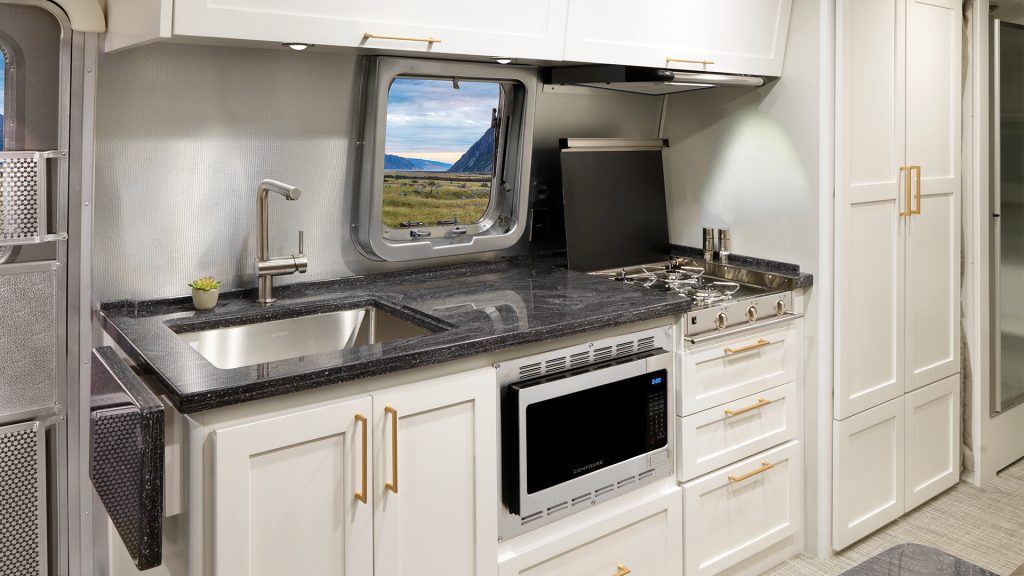 Use sanitizing wipes with 60% alcohol in them – or your favorite surface cleaner and a microfiber cloth – to do a pass over your kitchen countertops, cabinet handles, sink, faucets and faucet handles, bathroom counters and handles (including the shower), tabletops, and interior and exterior door handles. Also wipe off any countertop appliances, décor items, small electronics, and any items that sit out and get touched often.
It's also a great idea to give all of your kitchen utensils, flatware, cookware, and serveware a good wash from time to time. If you need some new gear for your next trip, shop our kitchen essentials guide.
RV Bathroom Basics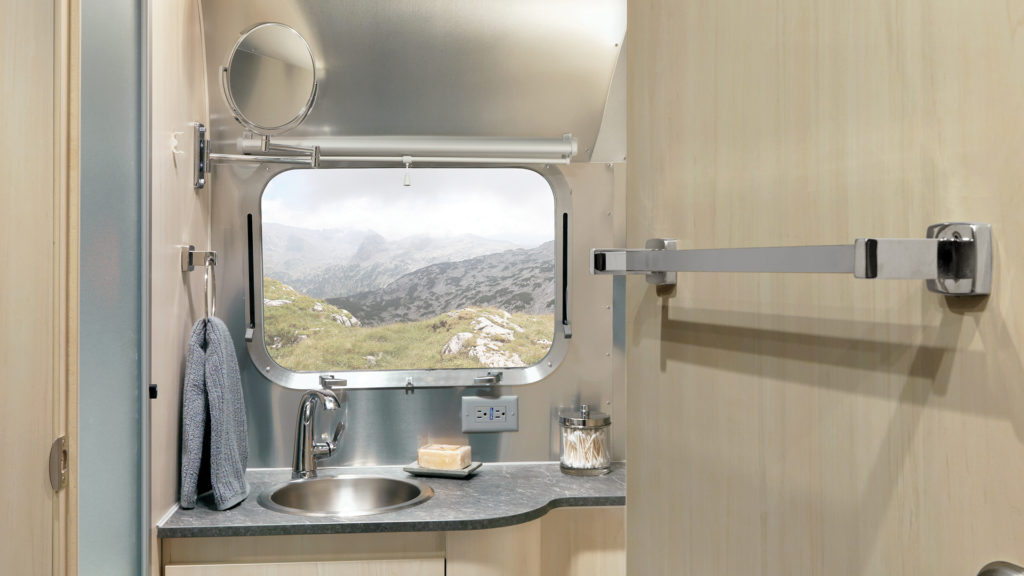 Typical liquid toilet cleaners are safe for rv toilets, but you'll want to avoid flushing anything but waste down the toilet. That includes cleaning wipes. It also never hurts to add some extra water to your toilet to help cleaners make their way into your black water tank.
Wipe down or squeegee the walls of your Airstream shower to remove build-up. We also highly recommend a drain cover if you have long hair that typically clogs up drains.
Cleaning Interior Walls
If your Airstream's interior features aluminum walls, use the same sanitizing products you use on countertops, and then follow with a shining polish like Pledge and a microfiber cloth to take away streaks. Work with the grain (front to back horizontally) and avoid up-and-down strokes which could scratch the surface.
If your Airstream RV includes ultra-suede fabric on the walls, baby wipes are a great way to keep them clean. Just be careful not to saturate the fabric and be sure to let it air dry. Dispose of wipes in the trash, never in the toilet.
Maintaining RV Floors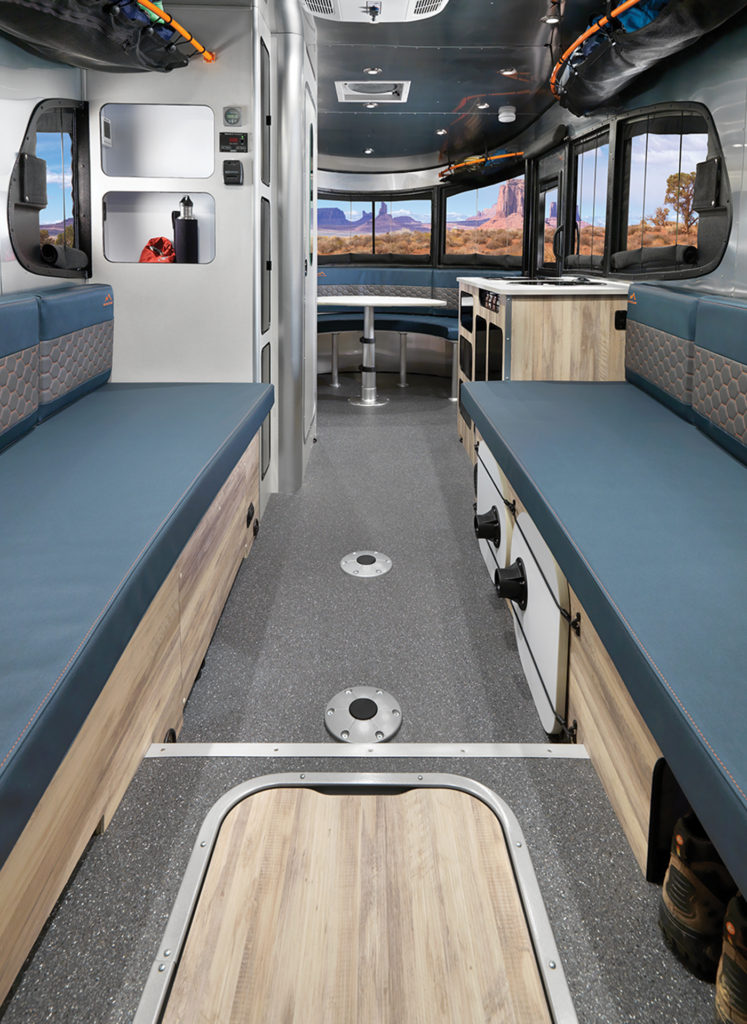 Start with a good sweep with a broom or Swiffer, then use warm, soapy water to disinfect and clean the floors. Let them air dry, and that's it! Your Airstream is built with the same type of floors you'd find on a boat or yacht, so they're super low maintenance and stay looking great.
Keep Fabrics Fresh
Sanitizing wipes are safe for Airstream seating fabrics and Ultraleather®, but it's always a good idea to test them on a small, out-of-sight area first. It's also a good idea to wash your sheets and towels in preparation for any trip. Our favorite pampering tip is to never skip fabric softeners and scent boosters, especially if you'll be on the road without laundry for a while.
Tips to Clean the Exterior of Your RV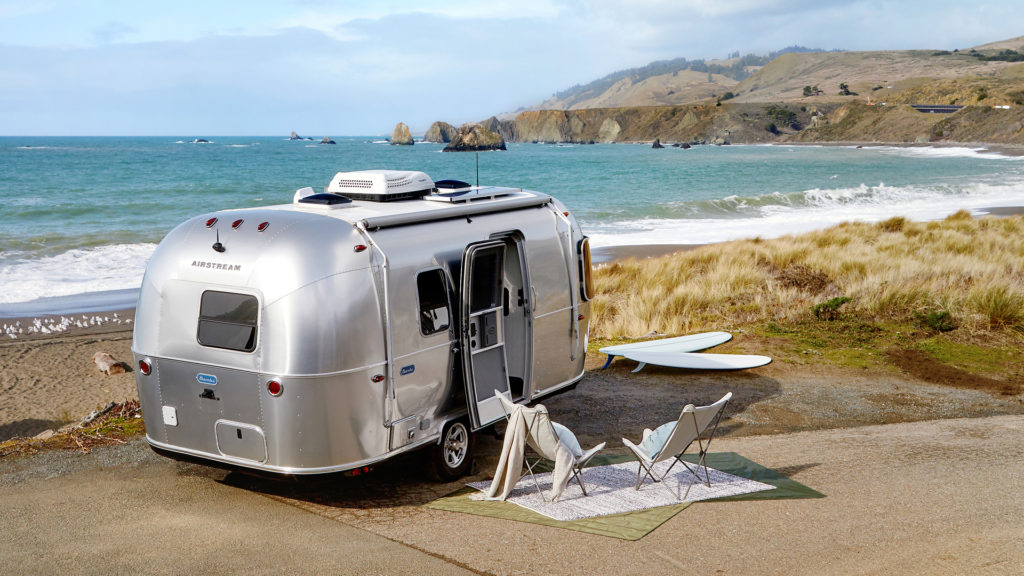 If cleaning the interior of your Airstream got you in the cleaning mood, keep it going on the exterior! Most auto products are safe to use on your Airstream, so long as they are safe with clear coats. Check for that on the bottle before you start cleaning. And always work with the grain, front to back horizontally, and never up and down.
RV Cleaning Supplies
Keep extra cleaning supplies on hand to do this again throughout your trip. Again, those supplies are:
Sanitizing wipes
Surface cleaner
Microfiber cloths (we like one for each "room" or space)
Broom and dustpan
Mop or wet cleaning floor pads
Antibacterial soap and fresh water
Baby wipes
Furniture polish
Auto cleaners that are safe for clear coat
Extra cloths dedicated for exterior cleaning
See more how-to videos and walkthroughs for both Airstream Travel Trailers and Touring Coaches. Click the button below to search the how-to archive.