If you're in the market for the perfect Class B RV, it's easy to get overwhelmed – from floor plans and amenities to gas mileage and size. Comparing them all can be cumbersome and confusing, which is why we've pulled the details together for you in one place.  
Let's start with what they share in common. Our incredible lineup of Airstream touring coaches are built either on the legendary Mercedes-Benz® Sprinter chassis or the proven and capable RAM ProMaster® 3500 chassis. Unlike most manufacturers, Airstream not only begins with the very best chassis but also adds in every safety and convenience option these chassis manufacturers offer – and we pass them on to you as standard features, not upgrades. While we start with the performance and dependability of Mercedes-Benz and RAM, Airstream takes those blank canvases and create interior masterpieces of design, functionality, and comfort.
From there, each Airstream touring coach takes on its own personality, with features and amenities unique to each. Below, we've broken down the difference to help make your decision easier.
Rangeline
Built on the proven RAM ProMaster® 3500 chassis, Rangeline features a modern, European-inspired interior that puts a premium on versatility. Whether heading out on a long road trip or simply heading across town, this 21-foot handcrafted van turns road travel into a seamless experience where you relish the journey to and from as much as you do the destination. Simplicity and functionality are built into its design DNA, with all onboard systems powered by the fuel in the gas tank, and an optional pop-top that provides an additional living and sleeping area above the van.
Airstream's expert design and engineering teams set out to create the perfect interior space with enough flexibility to accommodate family trips, solo excursions, or couples who want to head out for a weekend together. More than 90 years of building iconic recreational vehicles informed every choice along the way – starting with an exceptionally powerful electrical system that not only makes it a breeze to get set up at the campsite, but also enjoy the benefits of off-grid boondocking.
Rangeline Floor Plan

Standout Features
A single-fuel source hot water and comfort system for ultimate simplicity
Rangeline is powered by a 270-amp-hour lithium battery that comes standard and easily enables off-grid stays. A hydronic heating and hot water system delivers on-demand hot water and interior heat — all powered by the gasoline in the fuel tank. Likewise, the 2.8 kW generator also draws fuel from the vehicle's gas tank, keeping everything charged and allowing for operation of the air conditioner when away from shore power.
Optional roof-mounted pop-top for expanded living and sleeping space
Rangeline's pop-top is a game changer. Accessed via an interior ladder through a portal in the ceiling, the pop-top expands Rangeline's sleeping capacity to four – but its versatility doesn't end when you lay down to rest at night. For solo travelers and couples, the pop-top adds additional living space where you can escape to nap, read, or journal without intruding on the interior living space below. And you can use the pop-top as a bedroom while leaving the main bed folded up for more gear storage.
The Details
Height: 9'3" (including AC), 9'5" w/ pop-top
Length: 20'11"
Fuel: 24 gallons
Black Tank: 12 gallons
Grey Tank: 19 gallons
Fresh Water: 28 gallons
Wheelbase: 159"
Interstate 19
Beginning with the most nimble of our Class B RVs, the Airstream Interstate 19 proves that good things do come in small packages. The Interstate 19 Touring Coach takes everything that has made the Airstream Interstate the leader in luxury and innovation and wraps it in a smaller, nimbler 19-foot package – one that fits nicely in a standard parking spot.
Take off for a solo adventure or get some couple-time. Head to the city or the campsite. Enjoy every luxurious amenity and every advanced safety feature. And most importantly, have the time of your life in this dream on wheels.
Interstate 19 Floor Plan

Standout Features
The largest Class B RV bed you'll find
In the Interstate 19, a good night's rest is a top priority. The beauty of the convertible bed is its flexibility. The sofa acts as seating and lounging space during the day, and then with the push of a button, it transforms into sleeping space that spans the rear of the coach. It's designed to be supportive yet plush, and every square inch has been accounted for so there are no awkward areas. 
Ultra-efficient wet bath
The Interstate 19 has an RV wet bath, which means the entire space is designed to get wet. The showerhead double as the sink faucet and the entire bathroom serves as the shower space. If you need to dry a towel or bathing suit, there's also a retractable clothesline. 
The Details
Height: 9'7"
Length: 19'5"
LPG: 9.34 gal
Black Tank: 9
Grey Tank: 16
Fresh Water: 21
Wheelbase: 144"
Download Interstate 19 Brochure
Interstate 24GT
The Airstream Interstate 24GT is a Class B RV that elevates your travel experience when you're setting out on a long-term journey for two. The very first time you step inside the GT you'll see that we've carefully considered everything that will make your trips more enjoyable – from cooking to freshening up to getting some rest. And it's that kind of thought that has made the Interstate line a leader in luxury and innovation. Get ready to explore the world around you in complete comfort.
Interstate 24GT Floor Plan

Standout Features
A larger galley for the cook in the family
The 24GT (formerly known as the Grand Tour) is perfect for longer trips, which is why more space is devoted to the upscale galley kitchen. You have room to prep, cook, serve, and clean up after each meal on the road. You'll love the smart choices like a drawer microwave and the tempered glass cooktop and sink covers (which double as prep space when you're not using either appliance).  
The dedicated work station
Whether you're working from anywhere or just want to do a video call with family and friends, the work station in the 24GT is perfect. The driver's seat swivels around to face a small desk, and a flat screen HD TV is perfectly situated to catch up on the news or double as your monitor. 
Ultra-efficient wet bath
When you're out on longer trips, you'll begin to see the true beauty of the 24GT bathroom. Like the Interstate 19, the 24GT has an RV wet bath, meaning every inch of the space is designed to get wet. The showerhead double as the sink faucet and the entire bathroom serves as the shower space. And when you're finished, it's easy to clean with a simple wipe down.
The Details
Height: 9'8" (4WD: 9'11")
Length: 24'6"
LPG: 14.6 gal
Black Tank: 13
Grey Tank: 21
Fresh Water: 27
Wheelbase: 170"
Download Interstate 24GT Brochure
Interstate 24GL
Whether you're heading to the beach house or to the game to tailgate, the Airstream Interstate 24GL Touring Coach elevates the whole experience. Step inside this luxury Class B RV and you and your guests will be wowed. Settle in and enjoy every comfort you can dream of during your time on the road. Park at your destination and relax in style, surrounded by the best-in-class luxury features.
Interstate 24GL Floor Plan
Standout Features
Seats up to nine
The 24GL (formerly known as the Lounge) is designed for welcoming guests – the more the merrier. Inside the power sliding door are two captains chairs, plus the driver and passenger captain's chairs that swivel around to make a conversation area. Toward the back is another seating area with a sofa and side seats. All together, nine people can sit comfortably and travel safely. 
Ultra-efficient wet bath
When you're entertaining, a bathroom is a must. And the 24GL bathroom is as hard-working as it is sleek. Like the 19 and the 24GT, the 24GL has an RV wet bath, which means it's all designed to get wet. That also means it's super easy to keep clean and looking like new. And it all hides behind a wooden door that matches the cabinetry inside the coach.
The Details
Height: 9'8" (4WD: 9'11")
Length: 24'6"
LPG: 9.8 gal
Black Tank: 13
Grey Tank: 27
Fresh Water: 26
Wheelbase: 170"
Download Interstate 24GL Brochure
Atlas
The Atlas Touring Coach is our most luxurious – and largest – touring coach to date. Like all our touring coaches, the Atlas is built on the legendary Mercedes-Benz® Sprinter van chassis and is inspired by our trailblazing Airstream Interstate series. But with its power slide-out, richly appointed features and finishes, and understated automotive styling from grill to bumper, we affectionately call the Atlas a Class B+. A new standard has arrived for those who believe that a well-traveled life begins with the best.
Atlas Floor Plan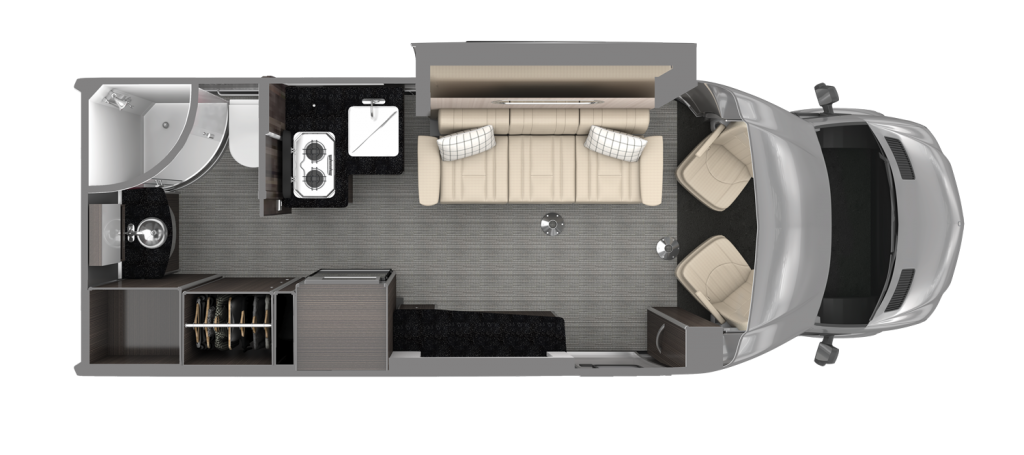 Standout Features
The Murphy Suite
Thanks to the power slide-out, the Atlas motorhome is equipped with a Murphy bed that stays fully concealed behind the sofa wall when not in use, and comes down over the sofa when you're ready to rest. The mattress is supported by a Froli® ergonomic sleep system of interlocking springs that provide a supportive sleeping surface just like home. There are even reading lights and small storage compartments for your nighttime essentials. And when you're in bed, you're in perfect view of the TV, which raises out of the storage cabinet with the push of a button.
The Residential Bathroom
If you're looking for more of a home-like bathroom than an RV wet bath, you'll love the residential-style three-piece bathroom (also known as an RV dry bath) in the Atlas. The freestanding shower brings luxury on the road with you, and the vanity offers plenty of counter space and plenty of bathroom storage below. The bathroom spans the entire rear of the coach.
The Details
Height: 10'6"
Length: 24'6"
LPG: 9.76 gal
Black Tank: 23
Grey Tank: 31
Fresh Water: 23
Wheelbase: 170"
Tommy Bahama<sup>
®</sup>

Special Editions

The only way to improve upon the merger of Mercedes-Benz and Airstream, is to add a touch of the island life from Tommy Bahama. An exclusive brand partnership between Airstream and Tommy Bahama brings you a full line of Tommy Bahama touring coaches. Coming in each of the four Airstream floor plans, the Tommy Bahama Special Editions will whisk you away to the beach.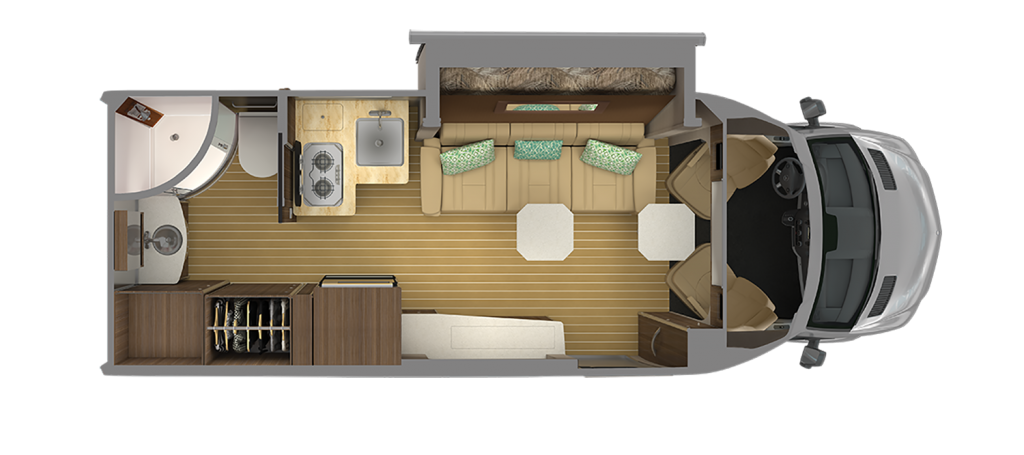 On any Airstream touring coach: class B 4x4 or air ride
Comfort and safety on the road is always a top priority. Four-wheel drive helps improve traction in inclement weather or uneven roads, while air ride suspension adjust to changes in elevation and wind conditions to give you a consistently smooth ride from start to finish. 
Still comparing?
We want you to feel informed at every turn, which is why we've made it easy to compare touring coaches here, at your Airstream dealer, or with our online Compare Tool, which allows you to look at the features and specs of up to three Airstream touring coaches at once and save your results to refer back to later. Happy shopping!