Do you want to experience the thrill and challenge of boondocking off grid? Or do you prefer traditional campsites with level cement pads?
Are you exploring the potential for a full-time adventure on the road? Or do you love weekend trips close to home?
Are you a solo traveler, a travel-loving couple, or a family in search of new horizons?
Any Airstream will give you the travel experience of a lifetime, but there are subtle differences across the model lines that make some trailers better suited for certain activities. Choosing between single-axle and dual-axle model lines is largely a question of how you will use your Airstream, who's coming along, and what kind of experience you're looking for when you hitch up and go.
Single-Axle vs. Double-Axle Airstream Travel Trailers: The Basics
Today, Airstream manufactures nine travel trailer model lines. Four (Bambi, Caravel, Basecamp, and the REI Co-op Special Edition Basecamp) are single-axle models, while five are dual-axle (Flying Cloud, International, Globetrotter, the Pottery Barn Special Edition, and Classic). No matter the model line, each Airstream travel trailer is built with the same exacting detail and dedication to hand-made craftmanship.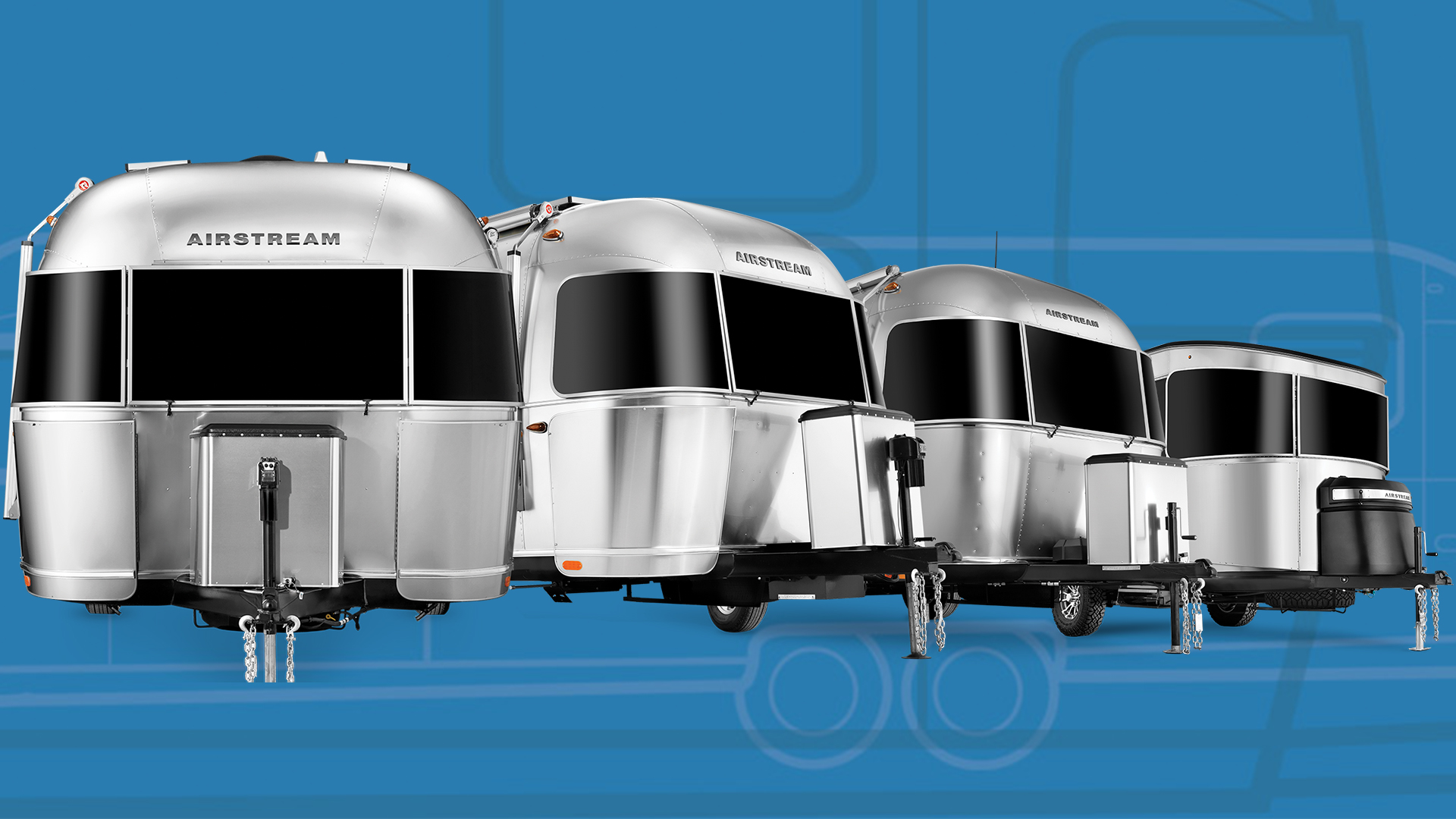 The most obvious difference between our single-axle and double-axle offerings comes in the length and floor plans. Airstream travel trailers are built on a chassis – a strong metal frame that supports the travel trailer structure above, houses the holding tanks below the floor, and provides the mounting point for the axle(s) that enable mobility and allow the trailer to travel. Because longer travel trailers are naturally heavier, two axles are required to support the increasing weight as length goes up. Airstream splits the axle offering between 22 feet and 23 feet – anything 22 feet or shorter is a single-axle trailer, and anything 23 feet or longer (up to Classic's 33 feet) has two axles.
Airstream's
Single
-
Axle Trailers
Bambi 
Over the years, Bambi was the nickname given to any single-axle Airstream. Named after Airstream's first single-axle trailer offering in 1961, the Bambi line today is a point of entry for many outdoor enthusiasts who want to experience the Airstream lifestyle. Available in four floor plans at 16, 19, 20, and 22 feet.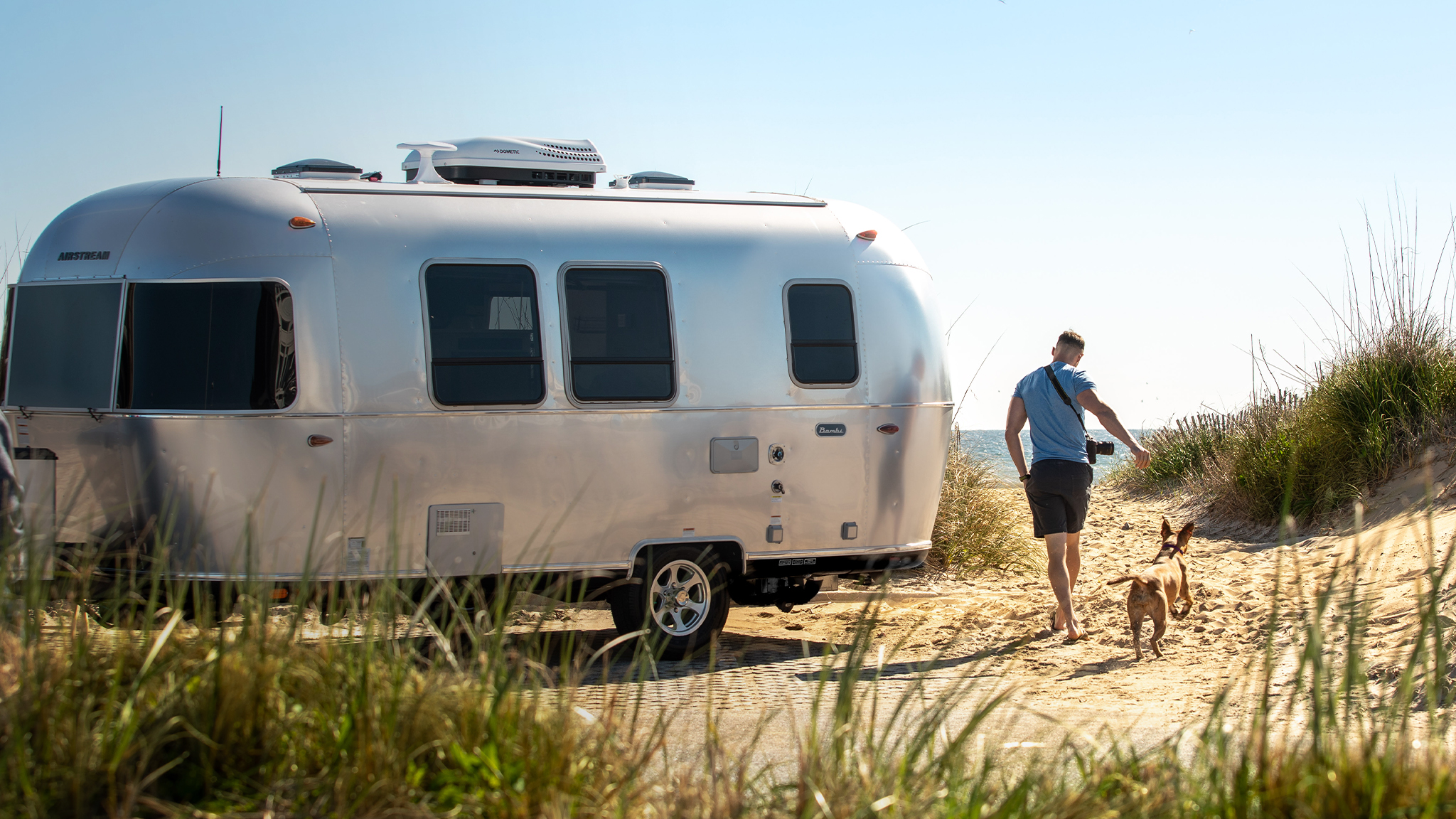 Caravel 
Like its Bambi counterpart, Caravel is compact, nimble, and easy to tow and maneuver. Caravel stands out with elevated style, upgraded materials and features, and upscale modern sophistication. Available in four floor plans at 16, 19, 20, and 22 feet.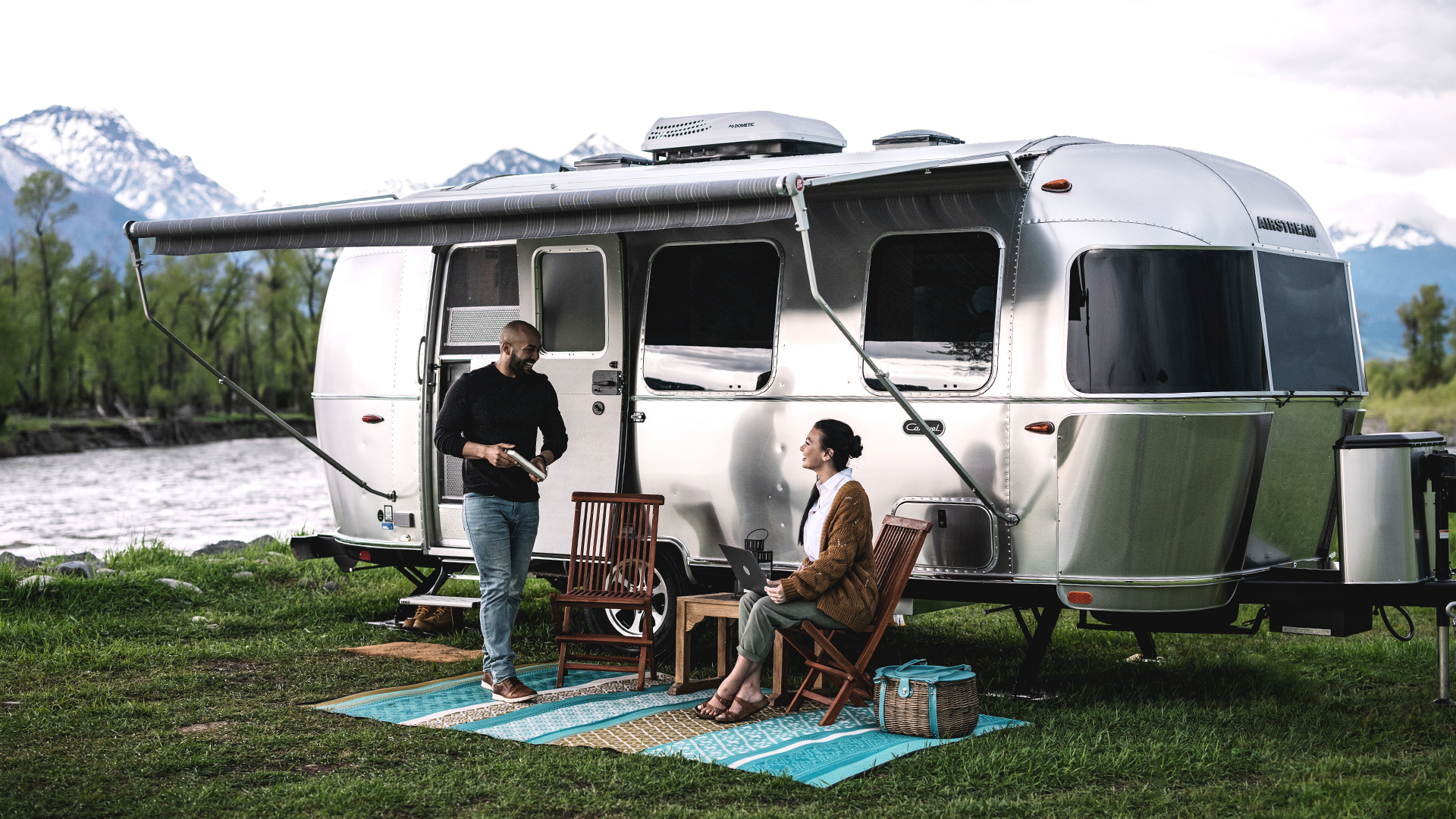 Basecamp 
Airstream's most adventure-ready travel trailer, Basecamp is also one of our most popular model lines. Compact and easy-to-tow, Basecamp has features and amenities that make it easy to stray off grid, getting you closer than ever to the action. Available in two floor plans at 16 and 20 feet.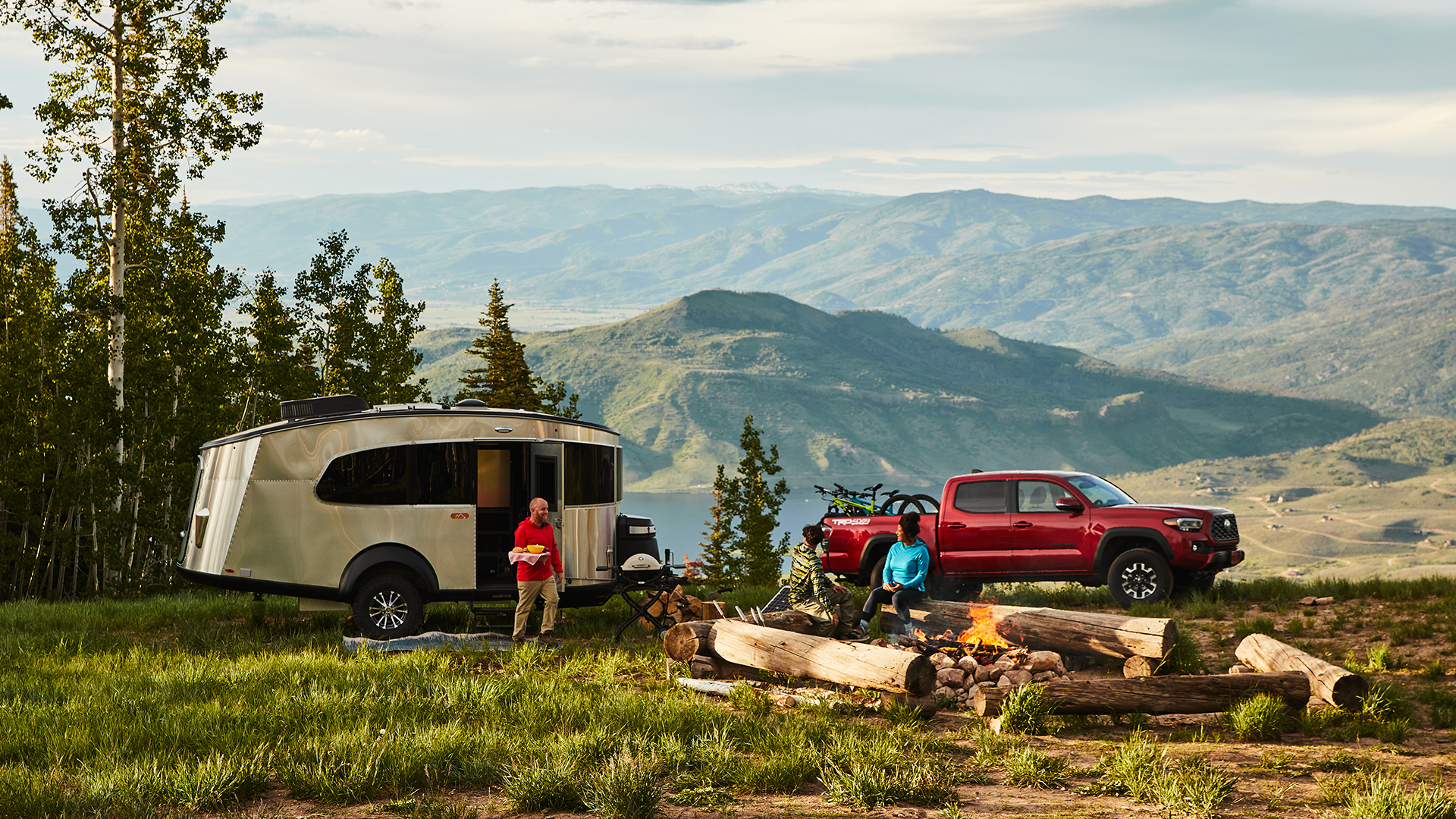 REI Co-op Special Edition Basecamp 
Our partnership with one of the outdoor industry's most influential brands, the REI Co-op Special Edition Basecamp takes everything we love about the Basecamp and adds exclusive upgrades like a water purification system, enhanced solar and battery power, and an expansive kit of REI Co-op outdoor gear. Available in one floor plan of 16 feet.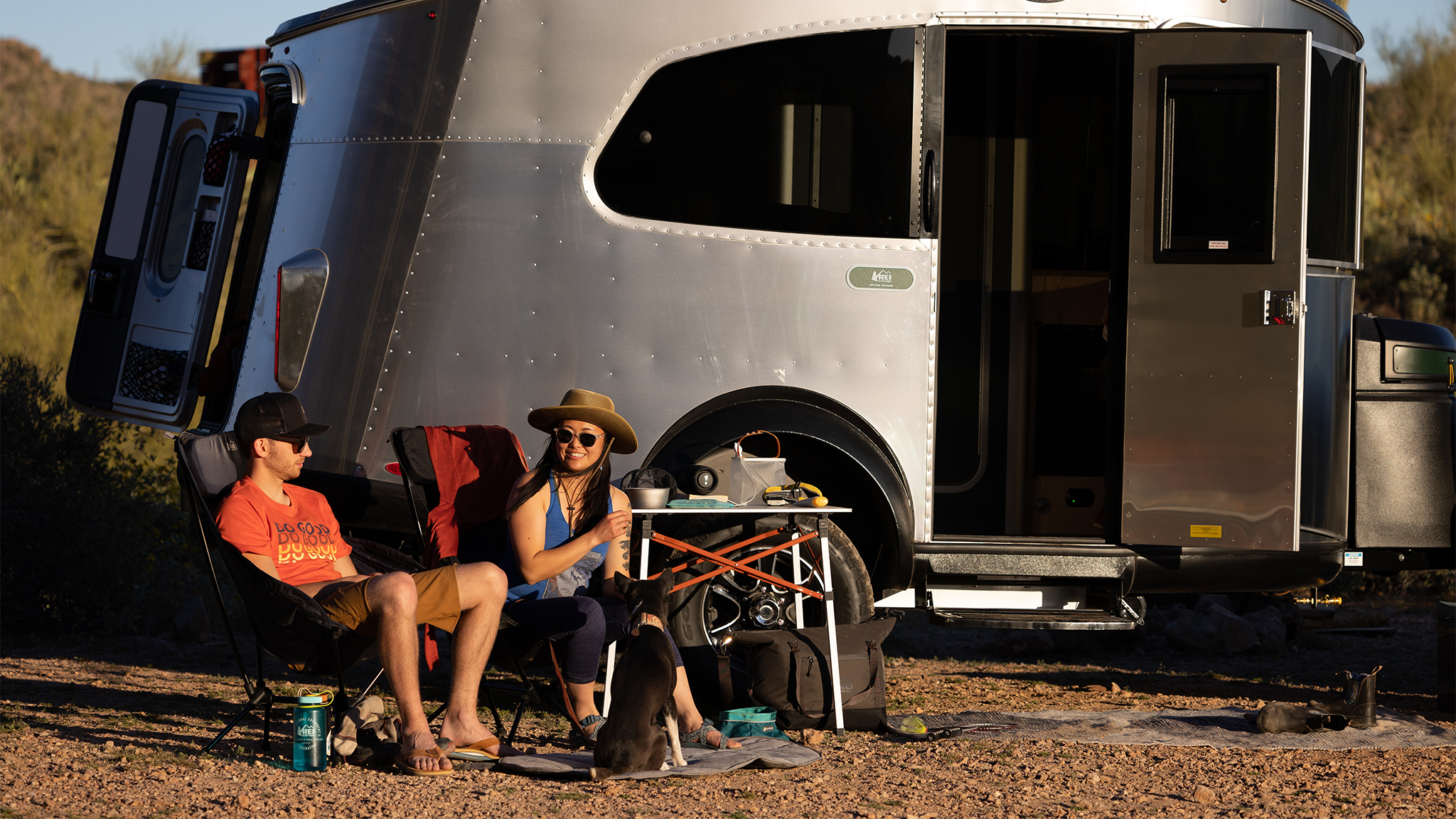 D
ual
-
Axle Trailers
Flying Cloud 
Our most family-friendly model, Flying Cloud is available in a wide variety of lengths, decors, and optional features, making it one of the most versatile Airstream model lines. Available in five floor plans at 23, 25, 27, 28, and 30 feet.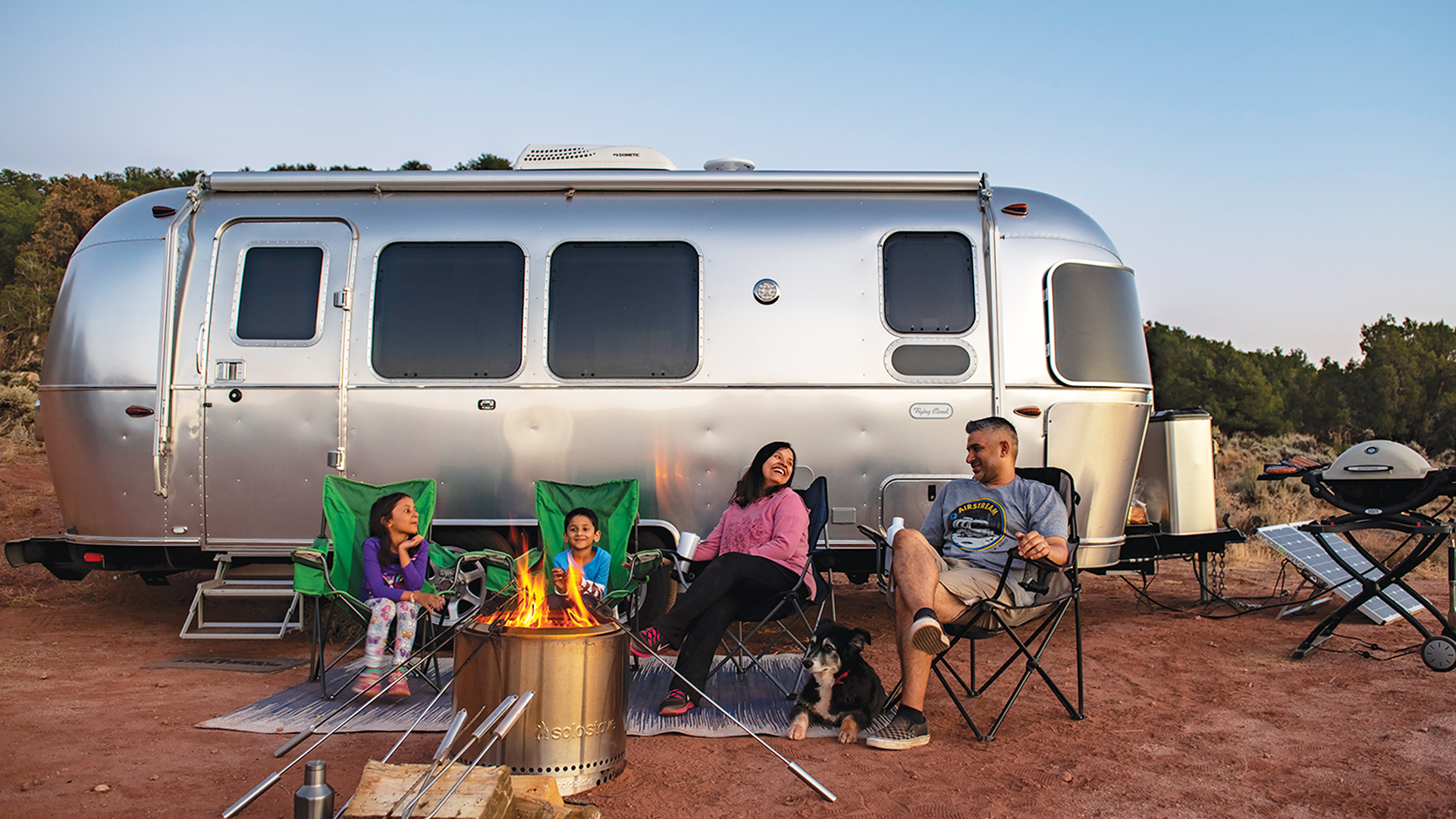 International 
With décor inspired by the tranquility of the ocean, International is a design-forward model line that harnesses the calming energy of cool wood tones, clean modern lines, and natural seashore textures. Available in five floor plans at 23, 25, 27, 28, and 30 feet.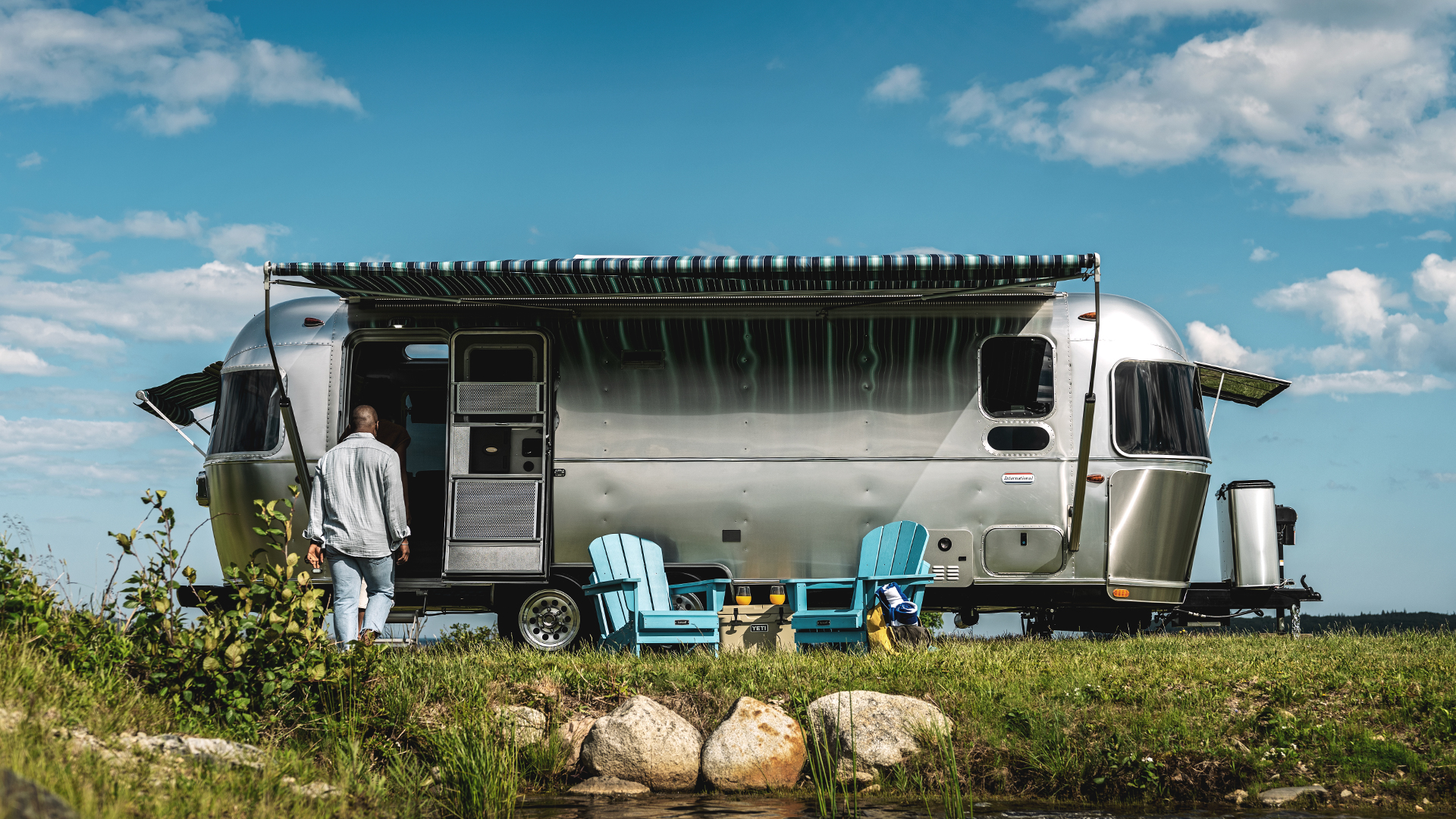 Globetrotter 
A design enthusiast's dream come to life, Globetrotter is a stunning travel trailer with crisp, clean lines and delicate neutral colors. It's the embodiment of modern design mentality that makes a statement wherever it goes. Available in three floor plans at 25, 27, and 30 feet.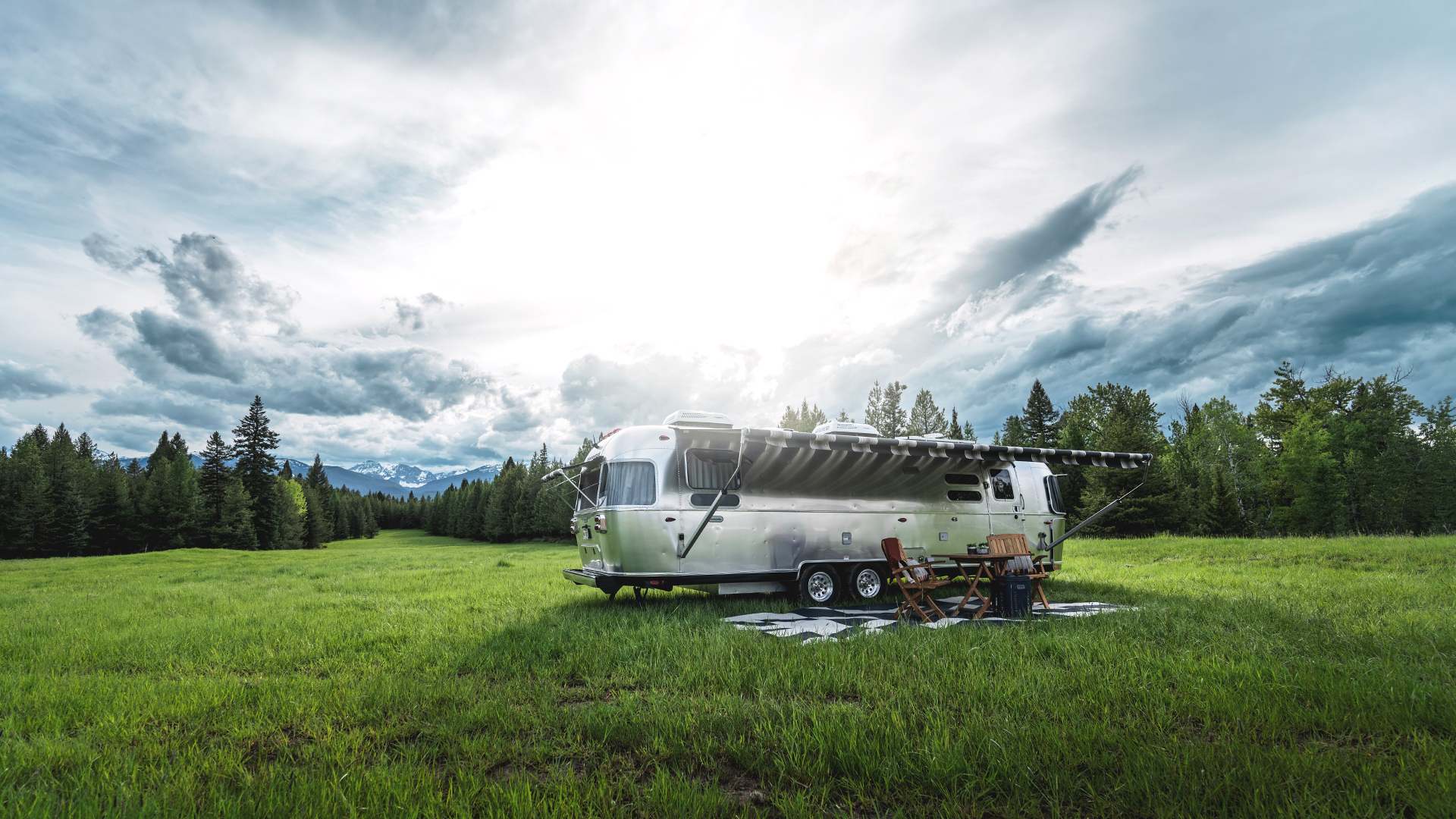 Pottery Barn 
Comfortable, connected, and capable of letting you travel anywhere while feeling like you're always home, the Pottery Barn Special Edition is a gorgeous 28-foot travel trailer designed in partnership between two iconic brands. Available in one floor plan at 28 feet.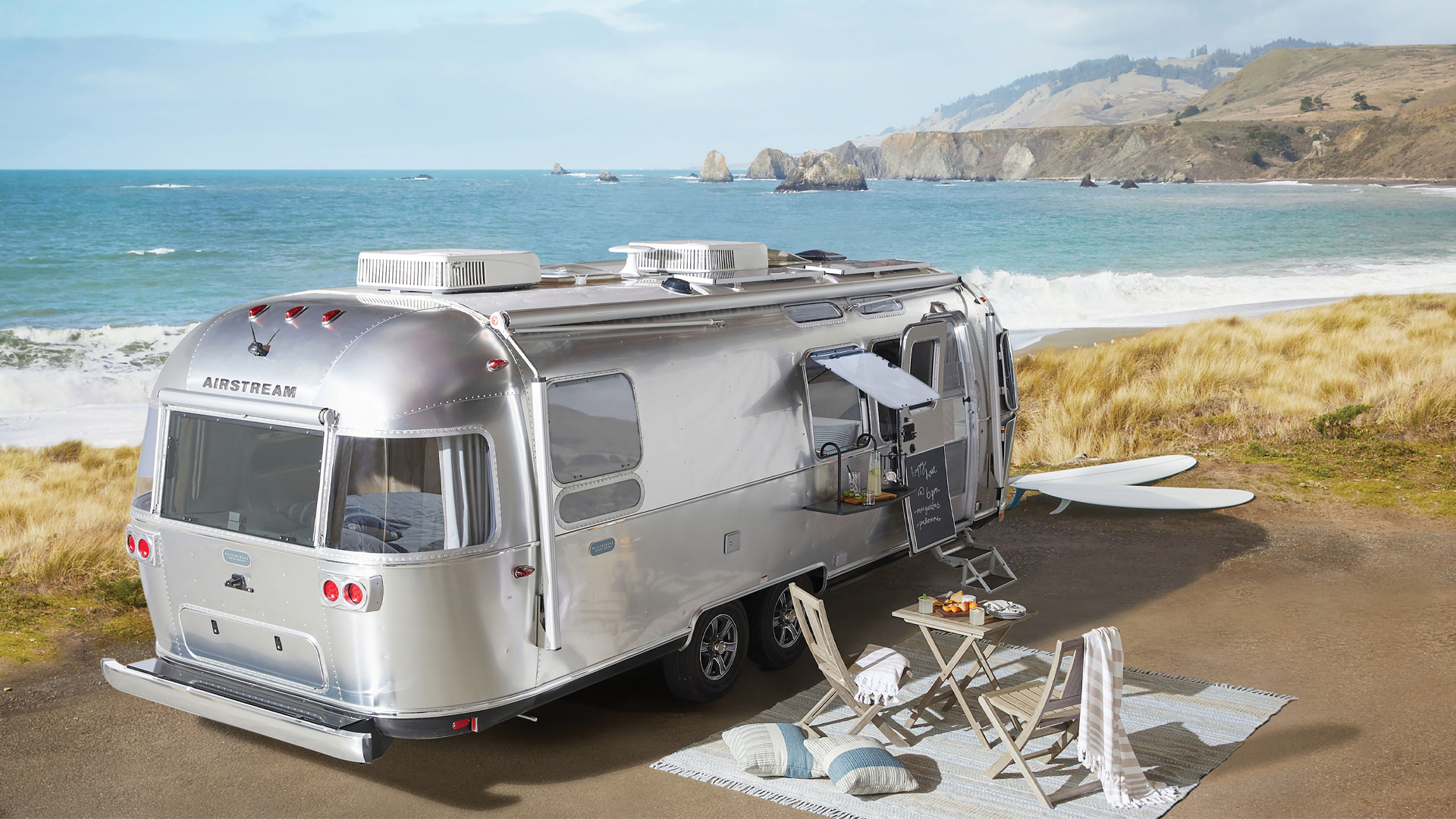 Classic 
Created for long trips or full-time living, Classic delivers the comforts of home with a full slate of amenities and technological upgrades that make it our flagship model. Hit the road knowing you'll start and end each day surrounded by features that transform a road trip into an unparalleled travel experience of adventure and retreat. Available in two floor plans at 30 and 33 feet.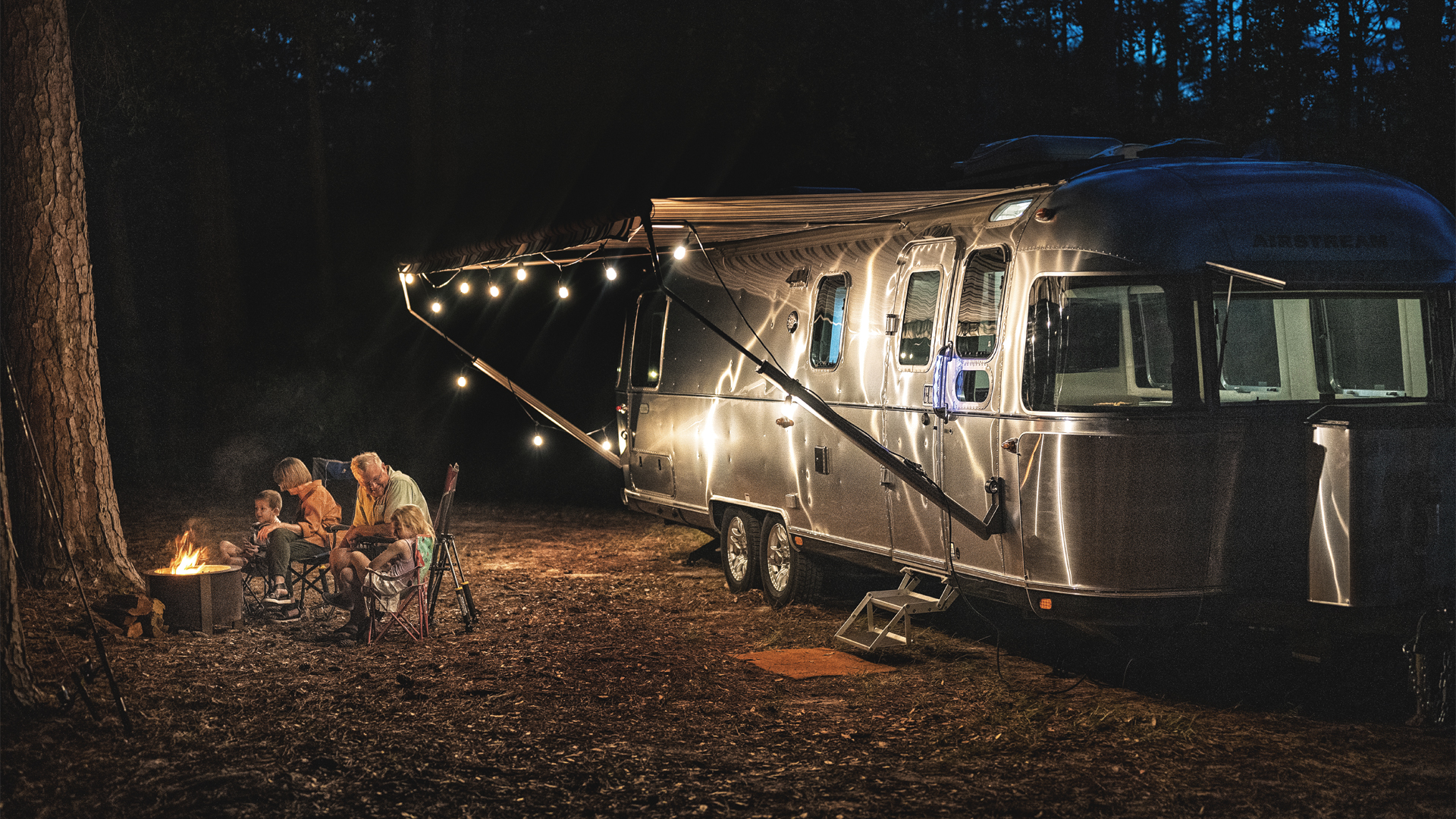 Things to Consider
Number of axles aside, deciding between two models (for the most part) boils down to personal preference, design sensibility, and your investment in the experience. The choice between a Flying Cloud and an International might rest solely on which décor package you prefer. Likewise, a 30-foot Globetrotter and a 30-foot Classic differ considerably when you step through the main entry door – and your choice will probably come down to your preference of materials, surfaces, flooring, décor, and technology features.
But when it comes to the fundamental choice between a single-axle and a dual-axle Airstream, the dividing lines are drawn a bit more clearly. Your affinity for towing (and previous experience), your current (or future) tow vehicle, and the number of travelers you're bringing along for the ride all weigh considerably into that decision.
Benefits of Single
-
Axle
Airstream Travel Trailers
Many seasoned Airstreamers will tell you that it doesn't matter how long your trailer is – if it's an Airstream, after a bit of experience it hardly feels like it's back there at all. But for those of us without years of towing under our belts, hitching up and hitting the road can be intimidating at first. Airstream's single-axle travel trailer offering takes some of the trepidation out of the equation, with lightweight, easy-to-tow models. And some of them might even be towable by the vehicle you already have in your garage or driveway.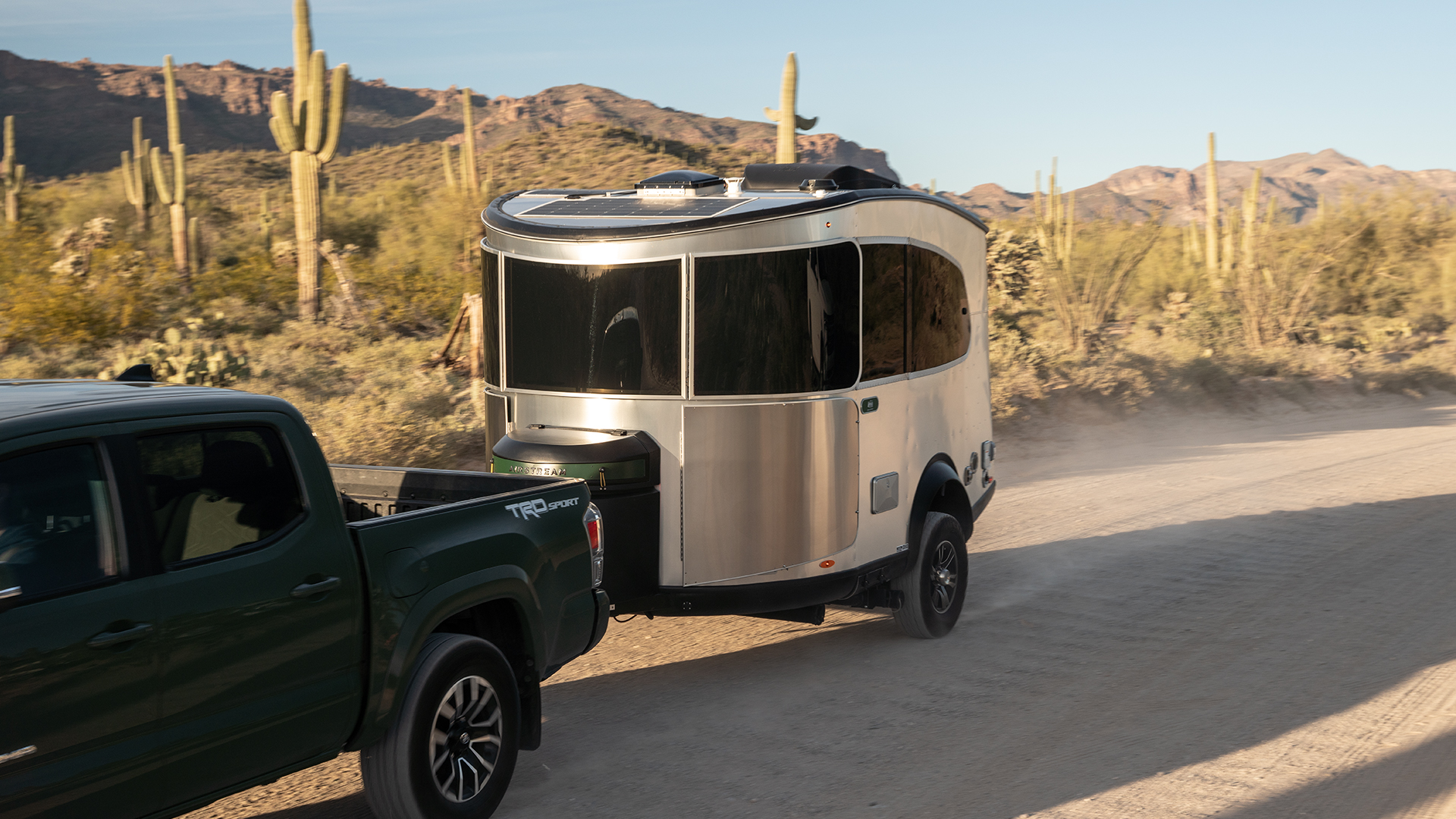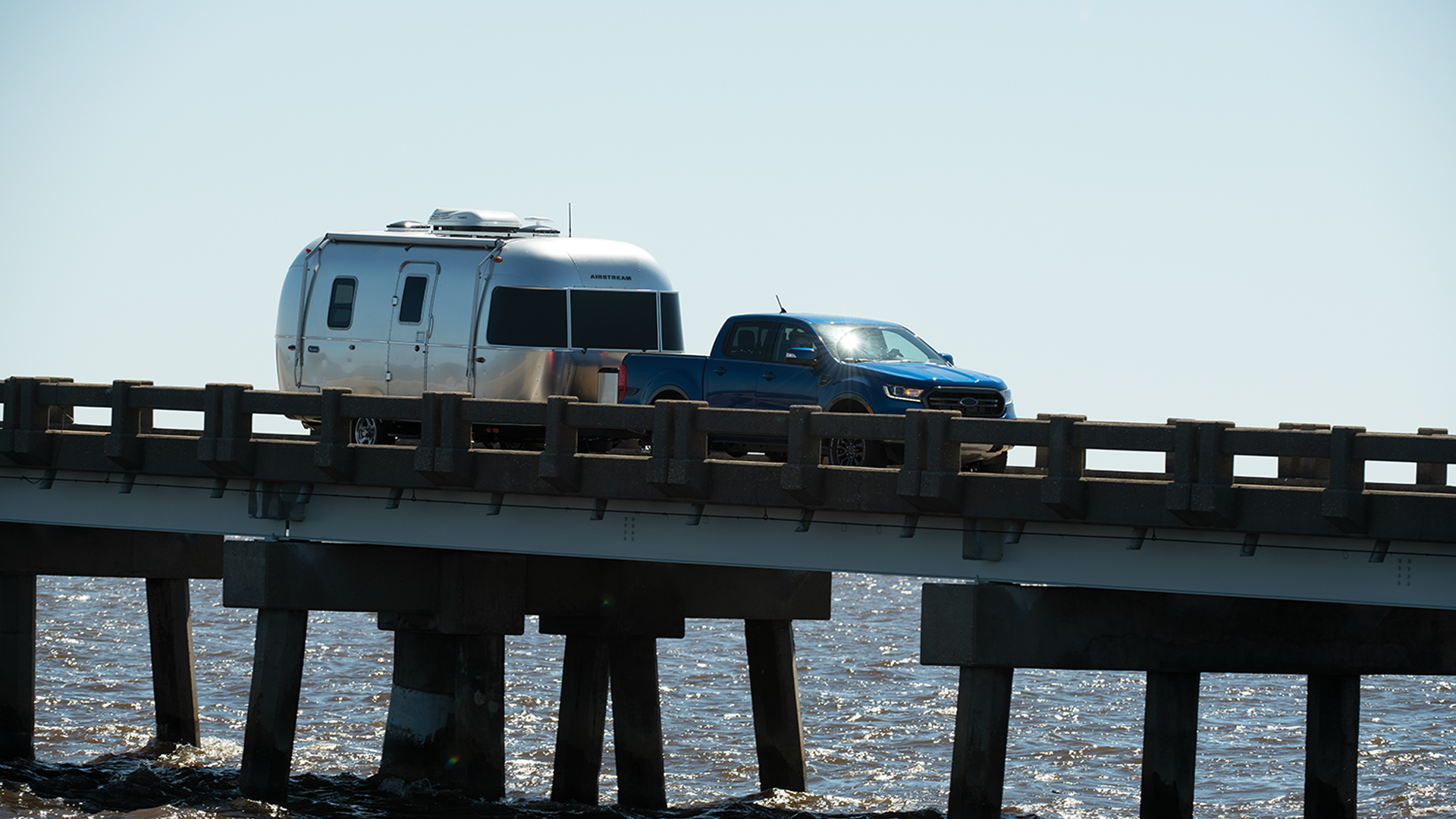 Airstream's Complete Towing Guide makes it easy to understand the various acronyms, terms, and things to consider when looking for a tow vehicle. Plus, our downloadable guide features all the towing specs for our entire lineup.
Single-Axle Trailers Fit into More Campsites
An unfortunate fact of RV life: All campsites are not created equal. Some feature long, perfectly level cement pads upon which you can set up camp, some are quite short, and some have a distinct slope. Additionally, many state and national parks have length restrictions on RVs, which can limit the number of camping options available to larger trailers. And often, you don't know until you arrive what type of site you'll end up with. By choosing a single-axle Airstream, you can enjoy the same level of comfort and convenience in a more compact package, without having to sacrifice location or accessibility.
And if you want to get further off grid and enjoy the magic of boondocking, single-axle trailers are a great choice. From navigating narrow roads to traversing uneven terrain, single-axle travel trailers can often weather these obstacles better than their longer counterparts.
Benefits of Dual-Axle Airstream Travel Trailers
Larger, Airstream travel trailers with two axles offer several benefits when compared to their smaller, single-axle counterparts – but as noted elsewhere: It's all in what you want out of your travel experience. For families or groups of friends traveling together, dual-axle travel trailers might be a no brainer option simply because they offer more space to spread out and more sleeping options. But even couples and solo travelers find great benefit to upgrading to a longer travel trailer. In the end, while your choice of Airstream is as unique as you are, there are some commonalities that everyone should consider.
Dual-Axle Trailers Offer More Room to Spread Out – both for Travelers and Their Gear
For families, larger groups traveling together, or folks with furry friends to bring along, Airstream's dual-axle travel trailers are a great option simply because they offer more room to spread out. From seating space to sleeping arrangements, dual-axle travel trailers offer additional comfort and convenience for families and groups traveling together. Plus, many of the larger Airstreams offer twin bed options that make them even more versatile. All that extra room also means more space to store gear, both inside and outside the trailer.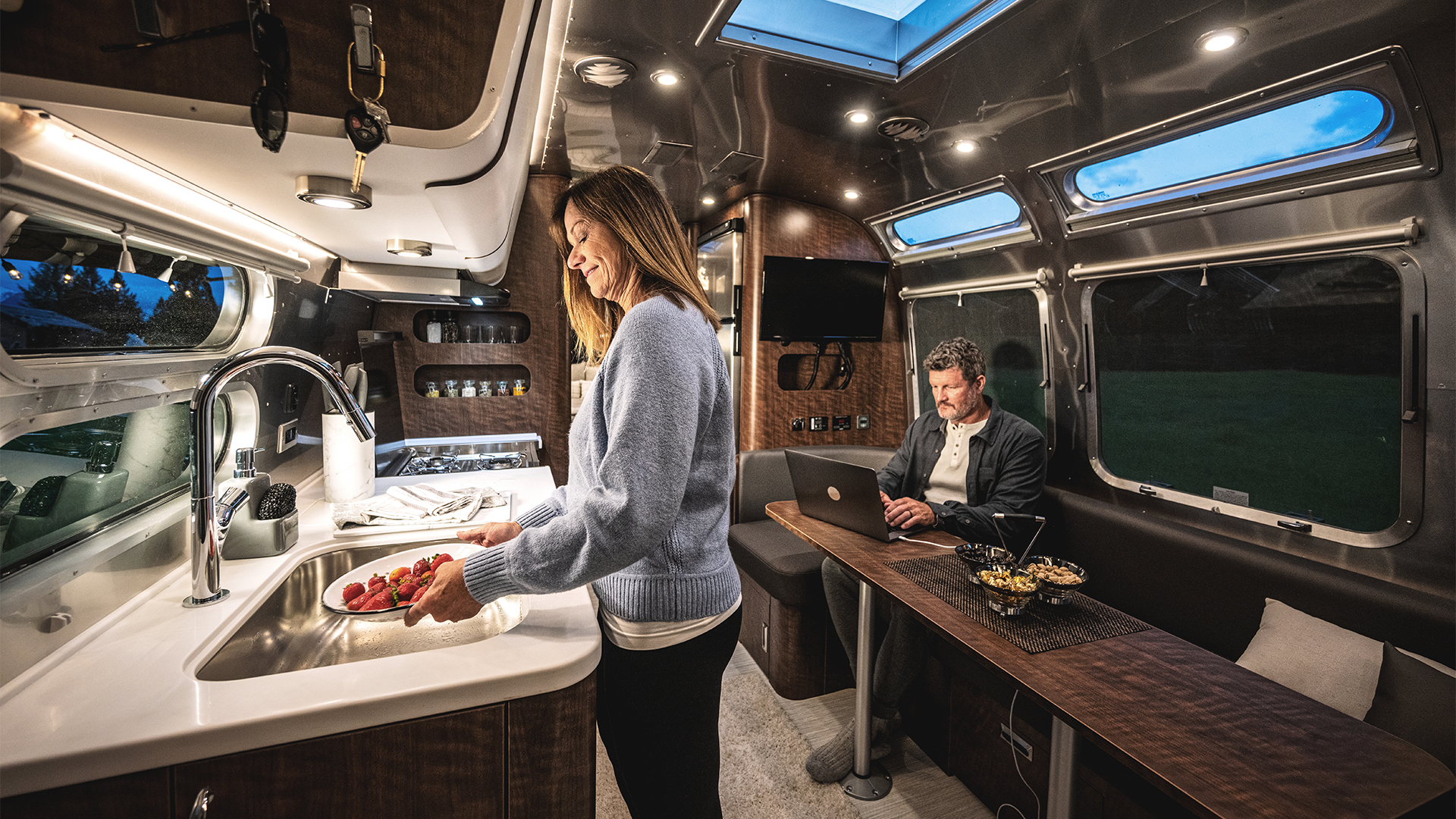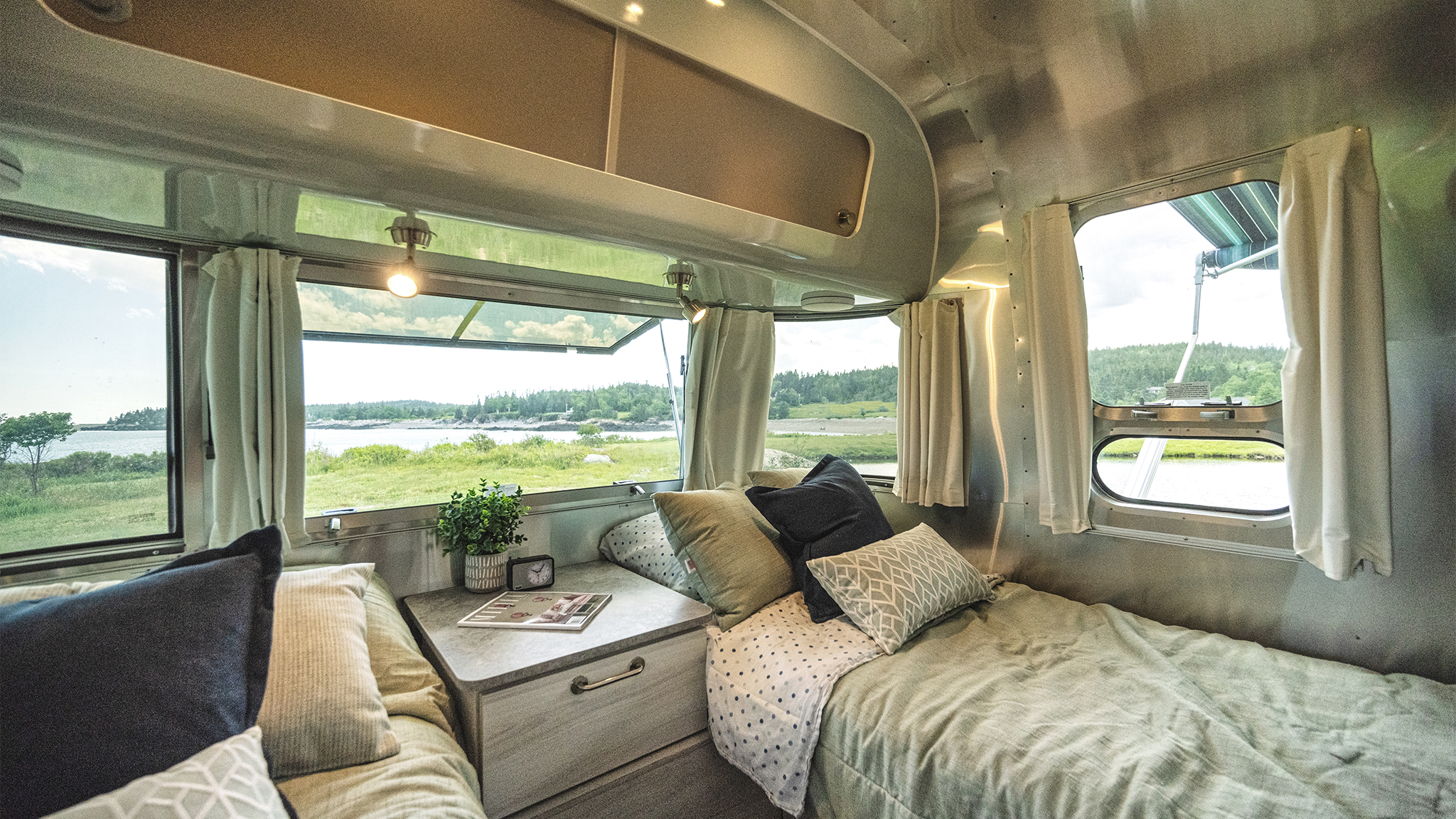 Longer Airstreams Offer More Work-From-Anywhere Options
No matter the length, Airstream travel trailers make for great mobile offices. With dedicated seating areas, flat screen TVs that can double up as extra monitors, and ample options for powering your devices, Airstream travel trailers have been the go to for digital nomads and work-from-anywhere (WFA) enthusiasts.
But Airstream also offers several dedicated work-from-anywhere models with special features that make it easier to find the quiet and solitude necessary when you're working from the road – and those features are only available in our dual-axle Flying Cloud offering.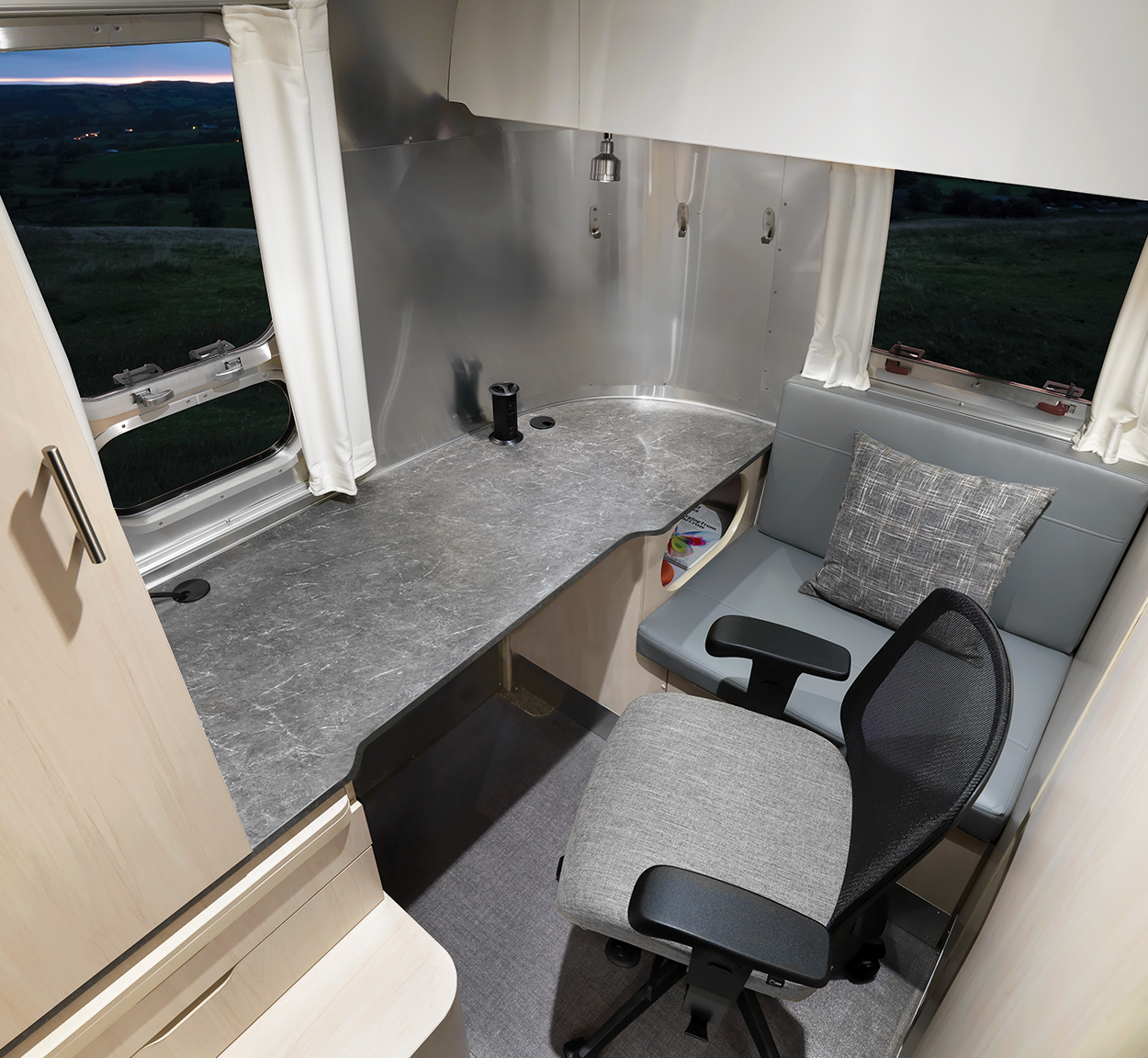 The Airstream Flying Cloud 30FB Office is the flagship WFA model, with a dedicated workspace tucked into the rear streetside (passenger side) of the trailer. A desk with rolling chair anchors the design, with plenty of storage, pop-up USB and electrical outlets, and a wide window offering incredible office views. And when the workday is over, a convertible seating area in the office expands to provide an extra sleeping space.
The Flying Cloud line also offers a WFA option in two of the smaller floorplans, with a Powered Standing Desk option for Flying Cloud 25FB and 27FB models. Building on the popular modern innovation of the 30FB Office, the Powered Standing Desk option replaces a section of the lounge seating area with an adjustable sitting/standing desk that raises with the push of button. The adjacent flatscreen TV is perfectly situated to double as a second computer monitor, built-in pop-up outlets are conveniently located, and an included rolling desk chair tucks neatly under the desk.
Popular Options Only Offered in Dual-Axle Trailers
Some of Airstream's most popular optional features are only available in longer floorplans. The game-changing Rear Hatch is available on 25- and 27-foot International and Flying Cloud models, giving you the ability to open the back of the trailer to cool breezes, enjoy al fresco dining, and easily load gear.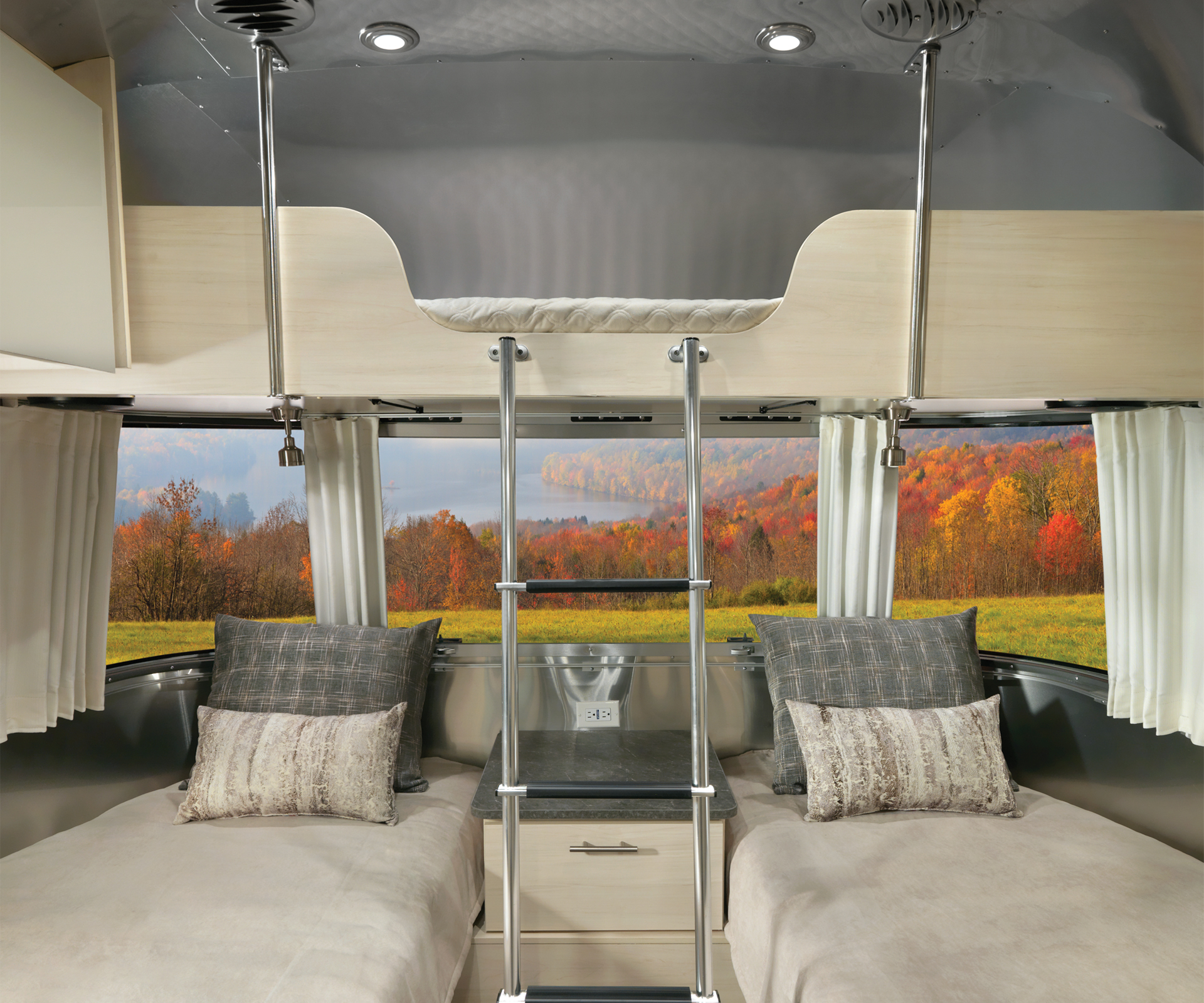 Bunks are another popular feature available in the Flying Cloud line. The Flying Cloud 30FB Bunk has a dedicated bunk bed tucked into the back streetside corner. Bunks are also optional features in the Flying Cloud 25FB and 27FB (where the bunk hangs over the front queen bed or twin beds). Both bunk options can be used as extra storage spaces during transit, as well.
And if boondocking and getting off grid are part of your travel plans, longer travel trailers offer more rooftop space for solar panels. Whether you add solar panels as an optional feature from the factory or do it yourself after the fact, having more length means more rooftop real estate for you to mount solar panels and start harvesting the sun's free, abundant energy.
Flat Tire Changing
No one wants to get a flat tire while heading out on a road trip. But should you need to change a tire while en route, a dual-axle travel trailer has the added benefit of making this job slightly easier because they usually don't require the use of a jack. Simply place leveling blocks in line with the tires and pull forward (or backward) onto the good tire. This will lift the Airstream chassis up, making it relatively easy to remove the flat tire and replace it with a spare.
Single-Axle vs. Dual-Axle: A Matter of Preferences
Family or couple? Towing experience or none? Boondocking for a week or hitting the local campground for a weekend of fun? Your preference for an Airstream travel trailer is as unique as you and your travel dreams. From easy-to-tow single-axle models to expansive models with all the bells and whistles, Airstream offers something for every travel style.
Now that you know what to consider when comparing single- to dual-axle travel trailers, build the Airstream of your dreams with our online configurator tool. Compare lengths, see all the available optional features, get a quote and get connected with your local dealer.
Ready to see Airstream travel trailers in person? Find your local dealer and schedule a visit today.