Building on the modern innovation of this year's popular Flying Cloud Office 30FB, we've added standing desk options to two popular Flying Cloud floor plans. Now available in the Flying Cloud 25FB and 27FB models, the new integrated desk option features a powered sit/stand desk, additional electric outlets, a desk chair, and more features that make it easy to take modern life on the road. With the longstanding family-friendly amenities and features Flying Cloud is known for, the new multi-use desk option joins the rear hatch and add-on front bunk as optional features that add exciting ways to play, work, live, and learn while Airstreaming.  
The new desk options takes its cues from the development of the Flying Cloud 30FB Office – where a small improvement added a whole world of possibilities. Development began by exploring how the space could be utilized by removing a section of the long sitting/sleeping bench in the main living area of both the 25FB and the 27FB.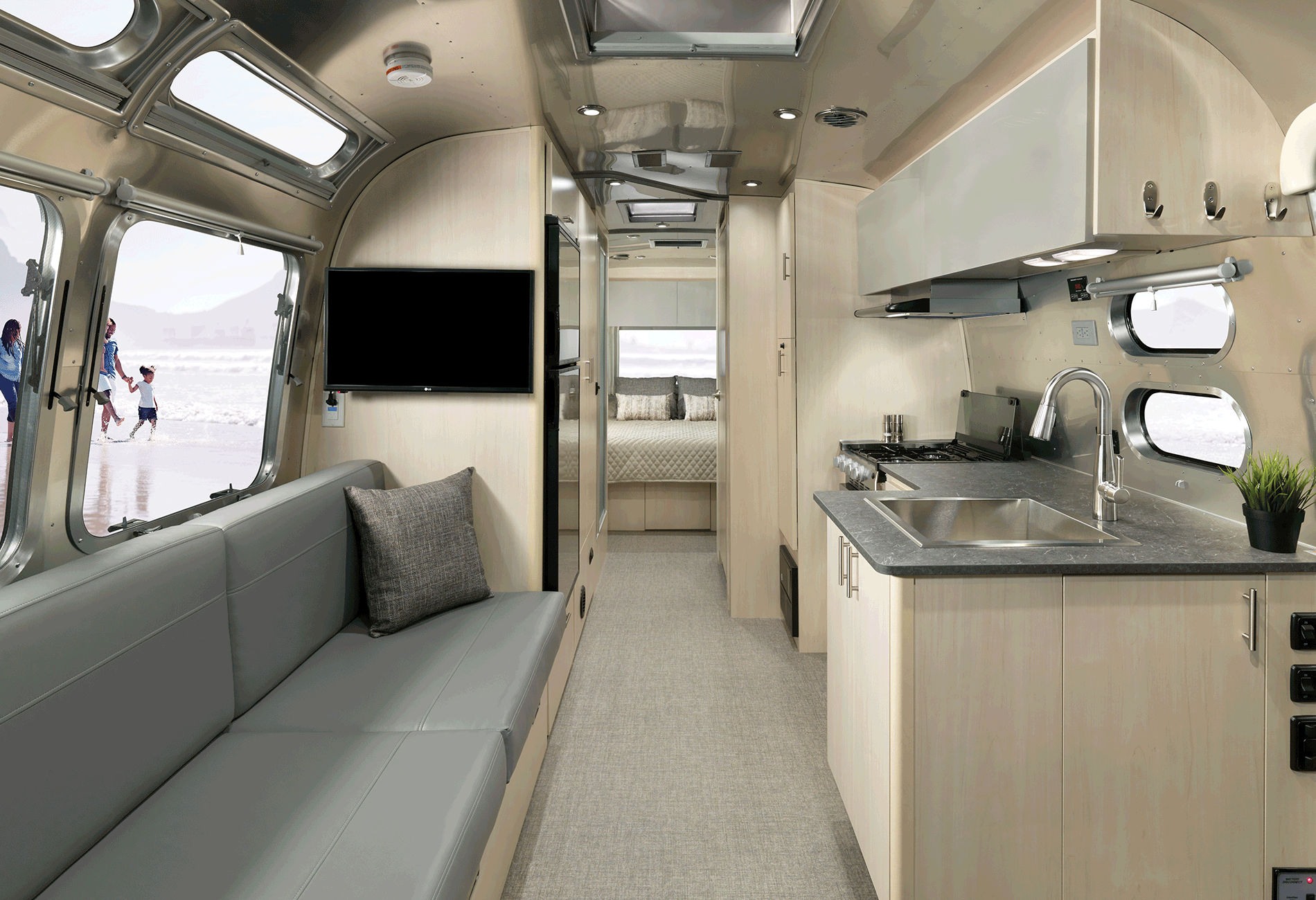 Drawing inspiration from the powered dinette in the Airstream Classic Travel Trailer, a versatile workstation was developed to replace the segment of bench that was removed. With the push of a button, the desk converts between a sitting position to a standing position as the expansive, 29" x 43" workspace smoothly raises and lowers to your perfect height.   
A pop-up outlet in the desk offers inverted power for plugging in your laptop and charging devices. The inverted circuit also powers the desk lifting column, which is controlled by an up/down switch. Mounted on the wall next to the desk is a 12V flat-screen television with an adjustable arm. Swing the articulating arm out away from the wall and you have a perfect second monitor to extend your laptop screen. When work is done, kick back and stream your favorite shows with the power of Airstream Connected.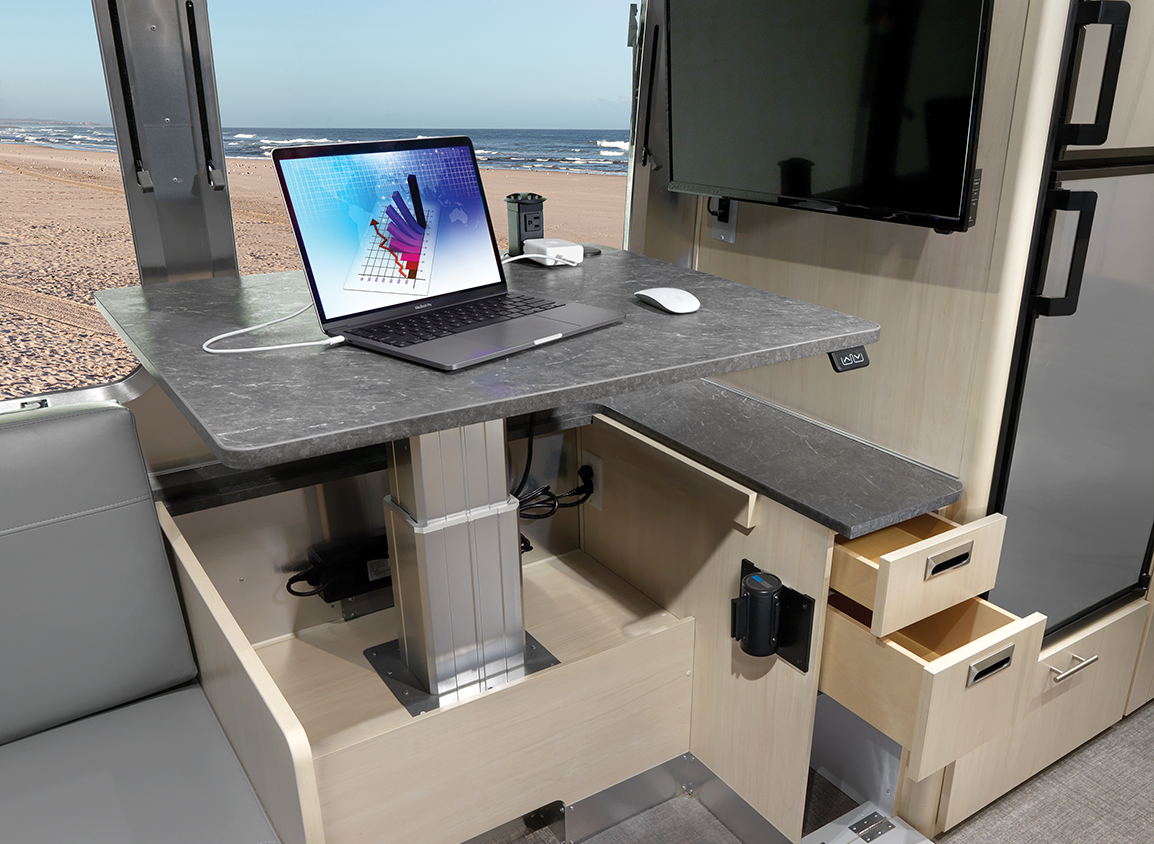 And when it comes to storage, the optional desk option employs the same expert use of space you find in every Airstream. Here, you'll find two drawers for storing office supplies, cords, and chargers, as well as a storage cabinet with a flip-down door. Stow your laptop and turn the expansive desk space into counter space while prepping dinner, or utilize the desktop as a flexible storage space for easy access to items you need while camping.  
An adjustable desk chair, a chair mat, and a retractable strap for securing the chair round out the new improvements that make Flying Cloud an even more versatile and exciting option for families who want to travel and stay connected at the same time.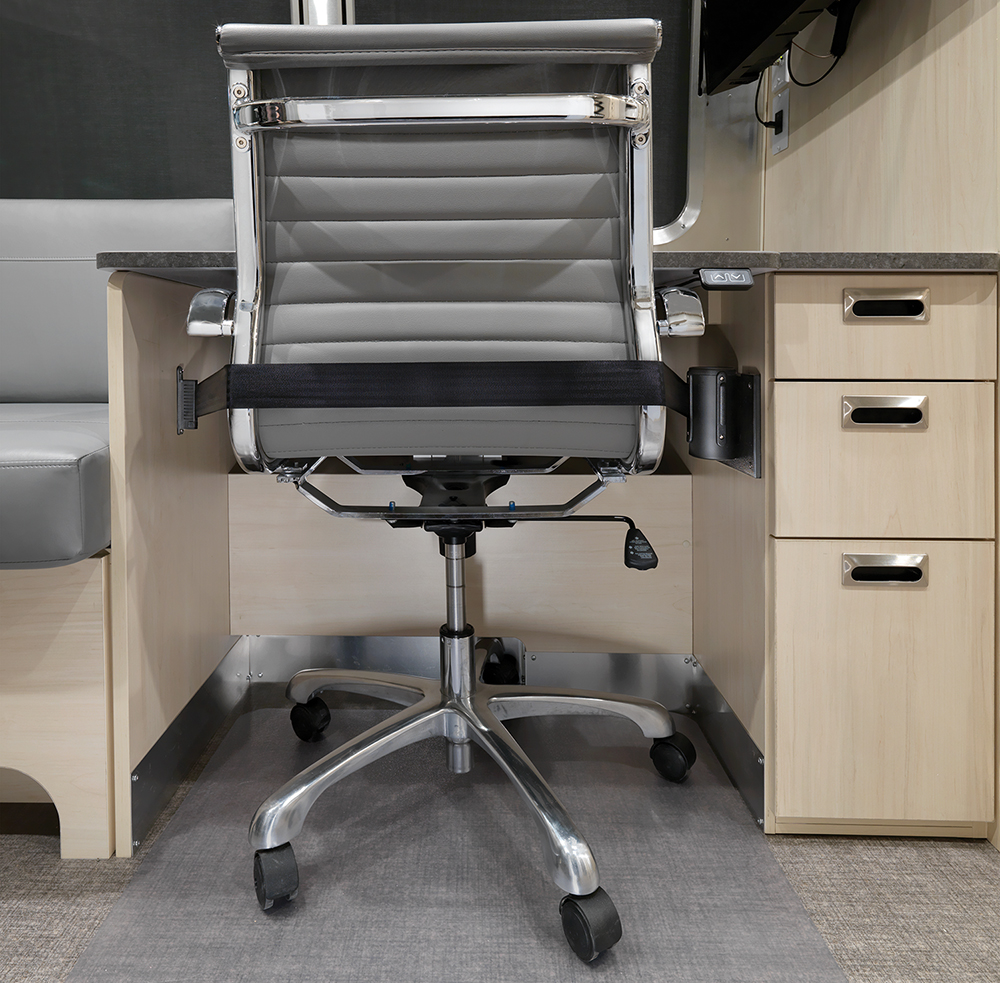 A 
Front 
Bunk,
 a Rear Hatch, and 
a
 Desk
: Three Versatile Options for Any Adventure
These new desk features give travelers the ability to work from anywhere, with an excellent space for focusing and getting work done. But these improvements offer travelers far more than simply a convenient spot to work while traveling. Taken together with the many other optional features available, Flying Cloud is now one of the most versatile adventure vehicles you can take on the road.  
Maximize functionality with the optional rear hatch. Easily stow bikes, kayaks, or any other adventure gear you want to bring along – or, if relaxation is more your speed, pull down the screen and enjoy dinner with a perfect view of your surroundings. The 25FB and the 27FB also offer a versatile front bunk option above the master queen or two twin beds. Store soft goods and bedding while in transit, and then let your smaller traveler curl up for the night (weight limit is 150 pounds).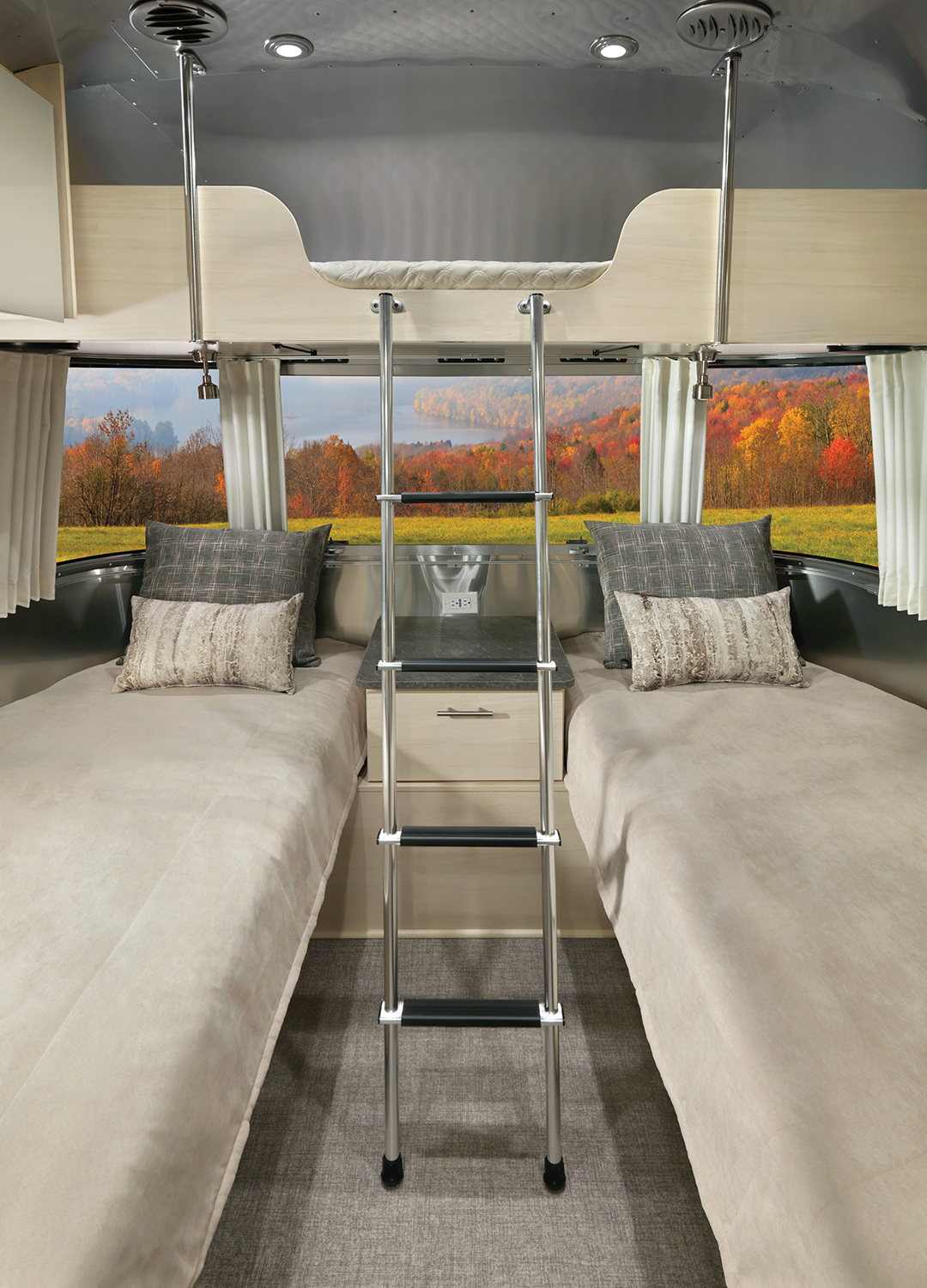 Flying Cloud has always been Airstream's most versatile, family-friendly, and feature-filled travel trailer line. Now, with new desk options to join the front bunk and rear hatch on the 25FB and 27FB, Flying Cloud packs even more diverse features and flexibility. No matter what your particular adventure looks like, Flying Cloud enables you to tailor the space to your particular needs. And with versatility at the heart of each feature, your Flying Cloud can adapt as your travel dreams evolve.  
Following Airstream founder Wally Byam's dedication to not make changes, but only make improvements, these exciting new Flying Cloud optional features are the latest example of Airstream innovation, as we continue to offer options that enhance the travel experience.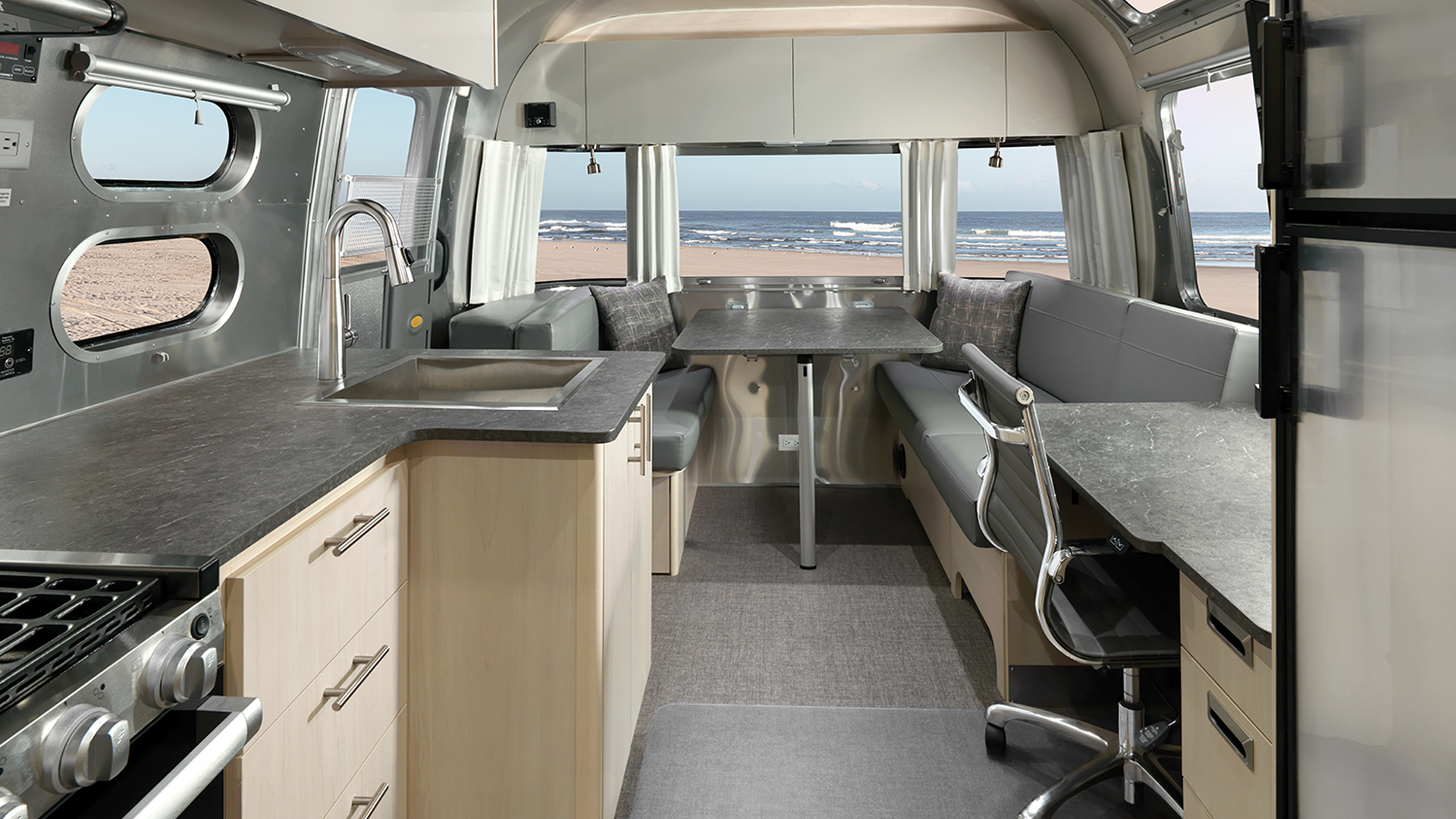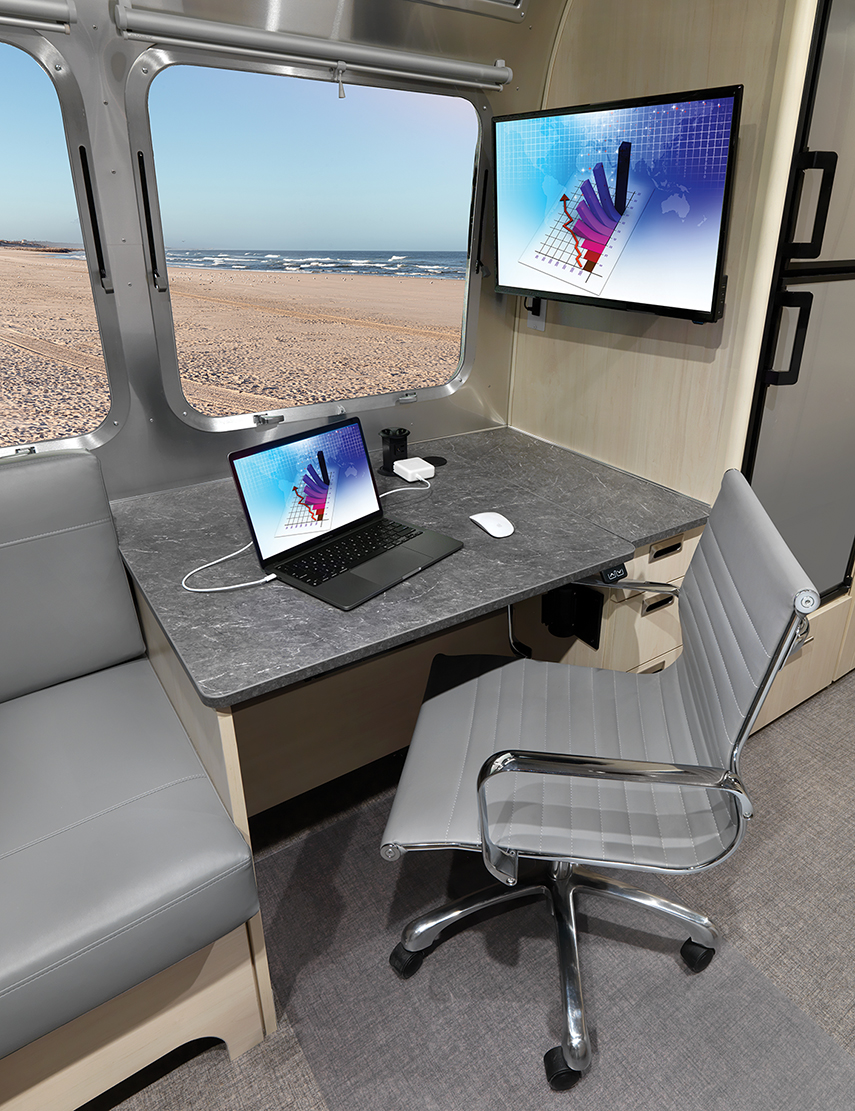 Learn more about these new Flying Cloud options.
See the new integrated desk features in the latest Flying Cloud 25FB and 27FB floor plans today by visiting your local authorized Airstream dealership.