Introducing the newest member of the Flying Cloud family: The all-new Flying Cloud 30FB Office floor plan. Intensive product development, owner feedback, and the challenges and opportunities in the face of the coronavirus pandemic came together in the Flying Cloud 30FB Office – a travel trailer designed for our present, while anticipating our future. Featuring all the amenities you require to live and play on the road, the 30FB Office adds dedicated space for working, creating, and being productive no matter where you unhitch.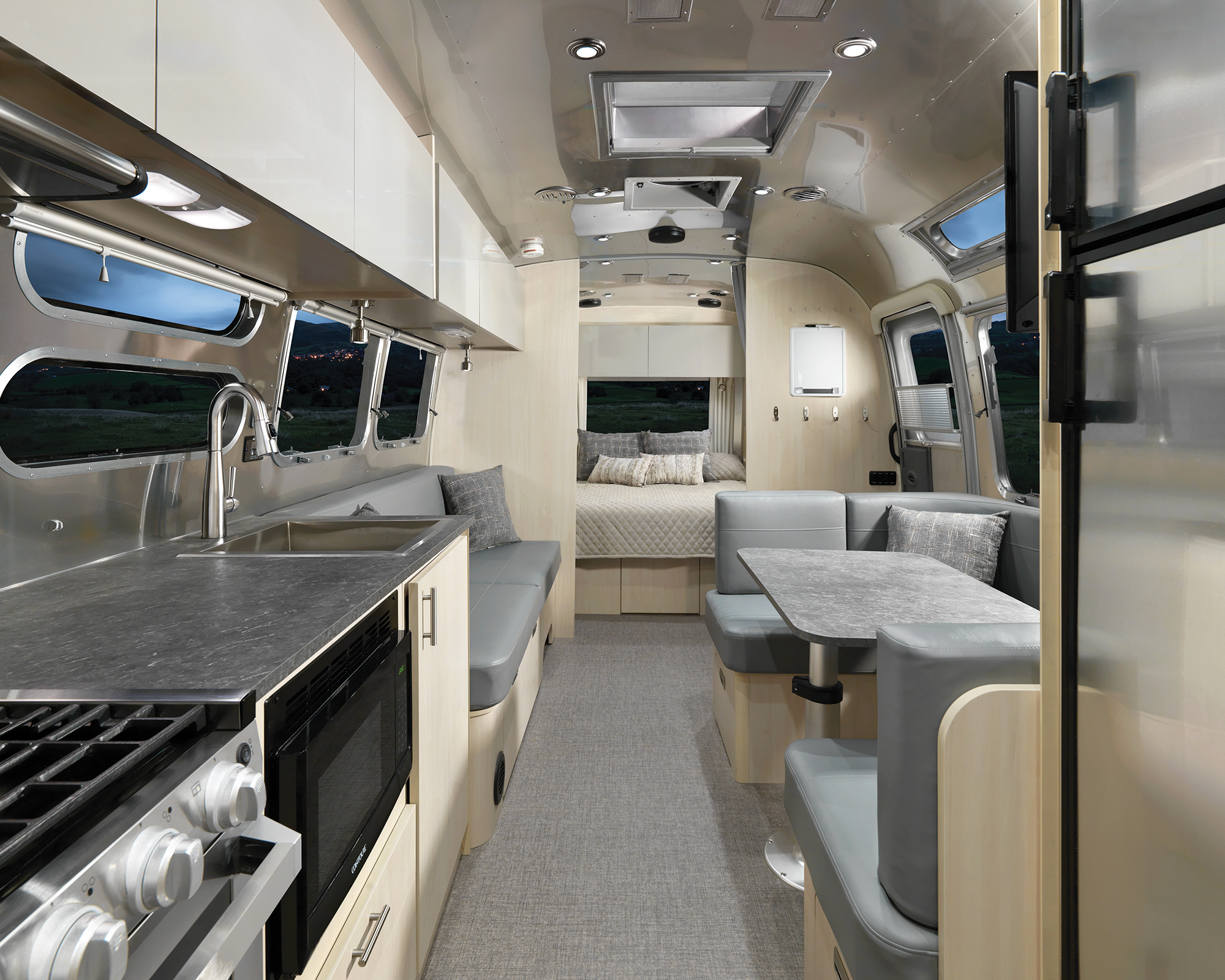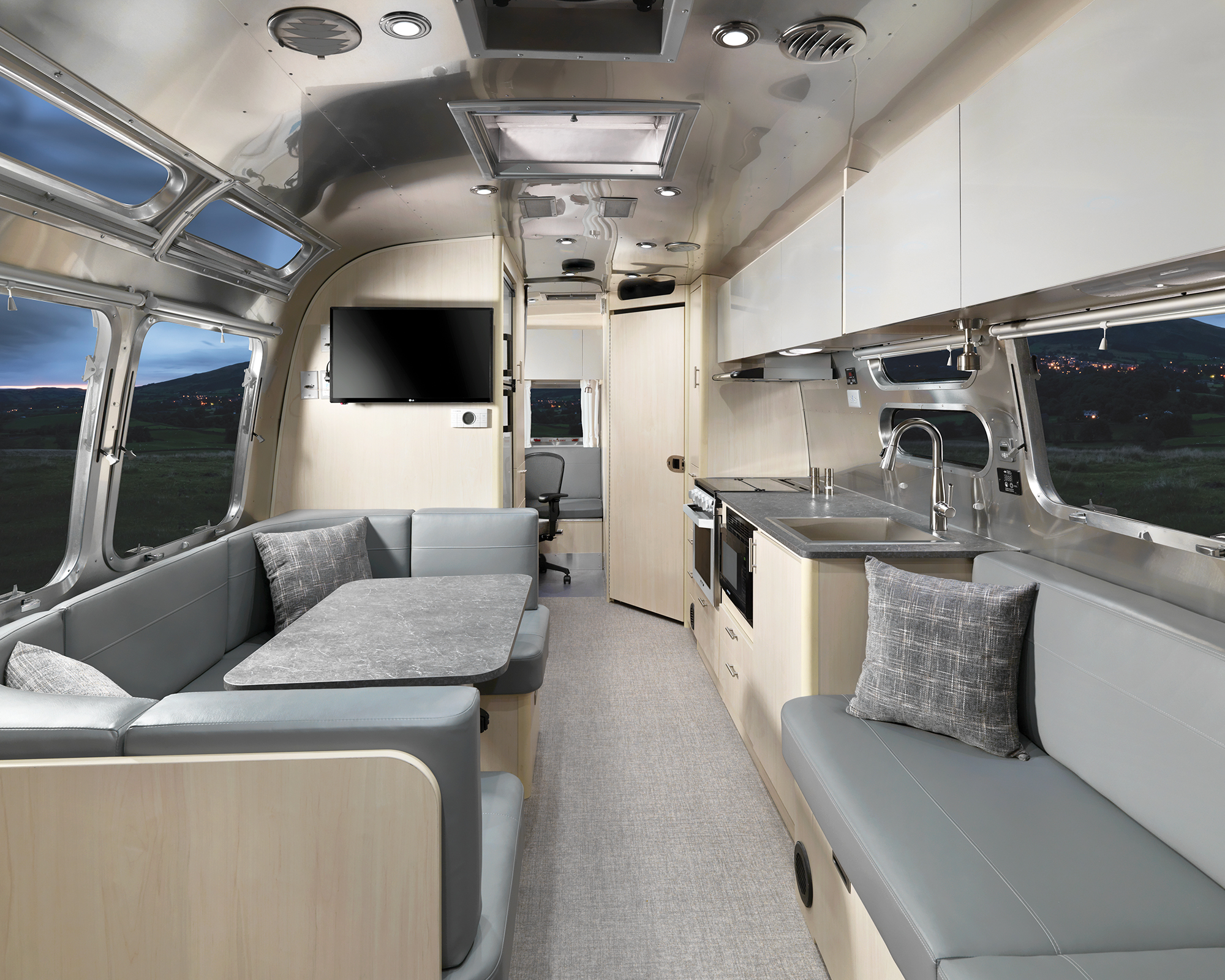 Over the course of 2020, businesses across the country changed their policies on employees working from home. We heard many Airstreamers in the community asking themselves: "Why work from home, when I can work from anywhere?"
The answer, they found, was that it was much easier than anticipated. With a bit of preparation to assure connectivity in the campsite or boondocking spot, virtual meetings and email communication were assured. But still, we heard plenty of feedback about other things that could be improved or solved – more power solutions and outlets, a dedicated space, sound-deadening materials, connectivity options. 
The result of synthesizing that feedback and designing a product that provided solutions to these new challenges, the 30FB Office floor plan is Airstream's response to a paradigm shift in how we live, play, and work.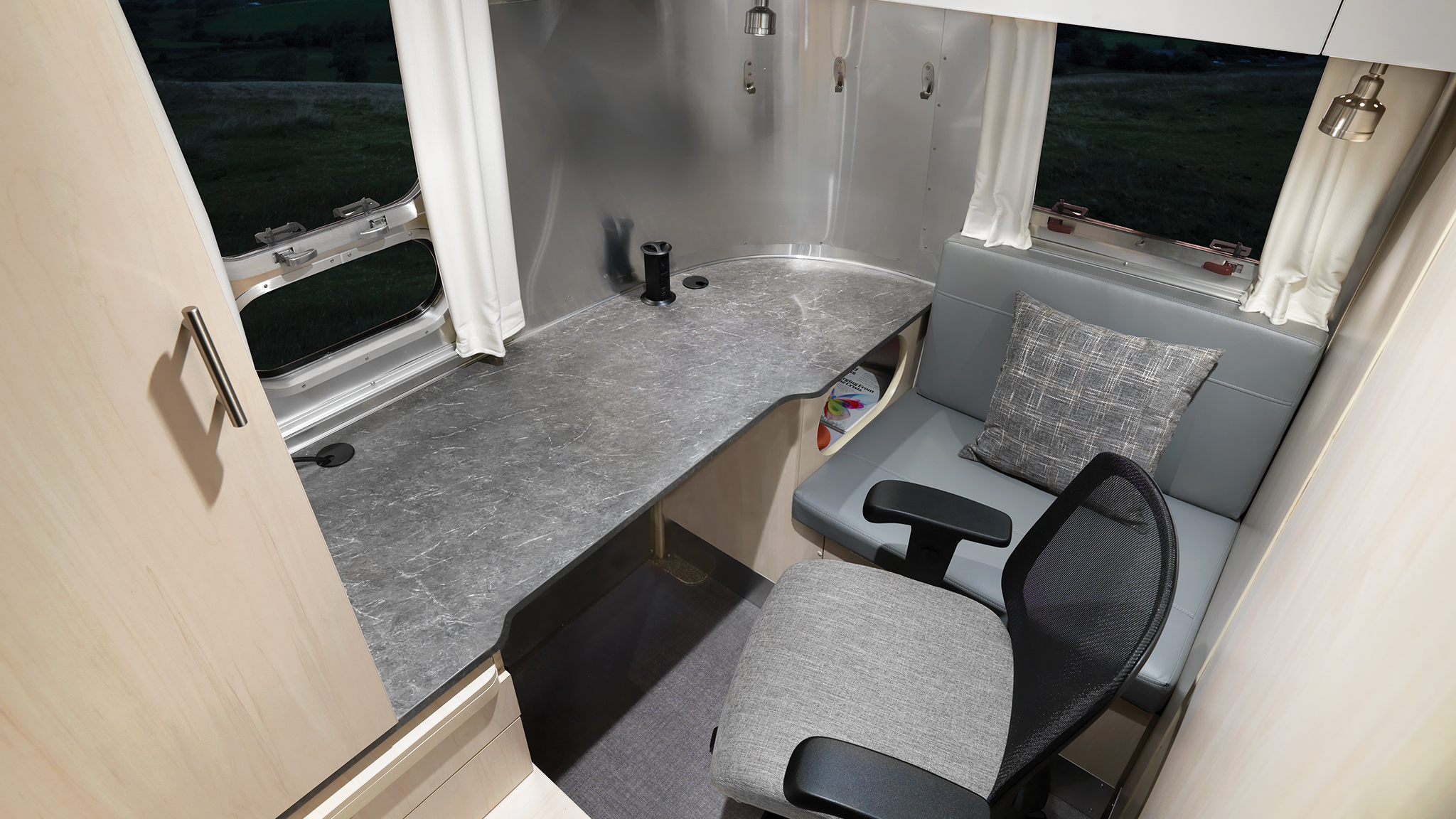 A dedicated office space with a wide desk offers plenty of room for your laptop, notebooks, and other devices, as well multiple USB ports so you can keep everything charged up. There's also a pop-up USB/AC outlet supported by the onboard 1000W power inverter. Sliding drawers and storage cubbies keep everything organized, while overhead storage cabinets not only provide space, but are mounted with dry-erase material for quick notes and sketches. The office comes complete with a comfortable swivel chair that secures with a strap during travel, as well as a chair mat to protect the floor and provide comfort.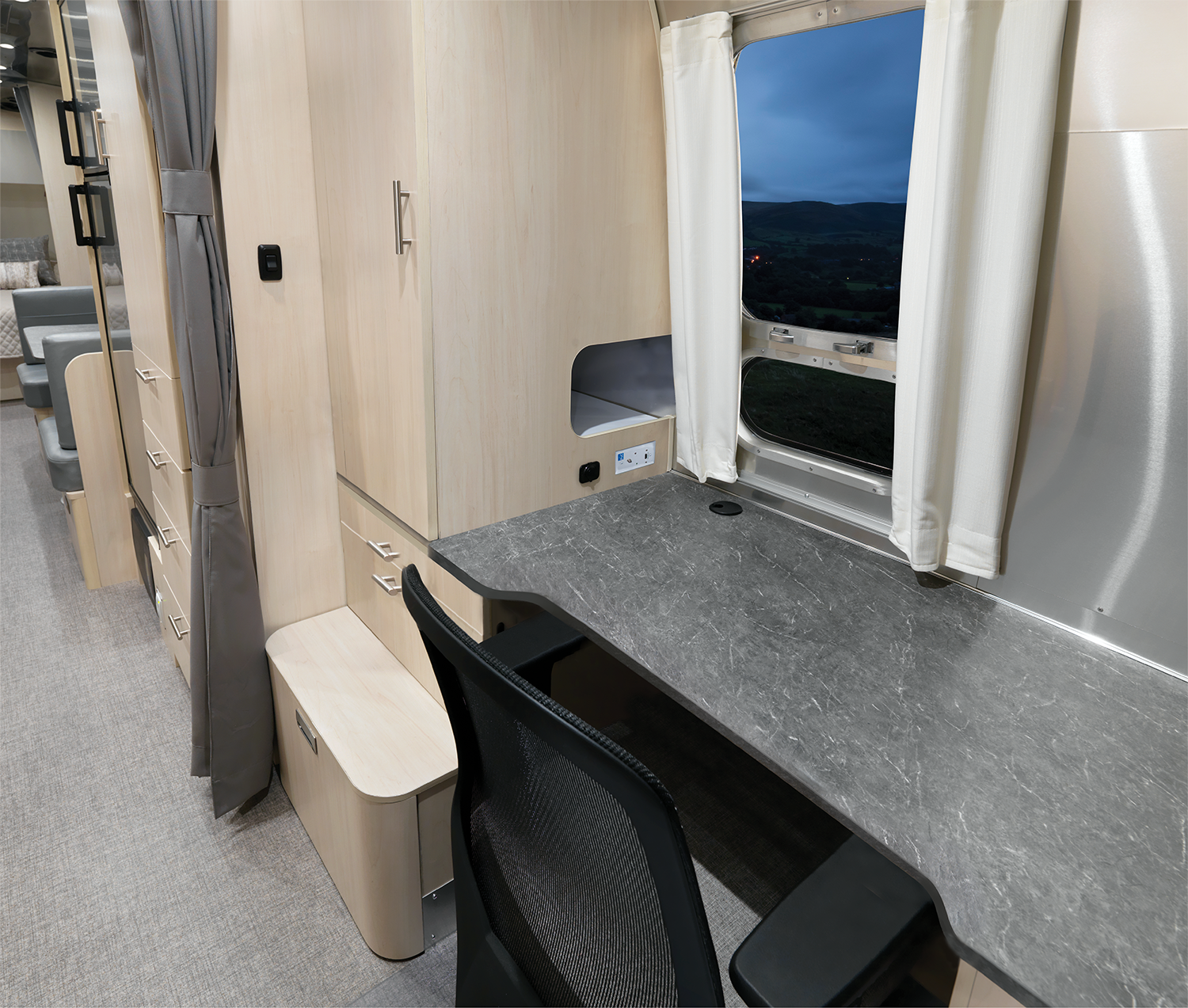 As more and more businesses and employees discover the benefits of working from home, Airstreamers everywhere have hit the road on extended trips, playing, learning, and working from anywhere. They're taking calls on the trail and coming back from a mountain bike ride to do video calls over lunch. They've realized the power and freedom of living and working from anywhere, and the Flying Cloud 30FB Office is the manifestation of that dream.
Three windows offer unparalleled views while you wrap up reports, edit photos, answer emails, and meet with clients. Blackout curtains give you privacy and help control the ambient light in your mobile office, while a sound-deadening divider reduces the ambient noise so you're not distracted while taking calls. 
The 30FB Office provides a seamless transition between work and play. Hang up the call, close the laptop, and open the door to adventure. Head out for a hike on your break. Grab the kayaks and head downstream, knowing you'll be able to meet up virtually with your team later on when you return to your campsite. The 30FB Office includes Airstream Connected pre-wire, making it easy to add this powerful connectivity solution at the dealership. New owners can also choose to upgrade to Airstream Power Plus – an upgraded battery system that allows you to stay off the grid longer and stay connected and powered up with confidence. 

Best of all, the addition of an office space in the rear of the travel trailer means you have the flexibility to bring along the whole family while still having space and privacy to get work done while you're out there. Owners will get all the comforts and amenities of the popular Flying Cloud line of Airstream travel trailers – beautiful, functional, and perfectly situated so you can maximize your experience. Between the couch, dinette, and front queen bed there's no shortage of sleeping space, while a full bathroom with separate shower and toilet, three closets, and a kitchen pantry round out the amenities. Smart use of space is a hallmark of Airstream travel trailers, and this new, Flying Cloud-exclusive floor plan is no exception. When the work is done, convert the office space into additional sleeping and relaxing space for one. Read, wind-down, and get ready for another day of living the live-from-anywhere dream.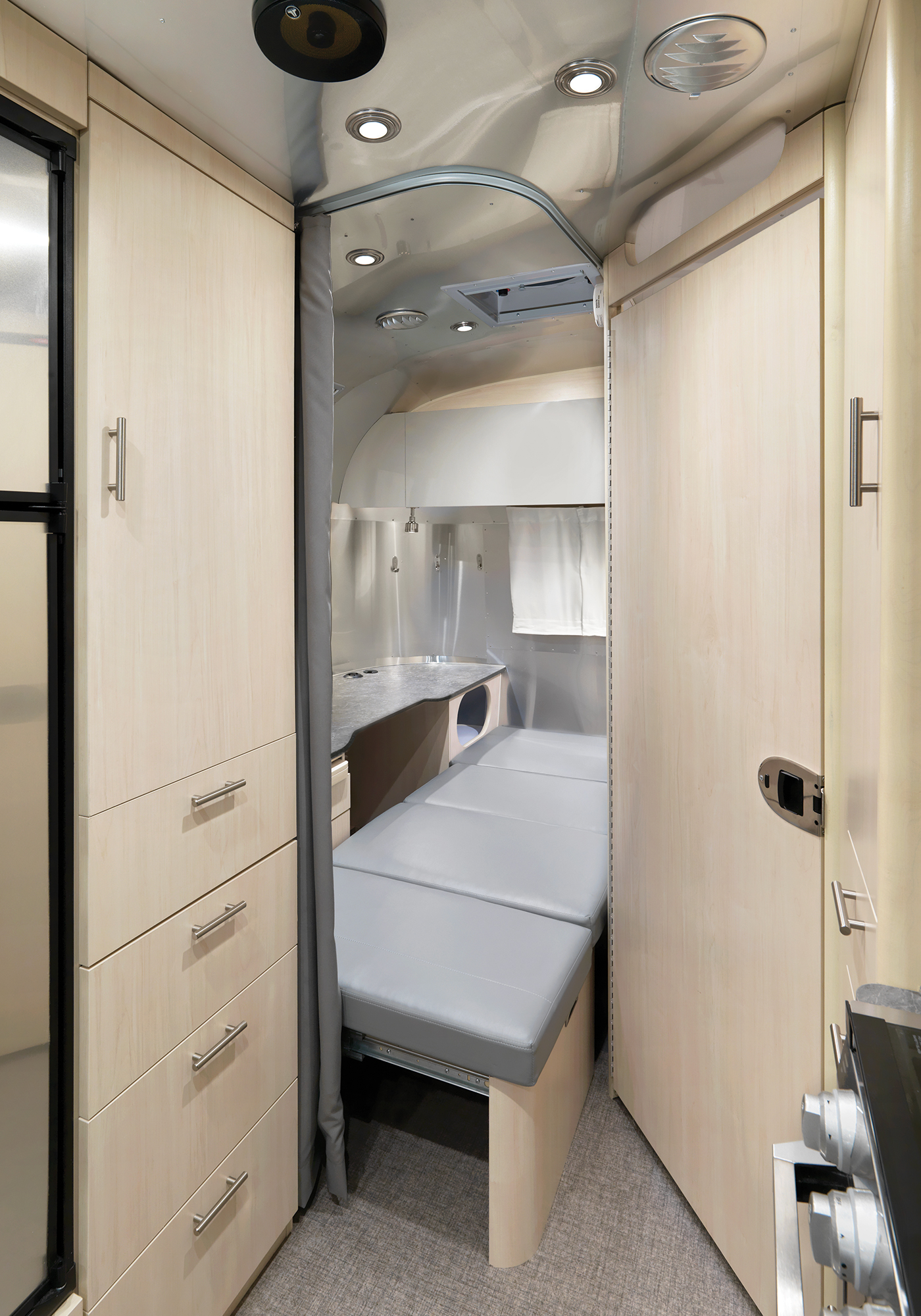 Sixty years ago, Airstream founder Wally Byam set off on an adventure from the southern tip of Africa to the pyramids of Egypt. Along the way he charted the course for the work-from-anywhere dream. At every stop he sent back notes to Airstream headquarters – notes that would become the basis for future product development. Those improvements were a direct result of Wally's experience on the road, and they informed every aspect of Airstream design and functionality. 
With the all-new Flying Cloud 30FB Office, Airstream's team of product development experts and engineers continue that legacy of real-world feedback driving innovation. They are creating solutions that redefine what it means to travel – what it means to get the most out of your adventure.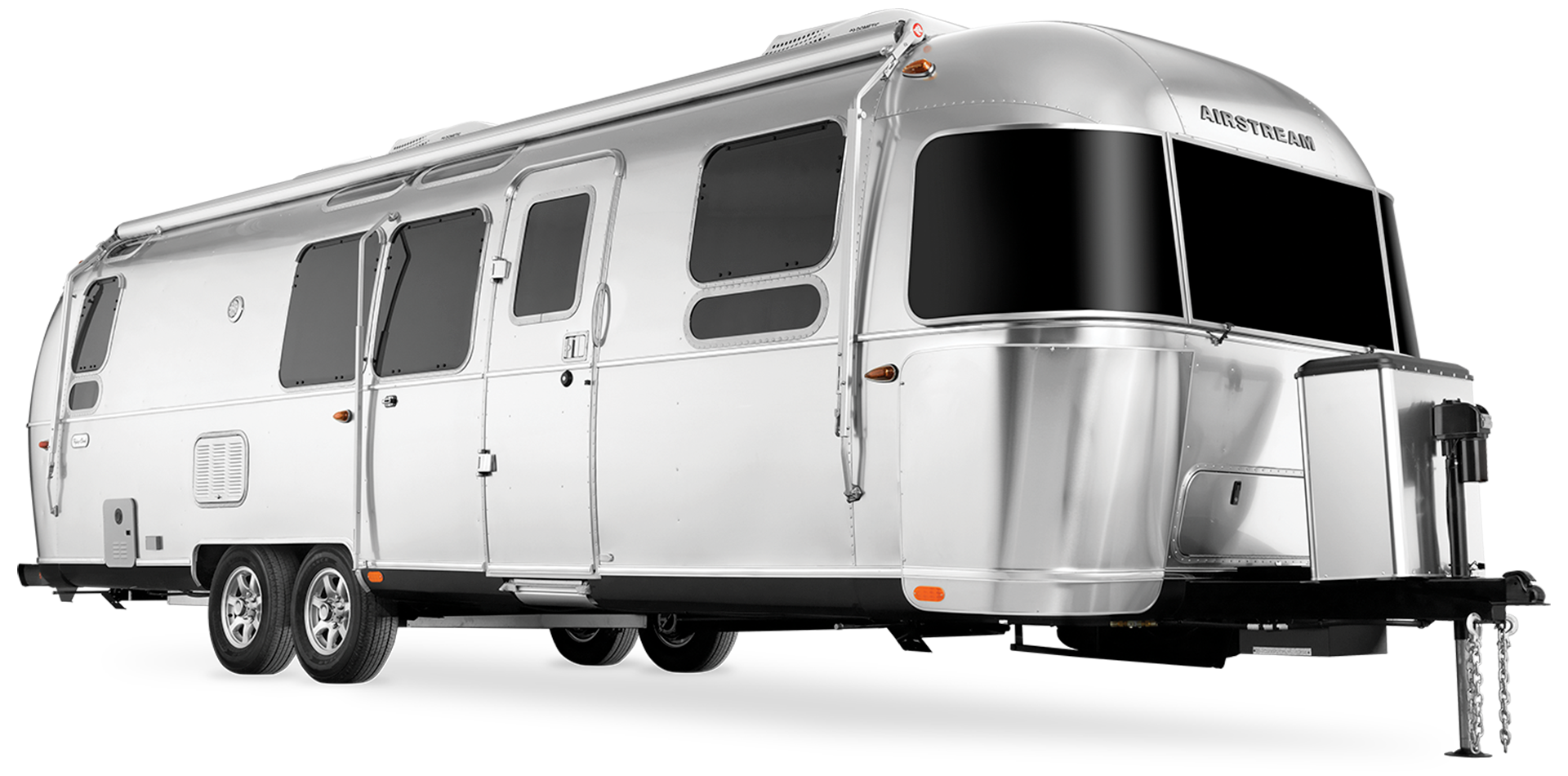 The Flying Cloud 30FB Office: Why work from home when you can work from anywhere?
Explore more Flying Cloud Features