Basecamp was designed for the traveler who's as instinctive as they are adventurous. This award-winning RV has continued to claim the position as Airstream's top-selling travel trailer because of its abilities, styling, and unmatched quality. So what's next? If Basecamp is all about adventure, getting further off the grid, and enabling adventure for explorers from all walks of life, how could we continue to broaden the capabilities while honing in on what is valued by our customers?
When it comes to inspiring adventure and appreciation for the great outdoors, few brands match our passion. REI Co-op is an exception. While being an exception and an exceptional partner the past few years, we're excited to officially announce a match made in camping heaven —  introducing the REI Co-op Special Edition Basecamp Travel Trailer.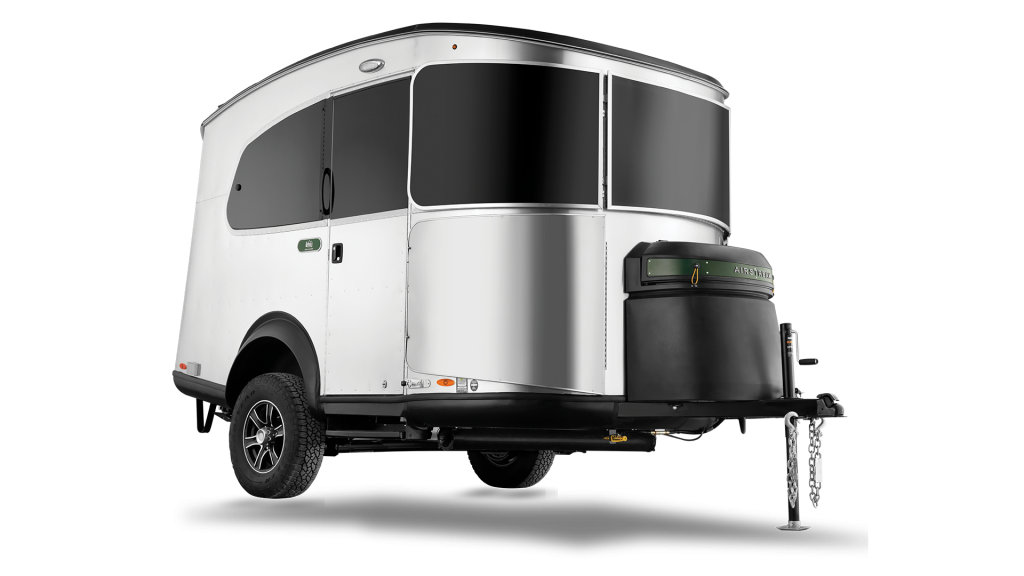 Built ruggedly to explore and protect the outdoors, the REI Co-op Special Edition Basecamp is our most sustainable travel trailer to date. Constructed from environmentally friendly, lightweight materials, with innovative water conservation features and optional composting toilet and exclusive solar upgrade, your eco-footprint is not only lighter, it's heavy on the cool factor.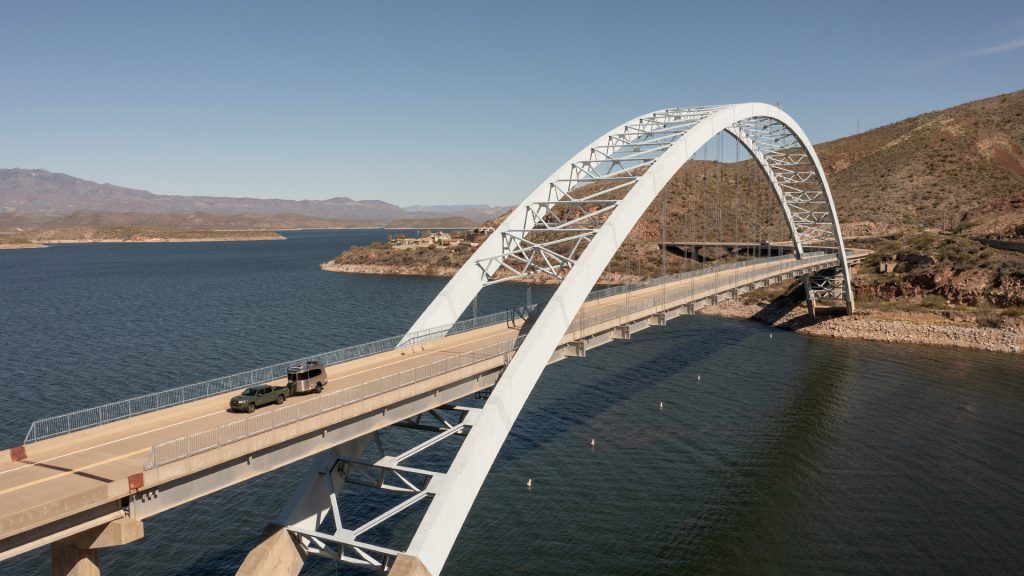 "We're honored to partner with REI on this special edition Basecamp travel trailer, and this partnership is another example of the efforts we're taking to help reduce the carbon footprint of travel across the world in an Airstream," said Airstream president and CEO Bob Wheeler. "This one-of-a-kind Basecamp travel trailer has helped us step into new territories and explore more sustainable manufacturing practices and materials as we work to prioritize caring for the environment. Through partnering with REI, Airstream is proud to offer a model that includes recycled materials, as well as features to help customers camp longer by conserving precious resources such as water."
"REI has seen an expansion of the types of products people are buying and the ways in which people are camping, particularly from a rising customer segment that is younger, more diverse, and more spontaneous," adds Isabelle Portilla, divisional vice president, REI Co-op brands product strategy and design. "These customers like camping at their own pace, consider themselves to be self-sufficient, and appreciate the ability to personalize their experience. This special edition travel trailer collaboration is a great solution for vehicle-supported camping that enables a comfortable and personal experience, whether they enjoy booking Hipcamp reservations, or being self-sustained at a more remote location."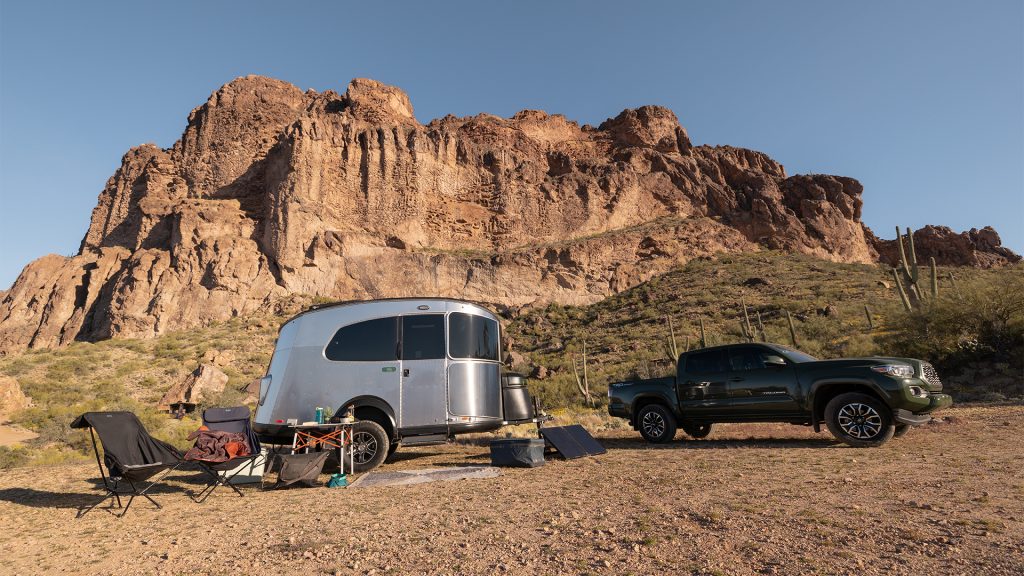 A Special Edition Built on the Basecamp
The Basecamp 16 floor plan served as the foundation for the Special Edition model with a keen focus on materials, aerodynamics, towability, and intentional features to enhance sustainability attributes.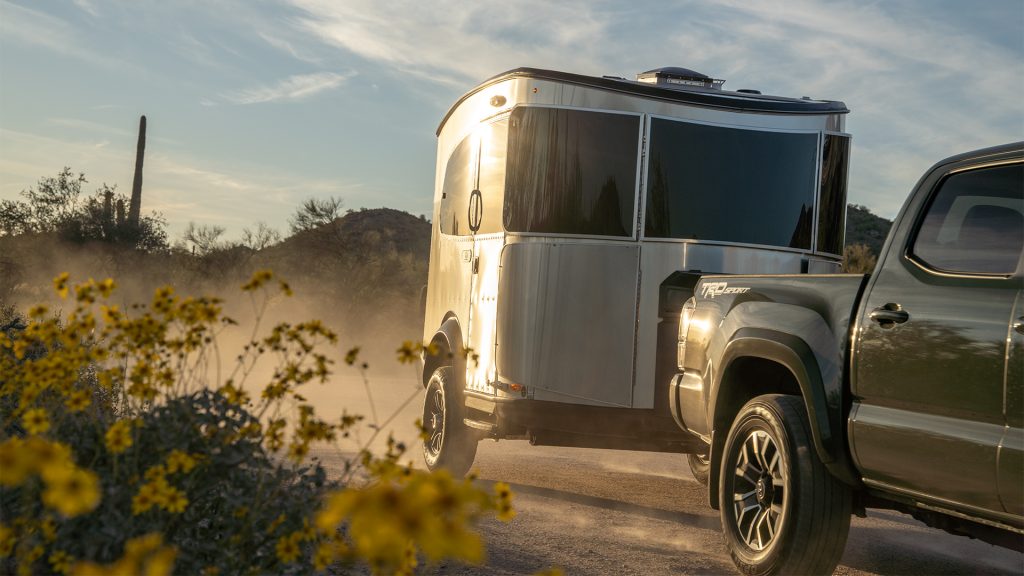 The compact 16-foot travel trailer is light enough to tow with an SUV or small truck, accommodate life on the road or weekend trips, and spacious enough to relax after a long day with all the essentials you need, like a full kitchen, restroom, and sleeping quarters. While the Basecamp 16 serves as the foundation for this Special Edition model, there are quite a few differences that really separate it from the pack. Let's dig in to the details and take a further look at what makes this Basecamp really special.
The Interior 
Completely unique and refreshing, the interior décor of the REI Co-op Special Edition was designed to bring the outdoors in and is inspired by REI Co-op flagship retail locations. Most commonly associated with nature and the REI brand, green is prominently distributed throughout the interior. From the seating fabric to the bath wall and the kitchen mesh nets, shades of green create a calming and relaxing effect from any angle. See more details in the model image gallery.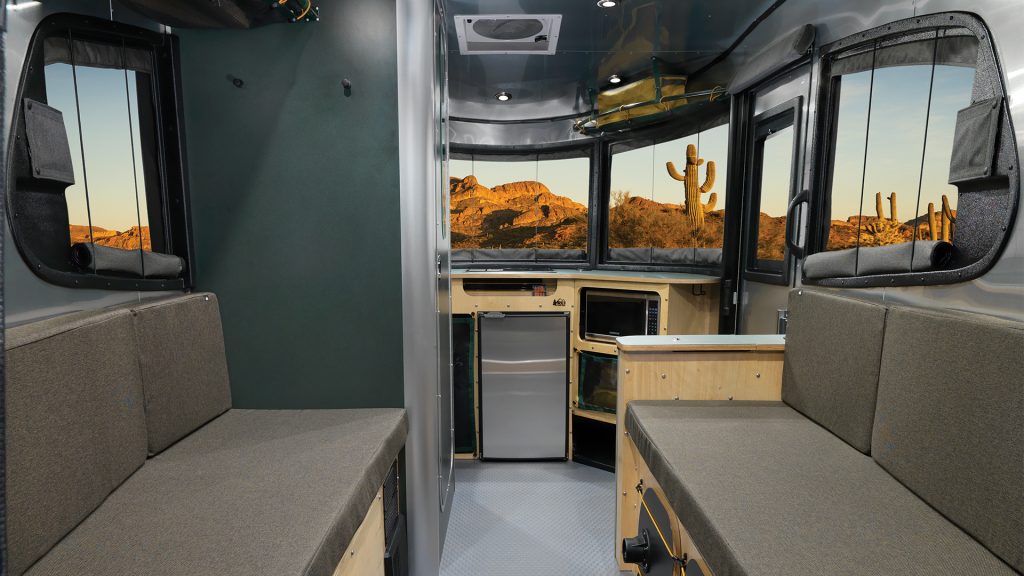 The Versatile Living Space
The REI Co-op Special Edition has a spacious interior with a convertible dinette and lounge that transitions to a 76-inch x 76-inch full bed that can comfortably sleep two adults (or furry friends). With numerous possible combinations, the rear living space is designed to accommodate what you need for when you need it.  
There's a large storage cabinet located under the curb side bench as well as two overhead storage racks located on each side of the travel trailer. New and exclusive to the REI Co-op Special Edition is the addition of an L-track system on the floor and wall for even more storage options. Two quick-release L-track clips come standard and make it possible to hold bags and other gear up out of the way on the wall or secure items such as a heavy cooler to the floor for safe travels. The L-track on the floor also makes it possible to secure up to two bike mounts for stable and steadfast relocation between campsites.
Found at the end of the bench is a lockable storage compartment. It includes a USB charging port, a cable passthrough, an updated design to allow for storing items such as an umbrella inside, and the QR code linked to Airstream Support to watch videos on how to operate this specific model.
The Galley
Who doesn't love panoramic views while cooking? Unzip the blackout shades and enjoy your campsite while preparing each meal. An Epicurean sink cover perfectly fits on the deep, round stainless steel sink and doubles as a cutting board. The Vigo graphite black sink faucet provides potable water from your 21-gallon onboard tank for cleaning dishes or washing your hands while on the opposite side of the sink is an advanced UV-LED Smart Drinking Faucet. Effectively reduce bacteria and microorganisms to properly disinfect the potable water for fresh drinking water — reducing single-use plastics and making sure you stay hydrated while out on the road.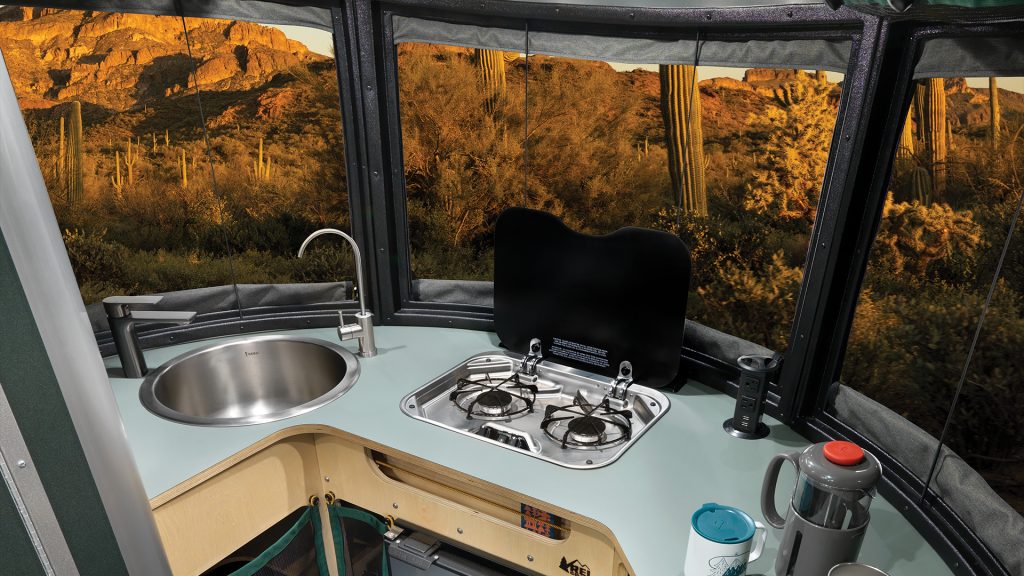 Next to the sink is the two-burner stovetop powered with liquid propane (LP). Every inch counts and the tempered glass cover allows you to have more counter space when the stovetop isn't being used. There are two pop-up power stations built into the countertop which include 110V and USB connections for charging devices and countertop appliances.
The multi-layered green slate countertop spans the front of the travel trailer and features exposed birch plywood and fasteners below. The kitchen cabinetry design for the REI Co-op Special Edition has been transformed to contain even more items with a larger area below the sink and vertical storage space next to the all-electric refrigerator. Green mesh nets with gold bungee cords create a perfect combination of see-through canvases to make it easy to spot the item you need while still seeming tidy. The optional microwave sits in the top right cabinet. If not selected, the space then becomes another storage location.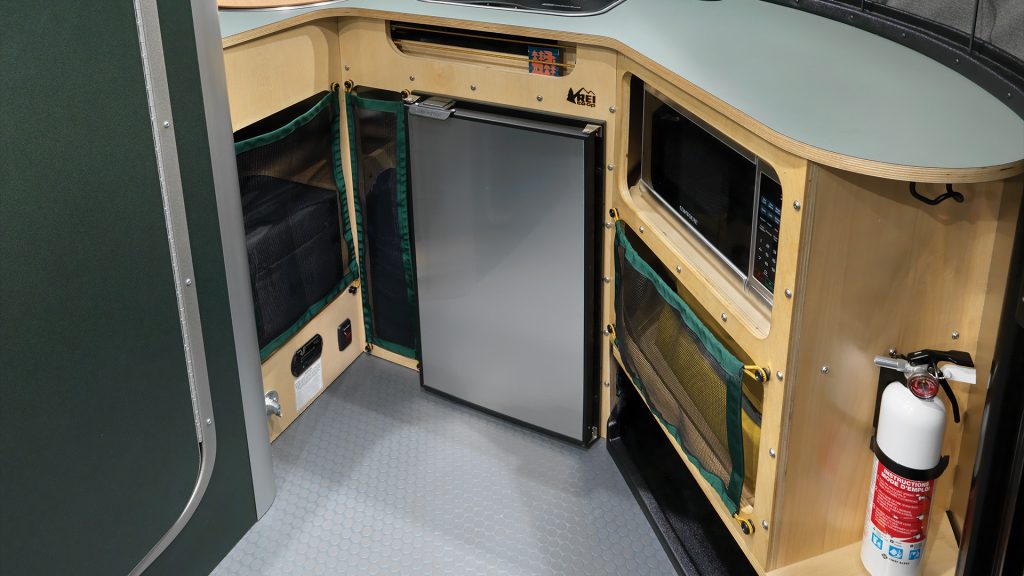 Focusing on More Sustainable Materials and Features
The REI Co-op Special Edition Basecamp Travel Trailer features more environmentally friendly design choices aimed at reducing impact, such as fabrics and laminates made from post-consumer recycled materials, a cutting board sink cover made from recycled paper, and cabinetry crafted from lightweight and sustainably grown wood. 
The Knoll, stain-resistant fabric used on the bench seat and bed cushions is a recycled polyester and comes from 50% post-consumer recycled content.
The Tinted Paper Terrazo interior laminate used on two sides of the bath walls is 30% recycled content. Using this material not only prevents the materials from going to waste but actually creates a unique pattern for each sheet — adding a custom touch inside each wet bath.
The Epicurean sink cover is manufactured entirely from recycled paper
The Artisan Birch Plywood used in the kitchen cabinet and furniture construction is plantation grown, up to 30% lighter than standard plywood, and CARB compliant.
The Optional Composting Toilet
Located in the center of the floor plan is the wet bath. This space-saving approach houses the shower and toilet in the same waterproof area. New and exclusive to the REI Co-op Special Edition is the option to choose a composting toilet. By eliminating the need for flushing, you use significantly less potable water stored in your 21-gallon fresh tank and also prolong the life of the 24-gallon combination holding tank. Also included in the 16-foot wet bath is the shower head passthrough port. By rinsing your gear (or yourself) off with the shower head outside, you're achieving the same goal of not filling up your holding tank and ultimately extending the time you can spend off grid.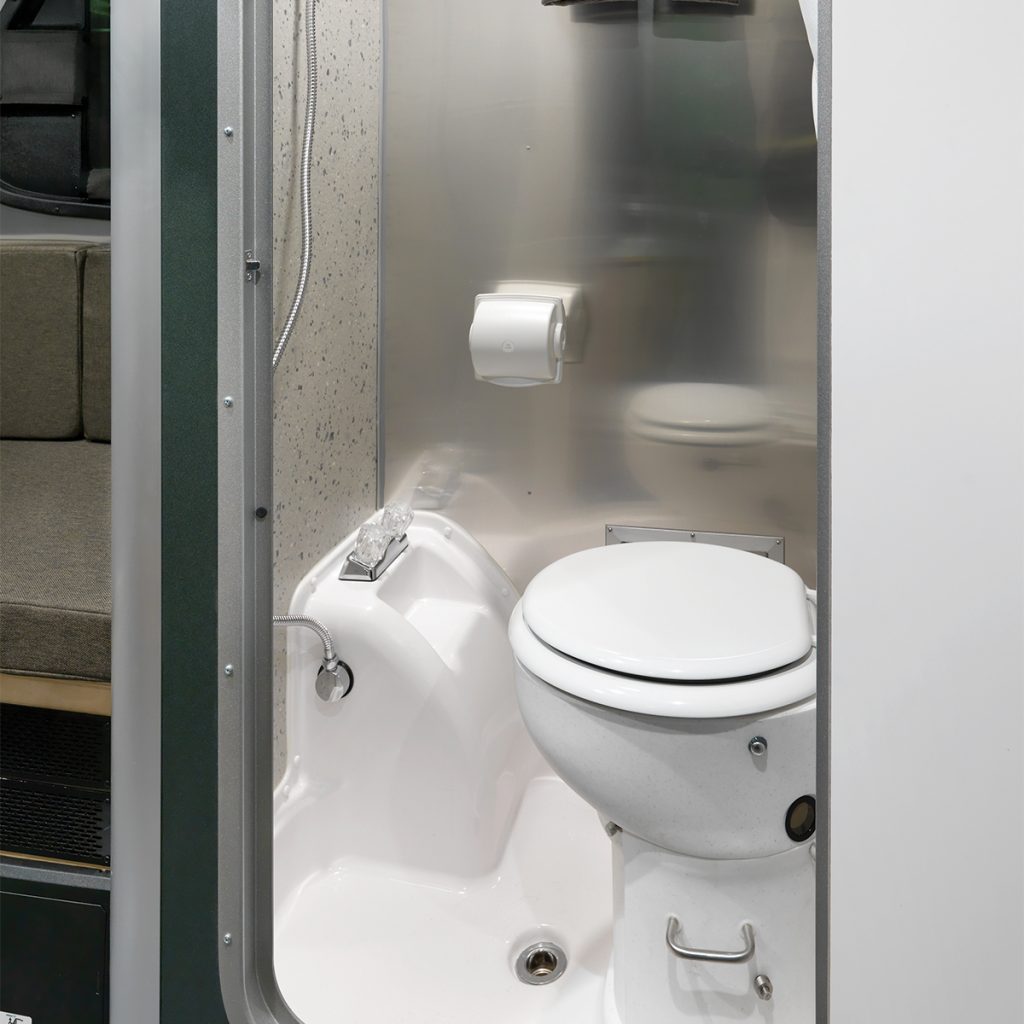 The Recirculating Water Heater Feature
With water conservation being at the forefront of the product design, the product teams wanted a way to help customers save every precious drop of water. Have you held your hand under the shower head while waiting for it to be just the right temperature? While we all may have done this, we recognized that this natural touch test creates wasted water that goes down the drain. The solution is a recirculating water heater that delivers instant hot water to the shower and kitchen sink simultaneously. Exclusive to the REI Co-op Special Edition model, this recirculating feature always keeps the hot water near your preferred temperature (between 95-130°F with an on-demand control center), ensuring nearly instant supply where and when you need it.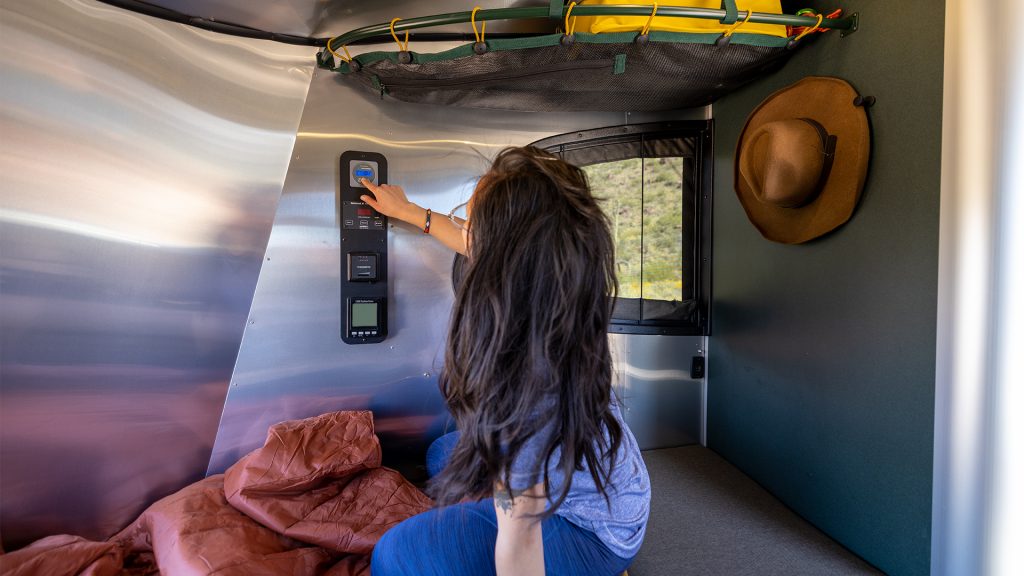 The Exterior
The Basecamp aluminum shell is built by hand, piece by piece, and riveted to the all-aluminum frame for maximum strength and aerodynamic shape. Because the shell is completely made from aluminum it will never rust or rot. The outside of the REI Co-op Special Edition includes unique touches of New Spruce on the model badge, the propane tank cover, and the rear jamb and trim.
X-Package Included
Venturing off the pavement is only natural when you're towing an Airstream, but especially when you're towing an REI Co-op model. You're going to need tires and a lift kit that can do it safely which is exactly why we decided to include the Basecamp X-Package as standard. The Goodyear 235/75R15 Wrangler radial tires are perfect for road warriors crisscrossing the country or creeping off the road for a closer look at the mountain. These all-weather, traction-enhancing, heavy duty tires are ready for road or terrain. Because the wheel size and diameter are different from the standard Basecamp, there are unique stylized black aluminum wheels that are factory balanced and ready to go. The X-Package also includes stone guards and window guards. Some of the best places in the world to camp are in the middle of nowhere and this travel trailer gets you there safely and comfortably.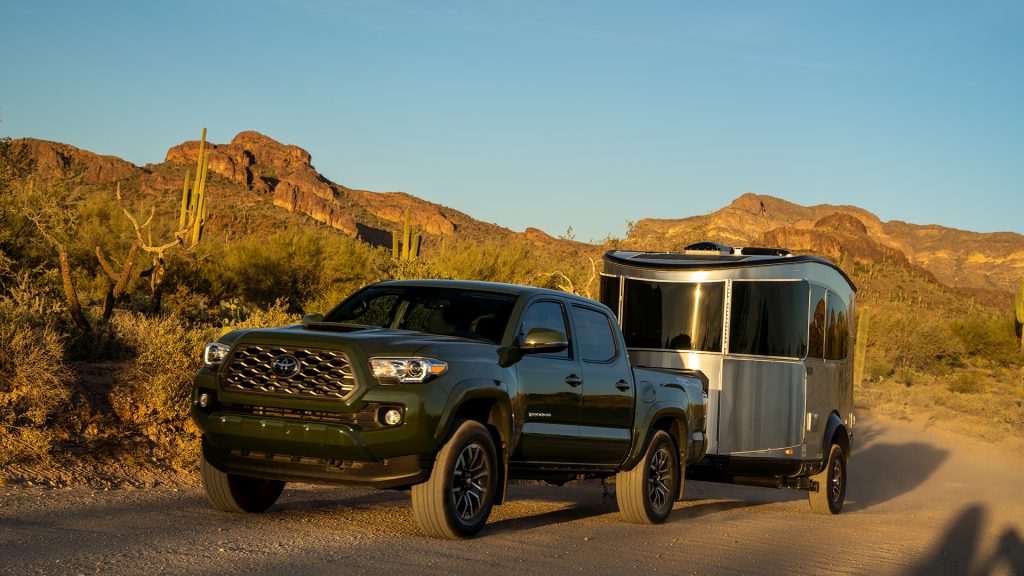 Enhanced, Sleek, and Powerful Solar Power
Solar panels and battery power are a piece of the off-grid puzzle that need to fit just right to have a fun and memorable boondocking trip. Not sure if dispersed camping is your thing but still want to have solar panels? The 200-watt solar option from the factory places 2 - 100-watt, high-performance flexible solar panels on top of the Basecamp while still giving you the option to choose which batteries you want from the dealership. We're excited to announce the addition of a new solar option exclusive to the REI Co-op Special Edition that offers 360 watts of flexible rooftop solar panels and a 200Ah lithium battery bank for on-the-go sustainable power.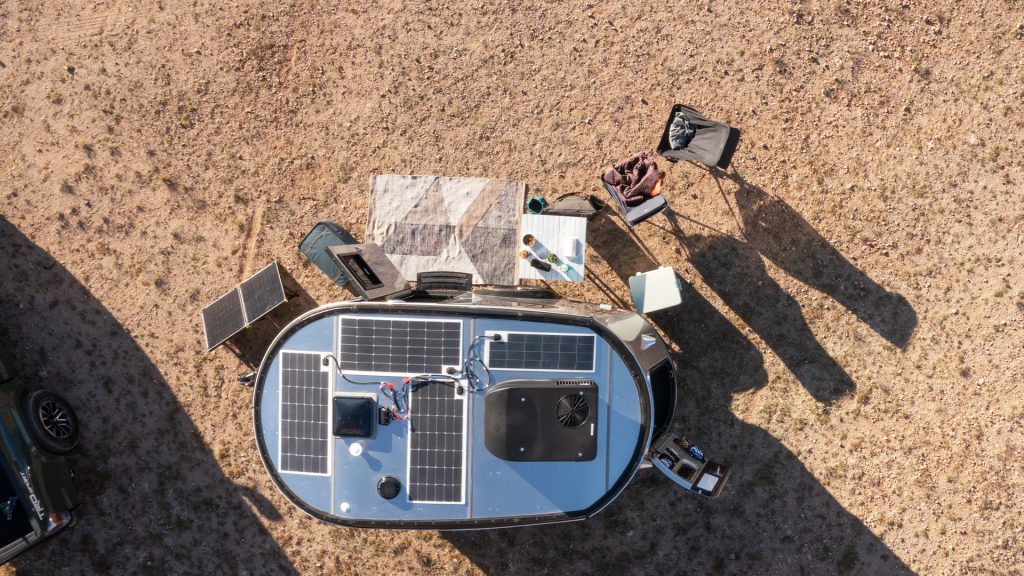 With 3 - 100-watt and an additional 60-watt high-performance panels covering the roof, the REI Co-op Special Edition has the option to include the most solar of any Airstream available today and two superior 100Ah lithium batteries installed from the factory. The roof panels and the front solar connection port work together to provide collaborative charging for the batteries which increases efficiency and decreases charging time. 
Outfitted and Ready for Adventure: The REI Co-op Kit
Outfitted with a 25-piece REI Co-op product kit, you can be sure that you're always ready for an adventure. The kit includes REI Co-op brand and partner products, like two Flexlite Camp Dreamer Chairs, Campwell picnic table and bench covers, kitchen utensils from OXO, towels, mugs, a rechargeable lantern, various sizes of Pack-Away Cubes, a Camp Roll Table, and many, many more items to make setting up at camp a seamless process. 
Best of all, the REI Co-op Kit fits perfectly inside the Basecamp and has dedicated storage as part of the design. 
Camping has been central to the REI member and customer experience since 1938, and this new collaboration offers another adventure option for people seeking vehicle-supported experiences that bridge the worlds of car camping and RVing. If you're ready to explore new roads, seek new adventures, or just long for the sweet taste of nature far from the campground crowd, hitch your wagon to the all-new REI Co-op Special Edition Basecamp. You might be surprised what you'll discover — in yourself and the great outdoors.
Looking to learn more? Download the REI Co-op Special Edition digital brochure or configure your own model by choosing your favorite features. 
Configure my REI Co-op Special Edition
Interested in learning more about REI Co-op and what membership looks like?