Megan and Scott Goranson were no strangers to vintage Airstream restoration when they stumbled upon a peculiar Airstream travel trailer for sale in the Pacific Northwest. Their instinct and knowledge of Airstream history set in motion an incredible story of bringing the past to life through meticulous research, boundless energy, once-in-a-lifetime luck, and the requisite sweat and tears. That story and the travel trailer they rescued are now on display in the newly opened Airstream Heritage Center (click here for more information and to reserve a tour) at Airstream's headquarters in Jackson Center, Ohio, where the public will be able to marvel at this and other stories from the company's 90+ years of inspiring travel adventure around the world.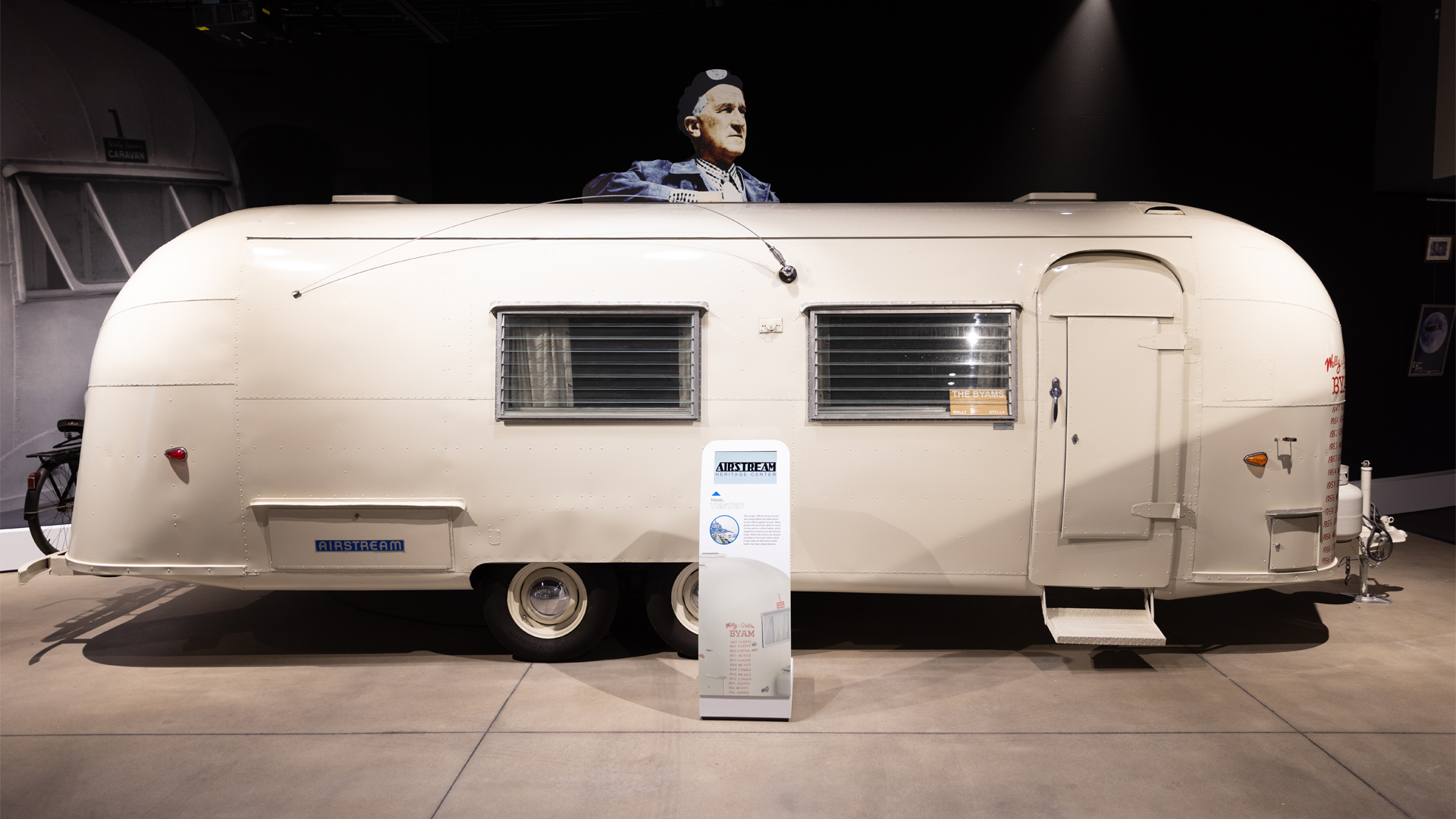 Experience, Intuition, and a Little Bit of Luck
Over the course of half a dozen vintage restorations, the Goransons found Airstreams bound for the scrapyard and brought them back to their former glory with an extraordinary attention to detail. That experience served them well when, in early 2017 they discovered a delipidated travel trailer for sale in the Portland, Oregon-area.
"One of our friends sent me a link to this Craigslist ad, saying look at this weird Airstream," said Scott Goranson, remembering the turn of events that led to the discovery of one of the most important Airstream travel trailers in company history. "It was painted with butterflies and stars and rainbows and all sorts of stuff all over. It was a mess."
The listing said the Airstream was a 1955, but the couple's experience restoring vintage Airstreams clued them into the fact that there was little about this languishing travel trailer that was normal. They reached out to Airstream historian Joe Peplinski, who helped the couple identify it as Wally Byam's "White Trailer" – the Airstream founder's personal unit which he used to travel through Central America and Europe in 1956.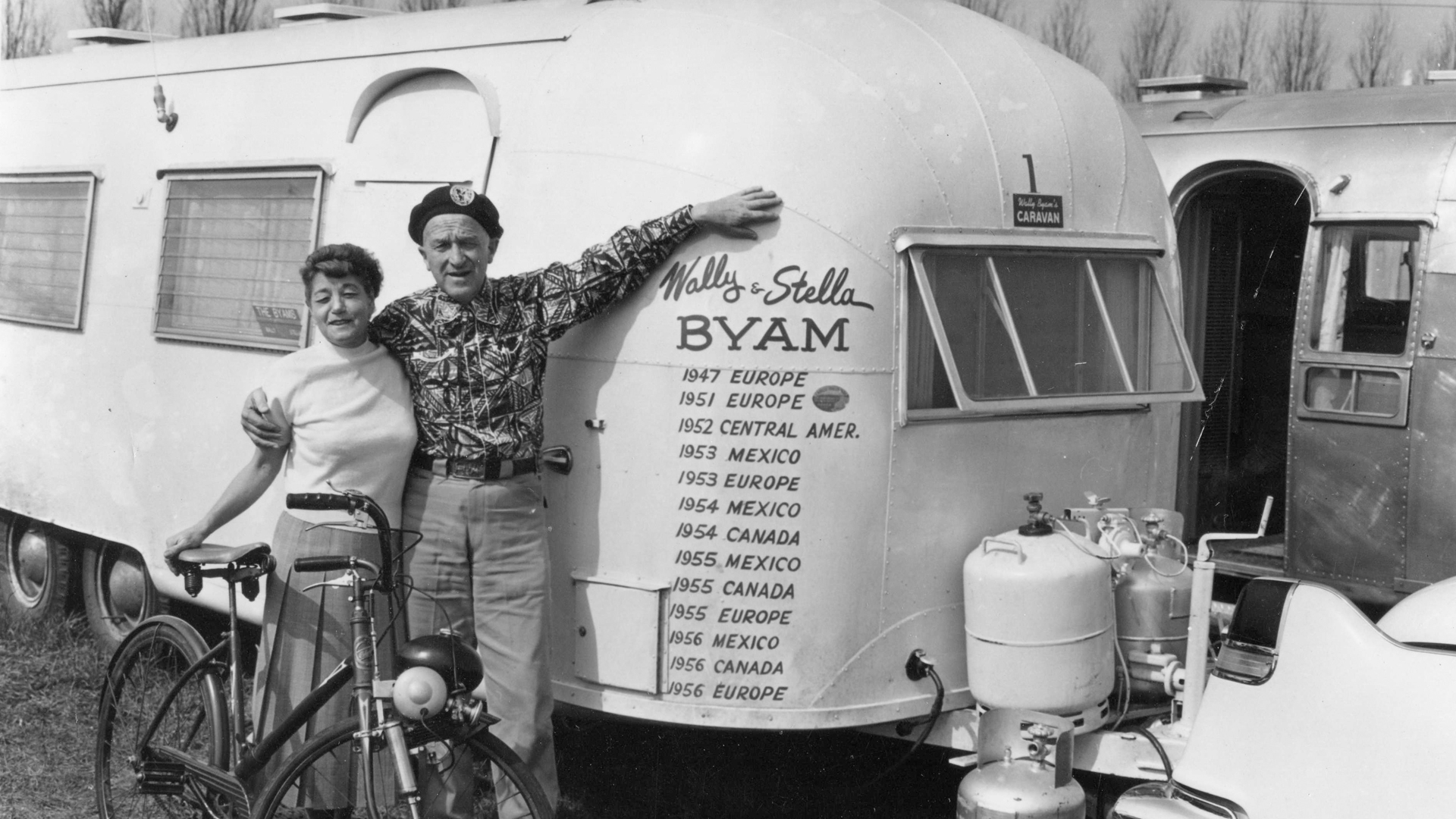 "Joe called Scott and said, 'You have to buy that trailer!'" remembered Megan of the fateful call. "He was adamant that we needed to get this trailer into someone's hands who knew what it was and wouldn't just scrap it."
It's one thing to dream of restoring an Airstream, and quite another to set off on the journey of rebuilding something that is only inches away from the scrap heap.
"It was definitely the worst condition of any trailer we've ever worked on," said Scott. "This one was the closest to being too far gone."
In addition to the illustrations painted on the exterior, the interior was almost completely gutted. A hole had been cut in the side to allow for the installation of a woodstove, and parts of the interior had clearly been stripped down to be used as fuel for that woodstove at some point in the past.
"It definitely needed the love," remembered Megan. But the couple was bound and determined to do justice to this iconic piece of Airstream history. "Knowing the impact Wally Byam had on all these people who love this pastime and love these trailers – knowing that in the right hands it could be brought back to what it was – that was really important. It's a piece of history."
A Rare and Unique Airstream Slips
Into
the Past
By the 1950s, Airstream had found solid footing in the post-war economy. After shuttering the company during World War II and working for the aircraft industry, Wally re-opened Airstream after the war with a new sense of purpose. Year after year, Wally pioneered elements of travel trailer design that are still used today, refining his product and following his personal challenge to only make improvements, not simply changes for change's sake.
Wally also knew that if he was going to convince customers to take their Airstream to the campground across town, he needed to show them that an Airstream travel trailer could be taken far afield and still provide all the comforts of home. He began leading globetrotting Caravans – first into Mexico, Central America, and across the USA and Canada, before setting his sights on a trip across the pond for a tour of Europe.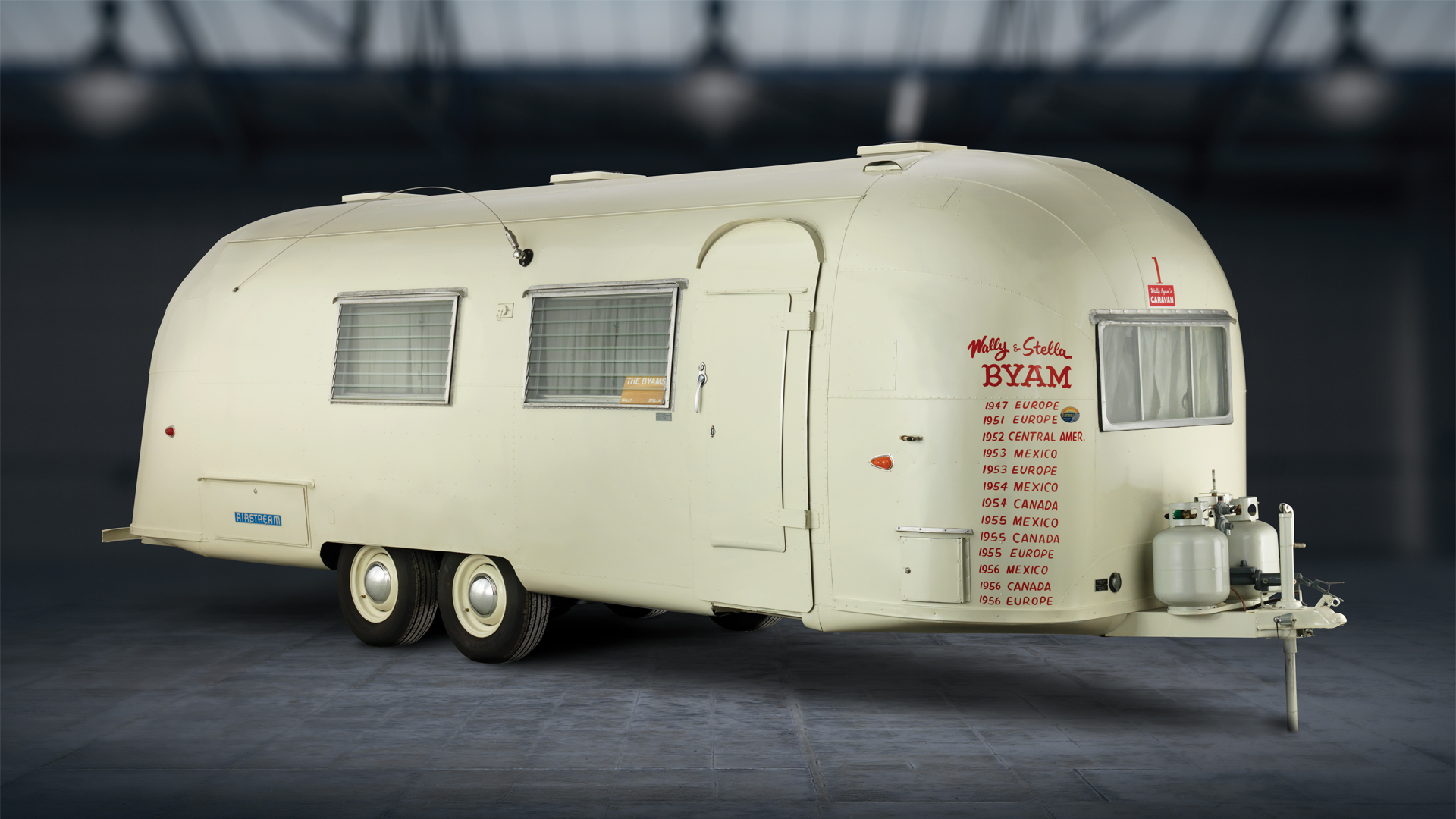 In 1955, Wally built a unique Airstream Cruiser that he and his wife Stella could use on the 1956 European Caravan. In a flourish that would become Wally's calling card, he painted the Airstream white to match his white Cadillac tow vehicle. The white paint helped Wally stand out as the Caravan leader, along with the big red #1 painted on the front endcap that had become an iconic symbol for the red numbers still used by the Airstream Club International (also known as the Wally Byan Caravan Club International). The 26-foot travel trailer featured a number of new designs and unique features, including 7-panel end shells, a front kitchen, a folding dinette table, jalousie windows, cork flooring, and more.
But while this particular Airstream had a rarefied pedigree, its story faded into obscurity with the passing of the years, until luck – and the Goransons' keen instincts – brought it out of history's darkness and into the light.
Bringing History to Life, Piece by Piece
After purchasing the dilapidated Airstream and bringing it back home, the Goransons had their work cut out for them. But one thing worked in their favor: Because Wally's White Airstream had traveled on the European Caravan, there were numerous photographs showing its original condition. The couple's vintage experience connected them with Wally's cousin, Dale "PeeWee" Schwamborn, and led to a treasure trove of materials that helped them bring the trailer to life.
A globetrotter in his own right, Dale Schwamborn was along for the ride with Wally almost from the start. As a teenager, Dale traveled with Wally into Mexico and Central America, and he would go on to be the field scout for the ambitious "Capetown to Cairo" Africa Caravan in 1959-60. His mother, Helen Byam Schwamborn, was an integral part of the Airstream community and helped found the Wally Byam Caravan Club International (also known as the Airstream Club International). Helen kept meticulous records, notes, and files of photographs that eventually made their way into Dale's personal collection, which he was happy to share with the Goransons when he learned they had acquired Wally's personal travel trailer.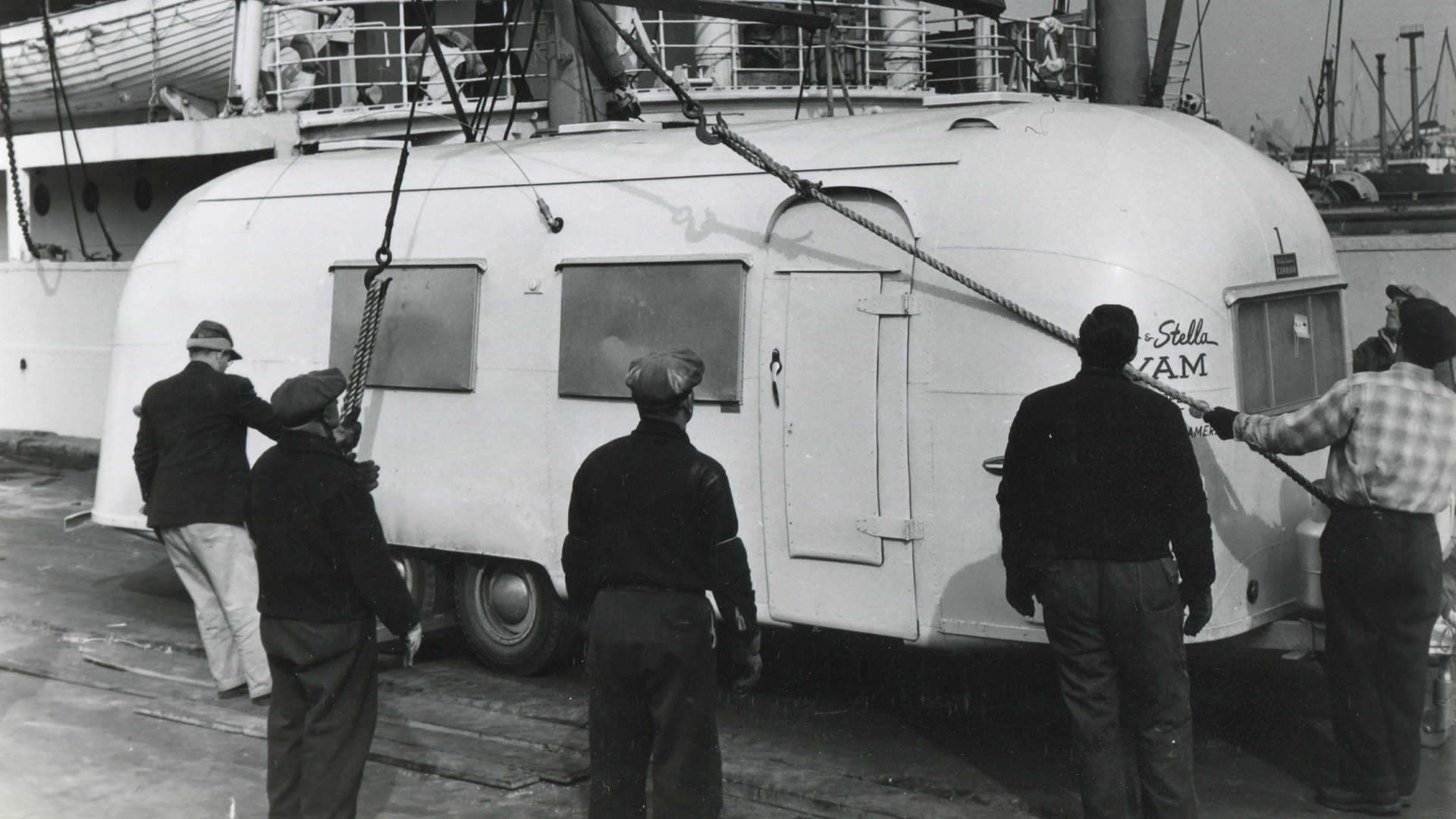 "Without those pictures, there's just wasn't anything out there to help us put it back together," said Scott. "He's gone through so much of his mom's estate, finding pictures for us, trying to help us solve questions of things we didn't understand."
The pictures led the Goransons down numerous rabbit holes as they scoured the internet and vintage trailer suppliers for parts and pieces. Their attention to detail meant everything – from the magazines in the rack to the record player and cups – were period specific and accurate to the time. They even found the same bike rack and a vintage bicycle that matched those carried by Wally. Though many pictures existed that showed the exterior and rear interior of the travel trailer, the couple had to rely on pictures of Helen Schwamborn's personal travel trailer, which also had a front kitchen. When possible, they used the original materials – like the original wood in the bathroom that they re-stained as close to the original as possible.
"It's been one really big puzzle," said Scott.
Vintage Restoration: A Family Affair
One of the hardest parts of the restoration was stripping the paint on the exterior, which required hundreds of hours of meticulous work. But luckily, the project became a family affair for the Goransons, who enlisted the help of their son Jason, who was in elementary school at the time. Jason helped his dad rivet the trailer back together – a process that requires two people, one on the exterior with a rivet gun and one on the interior with a bucking bar.
"He did all but a couple of the rivets," said Scott. "There were thousands of rivets where he was holding that bucking bar. He learned a lot helping – he learned how to use tools correctly, the different skills – and the work ethic seeing what it takes to do something."
A Permanent Home for an Iconic Piece of History
After completely restoring the White Airstream to its former glory, the Goransons knew they needed to find a place where it could be enjoyed by more than simply a few people who came to visit them. They worked with Airstream Historian and Archivist Samantha Martin to deliver the White Airstream to its new – and final – home at the Airstream Heritage Center in Jackson Center, Ohio.
"This needs to be somewhere where it can be enjoyed," said Scott. "It was going to live in our garage...or we could take it and work with Airstream. There's something calming about knowing where it's going – but it's also hard to let it go."
For the Goransons, it's been a life-changing experience.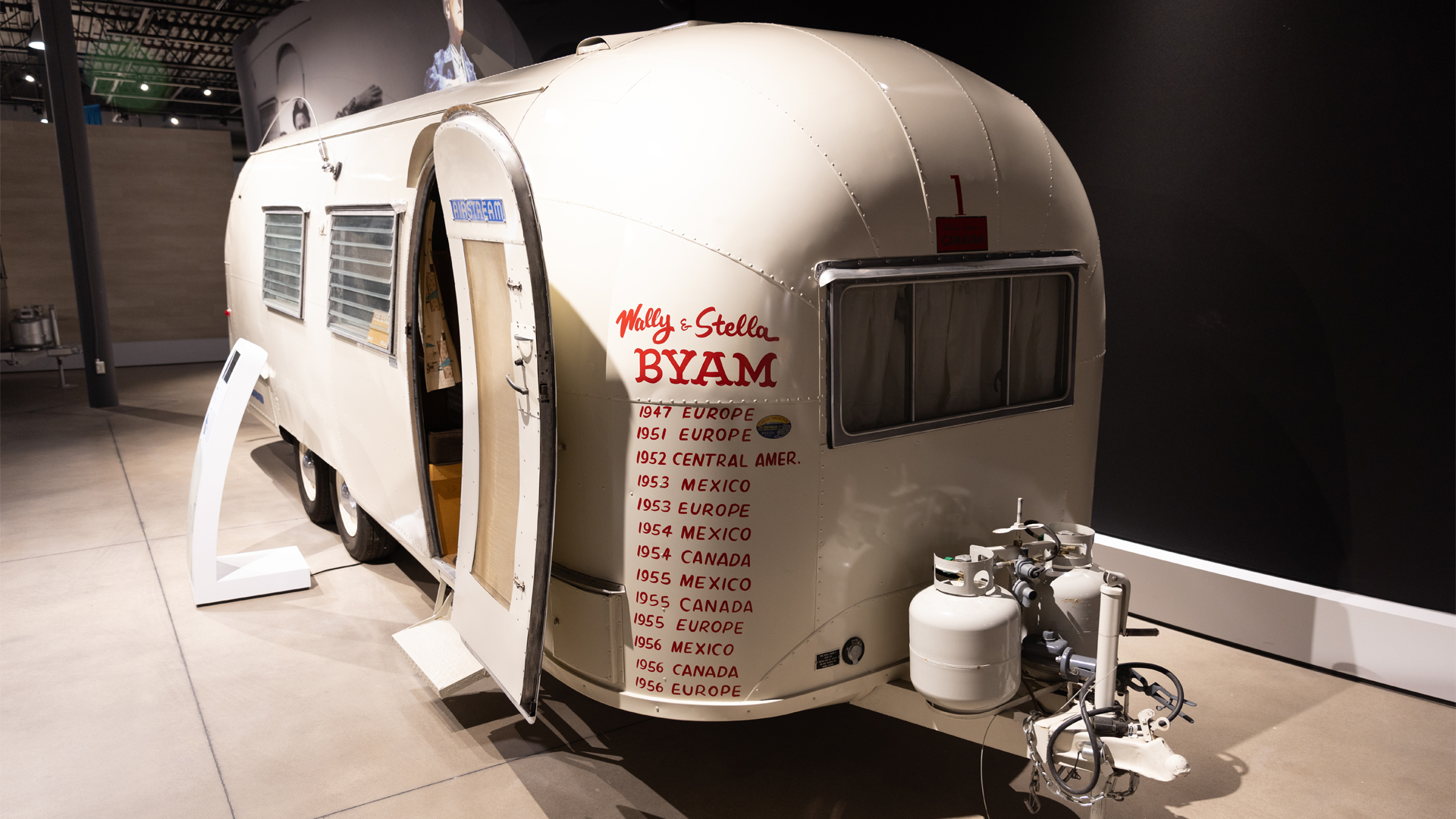 "It's been a journey – I've learned a lot," said Scott. "And it's been really satisfying to see where it started and where it's going. To know that in 20 years our kids can still go see it – if they have kids, they can show them, and say 'Hey, you know – I worked I on that trailer!'"
Wally's White Airstream is now on display at the Airstream Heritage Center in Jackson Center, Ohio, along with more than a dozen vintage Airstreams from across the nine decades of company history.
The Airstream Heritage Center is now open to the public every weekday from 9 am to 4 pm. Click here for more information:
To reserve a spot on our free Travel Trailer Factory Tour, click below: