Part I: Preparations
It's safe to say that the iconic Airstream Wally Byam Caravans have made history. These Caravans traversed the globe in some of the most remote areas and created a close-knit community of travelers. Here is an in-depth look at the first Caravan that started it all: the journey to Mexico and Central America from December 1951 to March 1952.
The first Airstream Caravan sort of developed unintentionally. It began when Wally offered to go on a trip with one of his customers to show him the odds and ends of trailering. Wally understood that hitching up a travel trailer and towing it down the highway was a daunting task for the uninitiated, and he knew that the only way he could convince people to overcome their fears was to show them how exciting it was to embrace the freedom of the road. Wally was determined to seize the most adventure and opportunity that could be had with an Airstream, and he also wanted that for his customers. 
After a short trip to southern California, Wally and his customer planned a lengthier trek to Mexico City and down the new Pan American Highway. Through word of mouth, many people heard about the trip and asked to join. The idea caught traction and was picked up by several trailer magazines. Intrigued, Wally decided to advertise the trip in the Los Angeles Times. Before they knew it, there were fifty trailers committed to going, and Wally realized he would have to set a limit as they hadn't planned any logistics yet.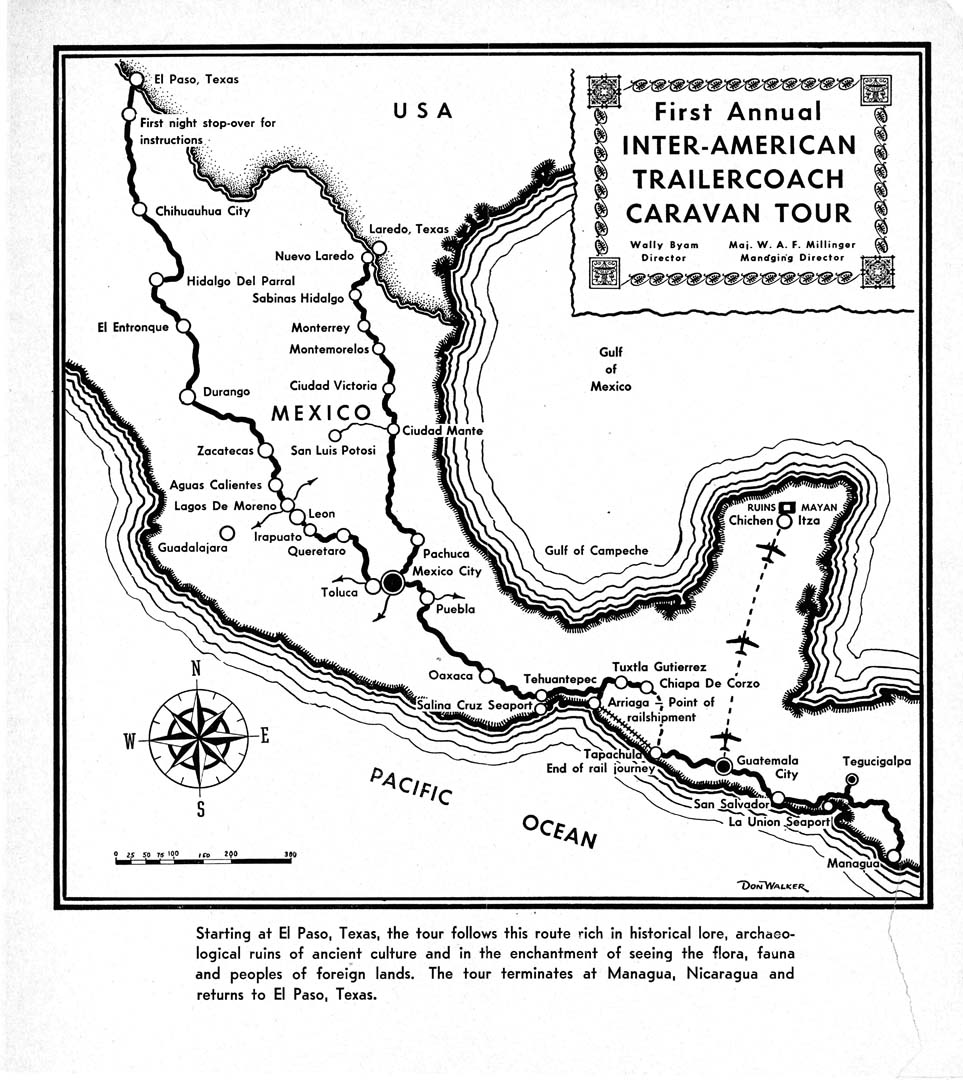 In the summer of 1951, the pair began to map out what would be needed for a trek like this, the first of its kind. Wally decided that in order for needs and expenses to be covered, each person would contribute $250. Assuming that most places along the way would not have water or electricity available, they purchased generators, an army surplus water purifier, and spare parts and equipment. A staff member with a tow truck accompanied the Caravan. A Mexican oil company traveled along and made sure that they had enough fuel along the way. They also met a helpful guide, Señor Francisco Lona, who provided his representative, Guillermo Hawley, and two federal police to travel with the Caravan for safety and direction. 
The Caravan members all met at the El Rancho Grande Trailer Park in El Paso, Texas, a few days before they were set to depart on December 1. This worked well, as participants got to know each other and do some last minute preparation as a group. The Caravan ended up being a bit larger than expected, with sixty-three trailers of all different brands. While most participants were retired, it was a diverse group ranging in age from 84 to 6 and included a doctor, a Marine Corps general, and even several millionaires.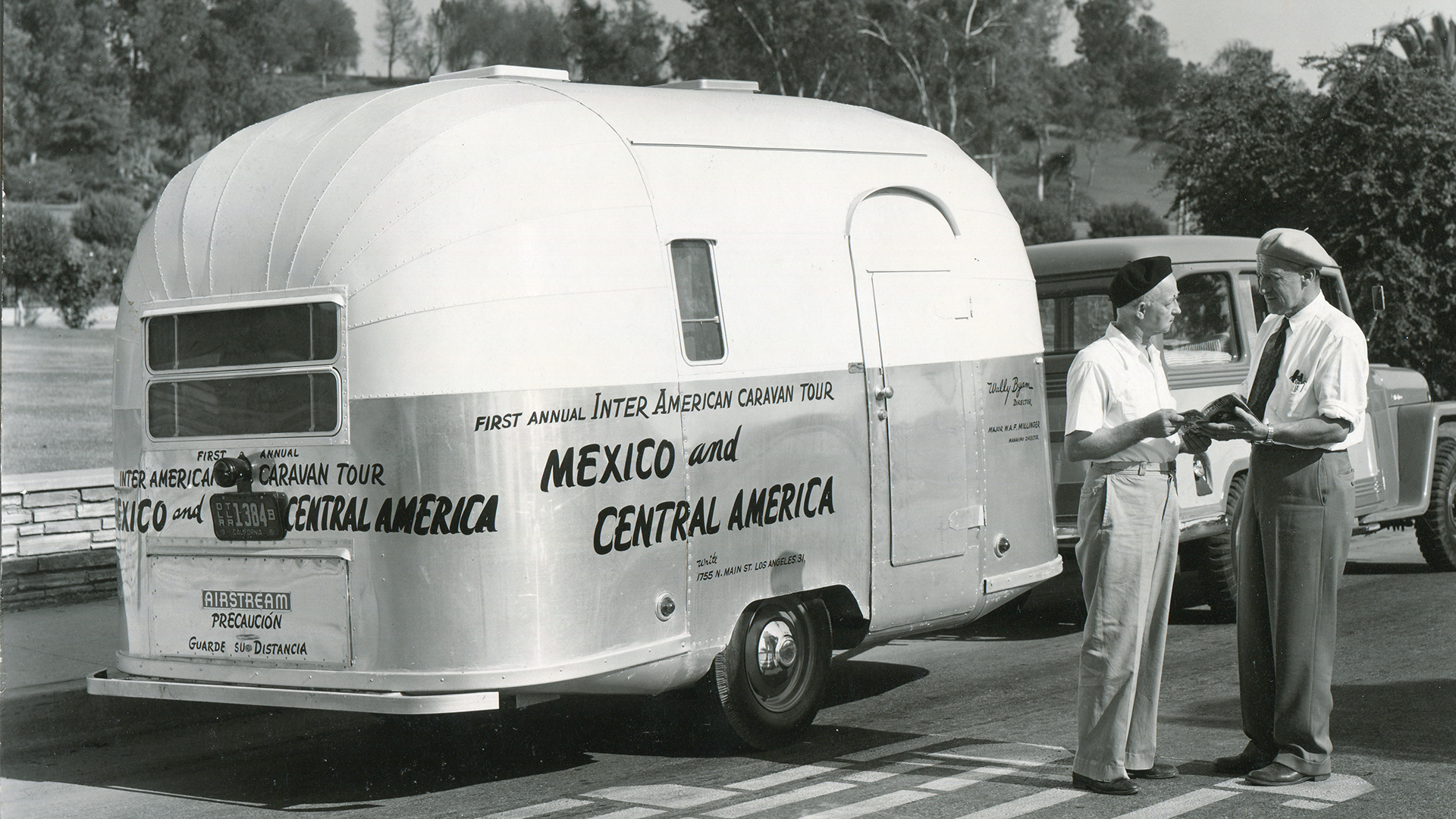 In El Paso, they were the talk of the town, with journalists and others eager to document this unusual group embarking on a new adventure. The Caravanners were anxious to get on the road, as the cold weather was affecting the trailers and their water lines. Wally held a meeting in which he assigned numbers to the trailers to keep track of everyone (with Wally's being #1). This was a precursor to the red Wally Byam Caravan Club International numbers you see today on some Airstreams. He also gave everyone a blue beret so that they could spot each other in a crowd.  In preparation for departure the next day, they discussed border crossing and safety precautions.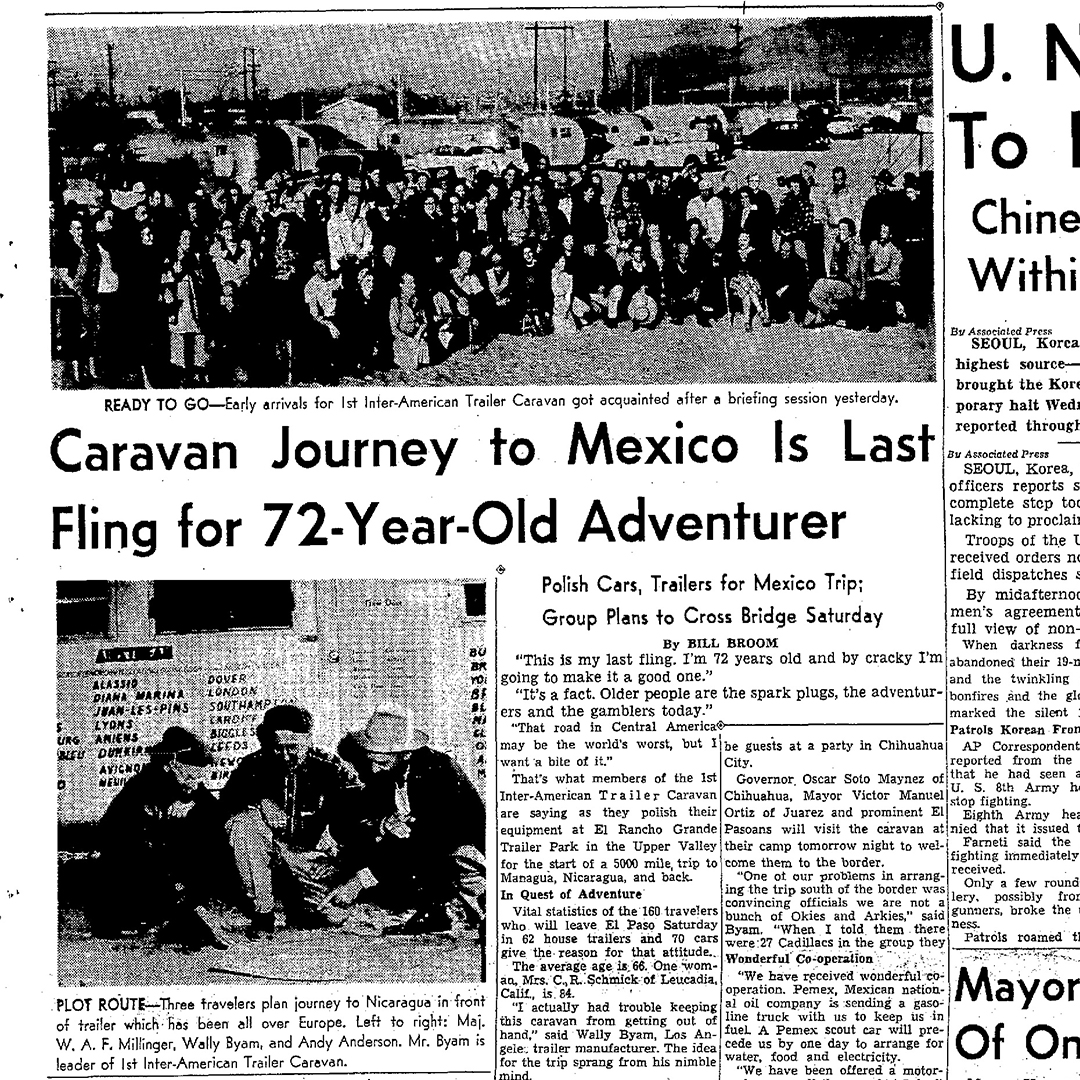 Part II: El Paso to Mexico City
Part III: Mexico to Guatemala City
Part IV: Guatemala City and the Journey Home