Hammocks inspire thoughts of lazy summer days spent gently swaying while enjoying a favorite book and beverage. Kammok has taken this lazy pastime and fused hammocking with technical backcountry functionality, bringing the feeling of weightlessness wherever you go. Why not take relaxation with you on your next outdoor adventure?
Once your Airstream delivers you to the great wide-open, you can quickly and easily settle into serious relaxation mode with the Kammok Roo Hammock. Designed for lightweight travel and simple set up, this is one of the largest, sturdiest, and most luxurious portable hammocks on the market.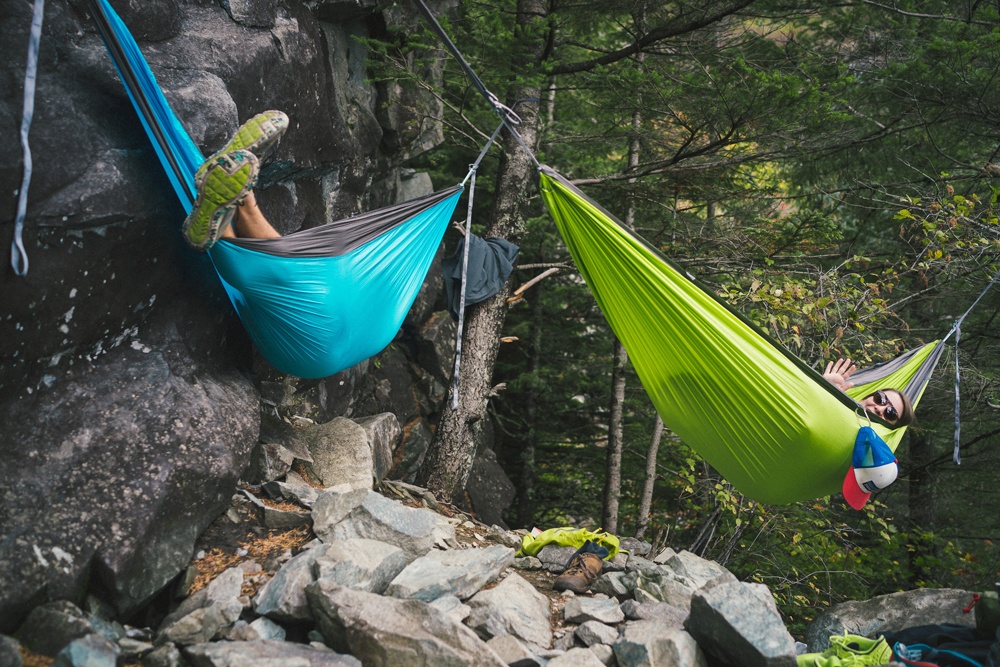 Perfect for camping, hiking, and backpack adventures, the Kammok Roo's design makes set up a cool breeze. Packaged in a water-resistant roll-top stuff sack, you simply open the pouch, unfurl the fabric, and attach each end to your Python Straps using the two carabiners.
The Kammok Python Straps are Kammok's proprietary hammock straps, equipped with daisy-chain suspension materials, for both strength and a combined length of 20 ft. Made from tubular, no-slip webbing, Python Straps are light, long and strong. Each 10 foot strap features 18 attachment points allowing for ultimate versatility. What's more, they're tree-friendly.
Want to relax in tandem? No problem. Two people can fit comfortably in this hammock. The Kammok Roo is 10' long with a 5'7" wingspan, and it can support a total weight of 500 lbs. But you wouldn't know it from the packaging – the carrying pouch is the size of a coconut and weighs only 24 ounces. Your Airstream (or your backpack) won't even notice it's there.
---
Image credit: Adam Kingman, the Whistler & the Well and Greg Balkin
Airstream searches every corner of the outdoor and camping world to find the coolest gear to feature in Things We Love. We often partner with brands and create affiliate relationships for the products featured here. To see more things we love, click the button below.