Have you recently moved into your Airstream Travel Tailer or are you planning a weekend excursion with family while trying to figure out how to cook in an RV for everyone? Or maybe you're wanting to host a holiday meal in your tiny kitchen?
Whether you are full-timing in your RV or off on a weekend trip, you don't have to cook hot dogs over the campfire every night (unless, of course, you want to). Cooking in a small space is a new challenge, but with a bit of preparation and adjustment, it can be quite fun and just as easy as cooking in a full-sized kitchen.
Remember when you were a kid and you wanted a fort with everything you'd ever need in it, including a kitchen? Now you have it!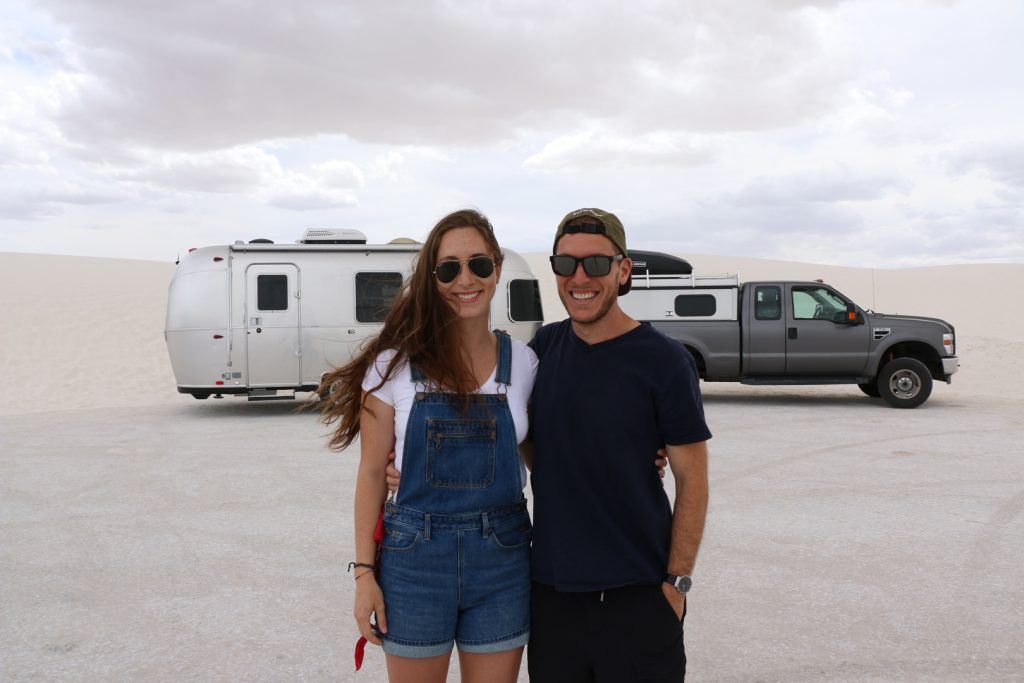 Hi, we are Ariele and Justin of Wild We Wander. We are digital nomads who have been fulltiming in our 22' Airstream Sport since February of 2017. We've traveled over 40,000 miles in the past two years, across the country and back twice, and have cooked the majority of our meals in our tiny kitchen. From beach campgrounds to mountaintop boondocking to Walmart parking lots, we love the ability to always have a way to cook a wholesome meal.
Here are four myths you might be telling yourself about cooking in your RV kitchen that we can easily debunk for you with a few tips.
Myth #1: Not enough space to cook
Let's cover this first. You absolutely have enough space to cook, even if you only have two burners and no oven like us. We have a convection oven, but we are often not hooked up to shore power to use it. Here is why you do have enough space in your tiny kitchen, just follow these space saving tips:
Clear off your dinette table to use as extra prep space.

Cover your sink with a cutting board to create more counter space. Airstreams come with cutting boards fit to the sinks. Genius!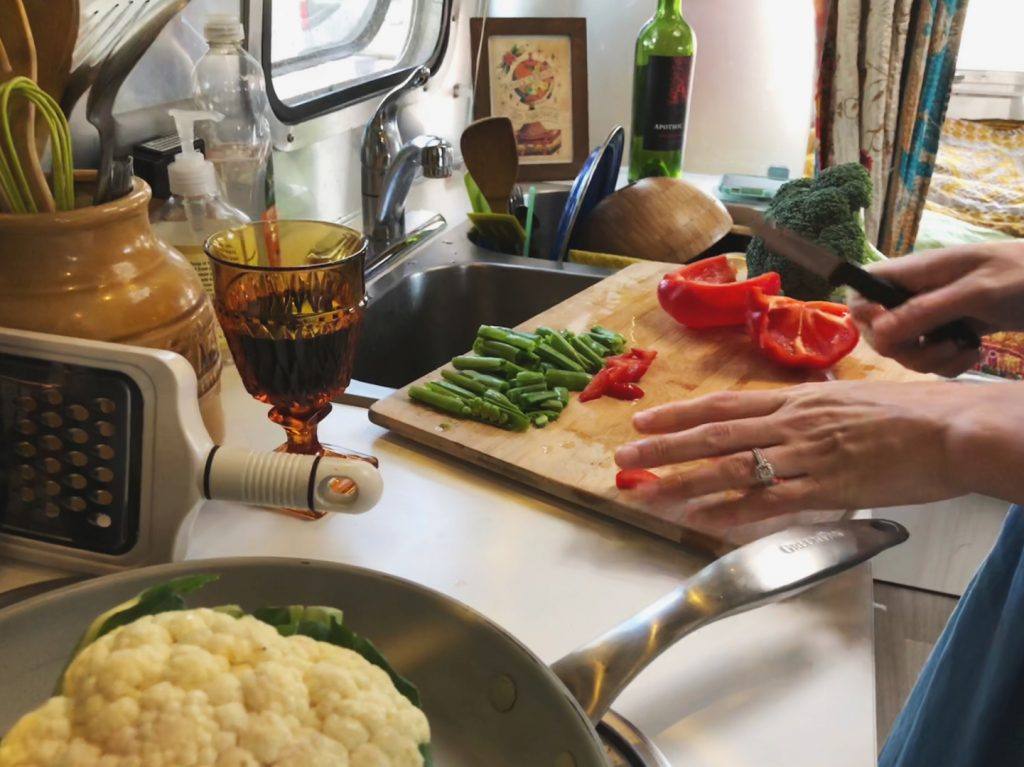 When you are preparing for a trip, come up with a few recipes that take only one or two pans or pots to manage your burner space. A favorite of ours is this

one-pan pesto salmon and asparagus

(scroll to the bottom of that post for the recipe).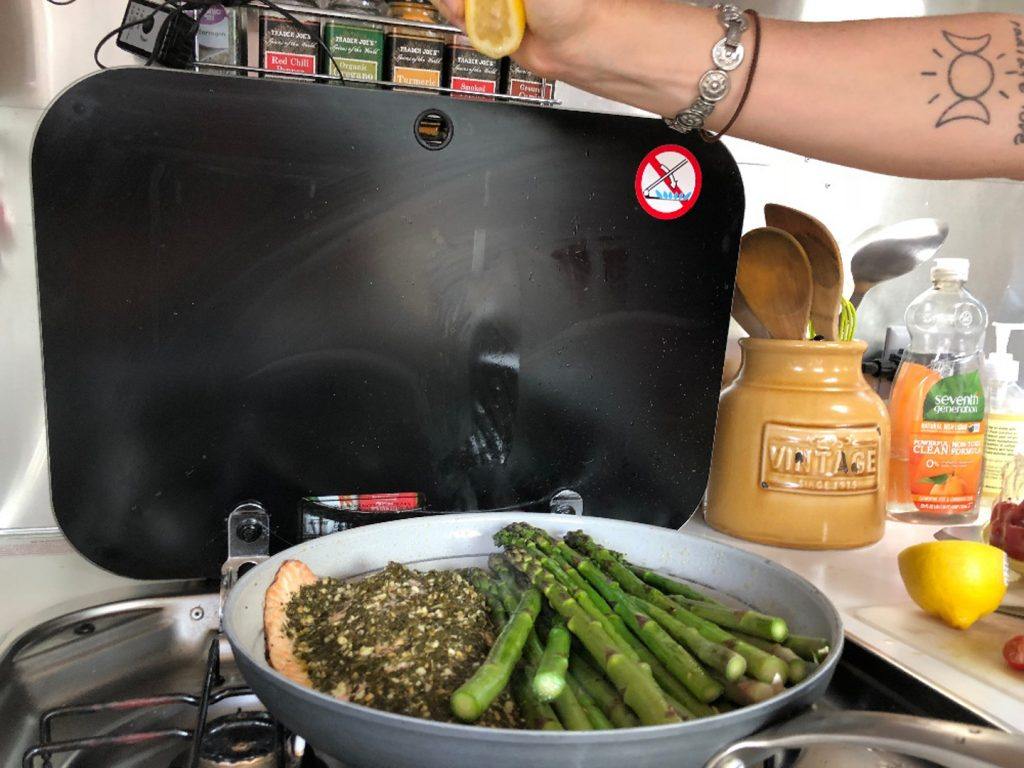 And if you just need more space, take the cooking outside. We love utilizing our campfire for easy things like heating up beans, cooking corn on the cob, roasting veggies, or warming chili.

For that matter, we love cooking entire meals outside! Cast iron is your friend here;

if you're looking for a cast iron skillet we recommend our friends at Field Company.

We have a dutch oven and a large skillet that get used often.

You can also use a portable Coleman stove if you really need more burners. It can get a little complicated to have two sets of burners going inside and outside, so try to keep it simple. (You're camping to decompress, right?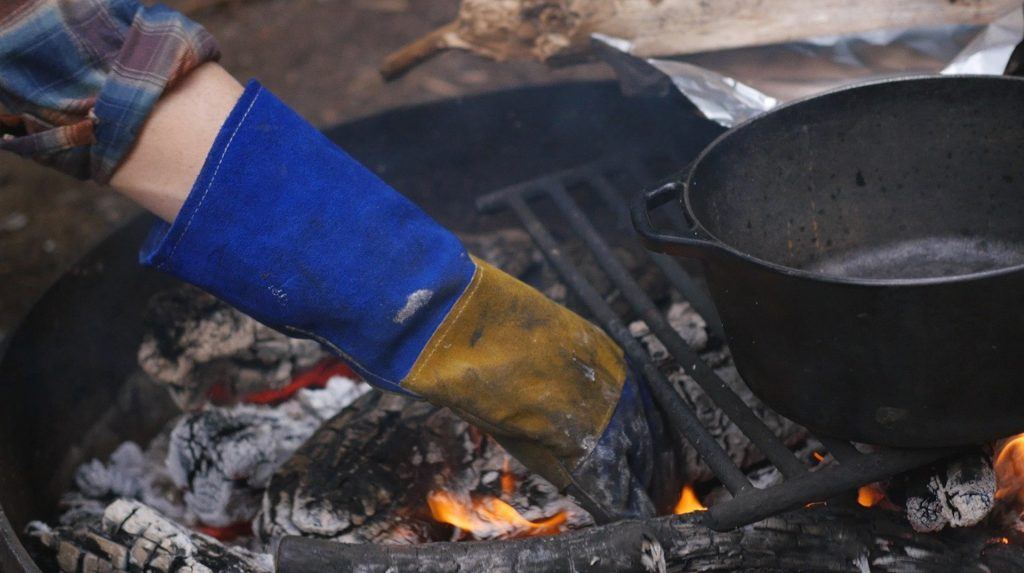 Myth #2: Not enough space to entertain guests
A big part of camping for us is getting to share our experiences first hand with people who don't live this way full time. When it comes to sharing our campfire, the more the merrier! We've hosted a dinner for four adults inside our Airstream and a dinner for at least ten outside around the campfire!
 Here's how.
Have a fire. This is so important. Use it for warmth, for something to do while you're chatting, for something to talk about, for something to sit around and stare into, and something to cook over!

 

Utilize the picnic table. Most campgrounds have a picnic table at each site. It provides extra seating, prep space if you are cooking over the fire, and, of course, a dinner table.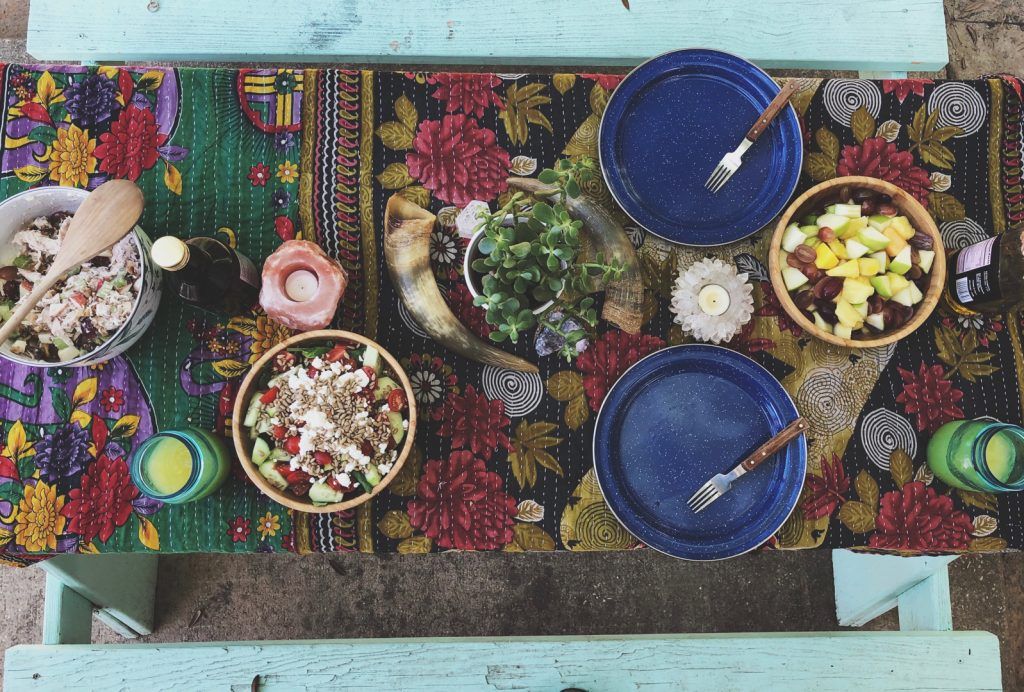 Bring coolers. This ties into our next point, but cooler + a cozy blanket = a large comfy bench! (PSA: In bear country, make sure to put away those coolers before you go to bed, even if there isn't any food in them.)
Myth #3: Not enough storage space
Despite what those who have never been inside a camper think, there is plenty of storage space for your food and supplies. Here's why.
The Airstream refrigerators are actually spacious for a small space. And if you are passing near a grocery store every few days while traveling, you don't need to overload your fridge. The longest we've gone is over a week between grocery visits because we were off the grid for a while. But if you need more cold storage, bring coolers!

Utilize your tow vehicle

to keep the coolers in. Throw all drinks and well-sealed veggies in there. Keep meat, dairy, and other really perishable items in the fridge. But be careful not to open the fridge too often, especially if you're running on propane and it's hot outside.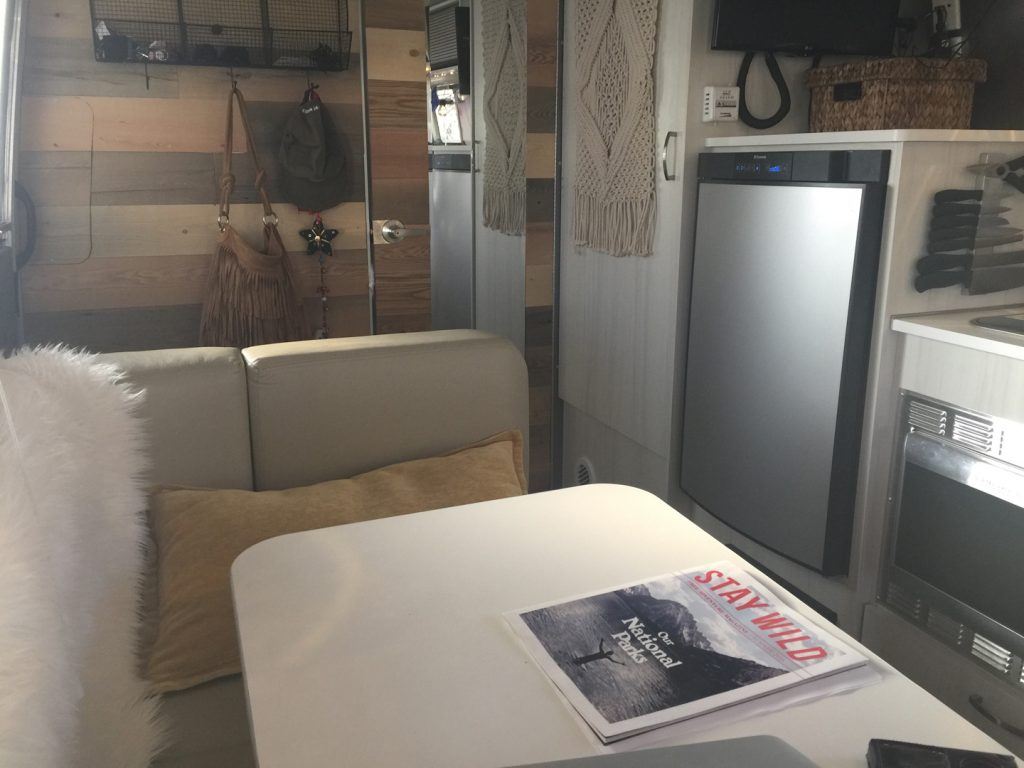 If you are in any kind of RV, you'll know there is plenty of storage space; Airstream's are especially made this way on purpose! We are able to keep a robust pantry when we are traveling full time.

If you are going out for a weekend adventure, you can always prep ahead of time, cutting down on the amount of food you need to bring. For instance, chop your veggies before you leave and put them in little baggies labeled with the meals they go with.
Myth #4: Not enough space to do dishes
Justin and I have always been pretty good about not letting dishes pile up, even when we lived in an apartment. We just can't stand clutter. This translated nicely to living in a small space; your tiny kitchen sink can overflow quickly if you don't stay on top of dishes.
Wash them as you go. If you're cooking, delegate someone to wash as you finish with prep dishes like cutting boards and knives. This way, you only have the dishes you ate with to wash later.

Justin's favorite trick is to wipe out our dishes before we even wash them. Essentially wipe them clean with your napkin and you'll need much less time and water to clean them. This is a great tip when boondocking and trying to conserve water and grey tank space.

If you have a lot of dishes, like if you are hosting a party, do them outside. Many campgrounds will have dishwashing stations by the bathrooms. Or you can also fill two small plastic tubs with water, use biodegradable soap, and do your dishes outside. Add it to another activity for your guests because I guarantee they're going to ask you repeatedly if they can do anything to help.
The food we eat in our travels is just as important as the places we visit because of the community it creates between the two of us or between the group we're hosting. So, enjoy the process! And remember to be mindful every step of the way.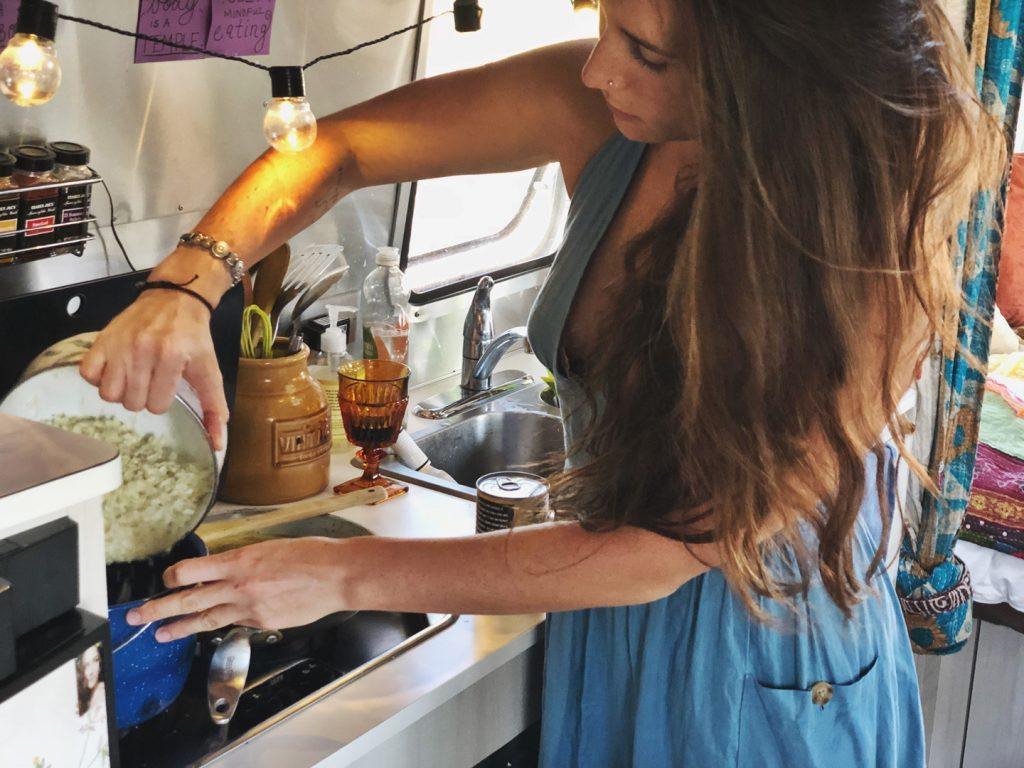 To learn more about Wild We Wander's digital nomad lifestyle, watch the documentary:
And to learn more about Airstream Travel Trailers, click below: