Airstream Touring Coaches are known for their expert use of space, luxurious amenities, and best in class performance. But with 5,000 pounds of towing capability, Airstream's line of Class B motorhomes are also some of the most versatile vehicles for hitting the road with fun and comfort in mind – and cargo in tow. 
From boats to car haulers to small trailers transporting ATVs, motorcycles, or jet skis, Airstream's motorized RVs are ready to pull just about anything. Pack up for a weekend at the lake, head for the mountains, or load a trailer to take your oldest to college. Rest assured that you'll be making the journey in style, with your kitchen, bathroom, shower, and bed along for the ride.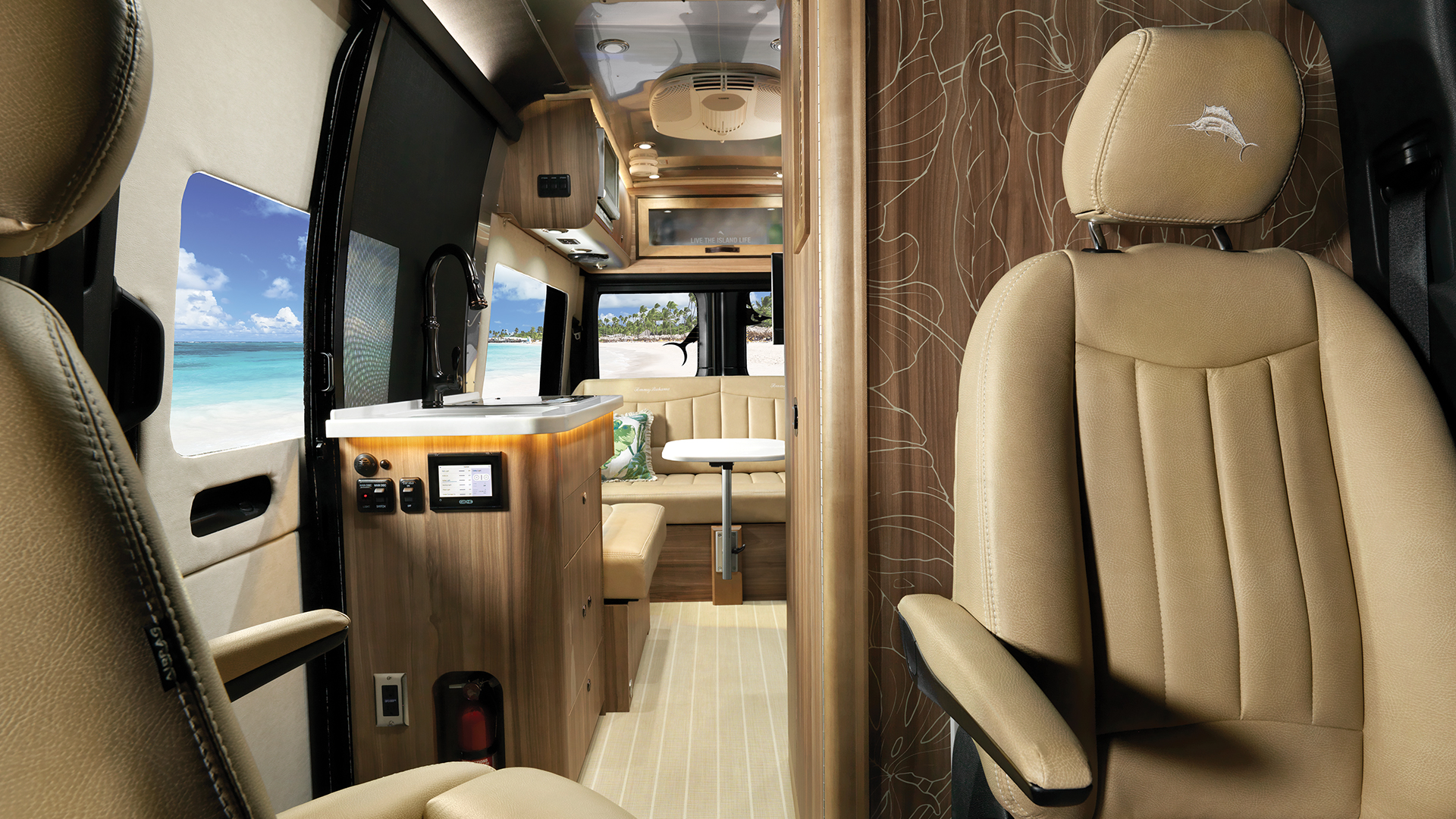 Airstream Ambassador Kevin Clabert realized the power of his Airstream Interstate's towing ability in a rather unorthodox way: moving a piano cross country. 
"I couldn't find any shipping companies willing to accept the job, so we threw the piano in a motorcycle trailer and took off," said Kevin of the adventure. "I knew it could pull it, and it was no problem."
From there, Kevin started pulling his Ford GT supercar to rallies in a car hauler. He's towed at sea level as well as climbing 13,000 vertical feet over the Continental Divide.
"That's when I realized this thing can really tow – way better than I thought it could," he said. "It always seems to get the task accomplished no matter how hard I push it. Now, more times than not, it has a trailer behind it."
The natural progression for Clabert and his family was to add an Airstream travel trailer to the mix for an unmatched travel duo. 
Under the Hood
While the list of what you can tow behind an Airstream Touring Coach is long, the ultimate towing combination is hitching up an Airstream Travel Trailer for the double Airstream experience. With exceptional Mercedes-Benz performance under the hood, Airstream motorhomes can easily pull single axle silver bullets. Every Airstream Touring Coach has a powerful 3.0L V6 Turbo Diesel engine capable of pulling up to 5,000 pounds. Cutting-edge engineering, better fuel economy, longer life span, and more environmentally-friendly (compared to unleaded gasoline), the diesel engines under the Airstream hood are built for the long haul. And with a single-axle Airstream Travel Trailer in tow, it's a match made in heaven. Whether you choose the no-expense spared Atlas, the luxurious amenities of the Interstate 24, or the city-friendly Interstate 19, an Airstream Bambi, Caravel, or Basecamp travel trailer in tow completes the package.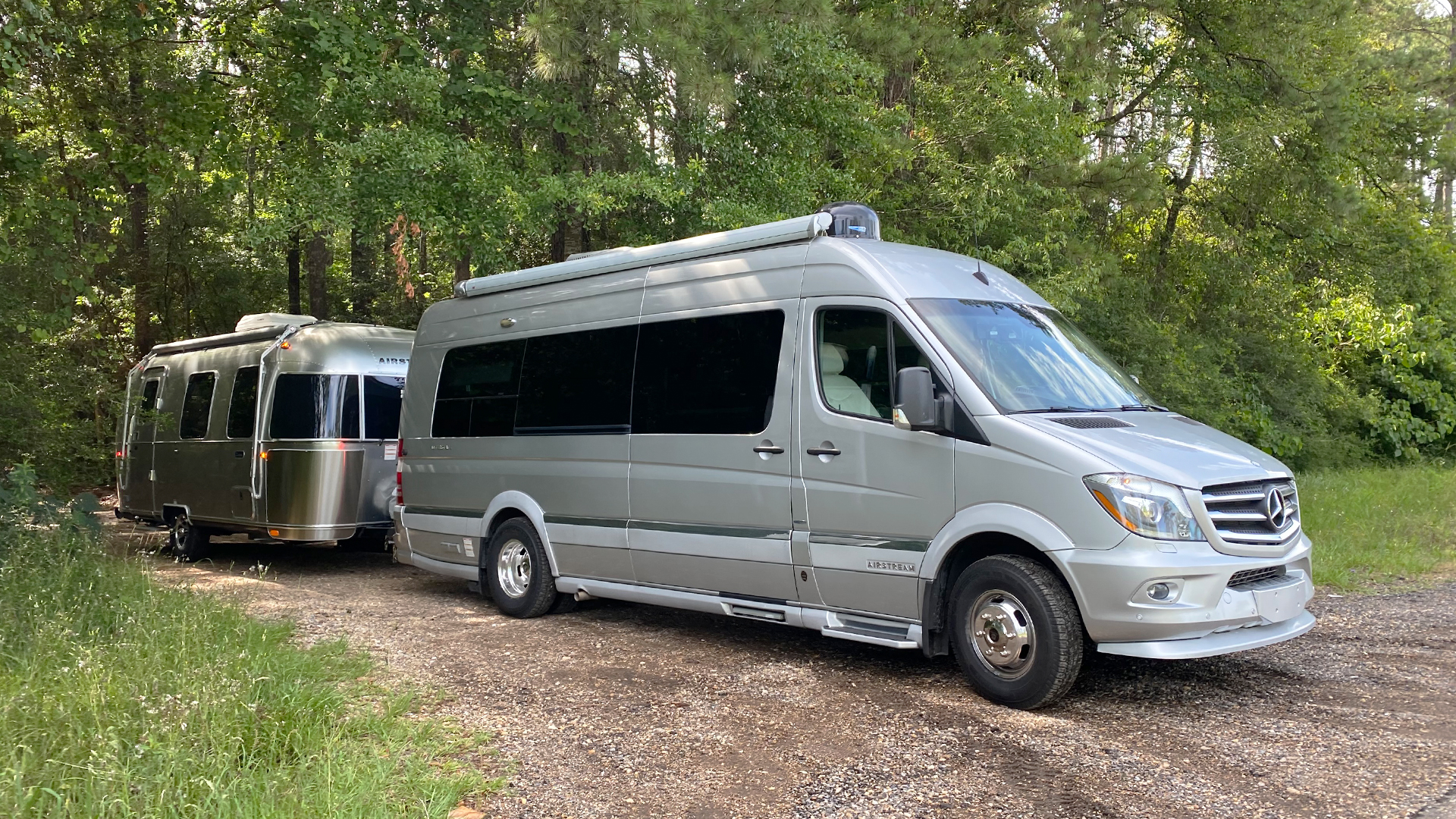 Safety from Bumper to Bumper
Regardless of what you have in tow behind your motorhome, safety is of the utmost importance. Airstream Touring Coaches all come standard with rear-view and side Camera Assist as standard features, giving you peace of mind when changing lanes. They also include an always on Rear Camera with an adjustable angle for even more flexibility. With an Airstream Bambi or Caravel in tow, you have even more visibility options, with Rear View Monitoring Systems included in both travel trailer lines, making it easy to slide your travel trailer into the perfect campground spot. 
Your new Airstream Touring Coach is ready to hit the road off the dealer lot. Tow packages come standard with a Mercedes-Benz hitch, 7-pin trailer plug, and brake control pre-wired – with no need to have after-market equipment installed. 
Beyond the safety and strength in Airstream Touring Coaches, you can also rest assured that you'll be able to bring along all the people and gear you need to make your trip memorable. From Interstate 19's Gross Combined Weight Rating (GCWR) of 13,930 pounds all the way up to Atlas's GCWR of 15,250 pounds, you'll have plenty of room left over for bikes, kayaks, passengers, and anything else you need to bring along for the ride. (Check with your local dealer for more information about GCWR and cargo capacity to ensure you don't overload your vehicle and trailer).
Home is Where You Park It
For Airstream Ambassador Kevin Clabert, the best thing about pulling an Airstream Caravel behind his Interstate is having all the options within reach. There's plenty of room between the Interstate and the Caravel for his growing family to dine, sleep, and relax. From not stopping at rest areas to unhitching and heading in to check out the nearby town, the touring coach/travel trailer combo means flexibility and comfort. 
"With my family, I'm limited with how much time we can spend on the road," said Kevin. "I need to go 600 miles a day without stopping every two hours to use the restroom."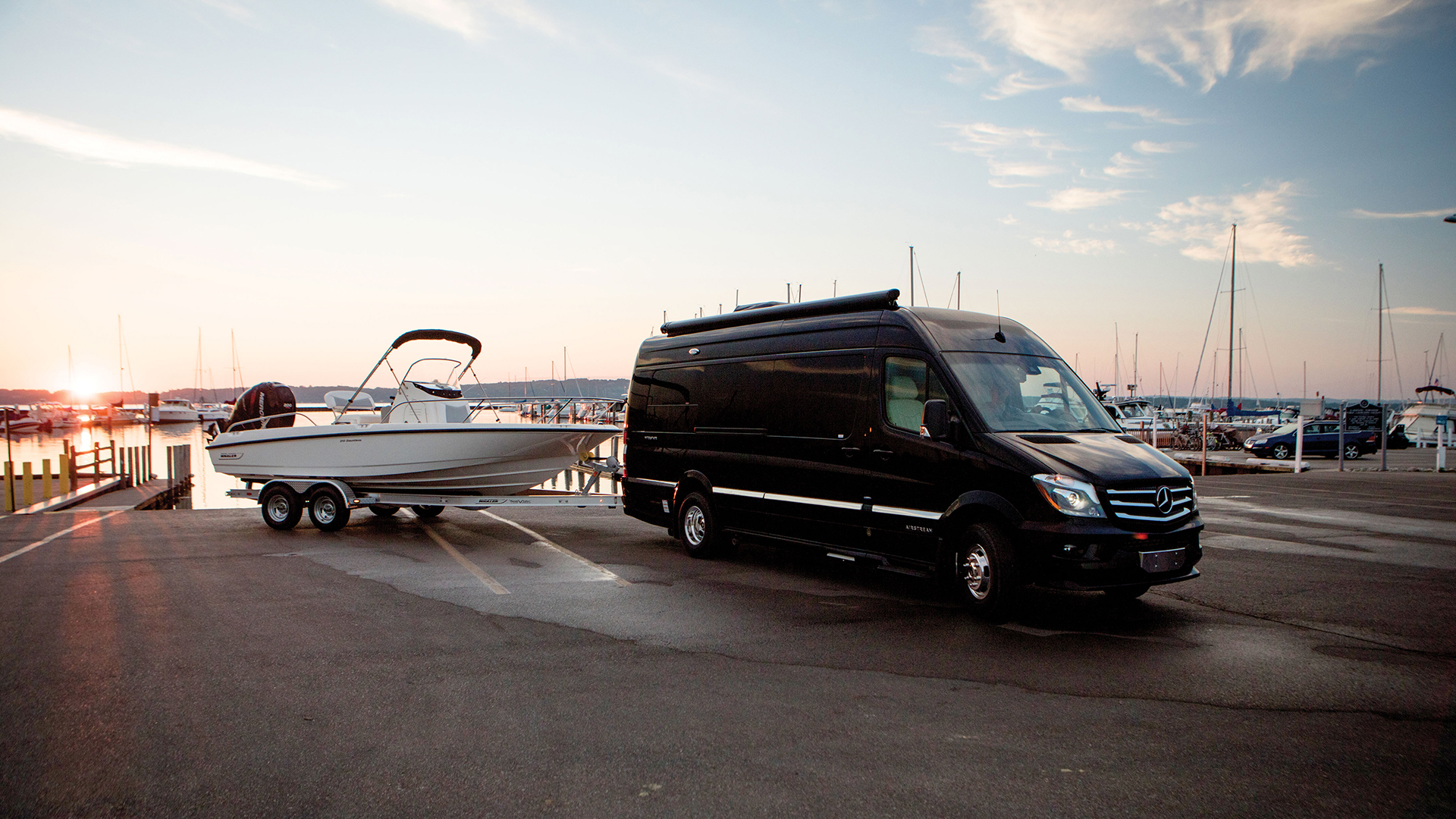 He compares himself to the proverbial tortoise racing against the hare.
"I might not go very fast, but this setup allows us to make fewer stops and ultimately go further than we would have otherwise been able to," he said. "I feel safe, the family loves it, both my wife and I are comfortable driving. It's the perfect setup."
For more information about Airstream Touring Coaches, Travel Trailers, and related towing information, visit your nearest dealer to experience it in person.