Cooking in your Airstream® galley is a delight. Thoughtful, beautiful design is behind every model's kitchen space – the perfect marriage of form and function. Why not expect the same from your kitchenware?
Whether you're a top-grade chef or burgeoning home cook, look to Material for all the tools you need and nothing you don't. With their line of thoughtfully designed knives and utensils, you can whip up three fried eggs, a three-course meal, and everything in between.
Material's products combine a sleek, industrial style with innovative features and world-class materials. And, by providing cooking tools that are multi-functional, your kitchenware drawer goes from cluttered to streamlined.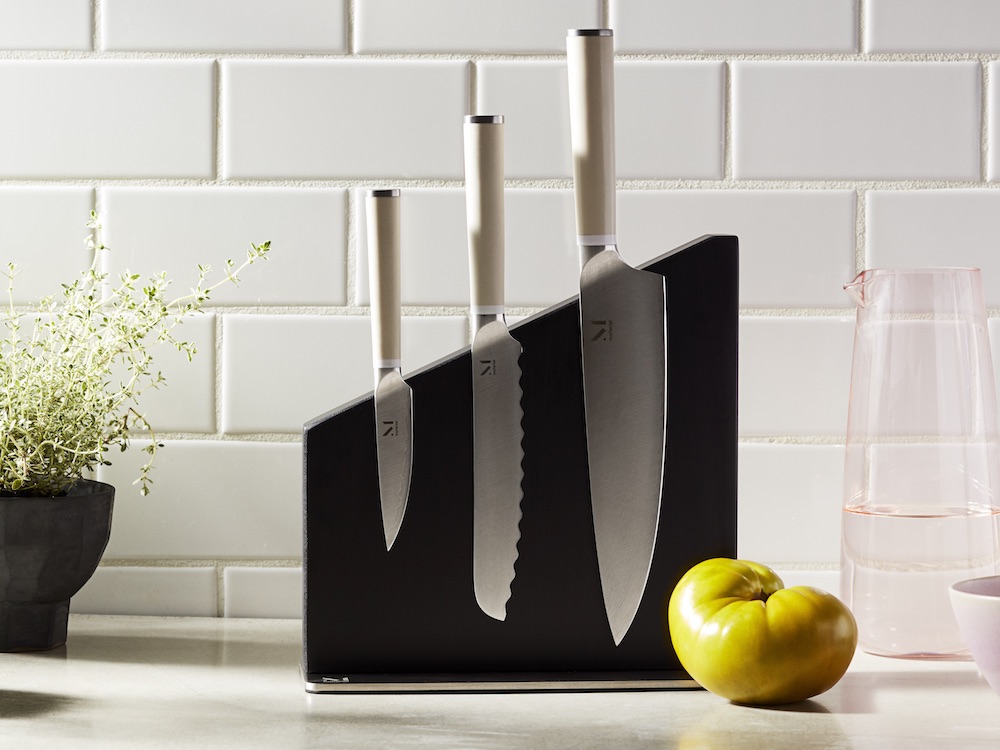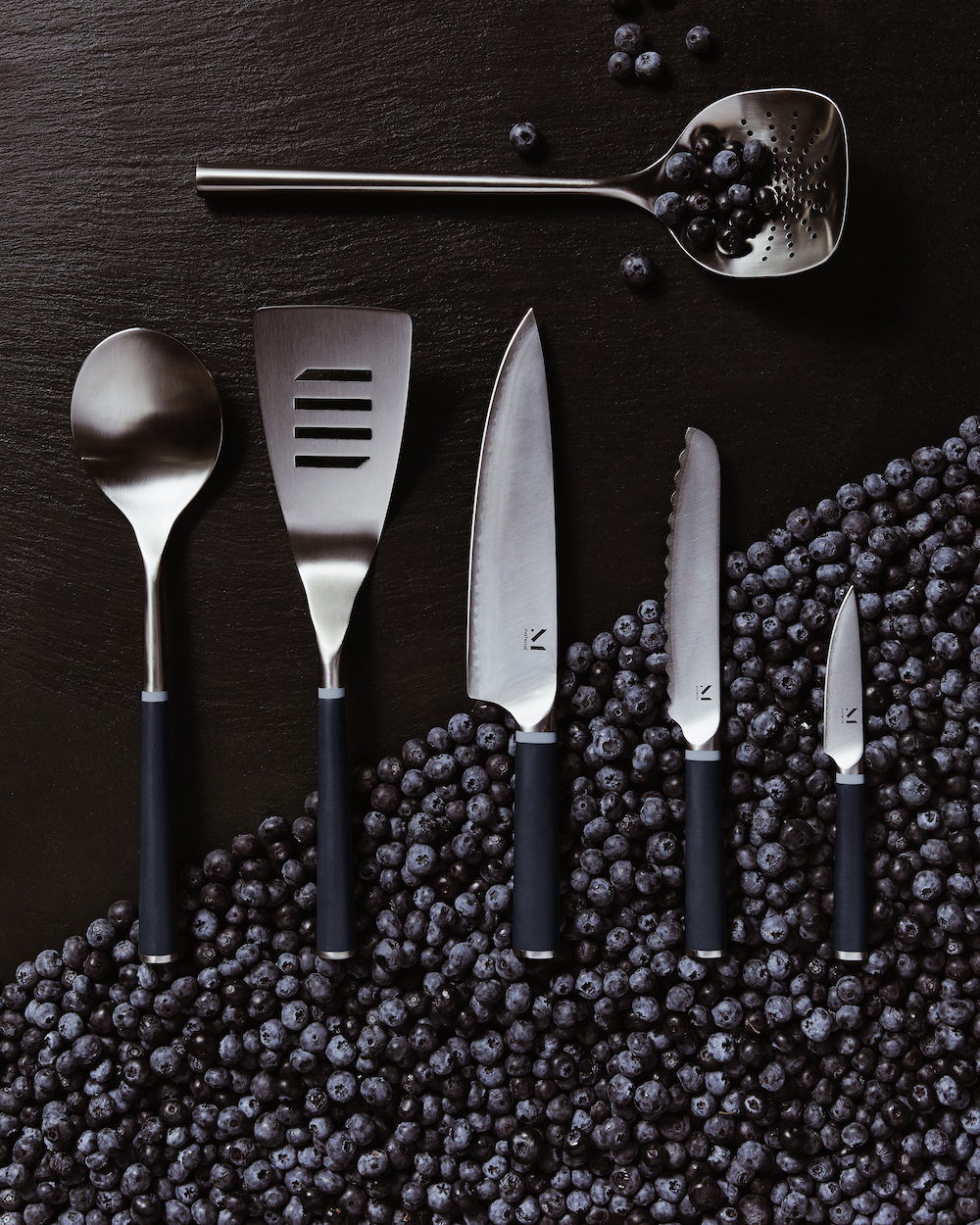 Take The Fundamentals: the seven pieces you'll reach for every meal, every day. Headlining the set are The 8" Knife and The Almost 4" Knife, for all of your slicing and dicing needs. These knives are crafted from Japanese steel and have supremely sharp 26-degree edges that are cryogenically tempered to ensure they withstand the test of time. The handles are made of stain-resistant composite and finished with matte for a comfortable, slightly grippy feel.
Once things get cooking, there's The Only Tongs, The Wood Spoon, The Metal Spoon, and The Slotted Spatula. The Only Tongs are made from hefty stainless steel, dishwasher safe and virtually indestructible. What's more is that the head of each tong doubles as a spoon, so you can get your baste on while searing the perfect cut of meat. The Wood Spoon is crafted from American walnut or European beech that looks even better as it ages. Its angled head effortlessly reaches the corners of your pots and pans and is nonstick friendly. The Metal Spoon, made from stainless steel, is a handy tool that lets you measure (it holds exactly ¼ cup of liquid), cook and serve. The Slotted Spatula is strong yet flexible, making all of those other spatulas lying around obsolete.
To bring your set together is The Base, an update to traditional knife block and utensil holder that comes in your choice of 100% American walnut, maple, or midnight black. The Base provides ample storage for all utensils, plus a hidden magnetic strip to hold up to three knives without dulling their tips.
Kick it up a notch with The Iconics. In addition to what's offered in The Fundamentals, you get an additional knife – The Serrated 6" Knife, which is perfect for cutting bread and delicate, soft-skinned veggies like tomatoes – plus The Air Whisk and The Slotted Spoon. With the whisk, you get a well-balanced tool that has enough heft to work with but remains light enough to use air as an ingredient. The Slotted Spoon is a wide-mouth wonder with a squared edge, allowing you to scoop short pasta or veggies effortlessly out of water.
Co-founders Eunice and Dave created Material with one goal in mind – to create a new category of tasteful kitchenware, designed and curated for modern home cooks like them. Today, Material makes meal prep elegant and simple with its line of sleekly designed, smartly curated products. And, by using a direct-to-consumer model, Material offers premium products that will last a lifetime (guaranteed) for 40-50% less than traditional high-end brands.
---