The National Trust is on a trek across the Mother Road this summer – in an Airstream! Each week, a Route 66 Roadie will be documenting their experiences, attending meet-ups, and bringing attention to an icon of American history. Today, Roadie Matthew Dickey shares his experience from week four of the #Preserve66 trip! (Photography: David Kafer and Matthew Dickey)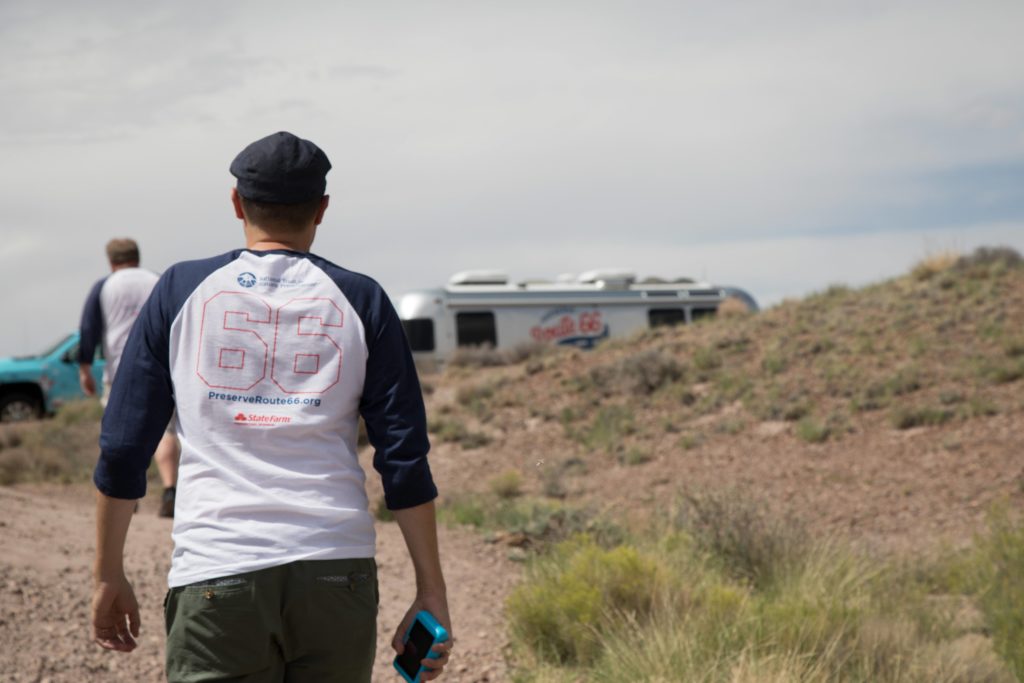 My hometown outside of St. Louis, Missouri, is known for a roadside attraction. It rises above the cornfields and is one of the tallest structures in Collinsville, Illinois. This being Route 66, you know it is not going to be a church or a school, but rather the World's Largest Catsup Bottle. This beacon was one of my favorite structures in town, and one of the reasons I was overwhelmed with unbridled anticipation on this Preserve Route 66 road trip whenever we approached unique roadside architecture.
"Stop the car!" I shouted as I spotted the sunlight cascading over the facade of a former garage. A classic DeSoto precariously balanced on the roof. I jumped out of the car, barely able to wait for us to come to a complete stop. As I photographed the motel across the street, a lady walked out of the building and took a few photos of her own. She was smitten with our 27-foot silver Airstream. Her name is Edie DeSoto and she owns DeSoto's Salon.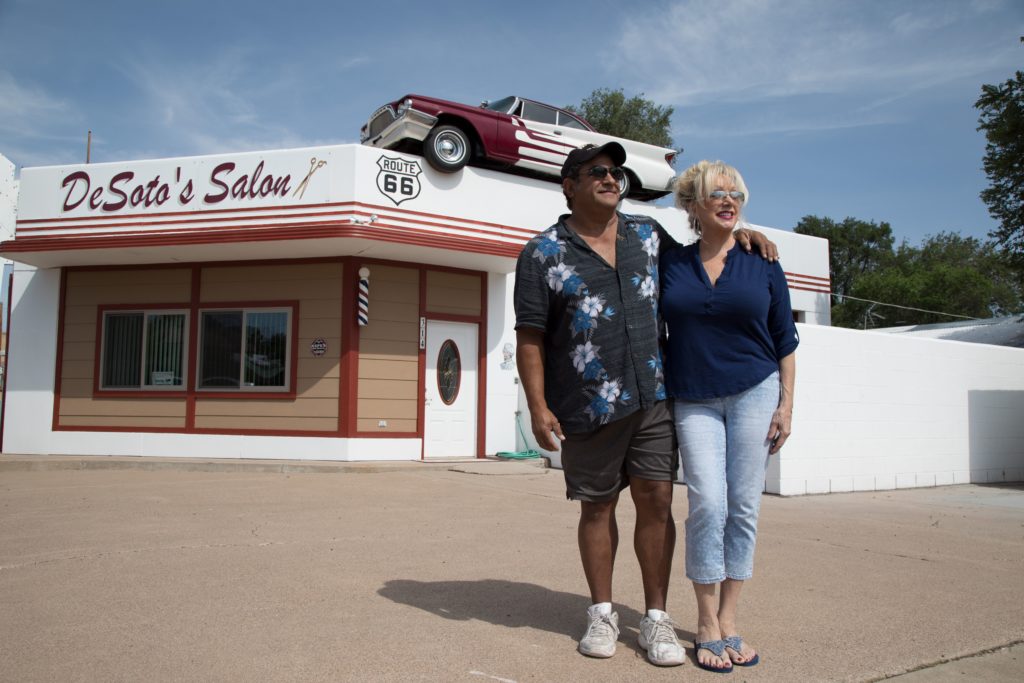 We stopped for a moment as she and her husband, Jose, invited us inside. They really wanted to share how they've preserved the 1954 auto garage. The large porcelain workman's sink is pristinely restored in the closet, and the former restrooms have been converted into a galley kitchen and bathroom.
Jose and Edie sold their business outside of Phoenix, Arizona, in search of a slower lifestyle. They found it in Ash Fork along Route 66 and have lived on the Route for the past 15 years. When they purchased the garage, an old DeSoto was sitting in the yard. They saw it as a sign. While it wasn't their idea to put it on the roof, a friend with a forklift helped them out.
As they showed us around their house, their friend, Gary, walked in the door. He asked if we were with the Airstream, having seen us on the Phoenix news the day before. He was hoping he would run into us.
Encounters like this are commonplace, as you meander The Mother Road in a large Airstream. It becomes a calling card, as you travel the backbone of America. If you think of Route 66 as a 2,400-mile community, then our Airstream became the living room.
Thick dark clouds covered the sky, casting dark shadows over Flagstaff and on El Pueblo Motel. We'd parked our Airstream in the motor lot, doors open. As the clouds let loose, people started to wander into our little oasis, and the chatter of conversation began to compete with the percussion of rainfall on our metal roof.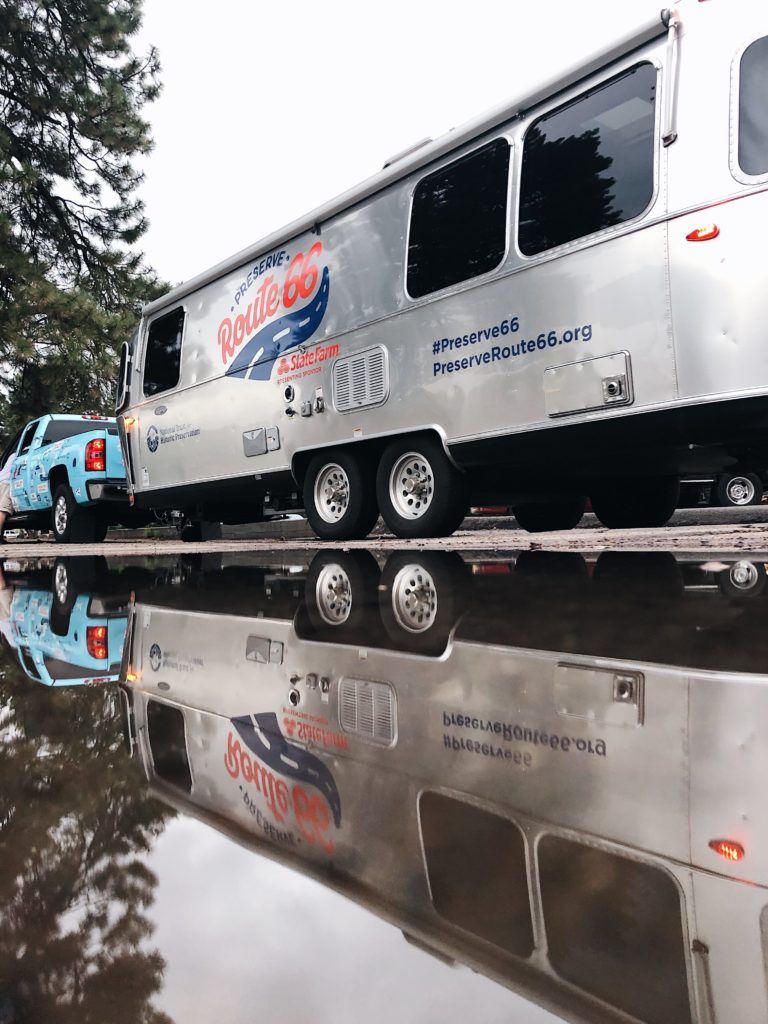 Discussions ranged from why Route 66 deserves to be preserved to politics and local foods. It all happened in a very organic fashion, face-to-face among artifacts collected along the Mother Road. The slow pace of Route 66 allows conversations that help you learn about people in a world where we're often too busy to say hello.
We packed up after the rain and motored into the country in search of giants and curiosities. We passed by the Two Guns Ghost Town, and I sprinted off into the distance to photograph a camp ground that is now a piece of art. A young man of 25 was skateboarding in an abandoned pool. As we headed back west, we saw the towering Twin Arrows, plus buildings shaped like a meteor, a large rabbit, and a giant green head. Enterprising entrepreneurs use creative architecture along the route to lure travelers. These are indeed creations from a dream: the American dream.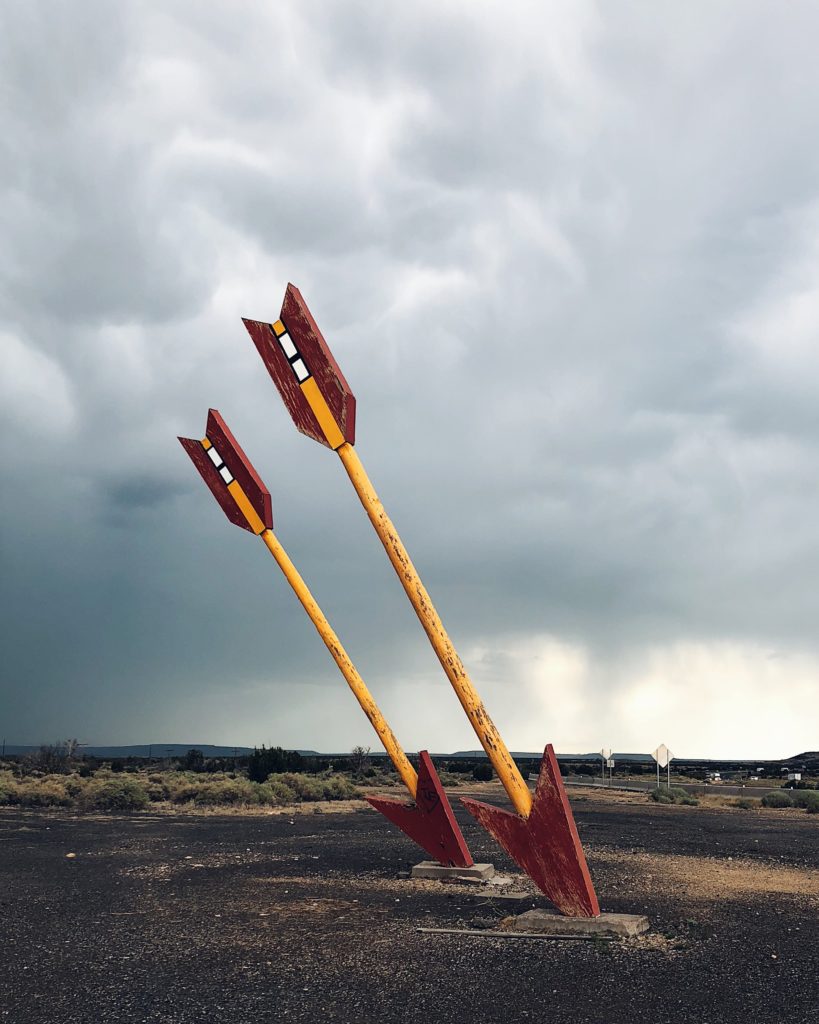 Before we made our way to Kingman, we stopped outside a humble barbershop in Seligman, Arizona. Our Airstream sidled up along tour buses that peppered the street. We added our own Preserve Route 66 sticker to a colorful collection on the side of a building as tourists from all over the world clambered into a small shop. Standing outside the door was the cardboard cutout of the angel of the road, Angel Delgadillo.
Just as one tour bus pulled away, a 91-year-old man rounded the corner on his bicycle and glided to a stop. Delgadillo invited us into his office.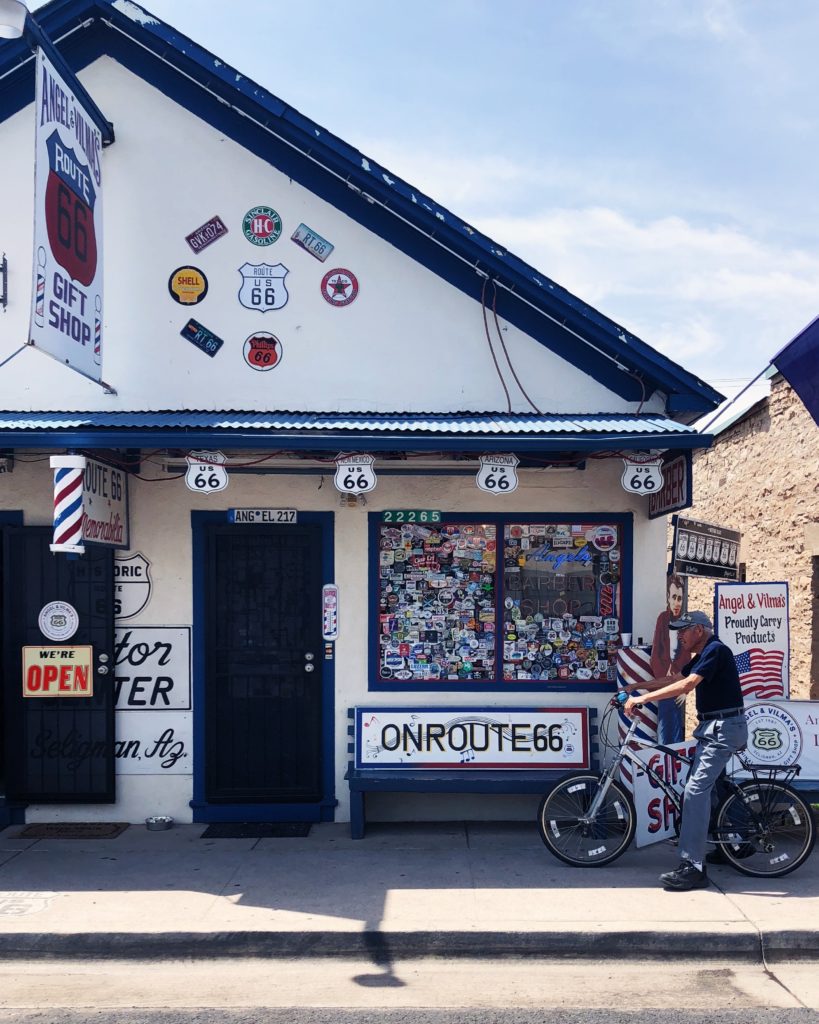 Angel is famous along Route 66. His town of Seligman was bypassed with the completion of Highway 40 in 1978. There were ten long years when the people of Seligman were forgotten, but this small-town barber refused to let his home die. He formed the Historic Route 66 Association of Arizona and became its president. Now, Arizona has preserved the longest stretch of Route 66.
We leaned in towards Angel as he sat in his barber chair. He spoke philosophically about the route with a big smile on his face. In 1950, he received his barber certificate and opened Angel's Barbershop and pool hall. The certificate still hangs on the wall, surrounded by hundreds of aging business cards. He has operated his shop ever since. With arms gesturing to punctuate his points, he talked about chain stores. At a chain you become a number, but on Route 66 you are part of the family. At that moment, another tour bus arrived and adventurers filled his store. He looked through the door with a smile and said, "I have surrounded myself with happiness."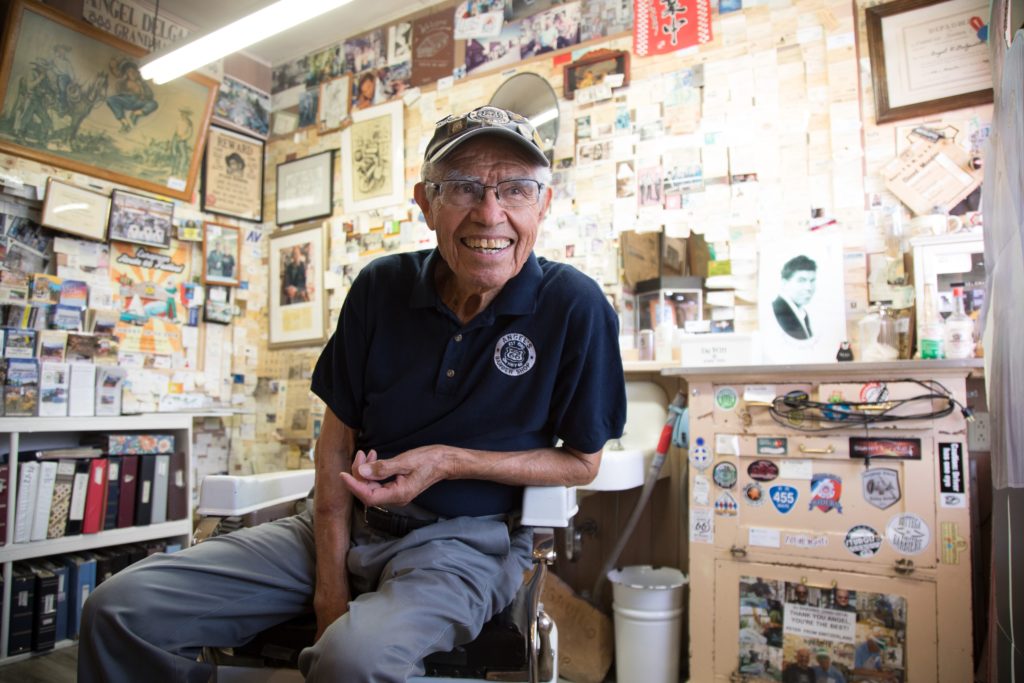 By the time we set up our Airstream outside the Kingman Visitor's Center, it had become a mobile museum of memories and items collected from the 1,800-mile journey from Chicago. Locals expected our arrival and greeted us with Route 66 cookies. We all settled into conversation, sharing stories about living on the Route 1,000 miles apart. While we are from opposite ends of the road, we are connected by the culture and slowness that is the backbone of America. As Angel taught us in the barbershop, all the money in the world can't buy some of your most memorable moments. Who knew that some of mine would be spent in an Airstream in the middle of a desert? If Route 66 has taught me anything, it is to slow down and live in the moment, and most importantly: to choose happiness.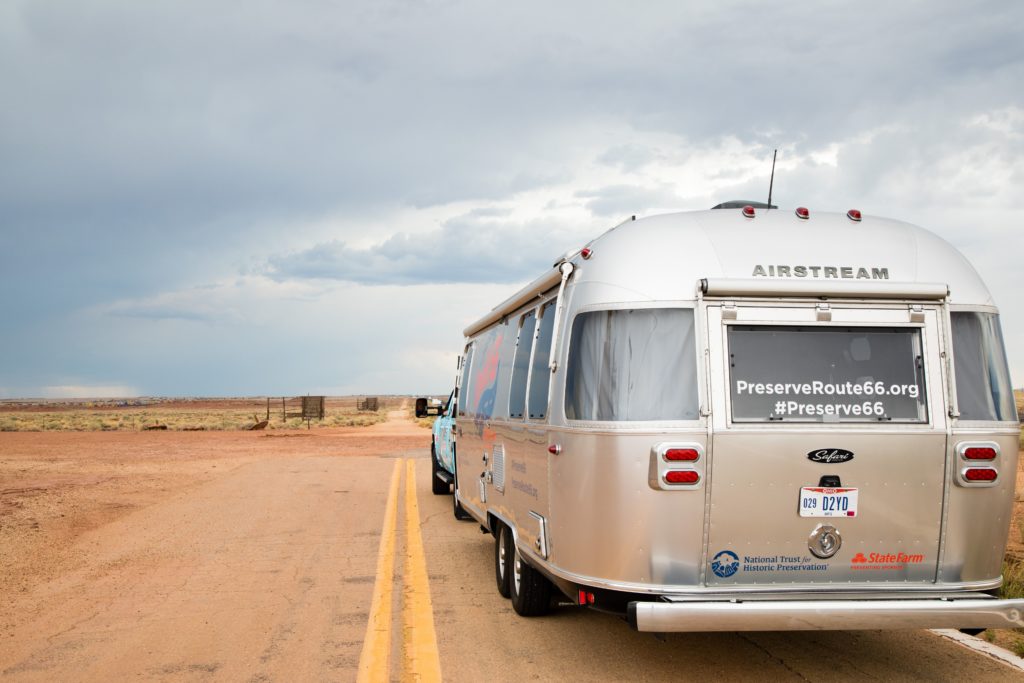 For more from the Route 66 Roadies, check out Michael's post from week one, Lina's post from week two, and Morgan's post from week three. Thanks for following along!