The 2021 "Silver Bullet" travel trailer lineup has officially begun production in our new state-of-the-art manufacturing facility and there are several innovative features and upgrades throughout the different models that we're excited to share with you. Although normally done throughout the first part of May each year, recent events have pushed normal schedules back which has naturally delayed the timing of our model year product releases.
What's New?
Our first phase of model year transition included the release of two completely redesigned interior decor options for the Flying Cloud and International. For the Flying Cloud model line interior, we retired all of the existing decors and replaced them with the all-new Sunlit Maple offerings that come with either Seattle Mist or Carolina Clay Ultraleather.
The next generation of the interior decor for the 2021 International is called Coastal Cove and it now has two different color seating options, Aqua or Seashell. Originally separated by the Serenity and Signature names and designs, we have officially transitioned to only referring to the model as International.
Upgrades and Improvements on 2021 Travel Trailers
Interior lighting has been updated to a warmer tone throughout the full line

Upgraded tankless on-demand water heater

Seamless composite flooring throughout the traditional travel trailer line

Battery and Solar Updates: Batteries will not be included as standard equipment to ensure our customers are getting new fresh batteries during delivery. If the optional solar package is selected from the factory, travel trailers will ship with 2 AGM batteries. The all-new Airstream

Power

Plus

™

Lithium package is available for install at dealerships for advanced energy storage and use.

Upgraded Progressive Dynamics 1,000 watt inverter on applicable models

Upgraded Victron solar controller on applicable models

All master bedrooms now include blackout curtains helping to block out any sunlight
Rear Hatch Available on More Models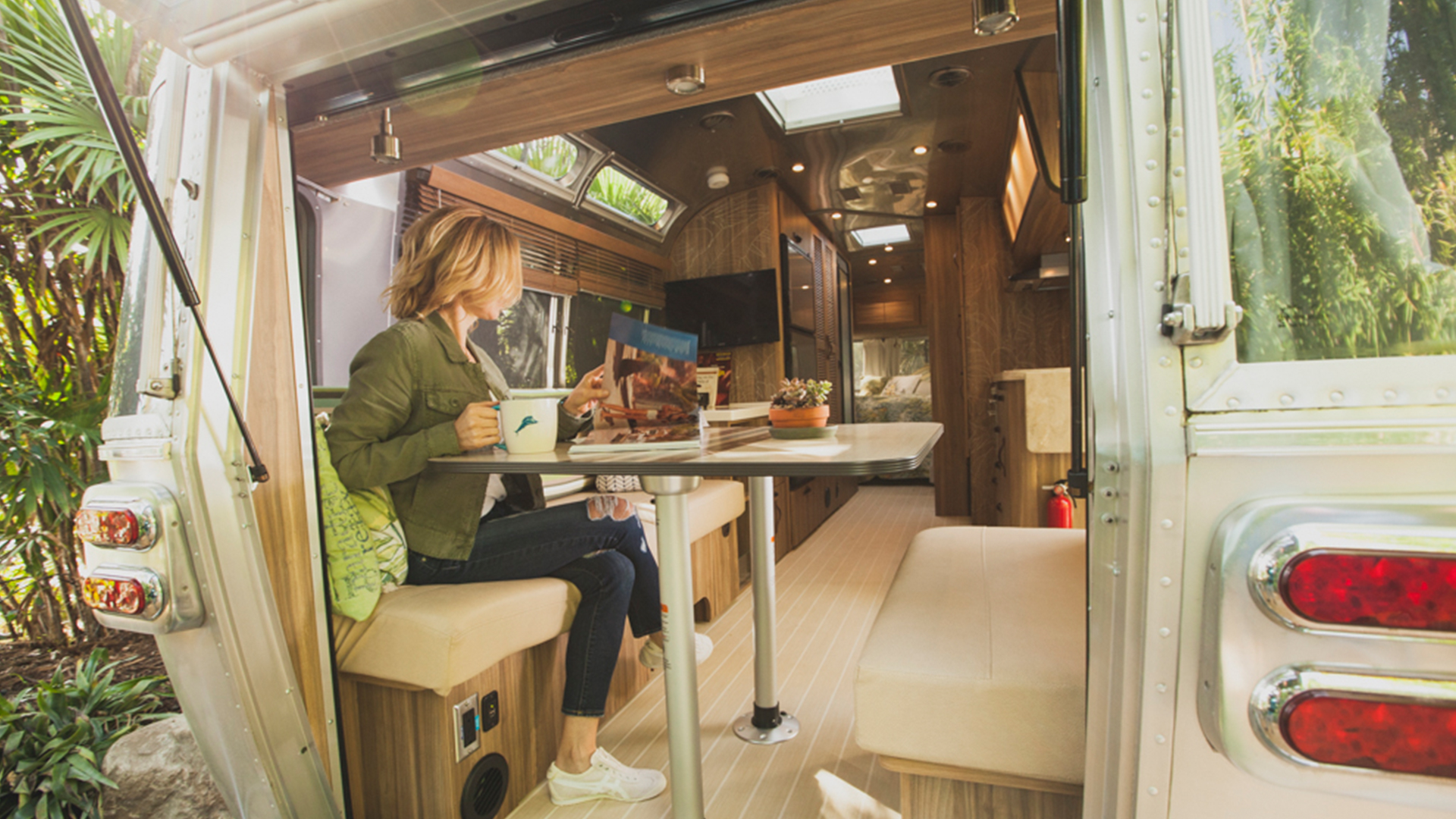 Originally featured in the Special Edition Eddie Bauer, Limited Pendleton and then Special Edition Tommy Bahama models, the rear hatch has become known as one of the most popular optional features that opens up the rear endcap of the travel trailer and offers a convenient loading and unloading dock for travel gear. The rear hatch was made available last model year for the 27FB Flying Cloud and International. Now, for model year 2021 the rear hatch is available for the 25FB Flying Cloud and International models as well.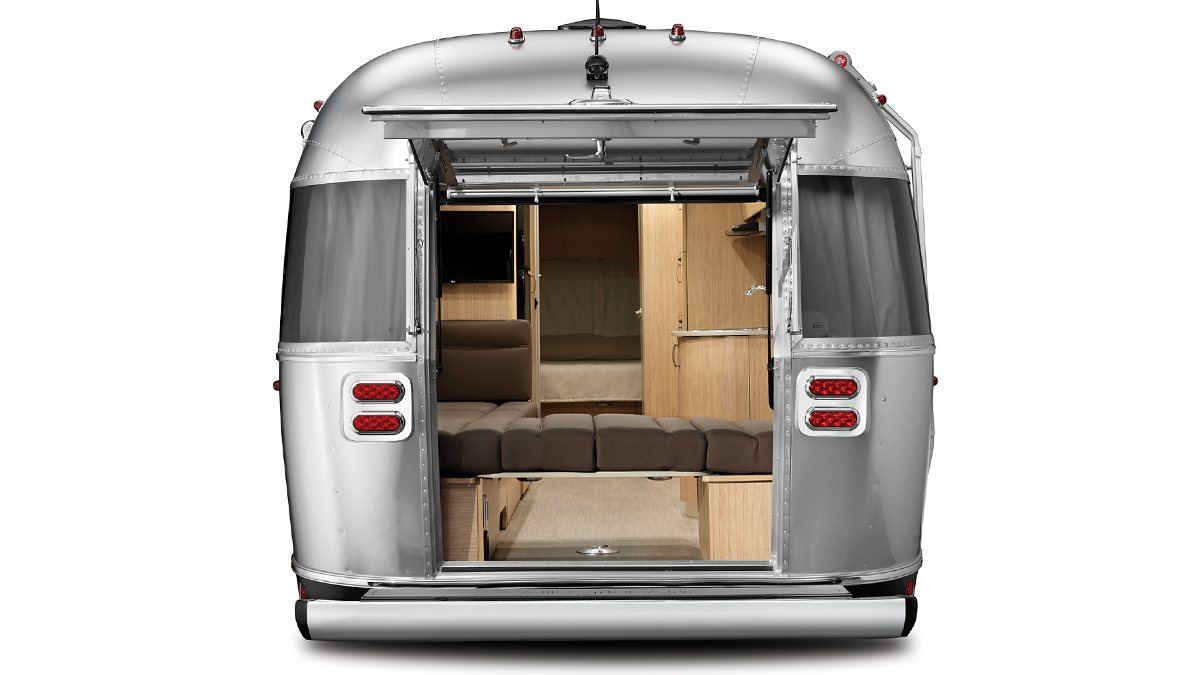 Redesigned Globetrotter Dinette
An all-new "U-Section" dinette in the 25FB and 27FB Globetrotter floor plans accommodates greater seating options and configurations. The updated design improves the use of living, sleeping, eating, entertainment and even storage space with a smart, modular approach.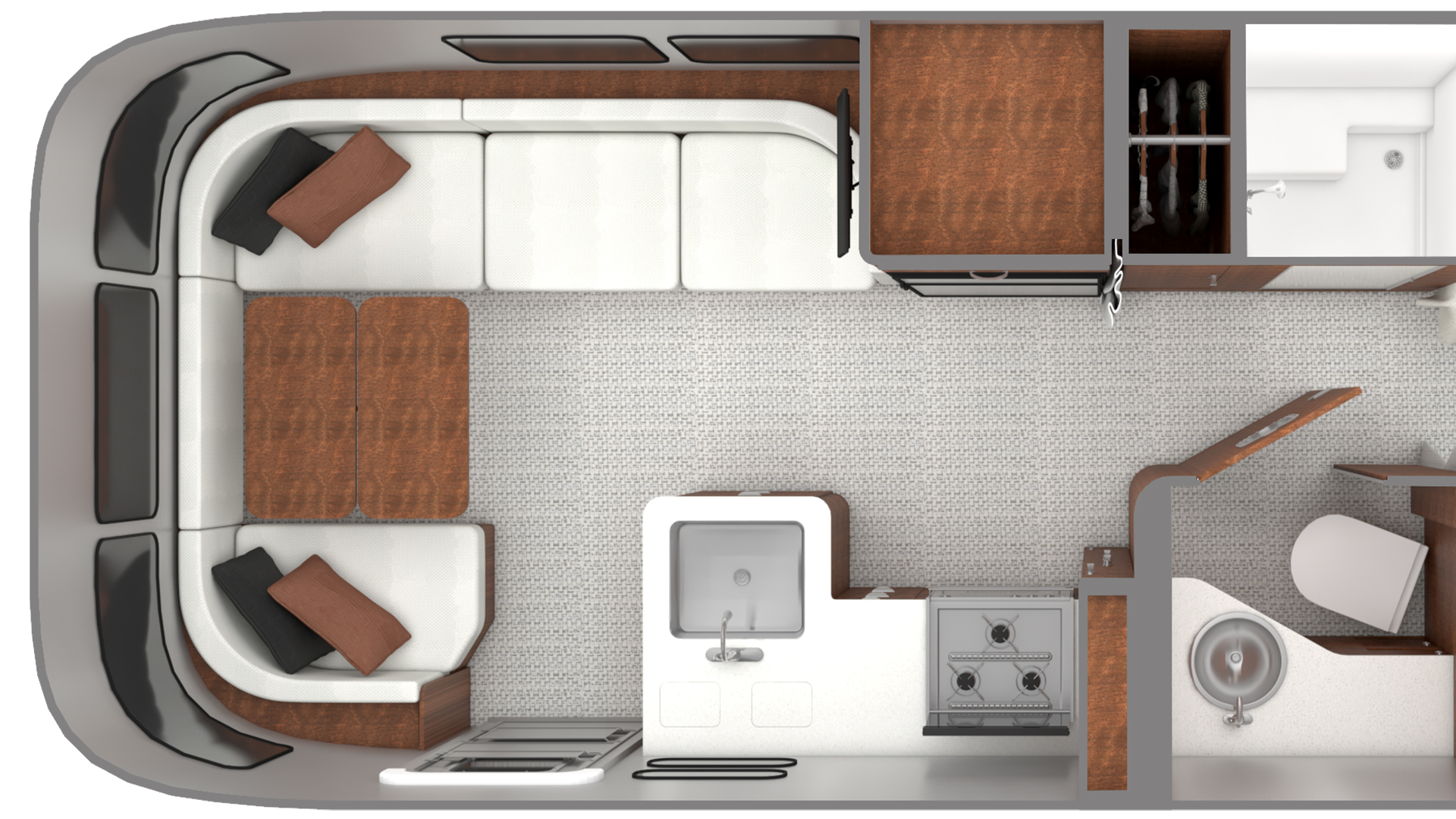 Easily and quickly transform the rear dinette into a full bed or U-dinette by pulling out the lounge storage drawers, removing the table legs, moving the tabletops, and inserting the thicker cushions to create a highly flexible area. 
First debuted in the 30RB, the remaining Globetrotter line has also been updated with a new highly efficient compressor style electric (12v/110) refrigerators. 
Explore the whole lineup on our travel trailer overview page. Or, view models side by side with our Compare Tool.
Ready to take the next step in becoming an Airstreamer? Calculate your potential monthly payment.
*See product owner manual for specific warranty terms, conditions, and limitations.