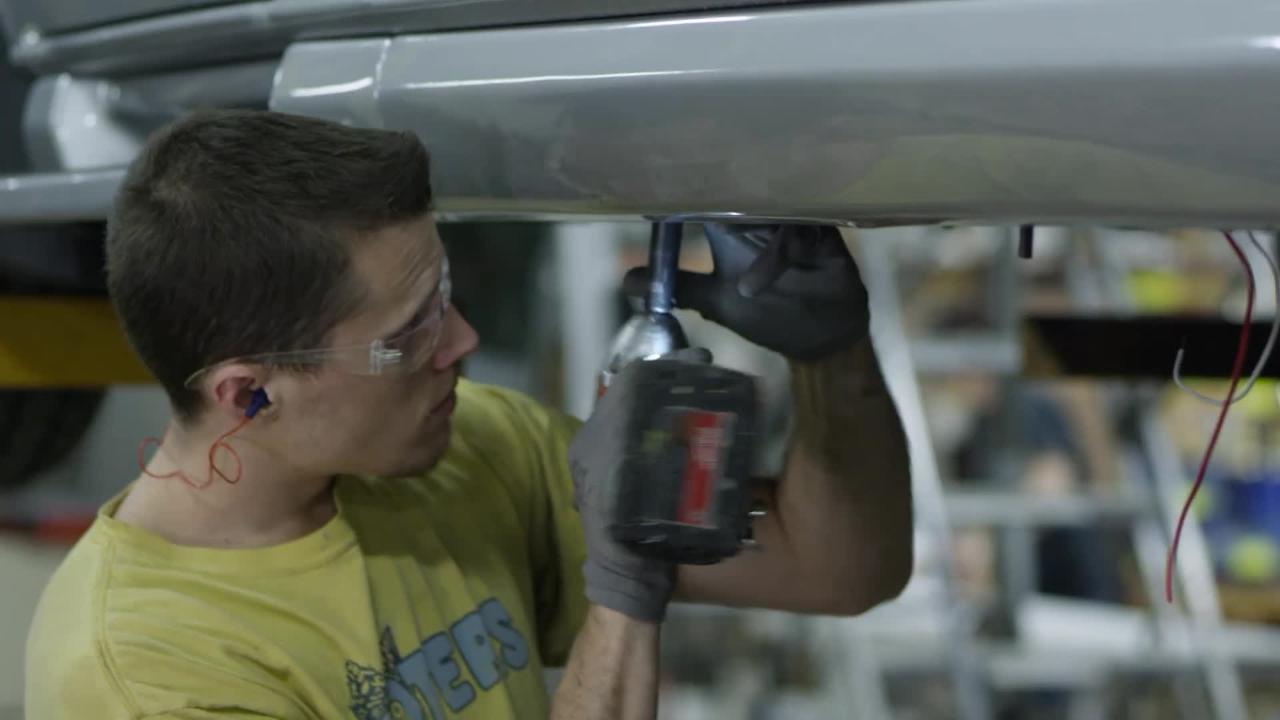 First, the electrical team completely preps the Interstate's chassis and runs wiring through the floors and walls. A technician then creates holes where we'll install more major components down the line.
We then replace several of the factory windows with tinted tilt-open windows from CR Laurence. A seven-layer substructure floor insulates the cabin and reduces road noise, and the marine-grade flooring is a solid foundation with a sophisticated look and feel that's durable and easy to clean.
EcoBatt insulation is next. Made from recycled materials and sand, it's sealed in by interior paneling featuring soft magic suede. Underneath, the generator, tanks and tank heater, spare tire carrier, and other critical components are installed while the vehicle is up on a lift.
Next, we install the cabinetry custom-built in our wood shop. We used extruded aluminum framing instead of the stapled wood found in other coaches. Residential-style countertops and a spacious galley make it feel like home. The furniture comes in near the end, then the final components are added - LED lighting, remote control shades, televisions, sound system and speakers, every last one of the Interstate's more than 50 best-in-class features.
We test all down the assembly line, including a full hurricane-grade spray booth to test for leaks. At the end we do a complete quality run-through to make sure we didn't miss anything.
The end result is a luxury touring coach with more than 50 best-in-class features built by expert craftsmen here in Jackson Center, Ohio.
The Interstate offers over 50 best-in-class standard features, perfect for those who seek the best or nothing at all. See how you can experience your next adventure in luxurious style.
Take a closer look at the Airstream Interstate. Visit the video series gallery by clicking the button below. Learn more about the product on the Touring Coaches overview page, or choose the perfect floor plan, design and options for your Interstate with the Build Your Own tool.
---
This article is one part of a video series about the Airstream Interstate Touring Coach. To read additional entries and watch more videos, click one of the links below:
Part 01: Built with the Best Materials
Part 05: Partners with Mercedes-Benz
Part 06: How It's Built — Currently Reading
Part 08: Environmental Consciousness
Part 10: Grand Tour vs. Lounge