With American-made craftsmanship at its core, iconic design throughout, and delightful surprises at every turn, the Airstream Pottery Barn Special Edition Travel Trailer bring together two of America's design visionaries. A special edition travel trailer that seamlessly merges luxury, style, and adventure, this 28-foot travel trailer is the perfect balance of Airstream innovation and Pottery Barn's enchanting design mentality. Dive into seven of our favorite features and schedule a visit to your nearest Airstream dealer to see this incredible travel trailer for yourself.
Join Airstream VP of Sales Justin Humphreys on an in-depth video walkthrough of the Pottery Barn Special Edition Travel Trailer, and then read on for more details about our seven favorite features.
Feature #1: A Captivating Collaboration
Renowned in the recreational vehicle world for our iconic riveted aluminum travel trailers, Airstream and Pottery Barn first came together several years ago to collaborate on two exclusive road-trip-inspired homegoods collections. Driven by the popularity of those collections and inspired by the possibilities, the partnership evolved into a full-blown Special Edition Airstream travel trailer that launched in 2021. Featuring Airstream's iconic rounded aluminum shell on the exterior and Pottery Barn's exquisite eye for style on the interior, the model showcases the expertise of both brands and has proven to be one of the most successful partnerships in Airstream's long history of collaborations.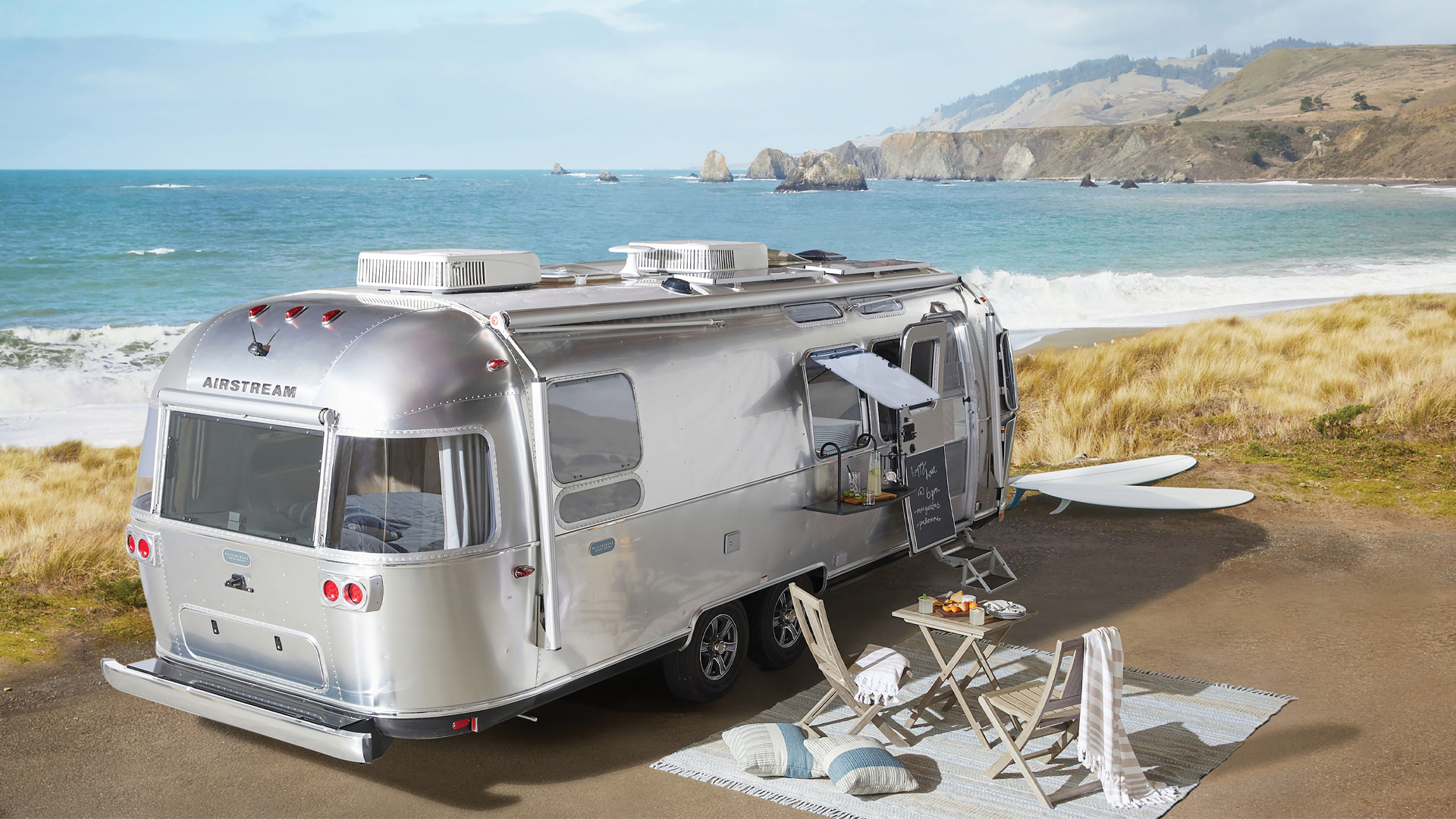 Feature #2: Exquisite Materials
Step through the trailer's main entry door and you're instantly wrapped in the textures and design touches that raise Pottery Barn to the top of a crowded design field. With a blend of modern aesthetics and rustic elegance, the remarkable interior boasts luxurious furnishings and meticulously chosen fabrics. Ultra-soft Emery window shades provide a truly residential feel, while the overhead lockers draw inspiration from Pottery Barn's popular Aubrey beadboard furniture collection. And at the dinette, a solid wood oak table is perfect for dining, work from anywhere, or after-dinner card games.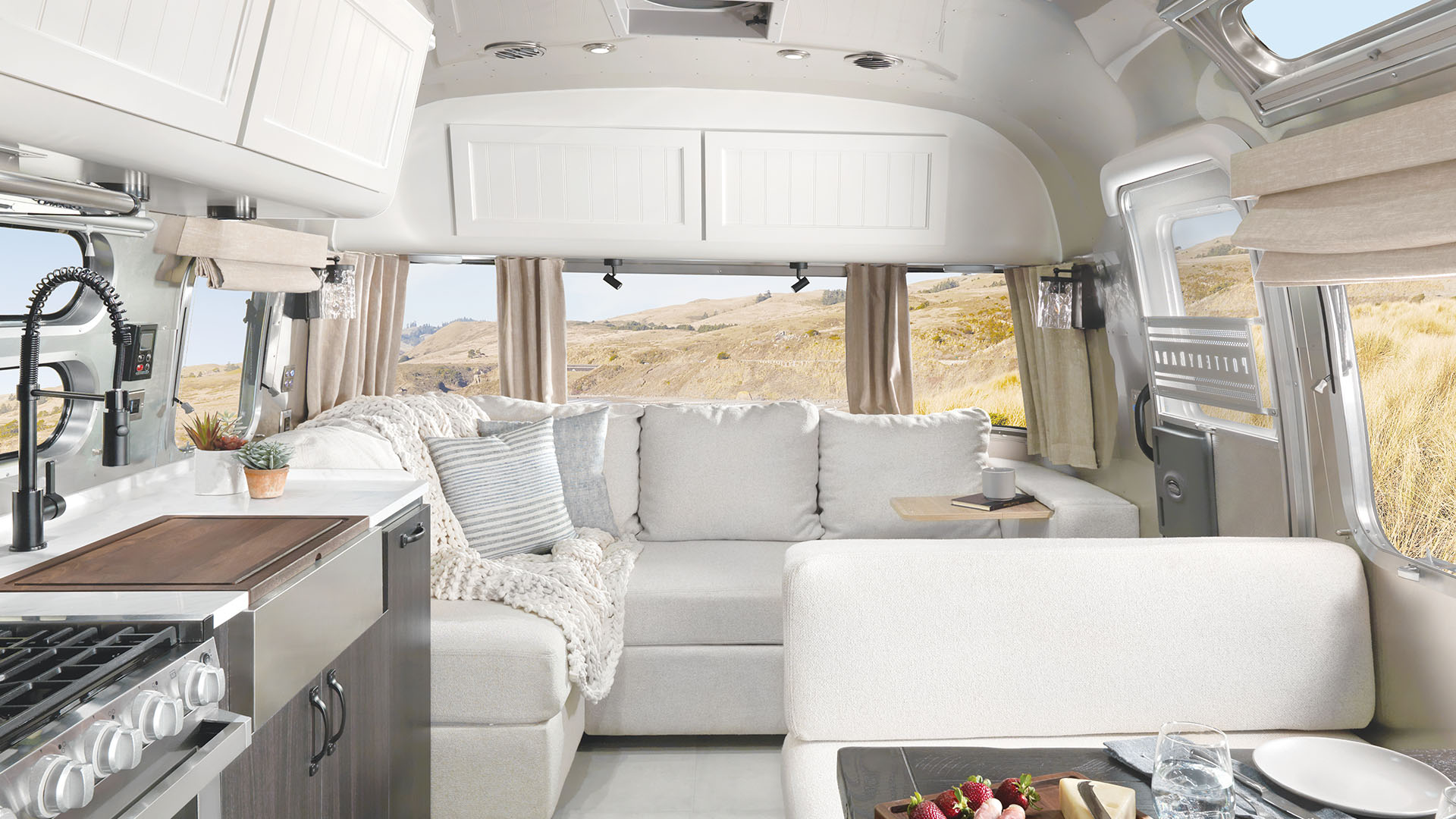 Feature #3: Comfort with Functionality
Beyond its captivating design, the Airstream Pottery Barn Special Edition offers exceptional comfort and functionality. From cozy seating areas to a well-equipped galley with a deep apron sink that rivals what's found in many brick and mortar homes, every aspect of this travel trailer is designed to enhance your comfort while on the road. The custom-made sofa and seating feature performance boucle fabric covering some of the most comfortable cushions ever found in an Airstream travel trailer. In the bathroom, an elegant shower, a bowl sink, and a matte-black faucet are complemented by Pottery Barn wall scones.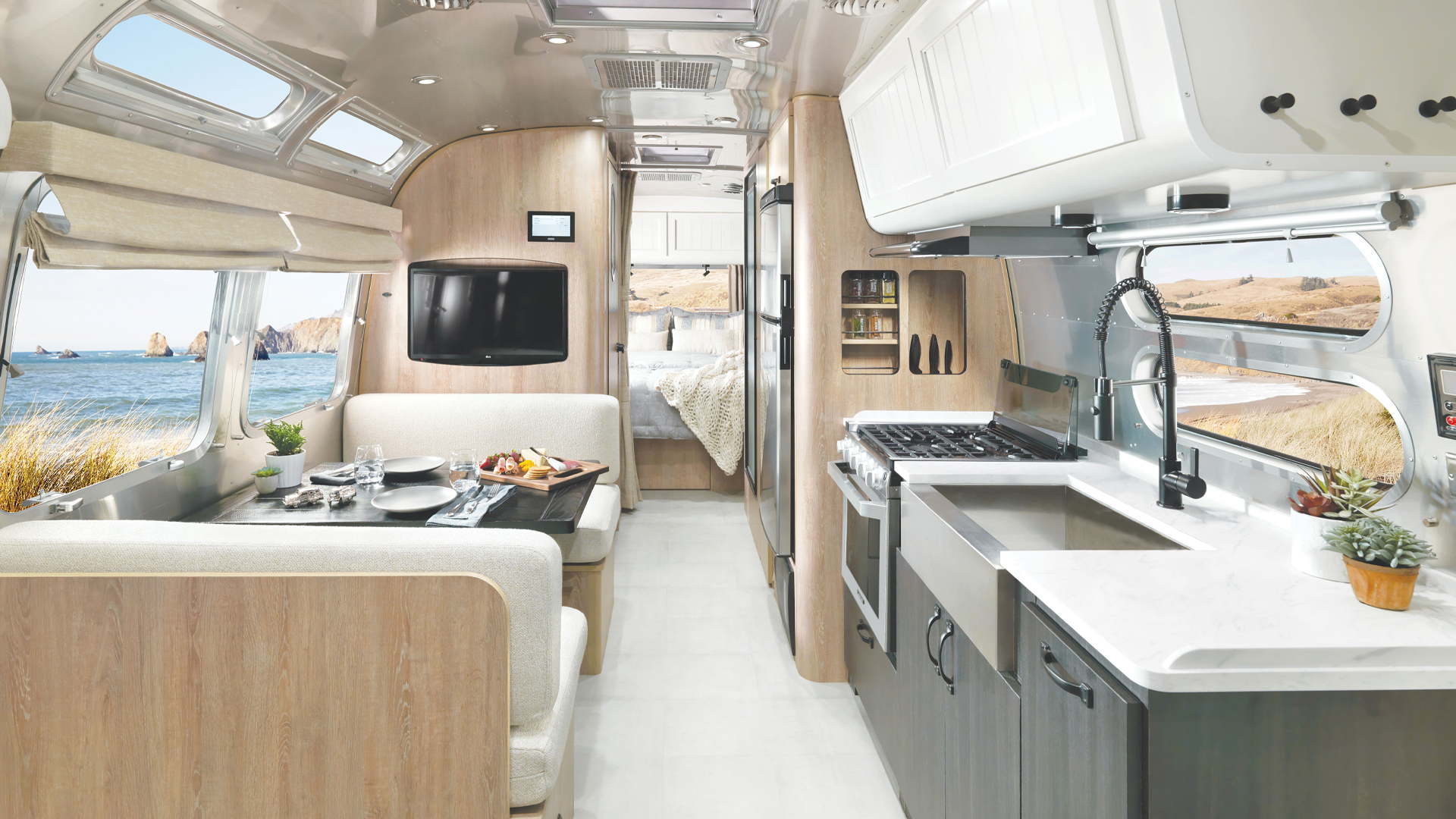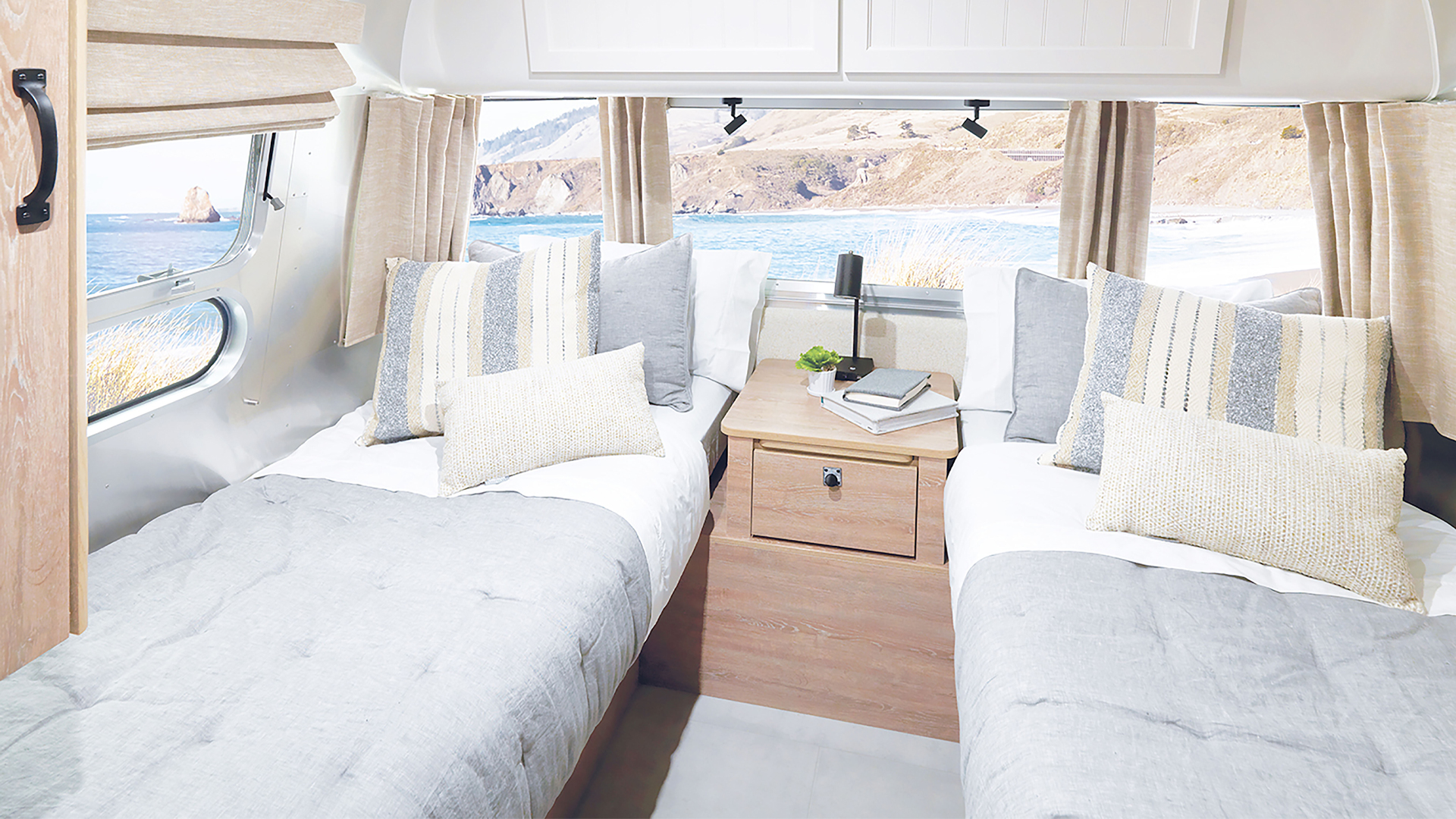 Feature #4: Seamless Outdoor Living
Embracing the adventurous spirit, the Airstream Pottery Barn Special Edition seamlessly integrates indoor and outdoor living. The trailer features a retractable awning that creates a shaded outdoor space that's perfect for relaxation and entertainment. An exclusive Pottery Barn Accessory Kit lets you set the stage for perfect outdoor entertaining, with a folding table and armchair set, a 16-piece dinnerware set, a doormat, and more. A unique hanging ledge quickly attaches to the window frame to create the perfect exterior spot for an al fresco breakfast or a glass of wine at sunset. And an integrated chalkboard in the screen door lets you welcome friends and family to the fun.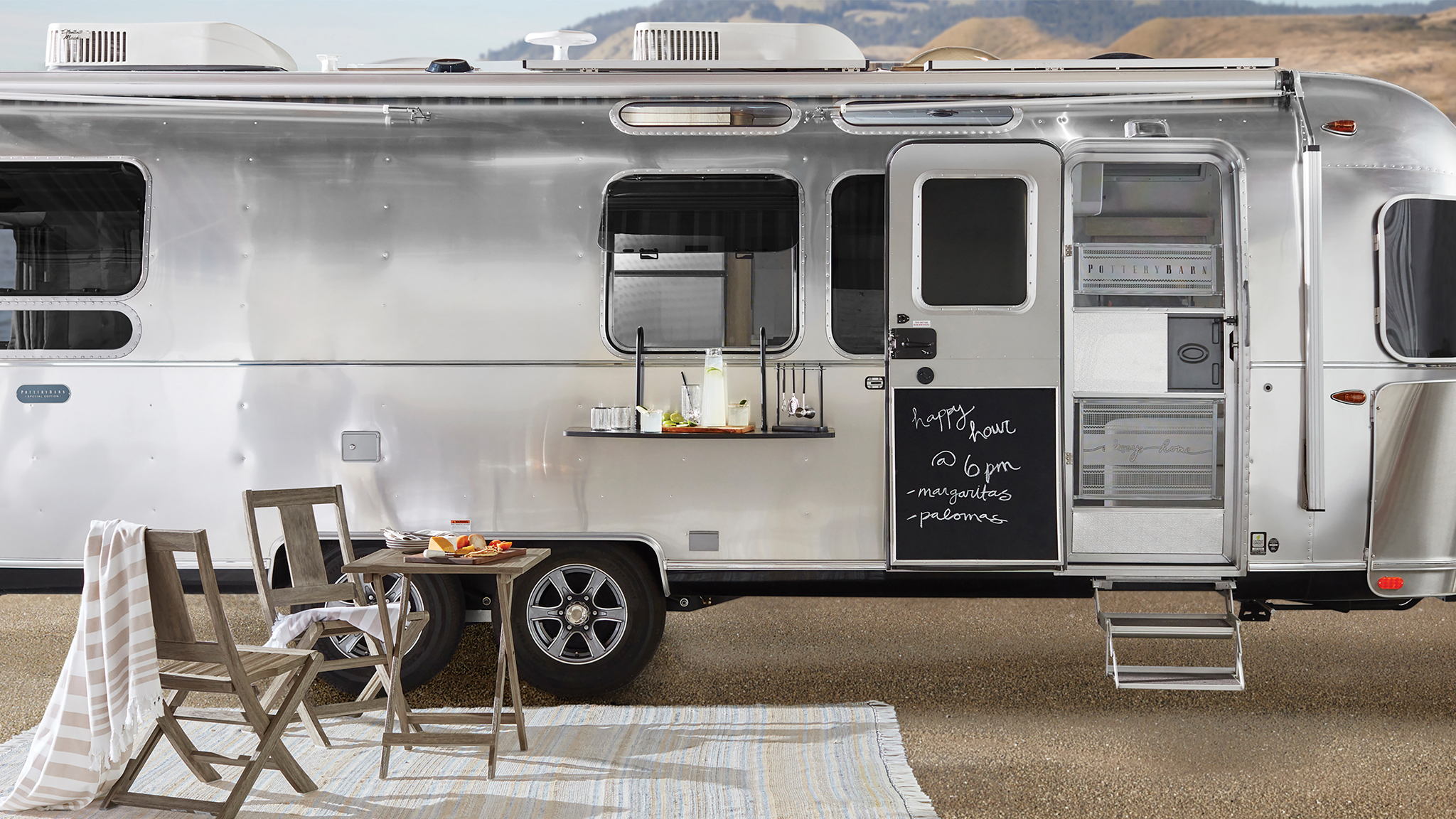 Feature #5: Unmatched Craftsmanship
Both Airstream and Pottery Barn are renowned for their commitment to quality, and the Special Edition trailer is no exception. Meticulously crafted with unwavering attention to detail, this travel trailer combines Airstream's renowned durability with Pottery Barn's expert craftsmanship. It's a true testament to the artistry and dedication of both brands – one that's on display in our Travel Trailer Production Plant tour (click here to watch now and schedule your own in-person tour).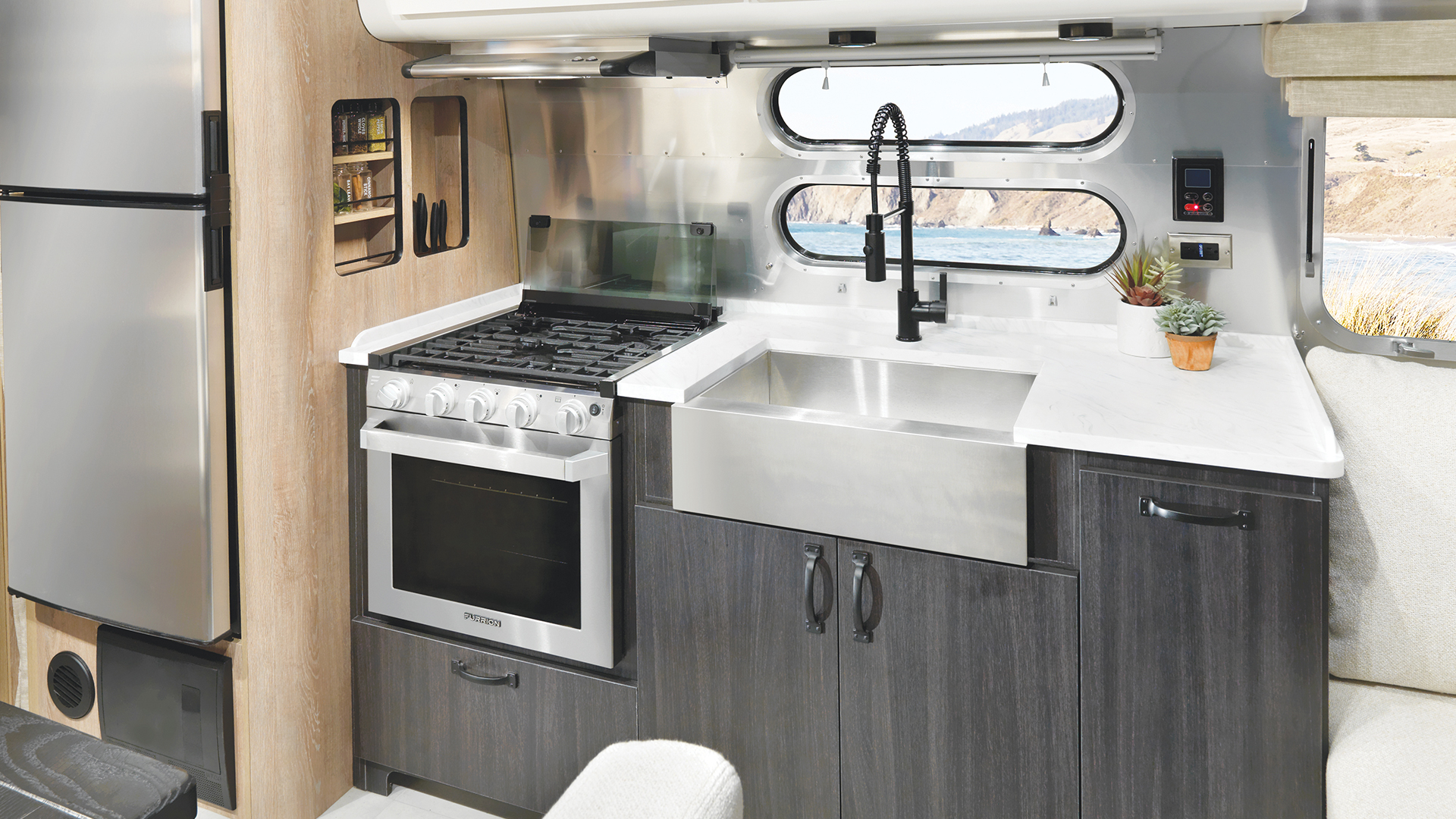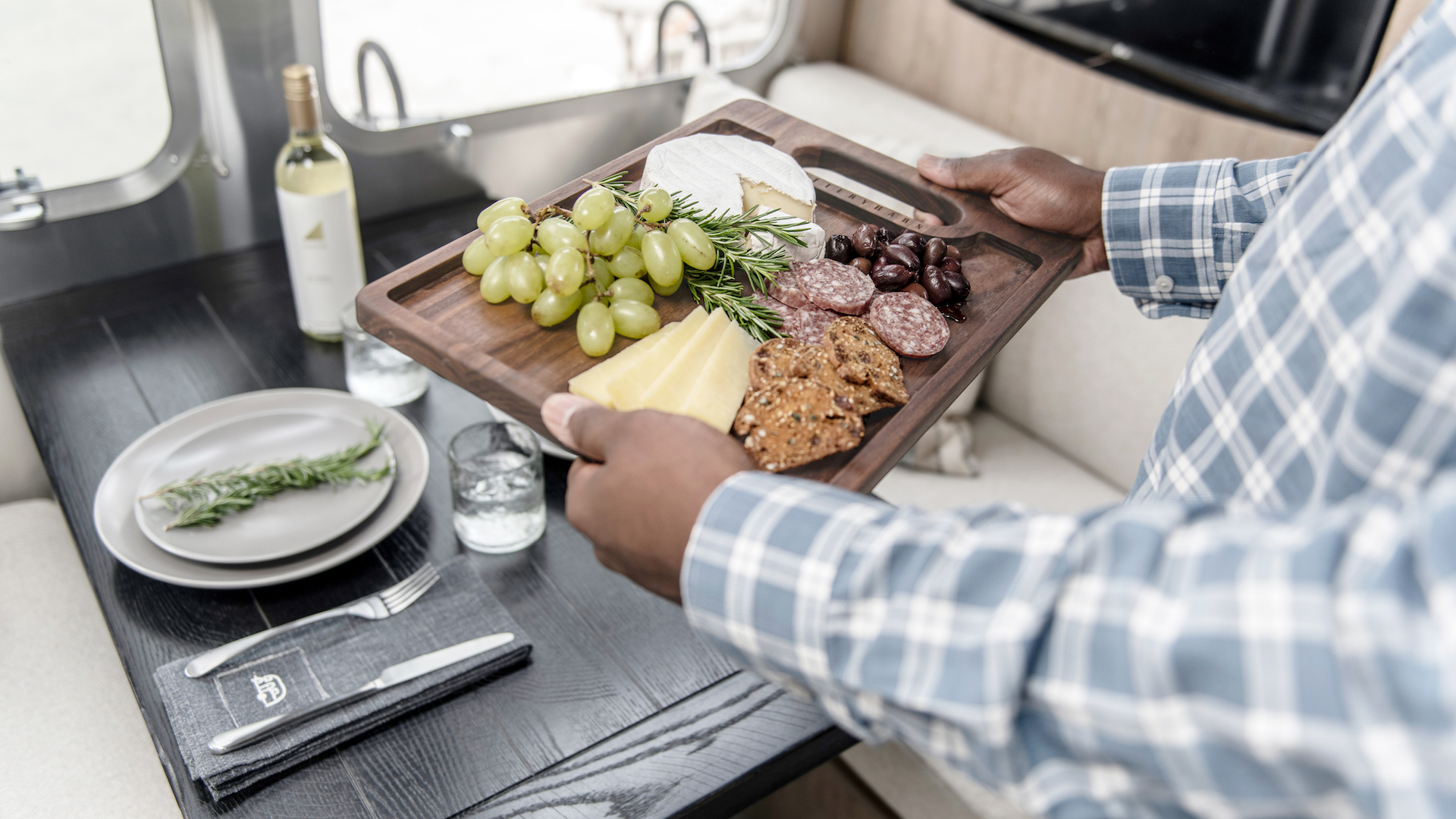 Feature #6: Delightful Surprises
As you sink into comfort, small details soon become apparent – little surprises that will captivate and delight. Under the bed, Pottery Barn canvas bins allow for flexible storage solutions. A hidden airline-style table folds out from the sofa arm to provide the perfect spot for a cup of coffee or a crossword book. And a softgoods package delivers even more Pottery Barn style to the pillows and bedding.
Feature #7: Connected features (Smart Control Technology)
At the core of the Pottery Barn Special Edition is a comprehensive range of Airstream's cutting-edge technological solutions. With Airstream Smart Control Technology, owners can conveniently monitor and manage key onboard features such as the thermostat, lights, tank levels, and awning all from the convenience of a mobile device. Powered stabilizers and a powered awning enable swift campsite setup and takedown with the tap on a smartphone screen, allowing you to embark on your adventure promptly – or get to unwinding in a camp chair. And a Wi-Fi Boost and 4G LTE connectivity ensure you're able to check emails, stream media, and work from anywhere. This modern-era travel trailer harmoniously merges work, play, life, and learning, whether you're at home or on the road.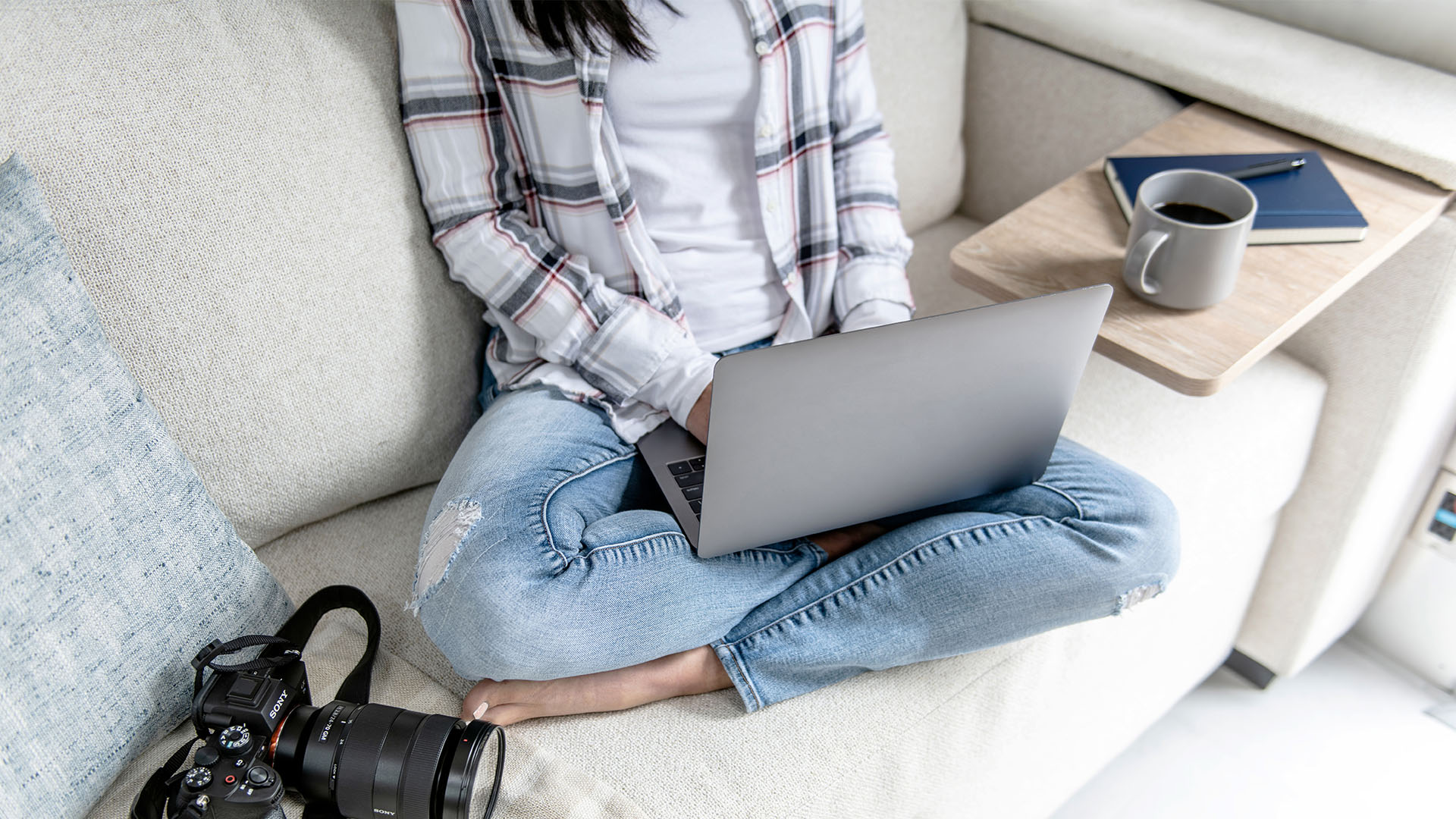 The Perfect Fusion of Two Iconic Brands
An unparalleled travel experience, the Pottery Barn Special Edition exudes sophistication, comfort, and durability. With its captivating design and exceptional craftsmanship, this collaboration showcases the qualities that make of Airstream and Pottery Barn design icons. Embark on unforgettable adventures in style, and indulge in the ultimate blend of luxury and adventure.
Ready to see the Pottery Barn Special Edition for yourself? Find your nearest dealer and schedule a visit today.
Want to learn more about the details that make the Pottery Barn Special Edition so special? Download a brochure and dive deep into what sets this incredible trailer apart.