Leader in fiberglass industry works craftsmanship magic on Nest shell
When Airstream acquired the fiberglass Nest travel trailer concept and began developing it for the market, it was a departure for the company known for its iconic aluminum travel trailers. The Airstream design team knew they needed to partner with a fiberglass manufacturer capable of solving multiple manufacturing challenges and deliver Airstream-level quality. This video in our Partners in Craftsmanship series spotlights the design challenges and creative solutions Goldshield implemented as they worked with Airstream to create a fiberglass shell that embodies Airstream quality.
Airstream found the perfect partner in Goldshield Fiberglass, a Decatur, Indiana company that is an industry leader in fiberglass technology. Throughout the design process and into production, Goldshield engineers and production associates worked hand-in-hand with the Airstream design team. Located just over an hour away from Airstream's Jackson Center headquarters, Goldshield Fiberglass has become a natural extension of the Airstream production line, delivering Nest shells that are ready for Airstream associates to outfit with Nest's modern, sophisticated interior features.
The process begins with fiberglass molds that were custom-built for Goldshield by a leading boat manufacturer. A layer of high-quality gelcoat is applied to the inside of each mold. Once the gelcoat has cured, seasoned Goldshield associates spray in a mixture of resin and chopped fiberglass strands. The wet fiberglass is then rolled by hand to the correct thickness, under the time constraints of the curing process. At this stage, years of experience lead to a craftsmanship technique that is more art than science.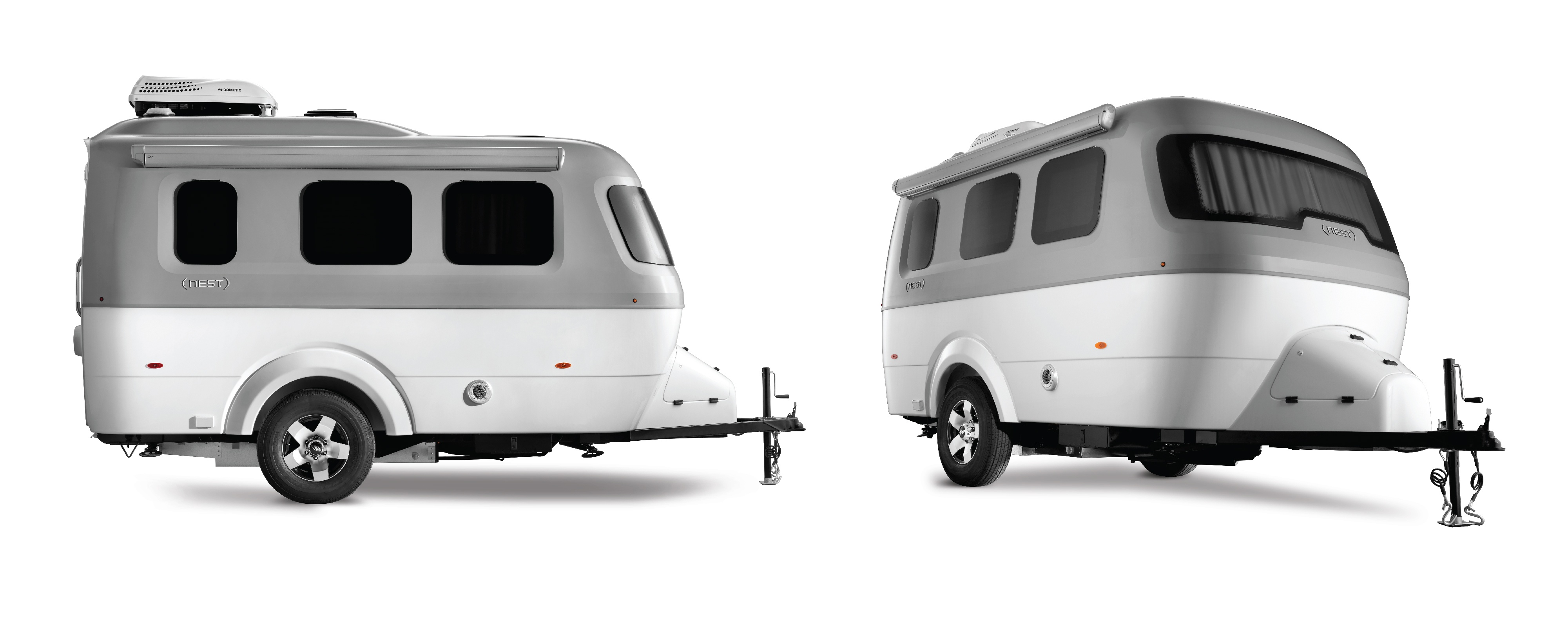 After a curing period of over 24 hours, the fiberglass shells – top, bottom, and back – are gently popped out of their molds. The shell's windows are cut out by hand using a custom-built jig to guide the process. Then the three fiberglass pieces are assembled using an apparatus that Goldshield created to ensure a precise fit. While the pieces are held firmly in place, associates seal the seams with glue and another layer of fiberglass. Chemical reactions permanently bond each piece together, and once the curing process is finished the body of Nest is truly a single piece of fiberglass.
By creating custom-built tools and developing production techniques, Goldshield was able to achieve the level of quality Airstream required for Nest. The combination of Goldshield's dedication to excellence and their manufacturing versatility make them the perfect partner in craftsmanship.