Mobile, gorgeous, and outfitted with all the comforts of home, an Airstream travel trailer is the perfect adventure vehicle. But adventures come in different shapes and sizes, and every soon-to-be Airstreamer has their own vision for the perfect adventure.
As part of the process for placing an order, your Airstream dealer will walk you through the optional features available on your choice of model and floor plan. From power and performance upgrades to exterior additions that add style and functionality, these optional features give you flexibility as you configure your new Airstream to suit your travel needs.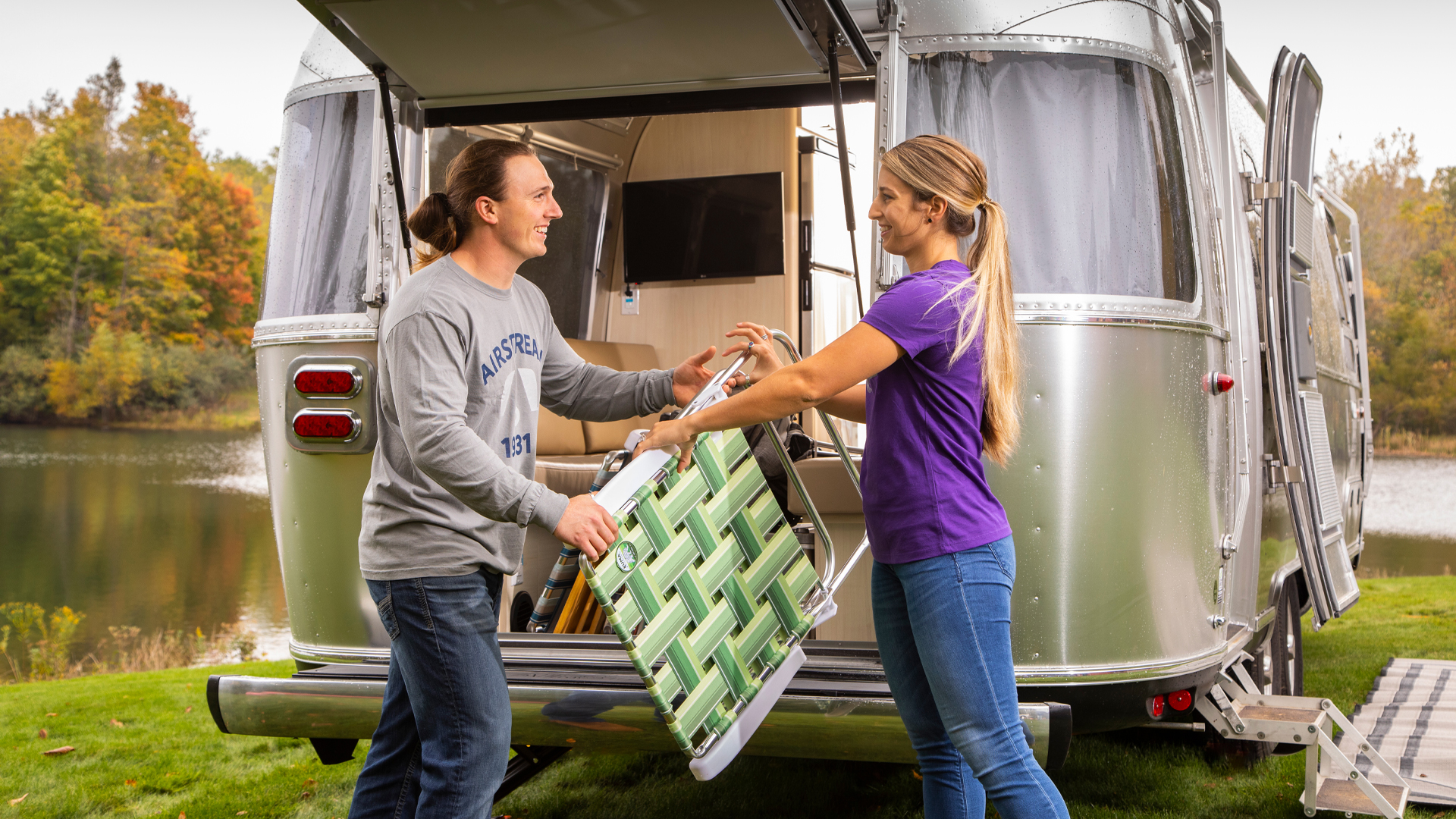 The first step in deciding on which optional features are right for you is to start narrowing down what kind of adventure is right for you:
How many people will come along – and how many beds will they need? 

 

What camping and adventure gear do you expect to bring?

 

Will you camp often at established campsites with full hookups?

 

Are you excited about the challenge and reward of boondocking off the power grid?

These questions are the perfect place to start as you dig deeper into the various optional features that are available across the iconic travel trailer lineup.
Solar Package: 
Rooftop 
Solar 
Panel(s) and Batteries
Solar panels are one of our most popular optional features customers consider. Taking along all the comforts of home demands a lot of power, and adding solar panels to the rooftop of your Airstream travel trailer is a great way to take advantage of the sun's abundant, free energy. Whether you're parked at the campsite or driving to your destination, rooftop solar panels work whenever the sun is shining. Prized by boondockers who love camping off the grid (without the standard power hookups offered in a traditional campsite), solar panels collect energy from the sun during the day and will keep your batteries charged so you're not in the dark when night falls.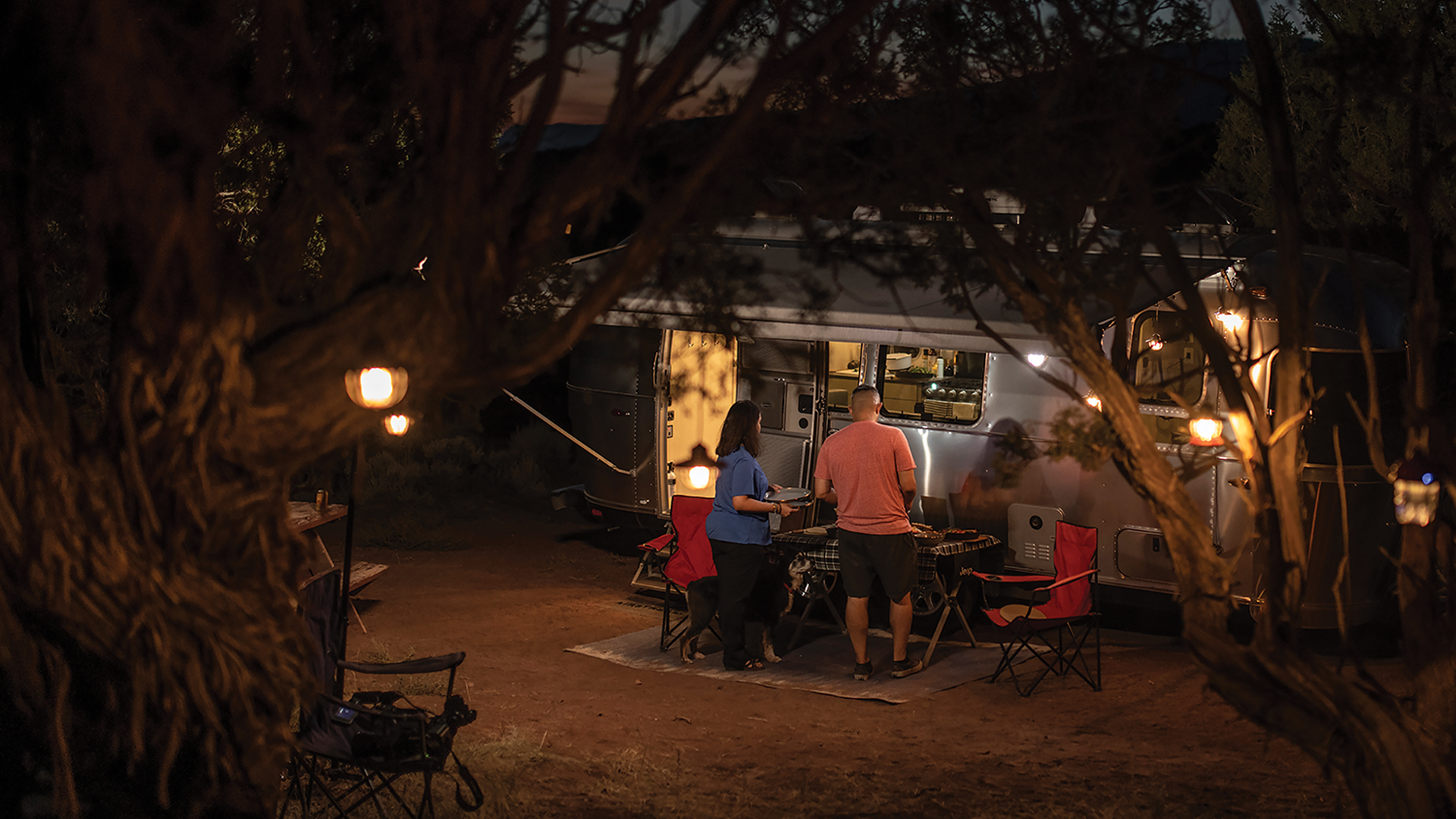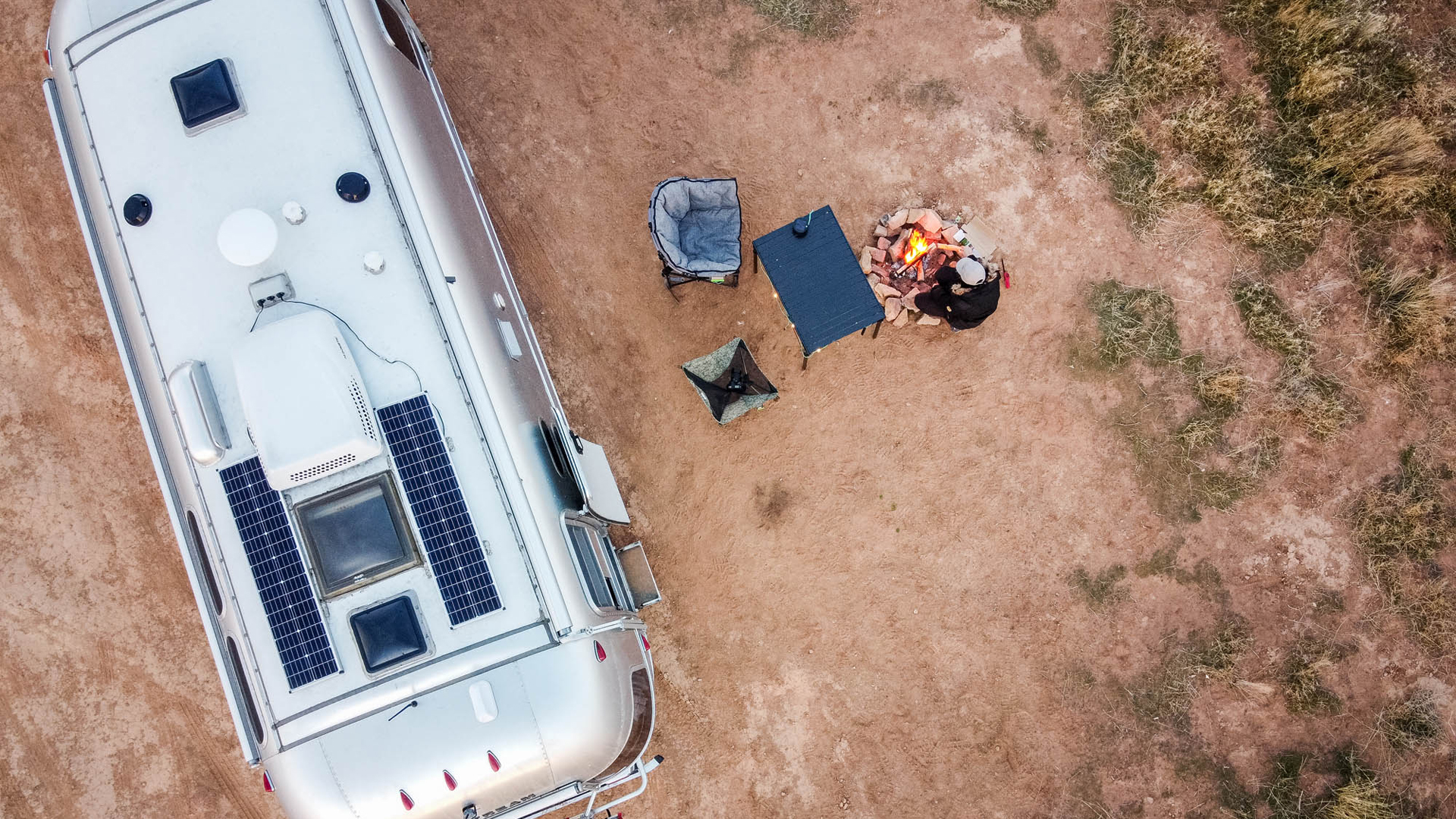 But boondocking isn't the only reason to opt for a solar package when you place your order. Solar panels work passively to keep your batteries charged when you're not hooked up to shore power, helping to preserve the life of your batteries. And with Airstream's recent shift to all-electric refrigerators in our travel trailers, having solar panels on the rooftop (along with a cloud-free day) means you can run your fridge and keep everything cool while you're en route to your destination.
Depending on which model and floor plan is chosen, there are two primary solar packages available as optional features.
90-Watt Rooftop Solar Package
Because of their smaller size, Airstream travel trailers that are 23 feet or shorter have less surface area on the roof to mount solar panels. Silver Bullets between 16 and 23 feet have an optional 90-watt Rooftop Solar Package which adds:
One 90-watt roof-mounted solar panel

 

Solar controller

 

Interior battery monitor

 

Two AGM batteries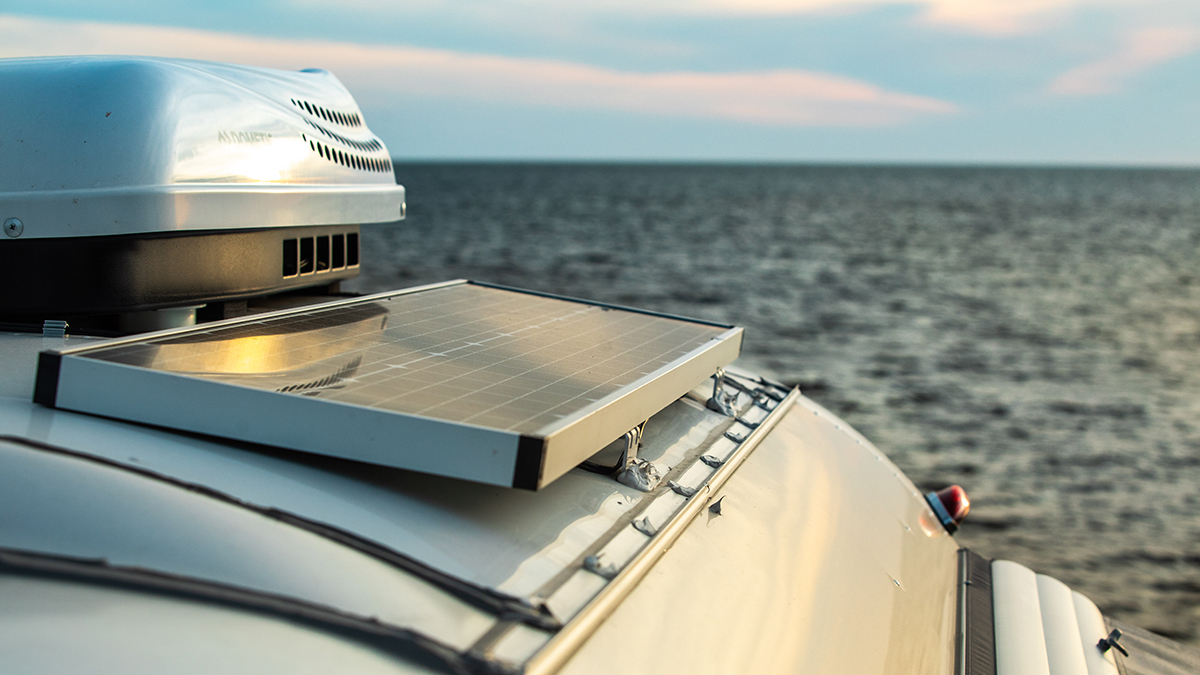 The 90-Watt Rooftop Solar Package is available in these models:
180-Watt Rooftop Solar Package
With more rooftop space to accommodate a second 90-watt solar panel, the Flying Cloud, International, and Globetrotter models that are 25 feet or longer all have an optional 180-Watt Rooftop Solar Package. This includes: 
Two 90-watt roof-mounted solar panels

 

Solar controller

 

Interior battery monitor

 

Two AGM batteries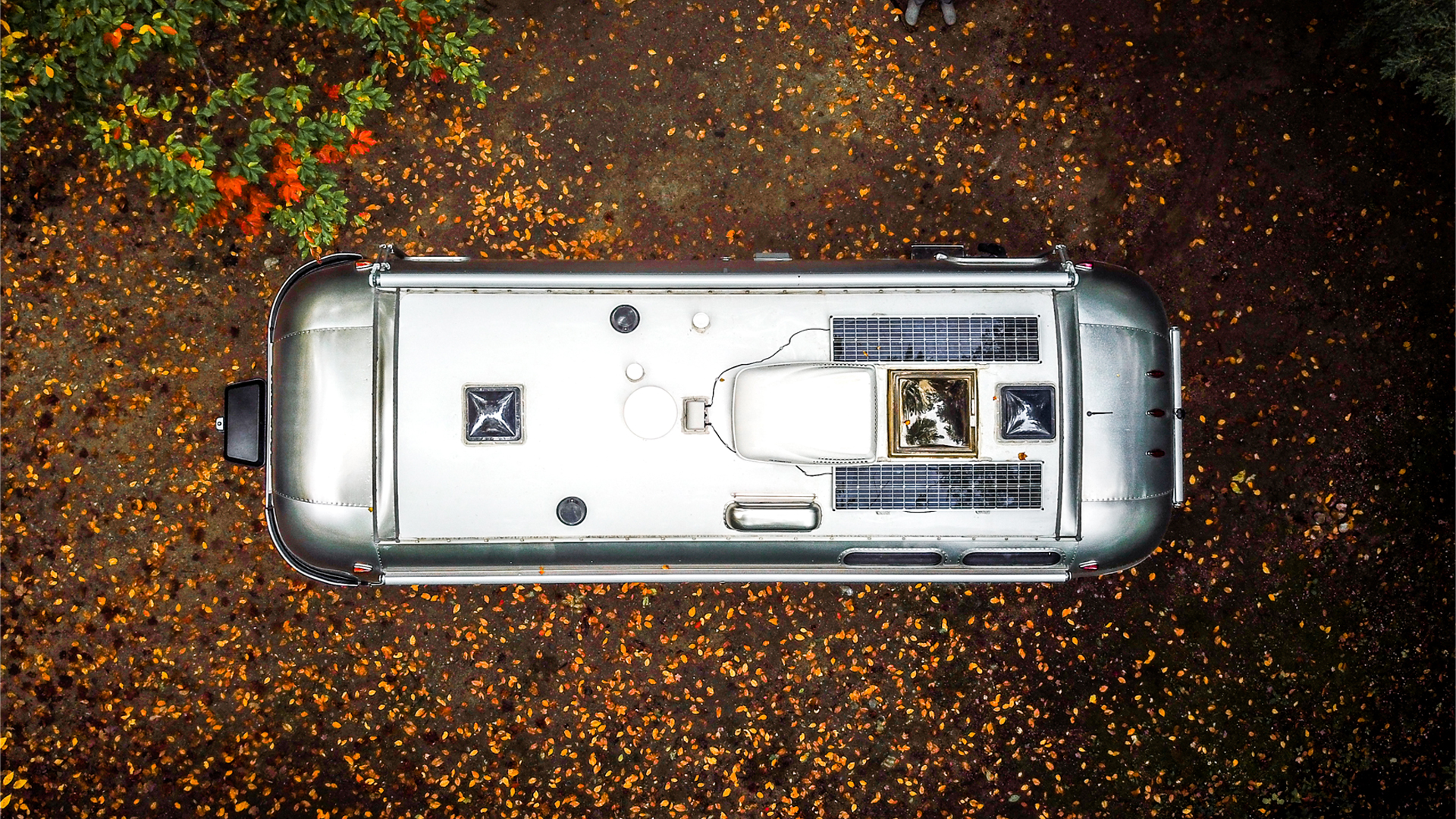 The 180-Watt Rooftop Solar Package is available on 25-foot (or longer) models of: 
Pottery Barn and Classic both come with the upgraded Airstream Power Plus as standard features. This powerful, versatile electrical system comes standard with three solar panels (270 watts) and two lithium iron phosphate batteries (LiFePO4) for the ultimate in power and performance. With safe, powerful, and rapid charging capabilities, these lightweight, durable batteries deliver 100 amp hours, with an average charge rate up to 5 times faster than lead acid batteries. And they stand the test of time with an estimated 3,000 to 5,000 life cycles. Taken together, these upgraded Airstream Power Plus components and powerful lithium batteries let you stay out longer and get the most out of your adventure.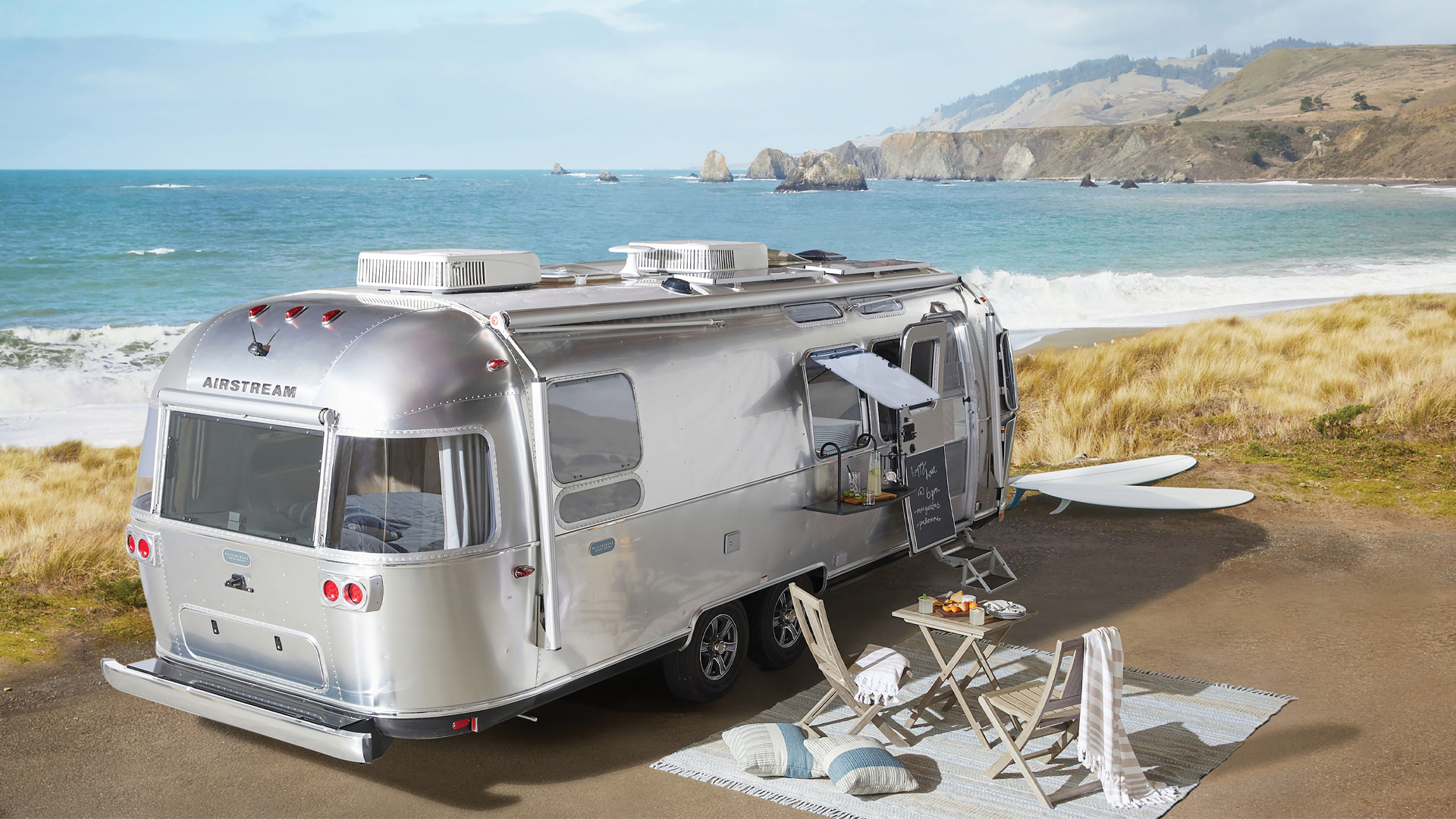 And no matter which Airstream travel trailer you choose, additional solar power can be collected by using a portable solar array or a single portable solar panel. Widely available, portable solar panels easily connect to your batteries through the front solar panel input located on the hitch of the travel trailer.
A Rear Hatch
One of the most popular optional features, the rear hatch is currently available on the 25FB and 27FB floor plans for both the Flying Cloud and International models. Originally conceived for the PanAmerican model and incorporated into the popular Pendleton, Edie Bauer, and Tommy Bahama Special Edition Travel Trailers, the rear hatch is a game changer that owners love.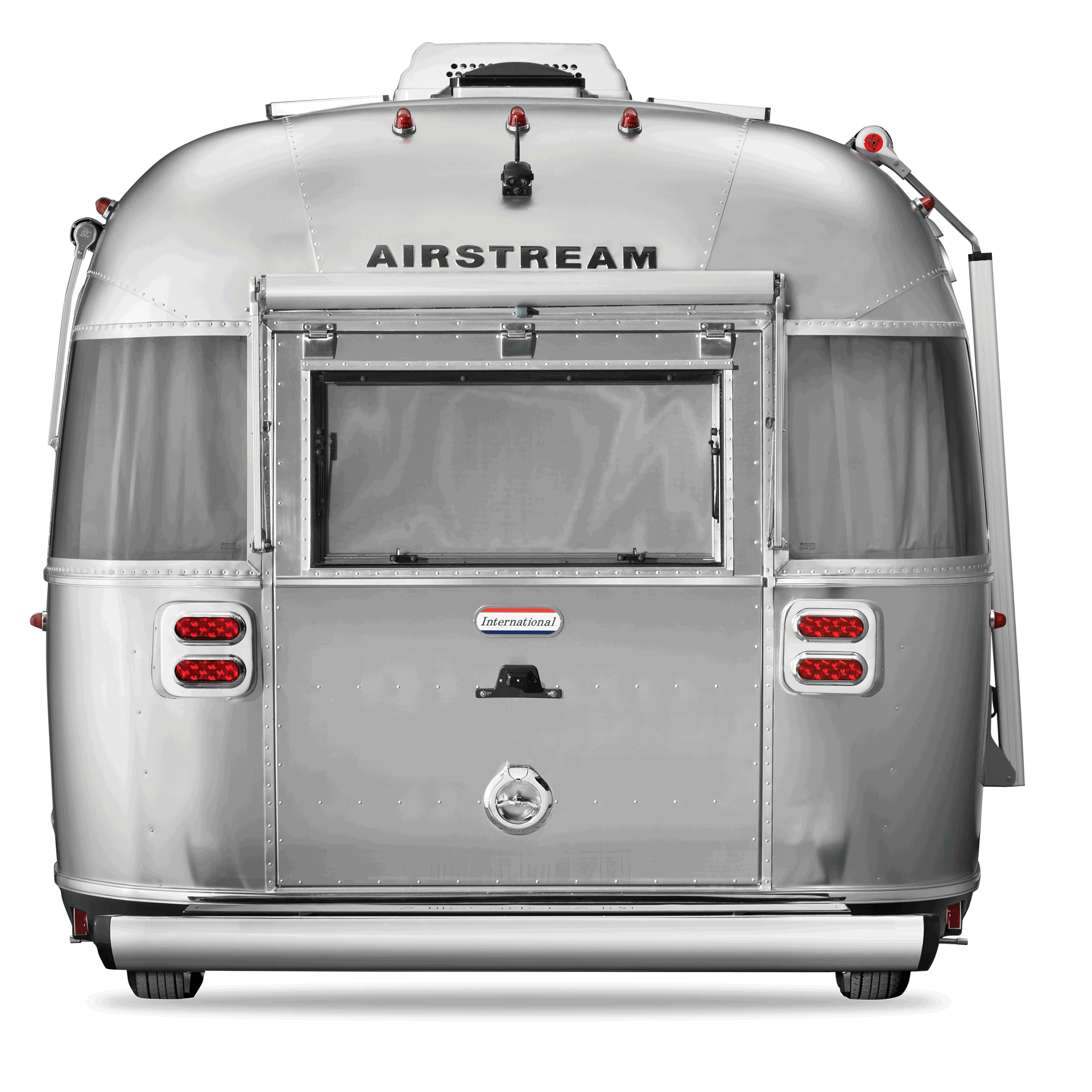 With the turn of a handle, the rear hatch opens to give you access for loading gear like kayaks or bikes. Slide down the retractable screen and settle in for an al fresco dining experience at the dinette, which is perfectly situated so you can enjoy the views through the open door. Or set up the sleeping area and relax in the cool evening breeze.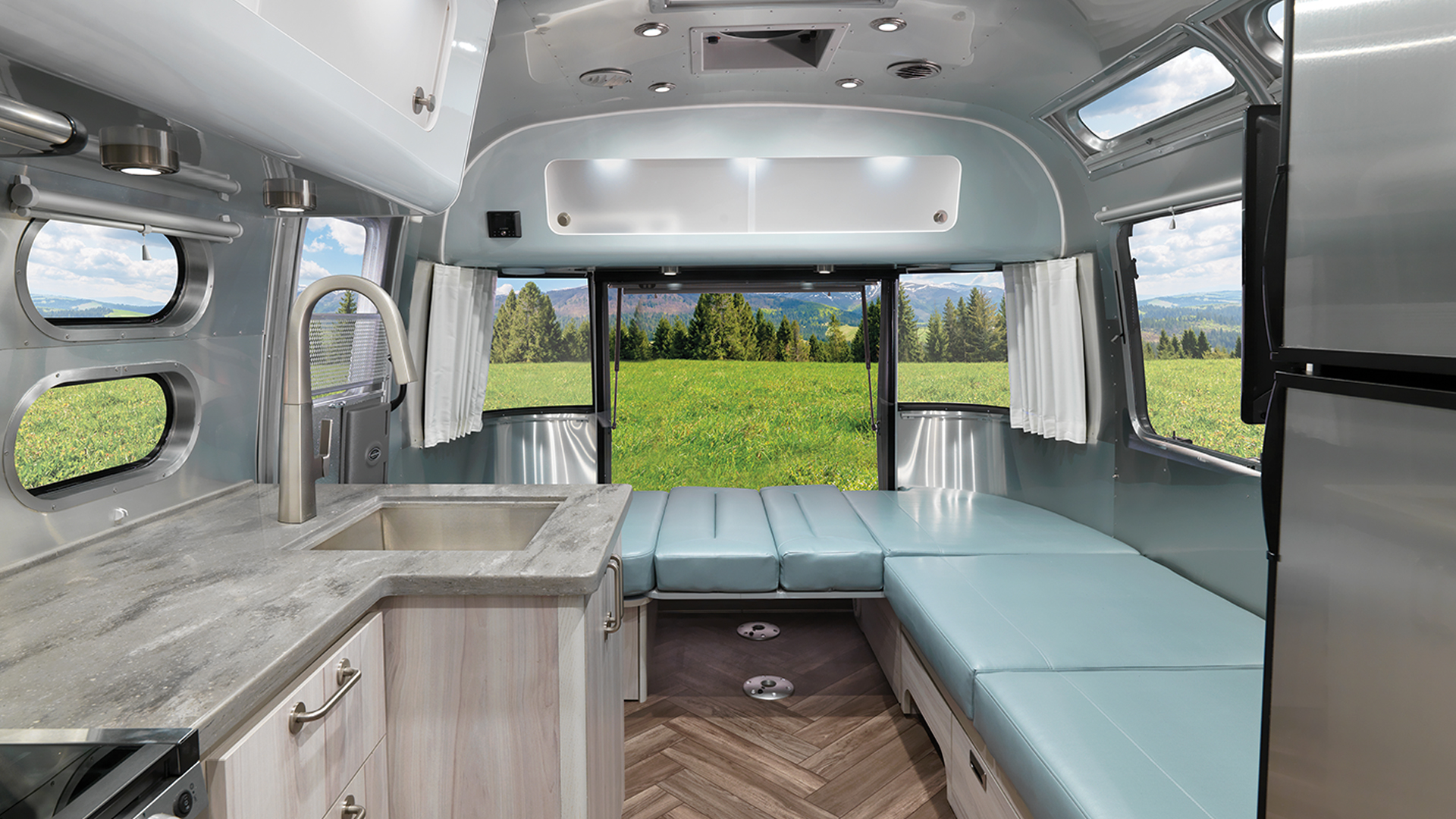 Constructed with the same durability as the rest of the riveted aluminum shell, the rear hatch stands 70" above the ground when open. The central window in the rear hatch features an awning and opens to three different positions, allowing for excellent ventilation even when the hatch is closed. And the dinette setup is slightly different than in Airstreams without a hatch – the table stands on two removable legs and forms the structure of the convertible sleeping area. The rear hatch truly opens up new travel possibilities.
A Powered, Adjustable, Standing Desk
With more people recognizing the benefits of flexible remote work, many Airstreamers have discovered the joy of a work from anywhere lifestyle. Whether extending the campsite Wi-Fi signal or utilizing cellular data to create their own local network with Airstream Connected, Airstreamers across the country are finding new satisfaction as they blend work, travel, and play.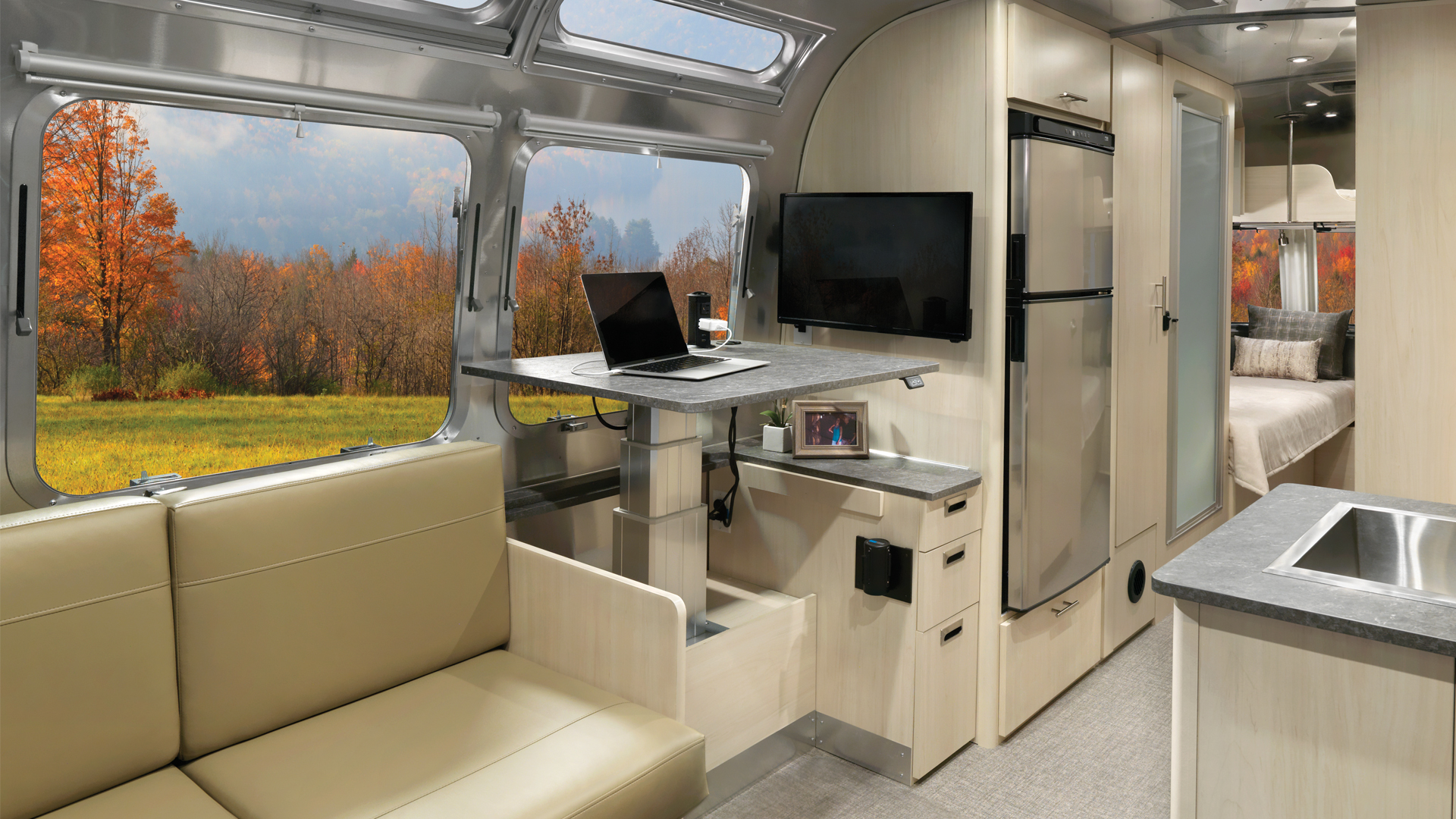 After integrating a full workspace that also converts to sleeping space in the Flying Cloud 30FB Office, we introduced an optional power desk feature that brings office features to Flying Cloud 25FB and 27FB floor plans. This option replaces a portion of the lounge closest to the galley with a powered desk that converts from a sitting to standing position with the push of a button. Pop-up outlets give you plenty of charging options, and the wall-mounted flatscreen TV doubles as an external monitor. Under the desk, multiple drawers and storage options provide the perfect solutions for stowing your office accessories and equipment.
And if you decide to use the Powered Desk for something other than work (it's a great place to prep ingredients for dinner or lay out the map so you can chart your next destination) we won't tell anyone!
A 

Front Bunk

 Bed
Perfect for families who want to hit the road to adventure, the front bunk option is available in the 25FB and 27FB floor plans of Flying Cloud and International. Mounted in the top of the travel trailer end cap, the front bunk bed supports up to 150 pounds and is the perfect place for little ones to settle down at night. This area is also great for tossing bags or other gear that needs to be easily accessible. The bunk bed replaces the overhead roof locker storage area, but functions well as a storage area during transit. With the twin bed floor plan, the bunk is accessible by an included ladder (kids can use the queen bed to access the bunk in that floor plan).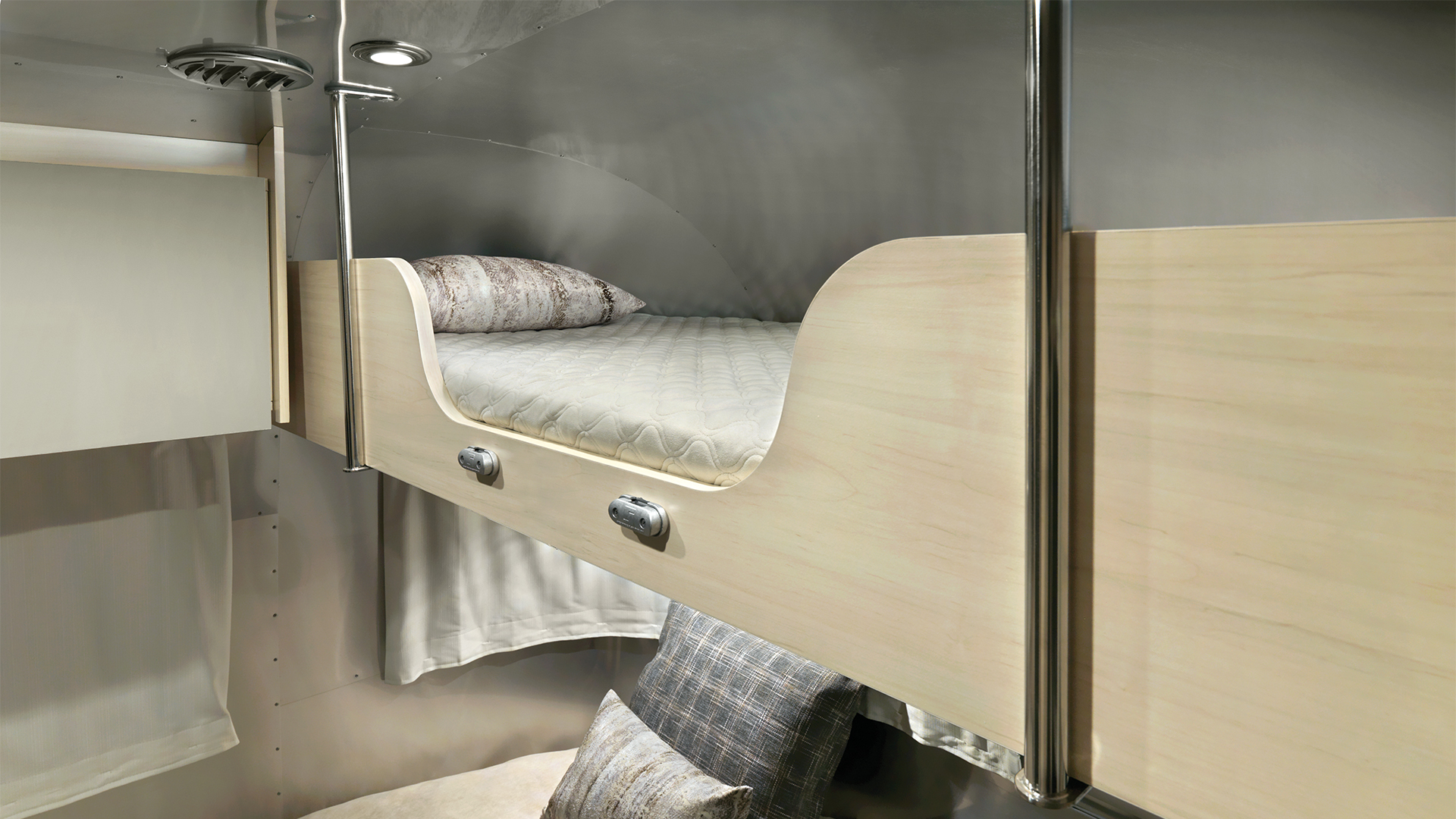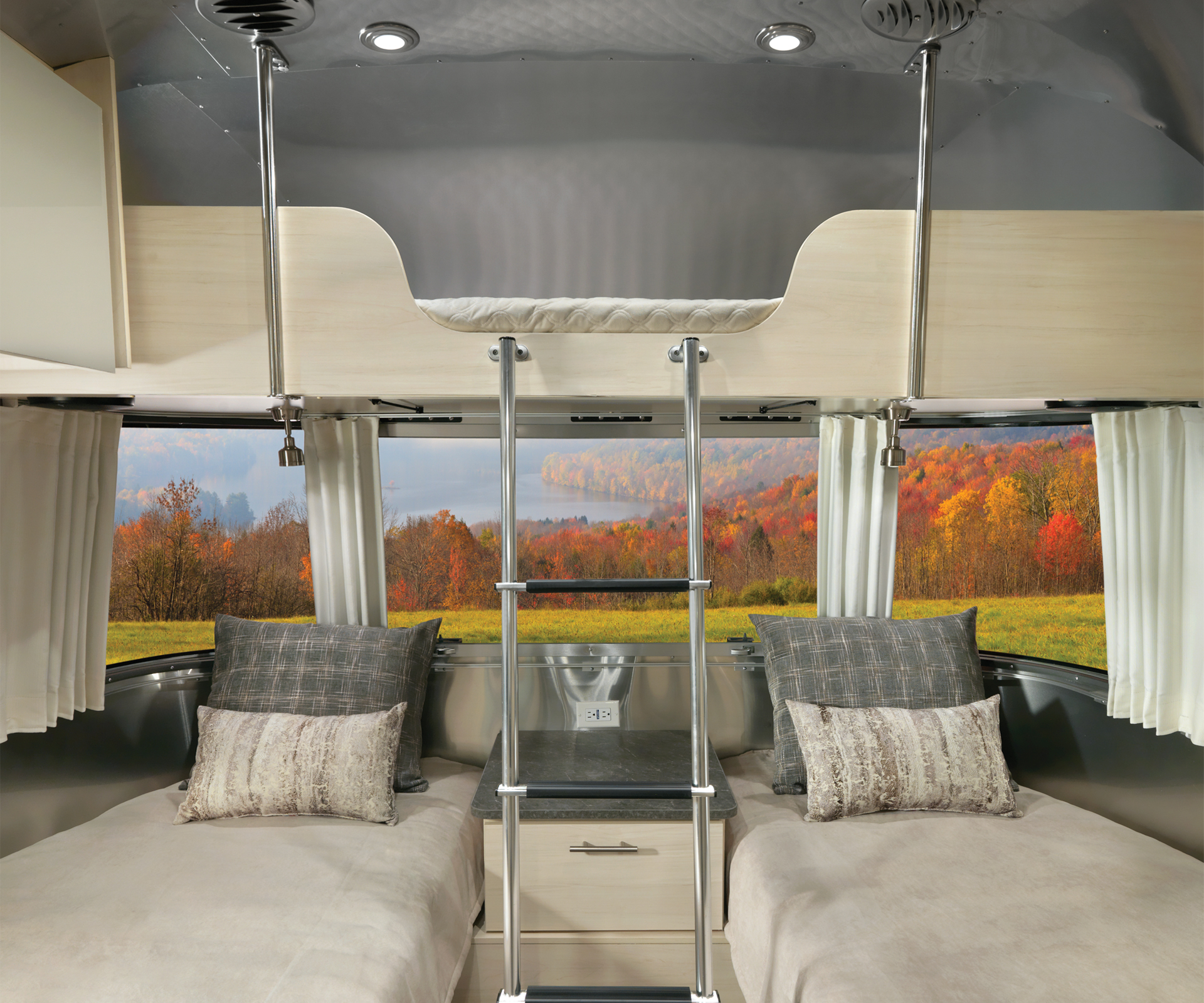 Window Awning Package
: Rear and Road Side
Add a touch of style while shading your Airstream's exterior from the heat of the sun with our Window Awning Package. While every Airstream Silver Bullet comes standard with a retractable curb-side awning, the Window Awning Package adds two extra retractable awnings – one on the road side and one above the window on the rear end cap.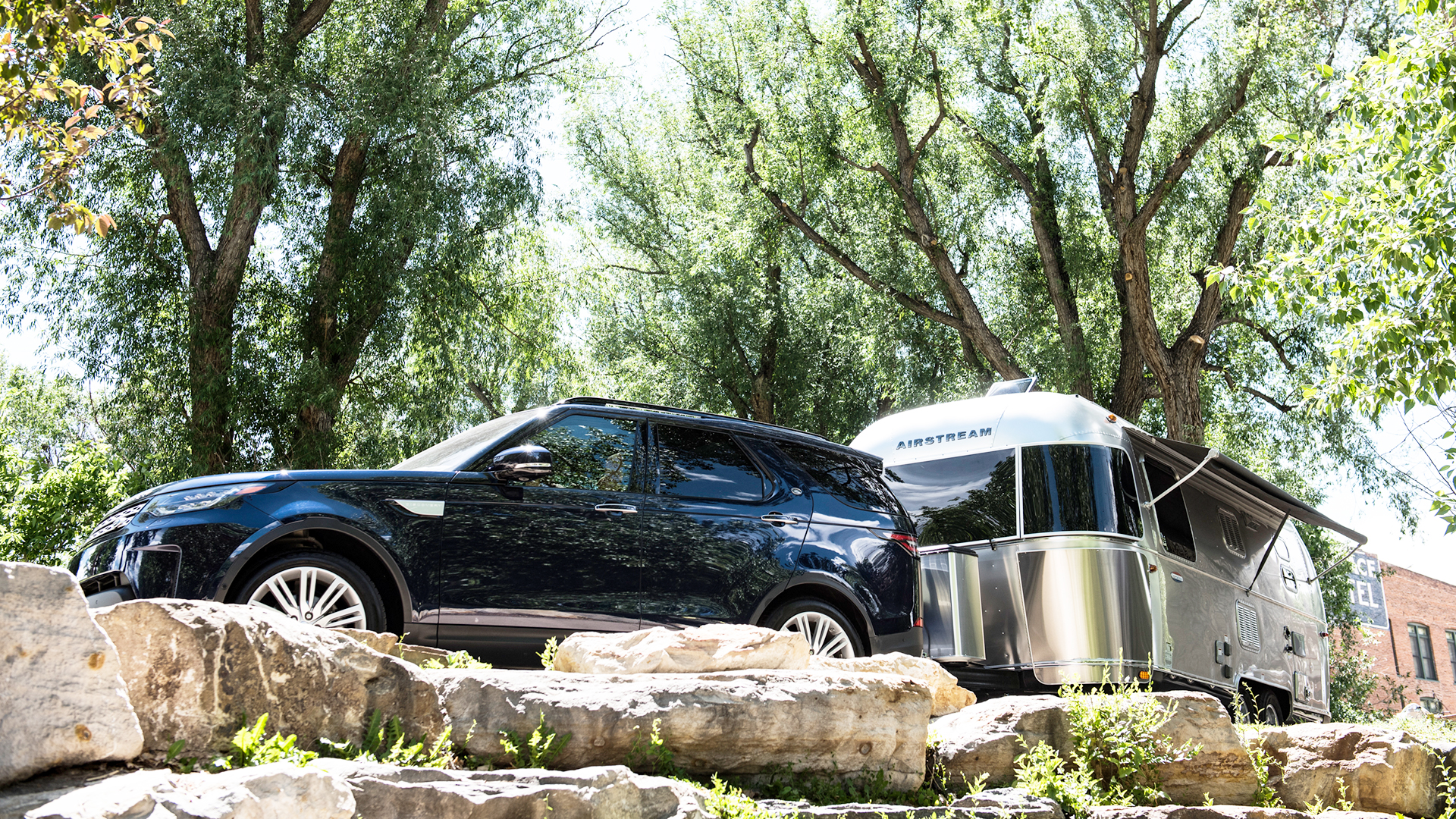 Not only does the Window Awning Package add exterior panache, but extra awnings help to shade the sides of the travel trailer, helping to keep the interior cool on hot, sunny days.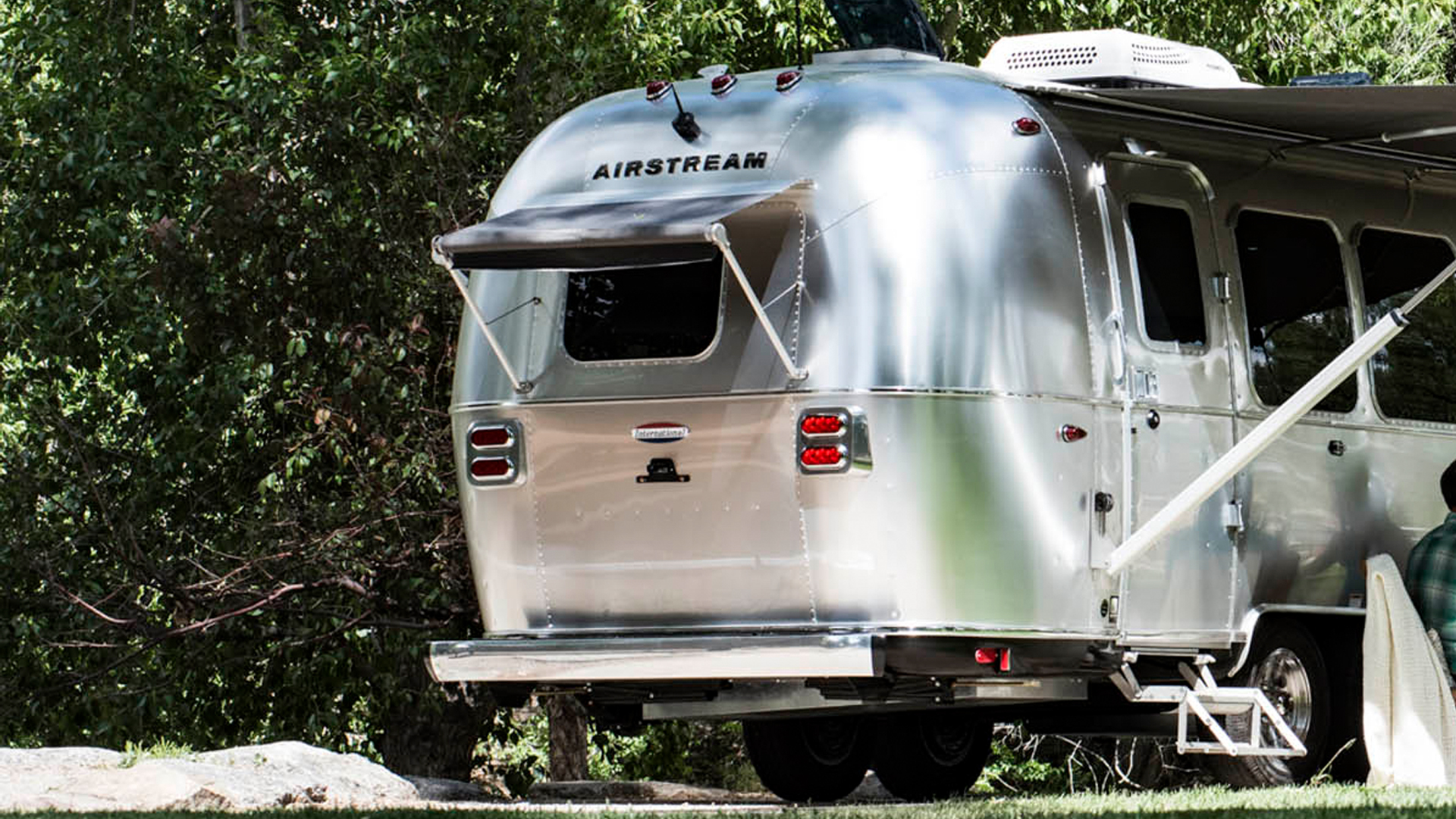 While the window awning package comes standard in premium models such as the Globetrotter, Pottery Barn Special Edition, and Classic, it can be added to the Caravel, Flying Cloud, and International models.
A Second Air Conditioner: With Heat Pumps Included
If your favorite "comfort of home" is coming back to a cool place to relax on a hot day, then the second air conditioner option may be the perfect optional feature for you. All Silver Bullets come standard with one rooftop air conditioner, but Flying Cloud, International, and Globetrotter models that are 25 feet or longer have the option to add a second air conditioner.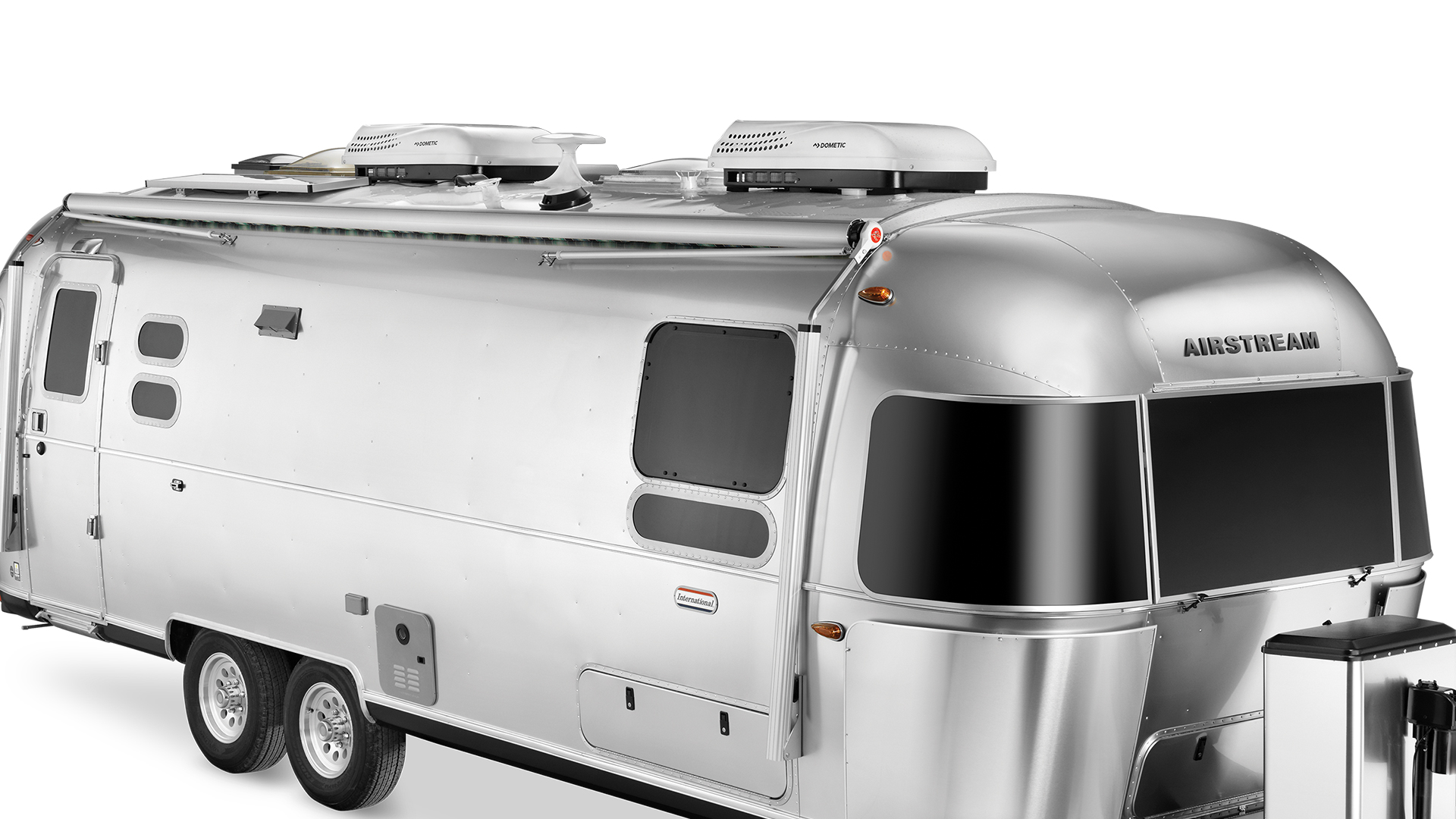 The extra length allows for more room on the rooftop for a second air conditioner and creates two comfort zones – one at the front and one at the rear of the travel trailer. These roof-mounted air conditioners also include a heat pump that allows you to cut the chill on a cool morning (heat pumps only work at about 40 degrees Fahrenheit or warmer). Having an extra air conditioner adds extra power requirements, so this option also includes an upgraded 50-amp hookup instead of the normal 30-amp electrical system.
High-end models such as the Pottery Barn Special Edition and Classic come standard with two A/C units as well as a 50-amp electrical system.
A 
Convection Microwave
A versatile option for culinary adventures while out on the road, the convection microwave option lets you replace the standard oven with a versatile appliance capable of roasting and broiling like a traditional oven, but also reheating food like a traditional microwave.
Depending on the chosen floor plan, opting for the convection microwave results in directly swapping out the standard microwave for this option. For larger floor plans, the standard oven is swapped out. Because the convection option doubles as an oven and microwave, the standard microwave is replaced with a pull-out drawer, offering additional storage space for food, cookware, and more.
From roasting a small chicken or turkey breast to cooking up frozen pizzas with perfectly crispy crust to reheating last night's leftovers, the convection microwave option is a versatile, space-saving optional feature that Airstreamers love.
The optional convection microwave is available on models ranging from the Caravel through the Globetrotter.
Classic: 
Upgrades
 Come Standard
The Classic is known as our flagship model because it includes top-of-the-line finishes, furniture, appliances, and premium features that all come standard. This means Classic comes with both a convection microwave and a standard oven, adding to the residential feel and doubling up functionality for those who really enjoy cooking in their Airstream.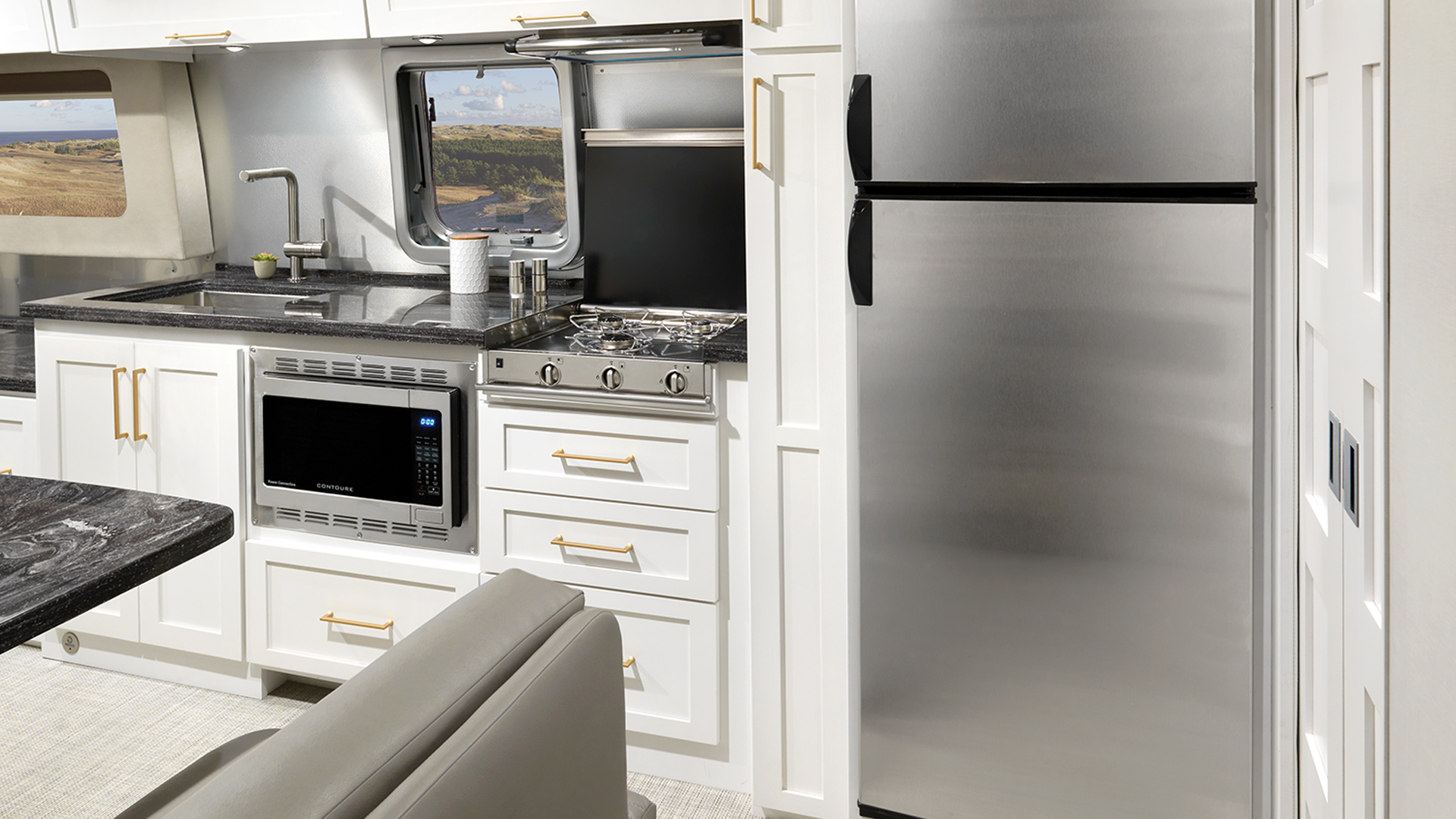 Because most of the optional features come standard on Classic, the only option available to owners is to replace the included standard oven with additional storage drawers in the kitchen where the oven would otherwise be installed.
Now that you've seen the options, start configuring your dream Airstream. Explore the model lines, lengths, floor plans, and optional features with our Travel Trailer Configurator.